A Pie to Sky Adventure
June 30, 2019
In early summer, Caroline J. and I scrambled the Armchair Traverse, which consists of the ridgeline between Cook, and the NW ridge of Mount Weart in the Wedgemount Lake area. You can go in either direction, but travelling from Cook first is the recommended direction to avoid downclimbing any of the harder, more exposed sections. Note that this traverse involves 4th class travel, requiring good routefinding to keep things easier. I know a few people who have underestimated the terrain, after reading about it from some alpine-runner dude, and then find themselves in an uncomfortable spot up there. Don't be afraid to turn around, or a bring a rope/light harness as a backup.
The traverse was made slightly harder due to a late season overnight snowfall high up. I saw a chance of this in the forecast, but hoped it would all be melted out by the time we got up there. I had a lazy start, leaving North Van at 6am and then meeting Caroline in Squamish for 2nd coffee. This turned out to be a good strategy, as a good friend had done a proper alpine start, leaving Squamish at 4am, hammering up the trail, only to turn around on Mount Cook seeing the sight of snow. We did not realize we were up there at the same time until talking about it after.
Summary
830am – Start hiking up Wedgemount Lake trail
1030am – Arrive at lake
1pm – Summit of Mount Cook
4pm – Pear-Almond Galette on Mount Weart
7pm – Descending Wedgemount lake trail
830pm – Arrived at trailhead
Total Time = ~12 hours at a casual pace
It started off as a cloudy day as Caroline and I took our sweet time hiking up the Wedgemount Lake trail. From Wedgemount Lake, we followed faint trails up towards Mount Cook, losing it after a while. You can just continue along open talus slopes to the summit of Mount Cook without difficulties. By this point, the clouds were clearing up and we could see a decent amount along the traverse, which maintains a consistently high elevation. We talked about whether to just turn around, but found that the rocks were quickly drying out as we scrambled through the black lichen covered rocks. I suspect if we were up here 3-4 hours earlier (which doesn't fit into the lazy Al-pie-nist style), we would be dealing with slippery verglas covered rocks.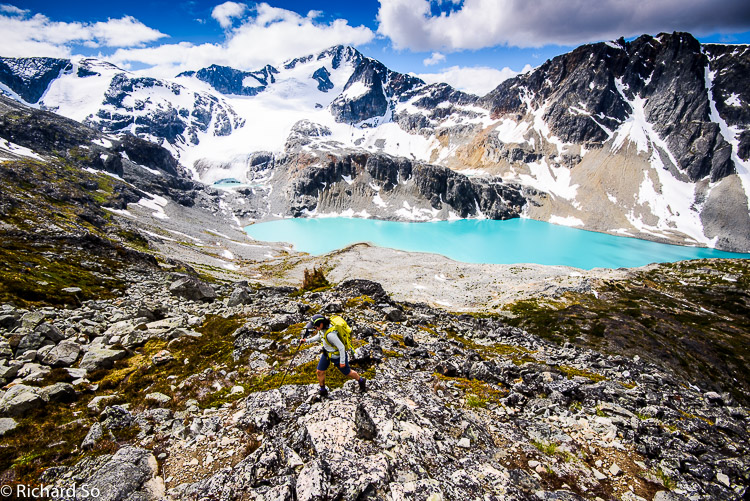 Long talus plod up to Mount Cook. We were in no hurry as I was hoping for the sun to melt off some of the snow (it didn't, but the rock did dry).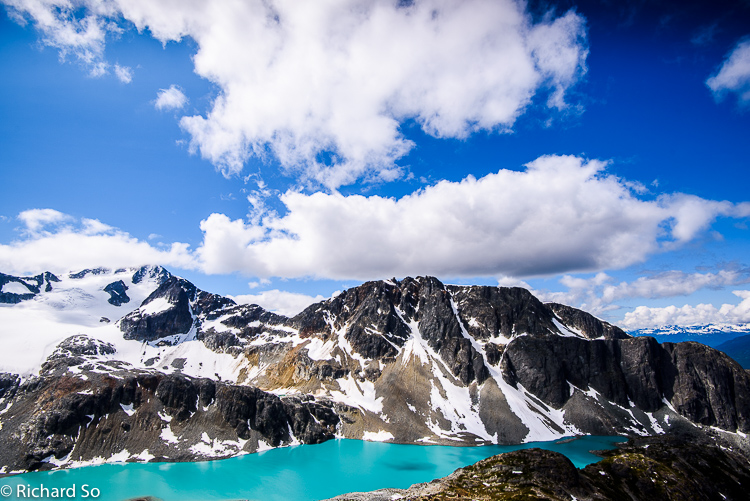 Wedge, Parkhust, and Rethel Peaks above.
From Cook, the difficulties begin. We both agreed we could just turn around if the conditions looked unsafe. At first, leaving Mount Cook, there is some easy ridge line travel, and then the ridge narrows while the rock quality deteriorates. At first, we travelled slightly off the ridgeline on the south side, but this was unpleasant at times with the bedding planes also dipping to the south. Not a great combo with wet, slowly drying out rock. We climbed back up on the ridge top, and there was one section required our ice axes as we traversed a narrow slope slope. This was late June so not unexpected. I left crampons behind, and wore trail runners. I had wet feet later on, but this was a good fast and light approach to go.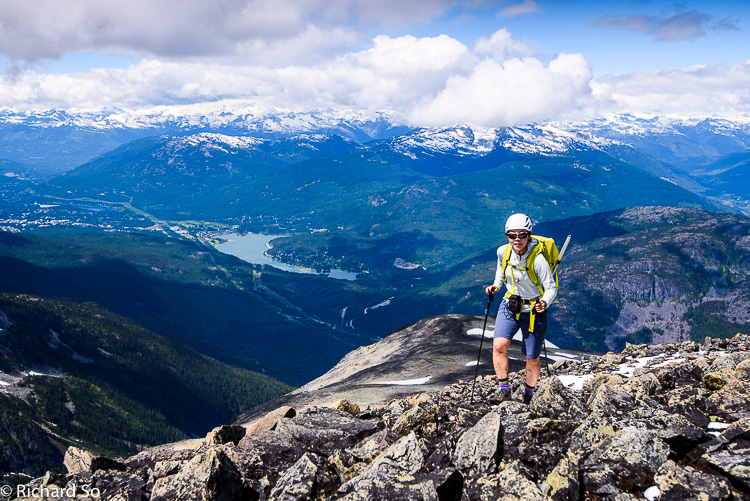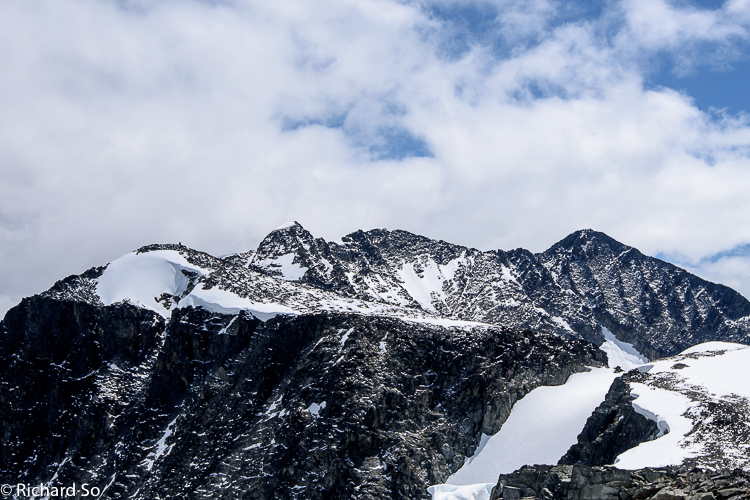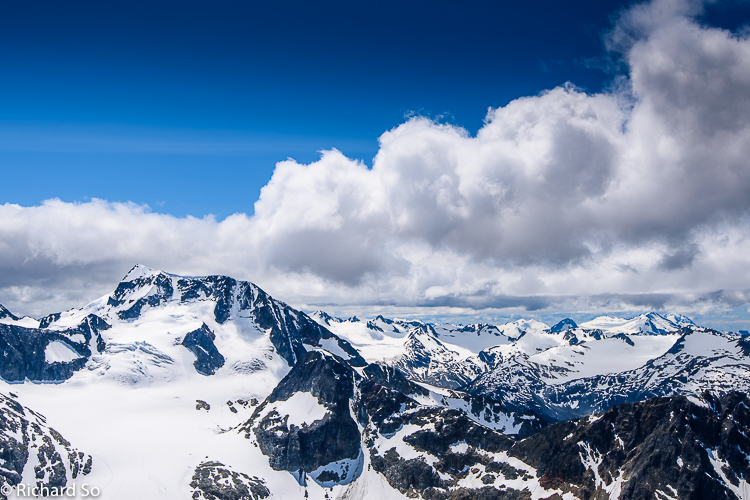 There was a dusting of new snow which didn't melt, and made the scrambling slightly trickier. The crux for us was downclimbing a short gully off a sub-summit. While not exposed, there was enough snow accumulated in this shady gully. I spent a few minutes brushing off snow and checking holds before making a short 5m downclimb. It wasn't that bad, and Caro made it look easy when she went afterwards. Without snow, I suspect this would be trivial, and there was minimal exposure here.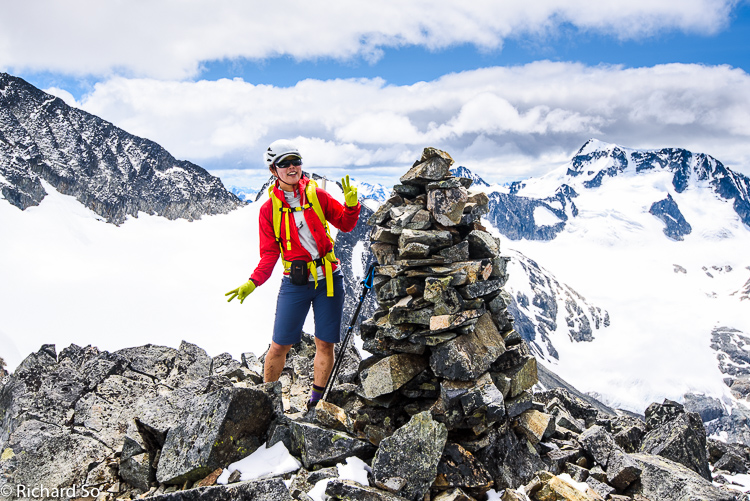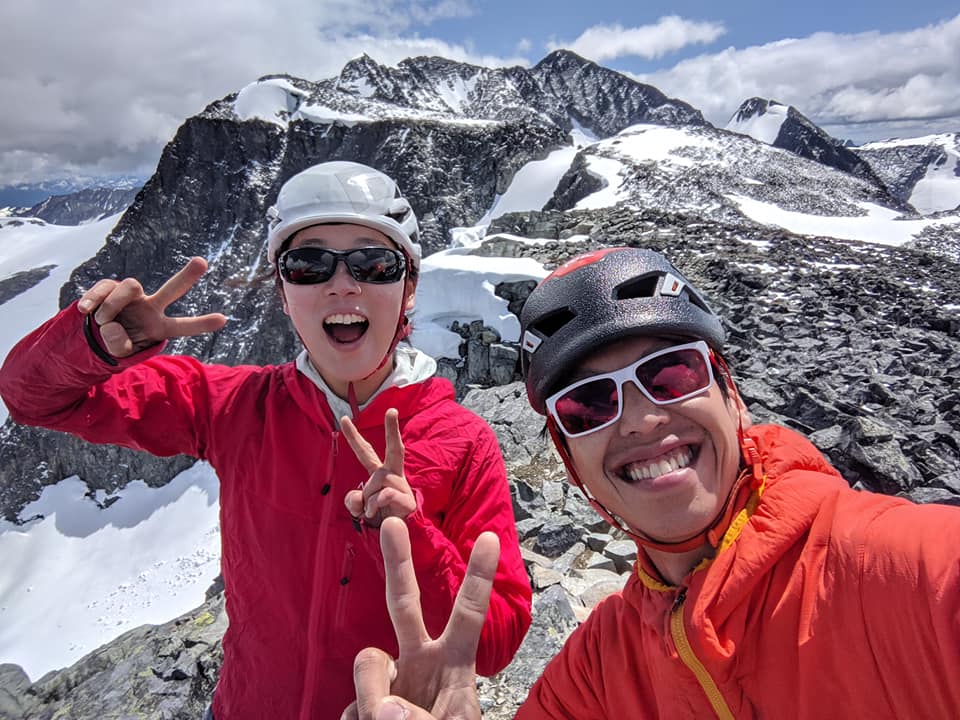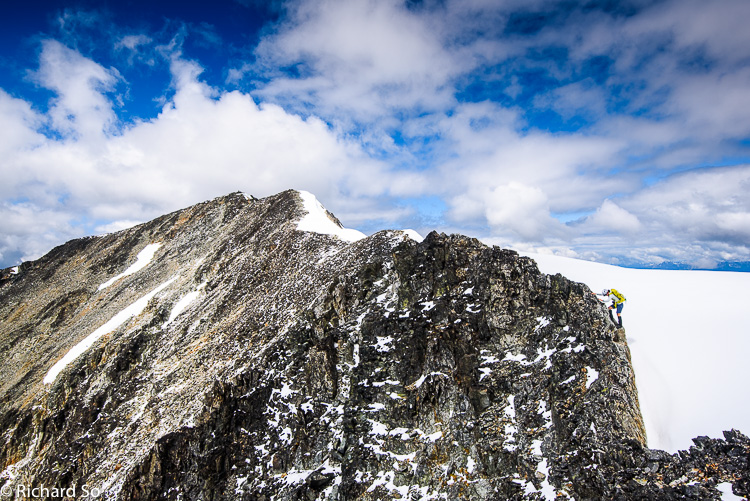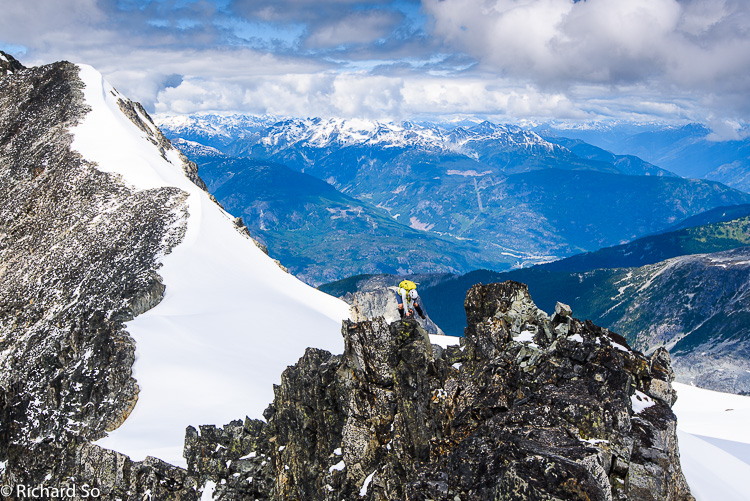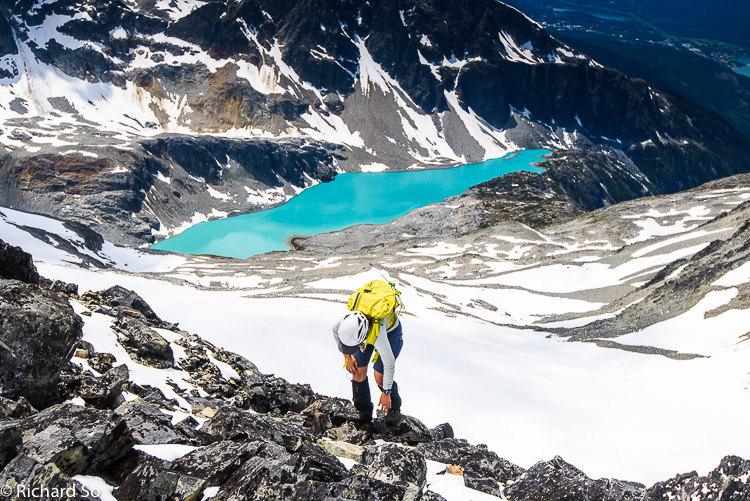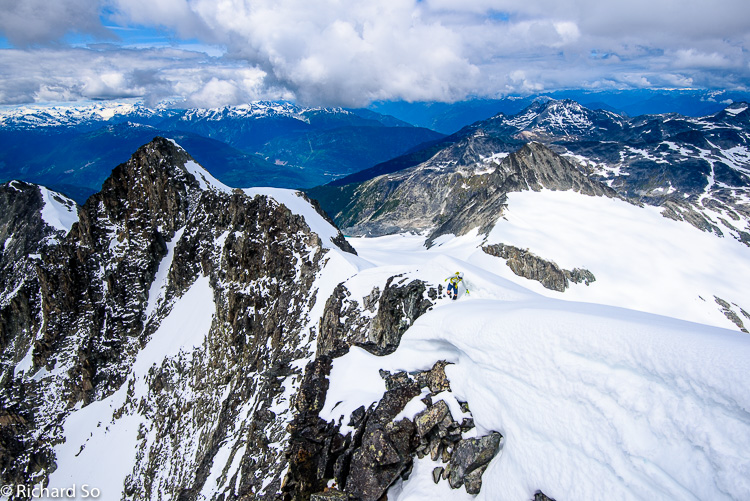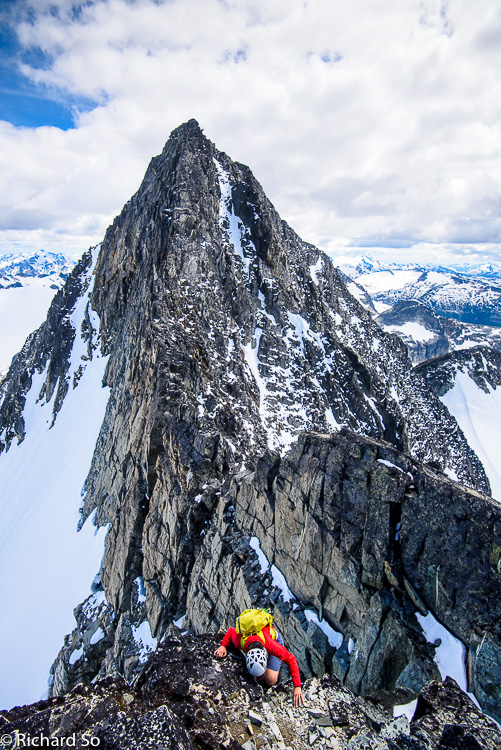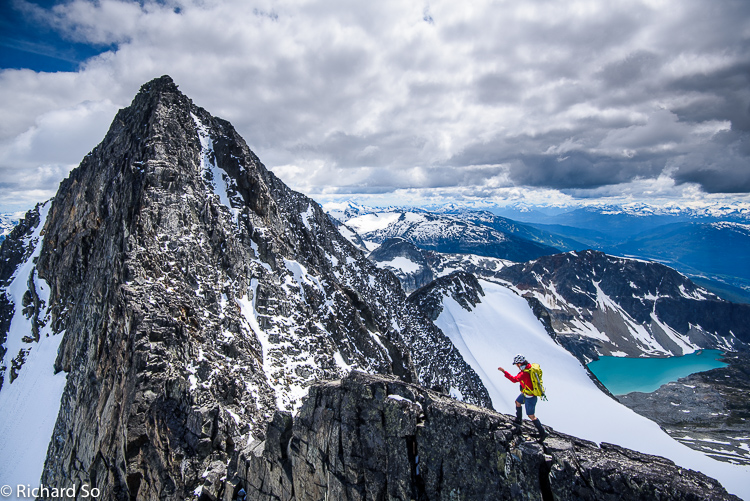 Holy moly the Wedgemount Lake area is amazing! The lake, the glaciers, the mountains, the wildflowers, fuzzy marmots, getting to traverse the scenic ridge along the Cook-Weart Armchair traverse above the zone made it a full value appreciation package for a first time visit. Sorry that reads cheesy but it's how I feel.

Caroline J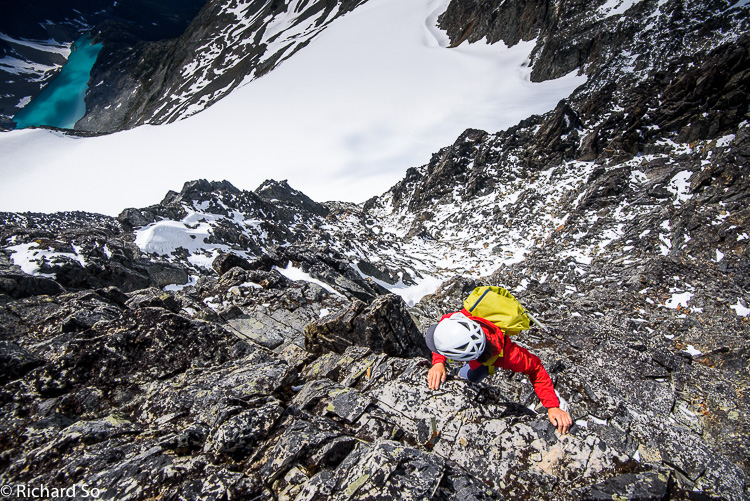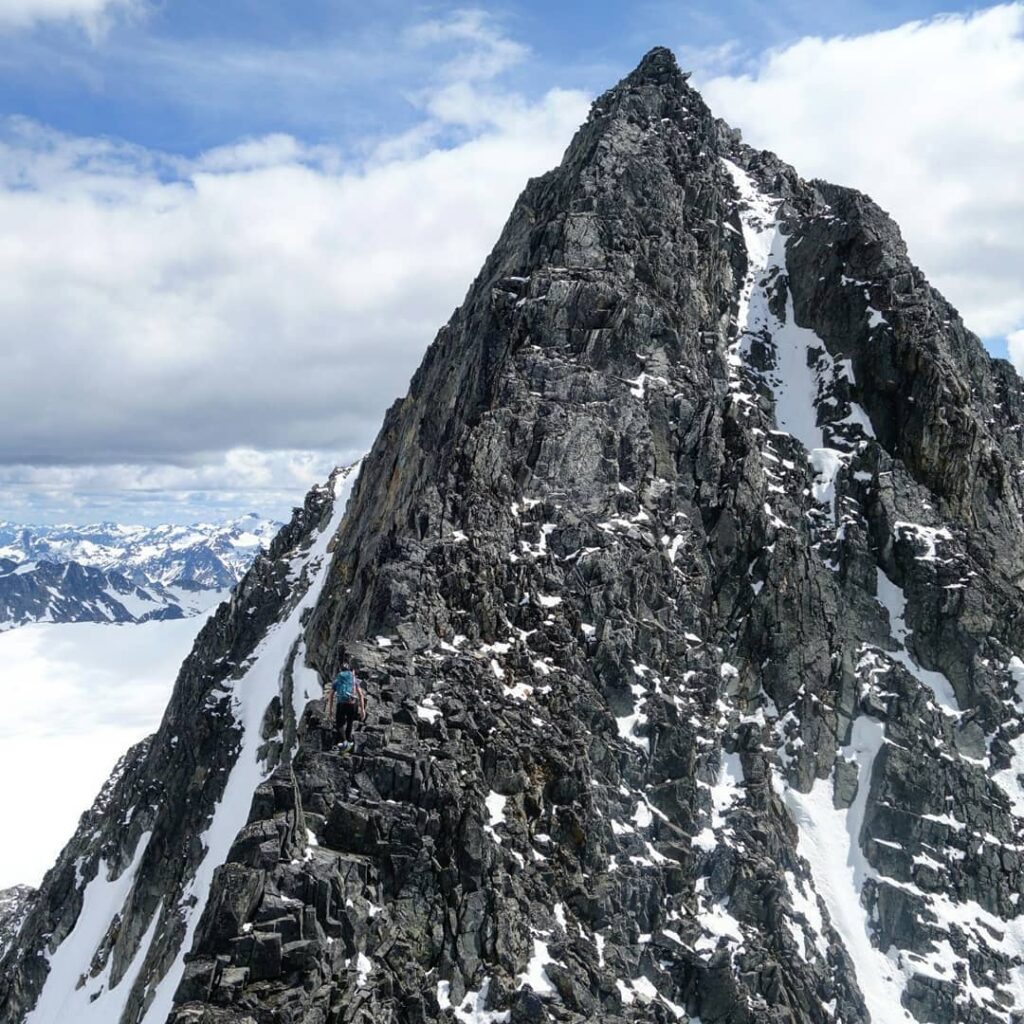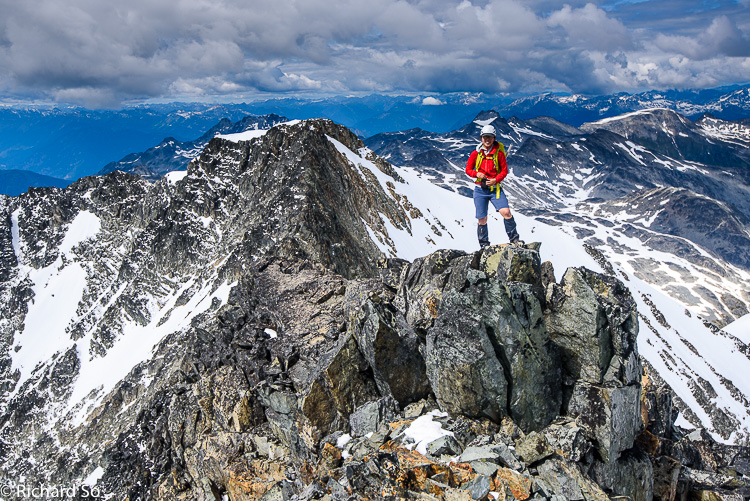 The final summit ridge to Weart, while intimidating from afar, is actually quite straightforward on solid flat ledges with good rock up the exposed ridgeline. After three hours, we completed the traverse from Cook to the tippy top of Mount Weart. I haven't been up in ten years, since July 2009 with Seppel and Kirsten. This was a good time to enjoy a slice of my nectarine almond galette. This was a rustic tart, fairly simply to make and definitely compact and light enough for a fast and light alpine mission. Fragipane consists of almond flour, butter, egg, and vanilla extract, and is easy to make at home. I'm glad I didn't pack a heavier pie given the amount of distance, elevation gain, and technical terrain. Proper pie-peration is essential for a successful pie-aneering trip.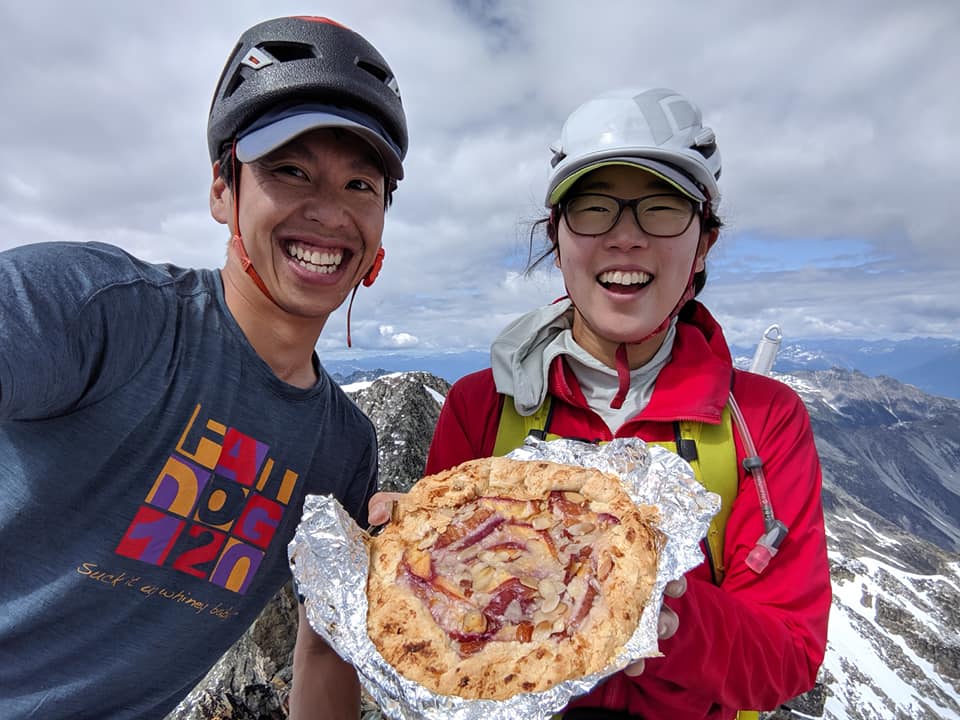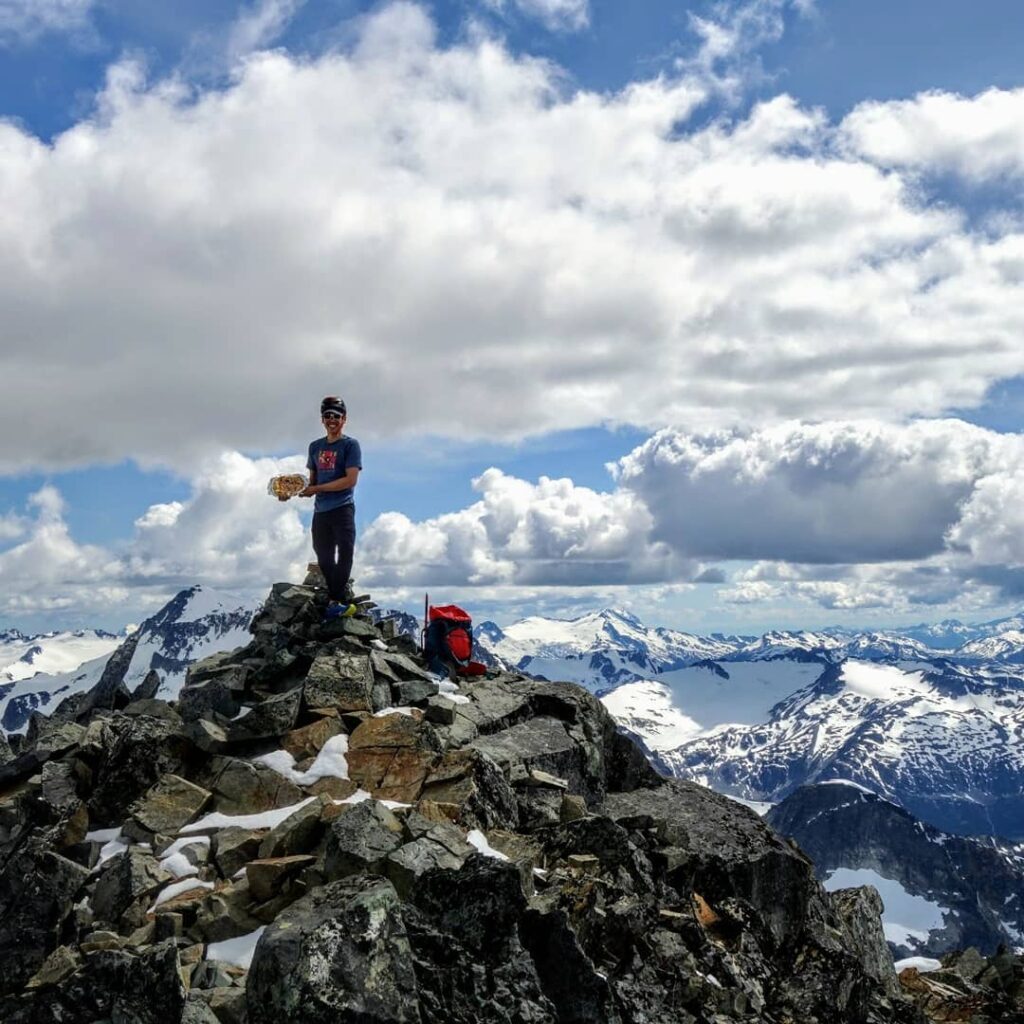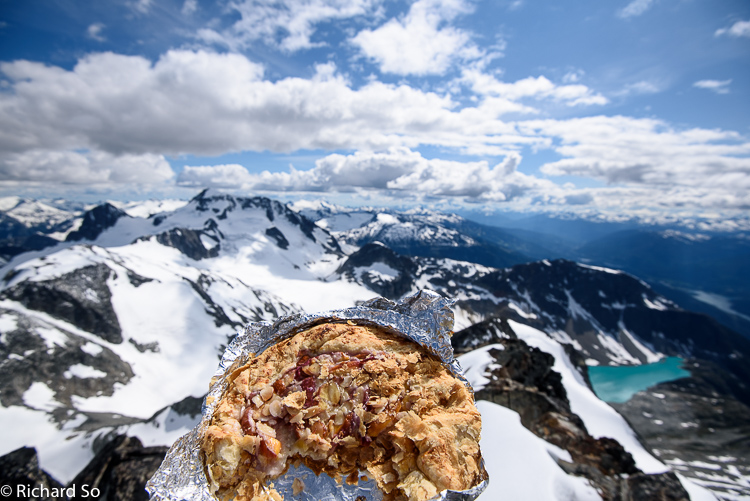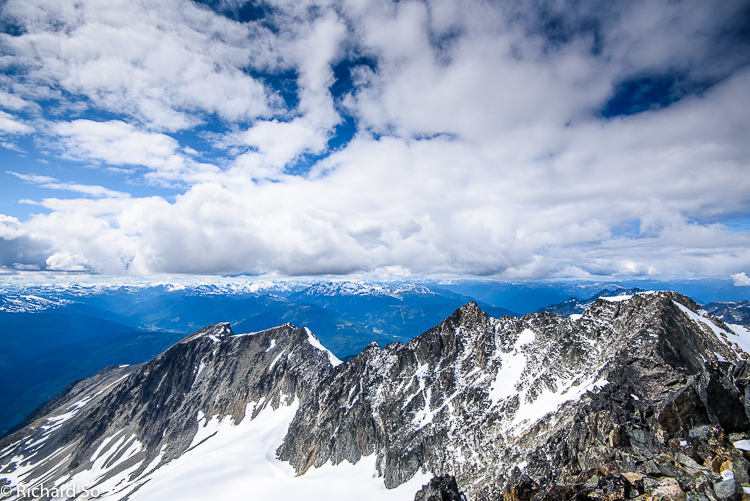 The descent from Weart is straightforward at first, following cairns down the long southeast ridge. The tricky part comes when you need to descend into the basin to your right to get down to Wedgemount Lake. I forgot about this section as we wasted a bit of time finding the best way down. We went descended too early at first, putting ourselves too close to cliffs. The route would have been do-able, but our better choice was to hike back up to the ridge, continue almost all the way to the col and then we picked up more cairns leading to a slabby ramp and boulder, far easier.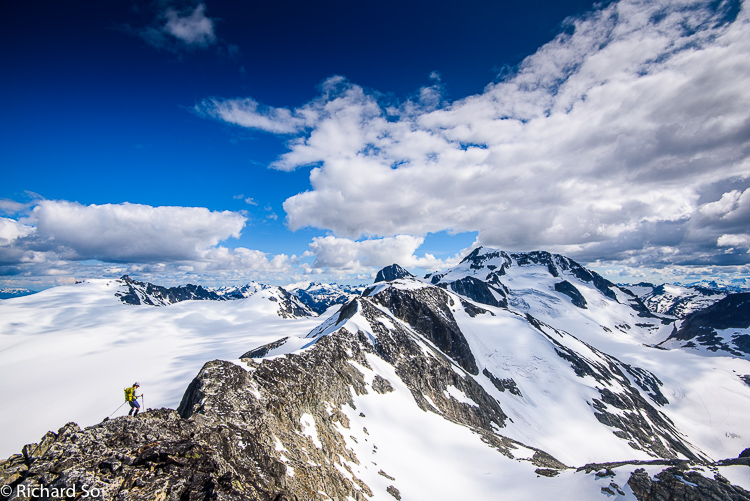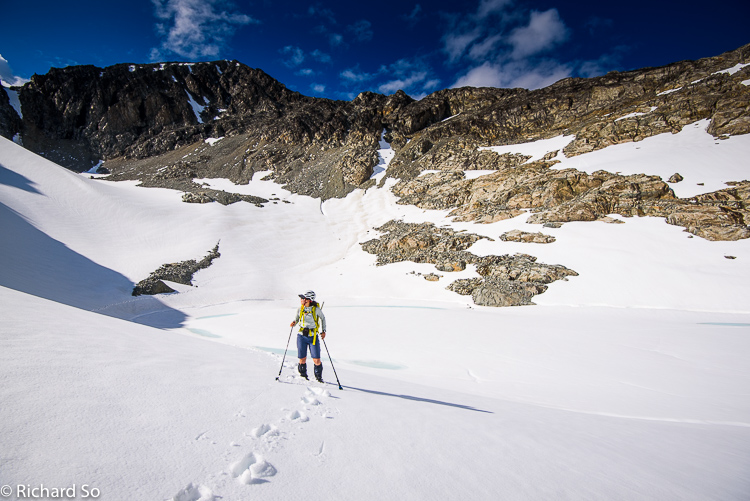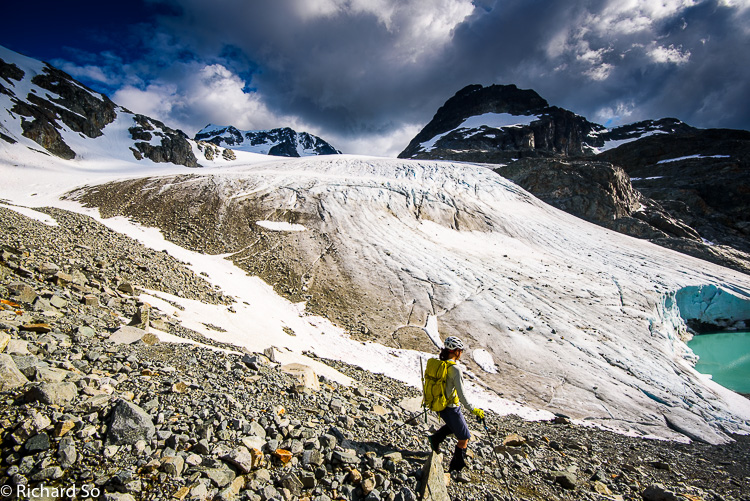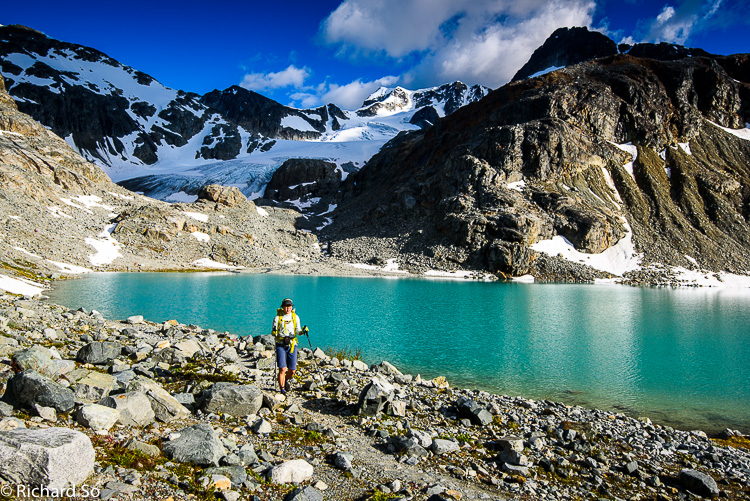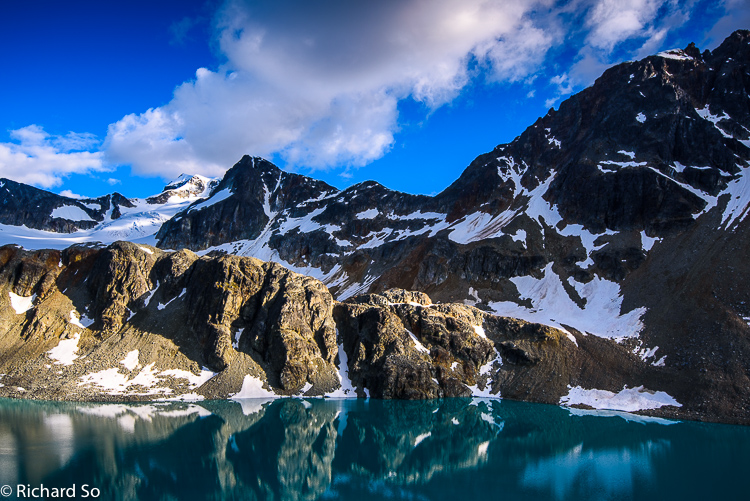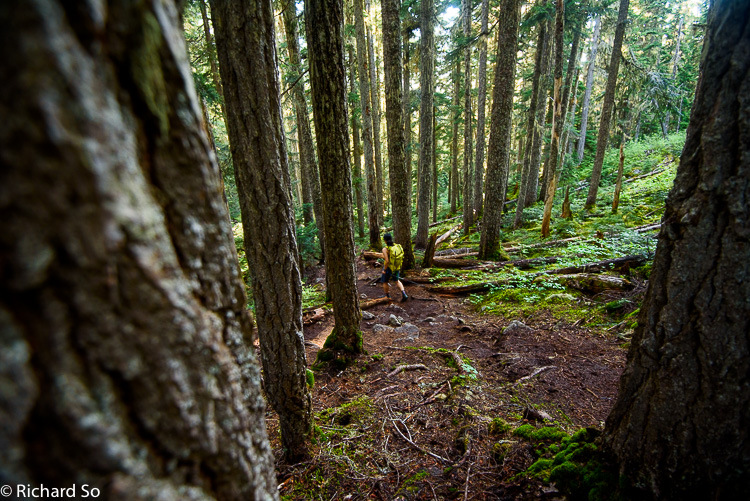 Luckily there was still snow in the basin south of Weart, leading down towards the Weart glacier. We were able to glissade about half of the way down, speeding things up. Later in the season, this would be a tedious talus hike at the end of a long day. We finished off the rest of the galette before hiking down the trail. I was training for the Broken Goat 50k in Rossland, which was happening in three weeks. I figured a long day in the mountains powered by pastries was a good way to train for that. Thanks to Caroline for the great day in the mountains!
---
More Photos on Flickr
---
Other trip reports:
Alpine "Running" in the SW BC by Eric Carter
"Climb the Wedgemount Lake Trail to the hut. Ascend the southern slopes of Mt. Cook. There's no great way to go here, it's all just scree. Avoid the steepest bits. From the summit, follow the ridge crest towards Weart and a low col. The ridge beyond the col becomes quite solid but a very exposed and engaging scramble. Some sections can be bypassed on snow but sticking to the crest is good. Several small downclimbs keep it exciting. The final section to the summit of Weart is excellent!"

Eric Carter
Clubtread Trip Report from 2013