What is Pie-aineering?
noun /ˌpai-əˈnɪərɪŋ/ /ˌpai-nˈɪrɪŋ/
​the sport or activity of climbing mountains with pies

to go pie-aineering
a pie-aineering expedition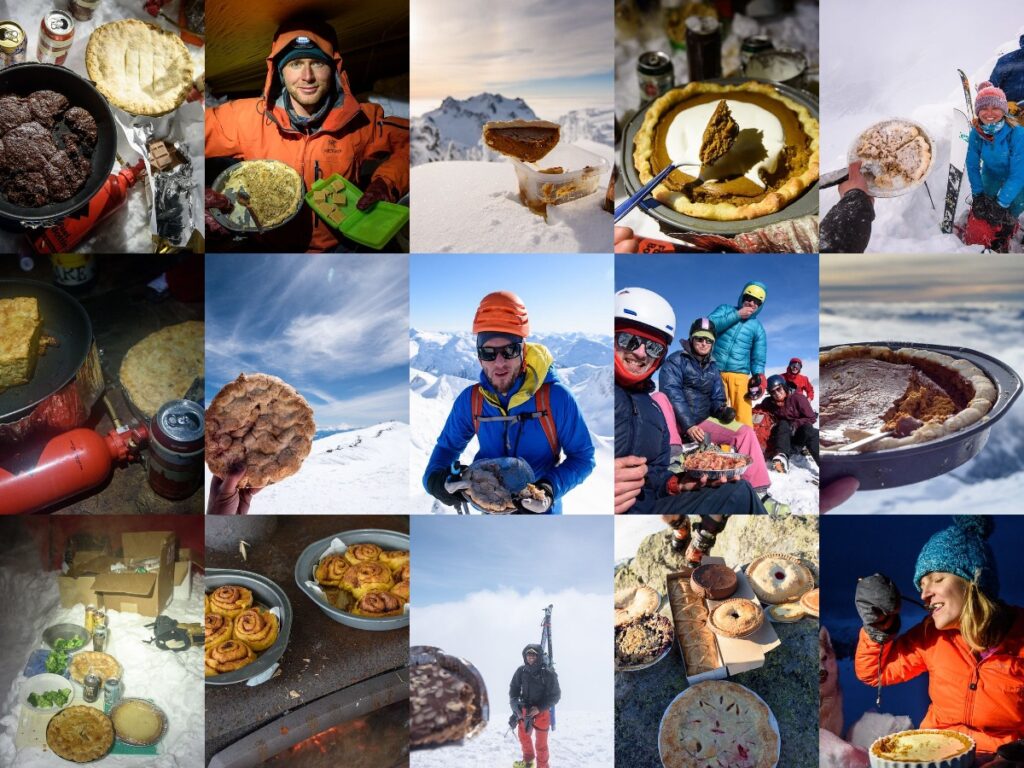 Here are some pie-lights from the last couple years. Some in the mountains, some elsewhere. Most importantly, many slices shared with friends and family.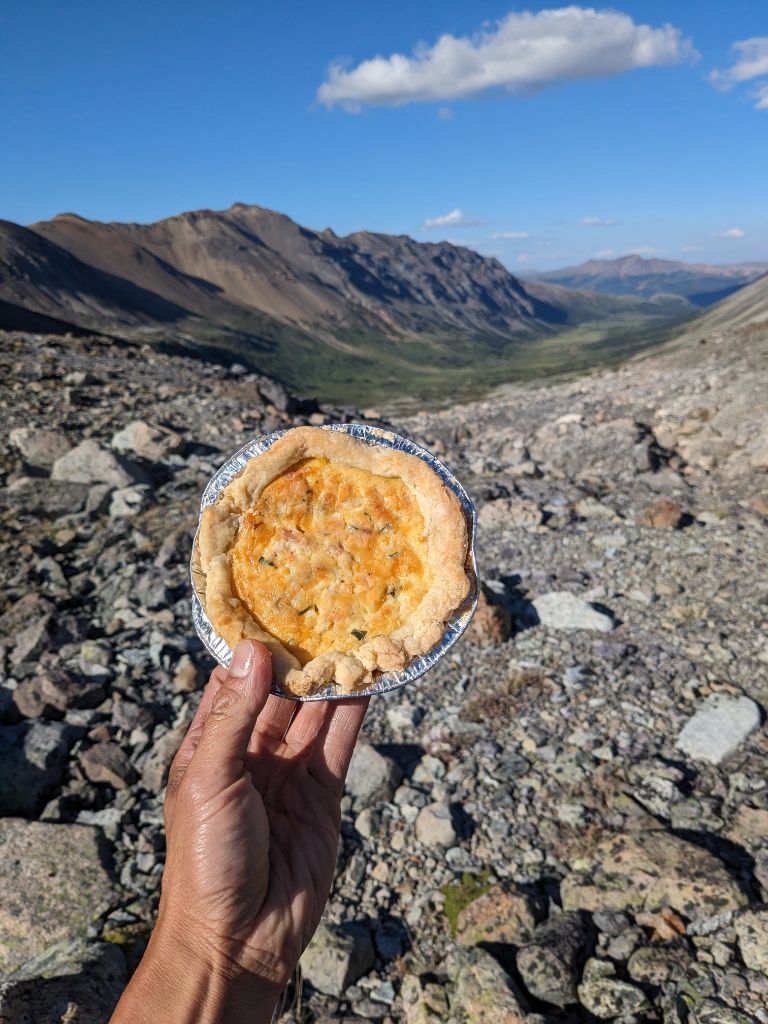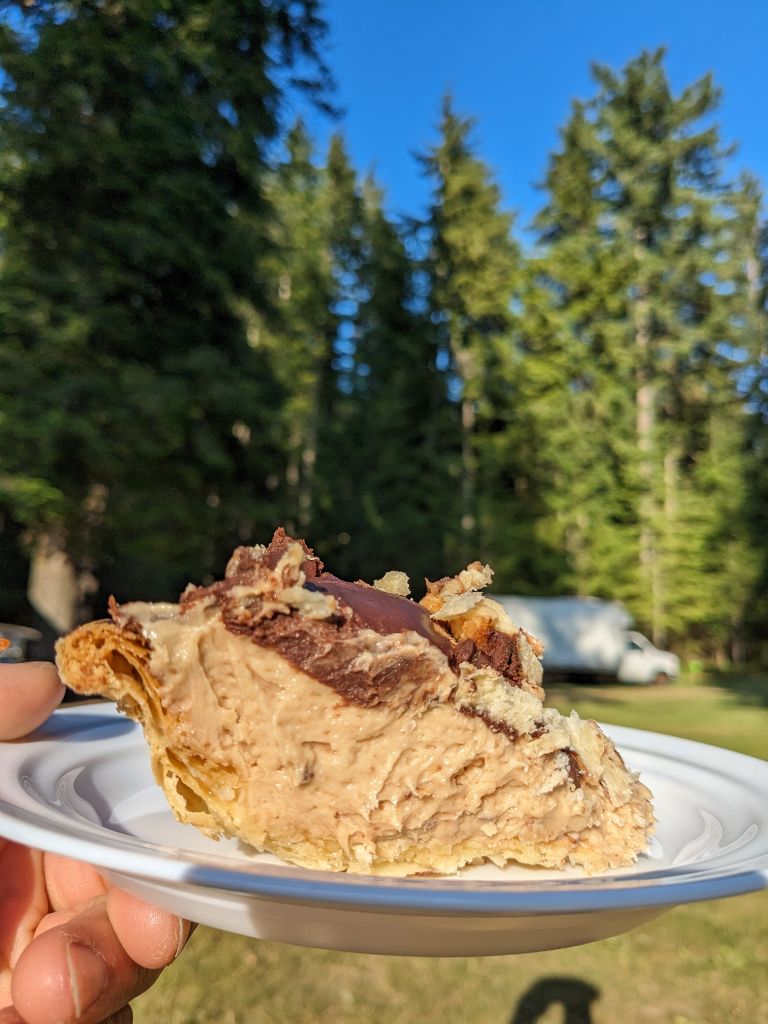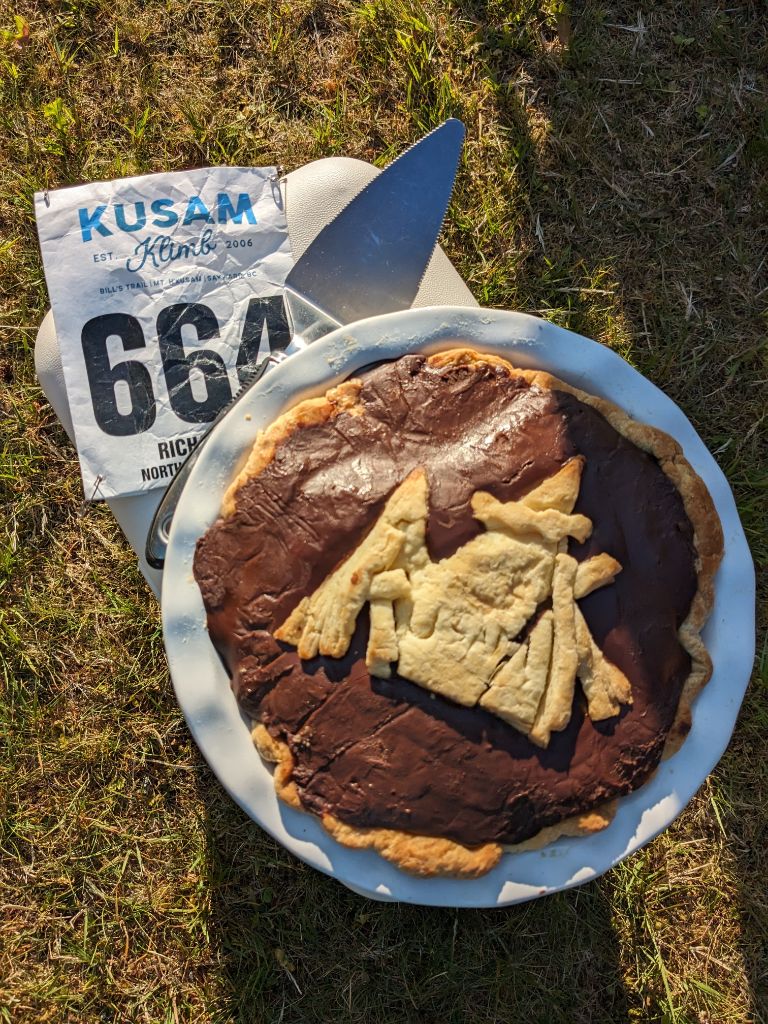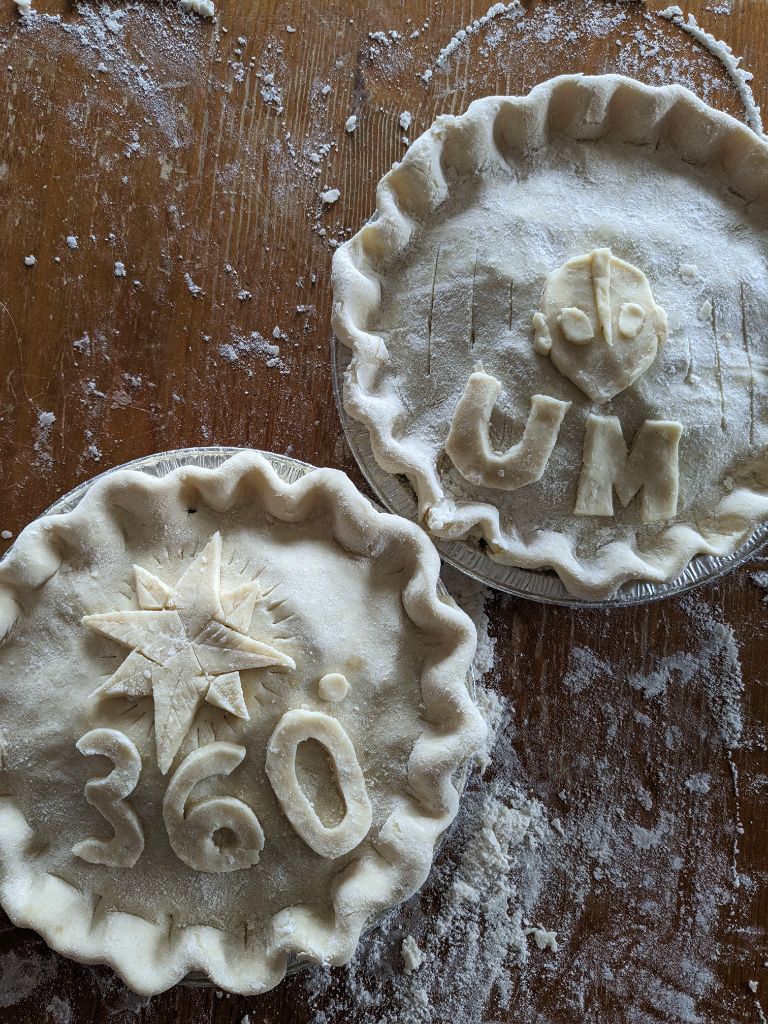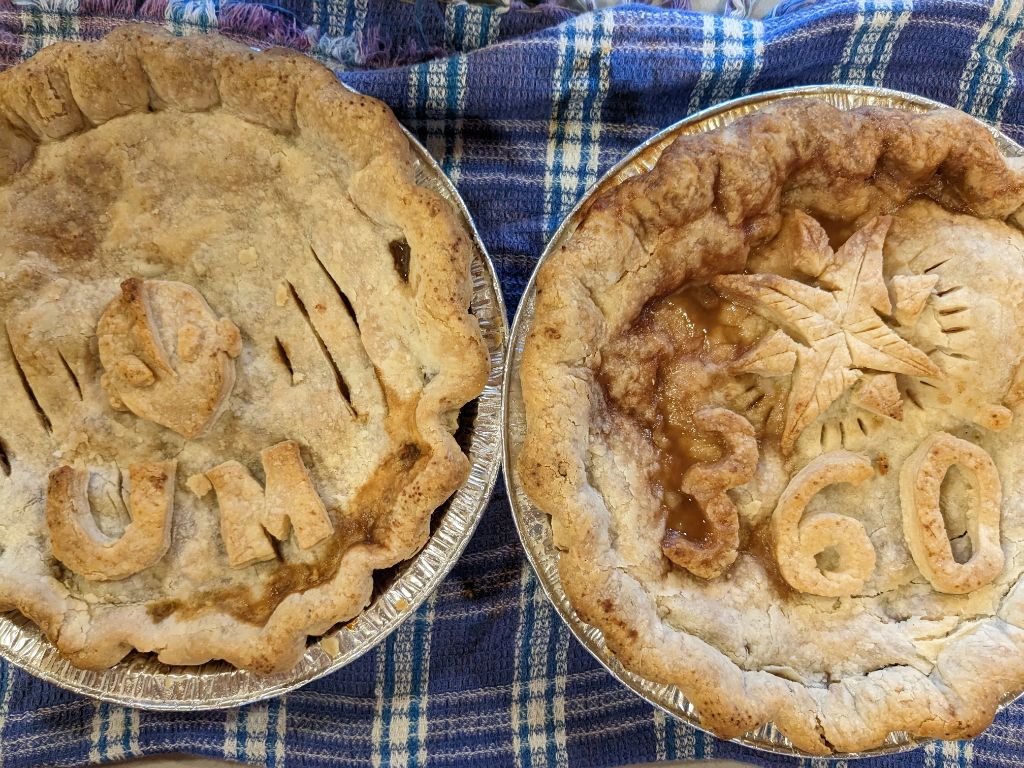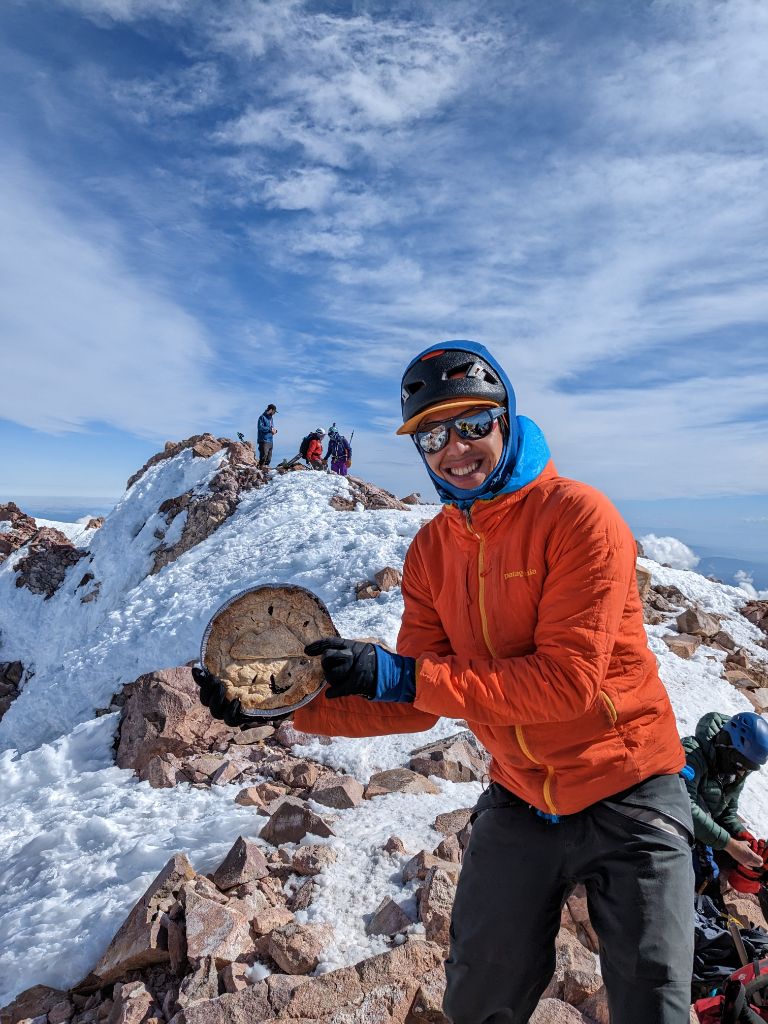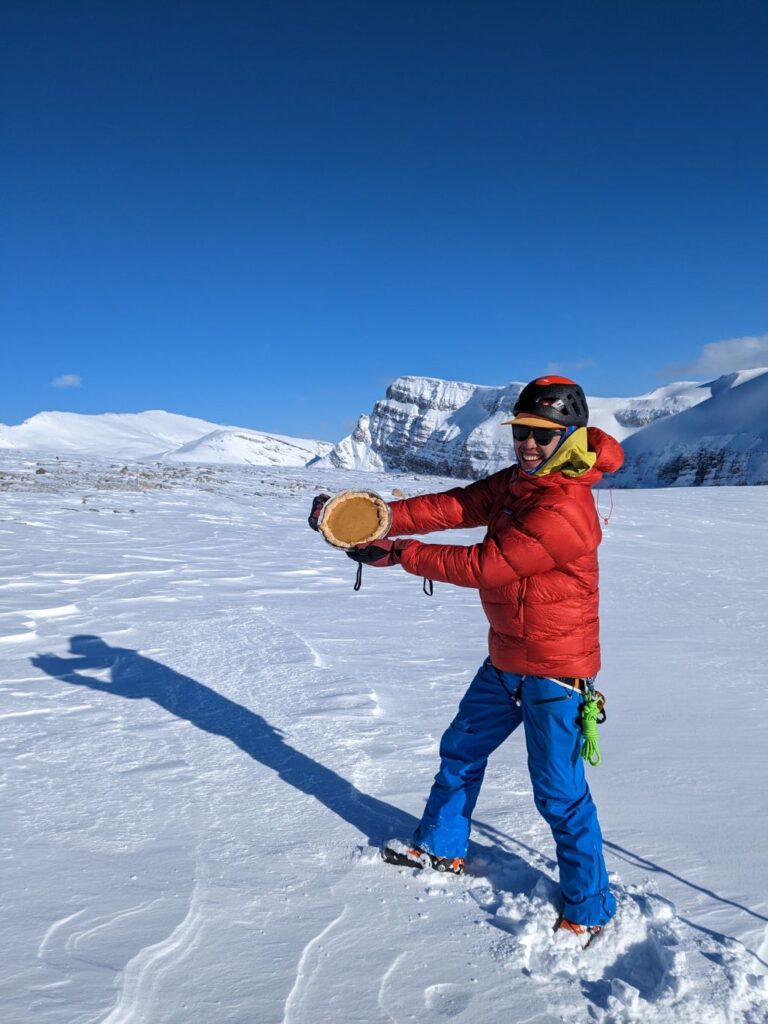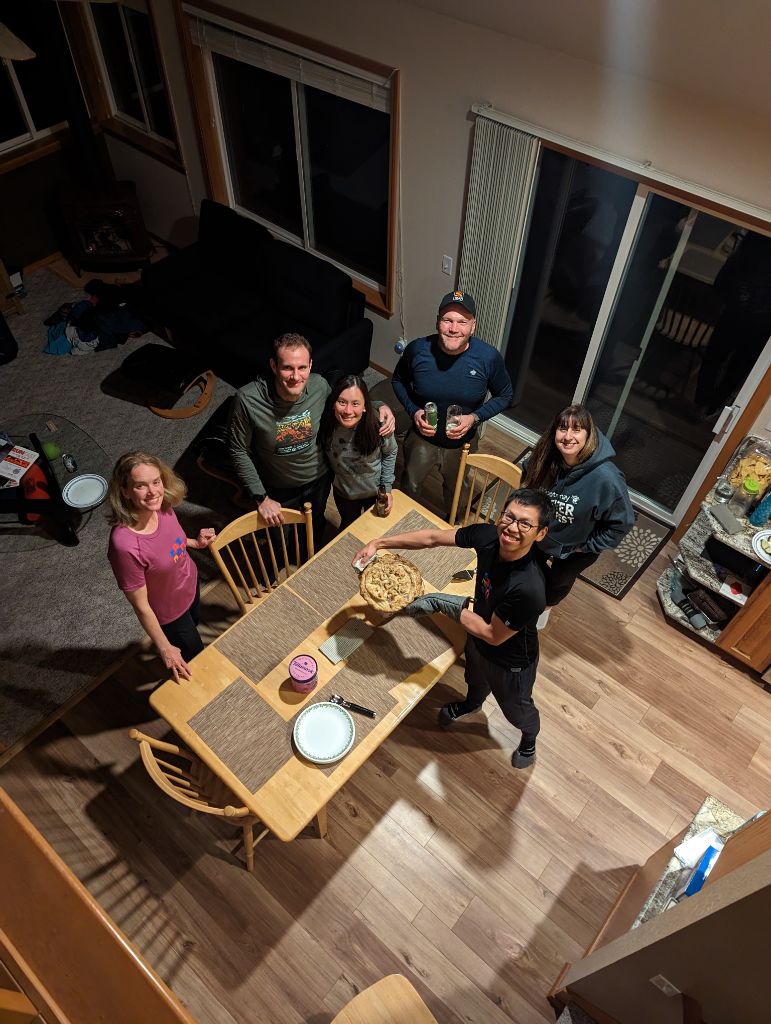 Apple pie post Chuckanut 50k, Mar 18, 2023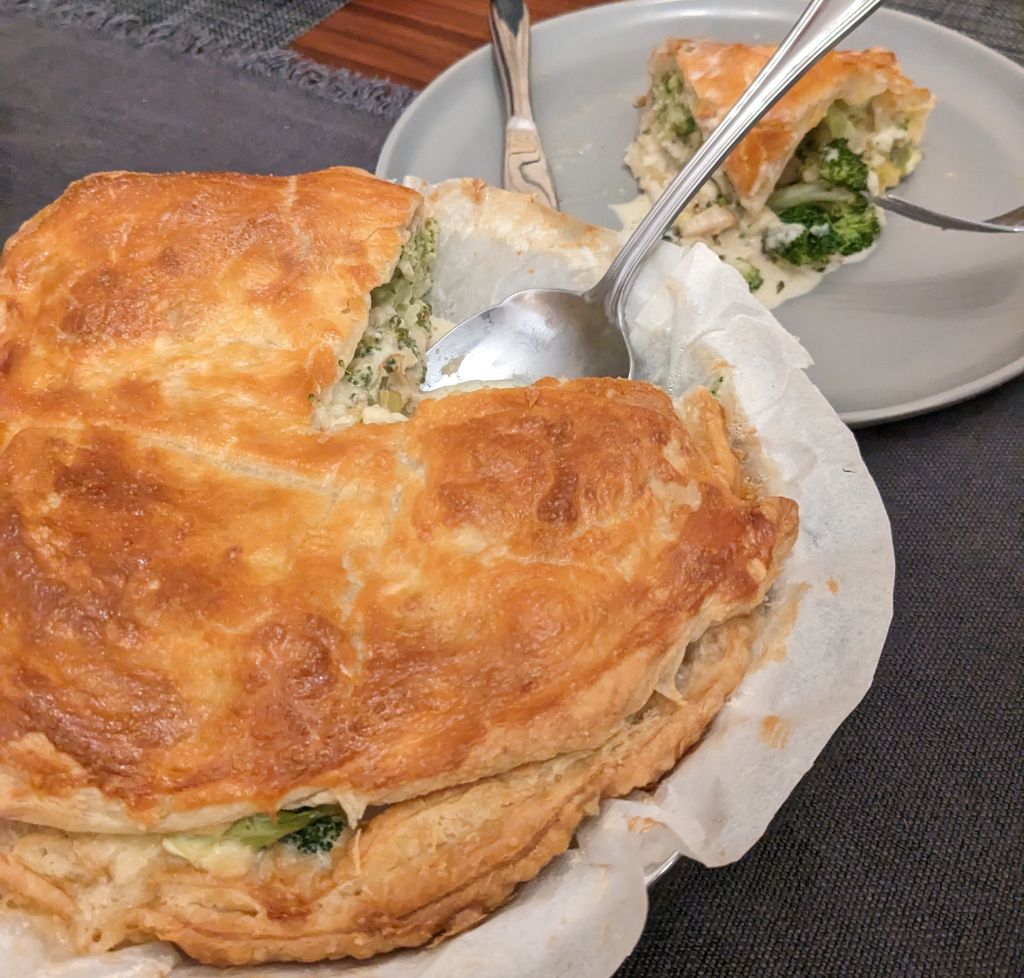 Broccoli garlic pie, and chicken pot pie. Pi Day 2023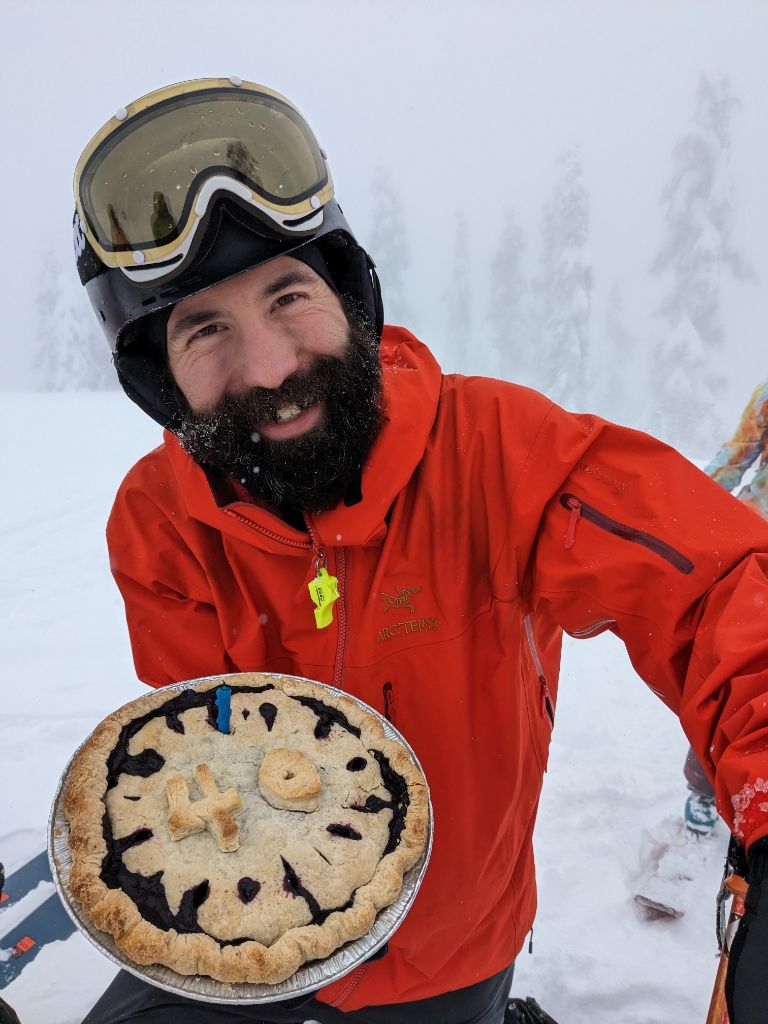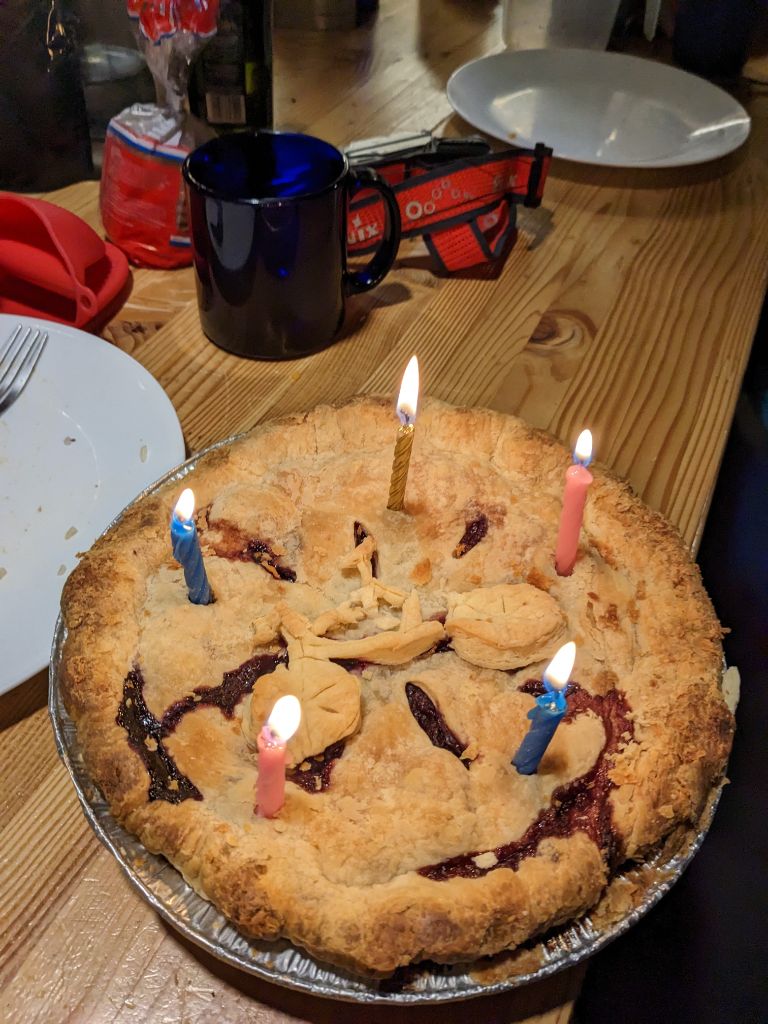 Cam's birthday pie, mixed frozen berries at the Kees and Claires Hut, Jan 11, 2023.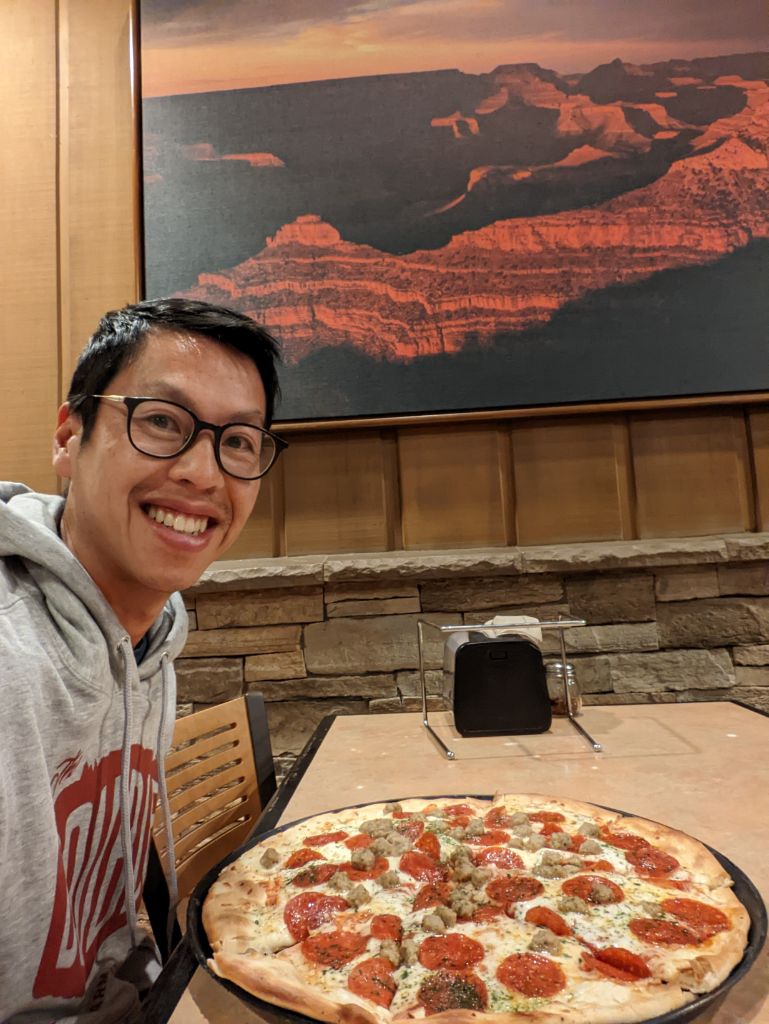 Grand Canyon Crust to Crust to Crust, aka the Rim to Rim to Rim, with a pecan pie at the Coconino Overlook, Nov 2, 2023.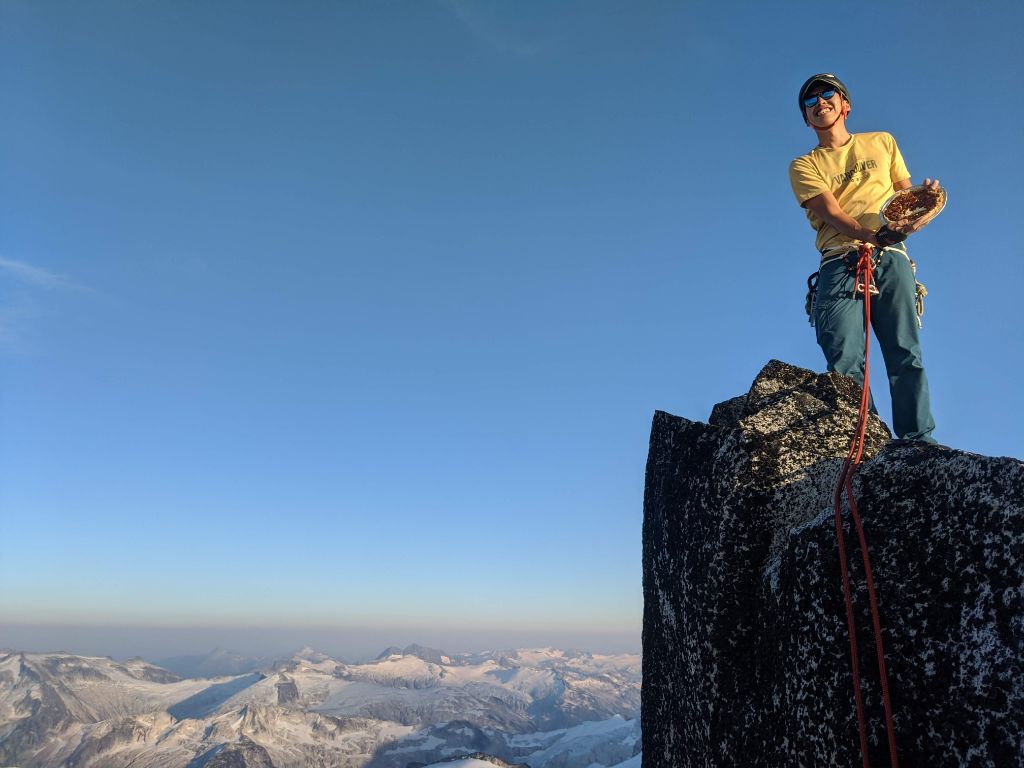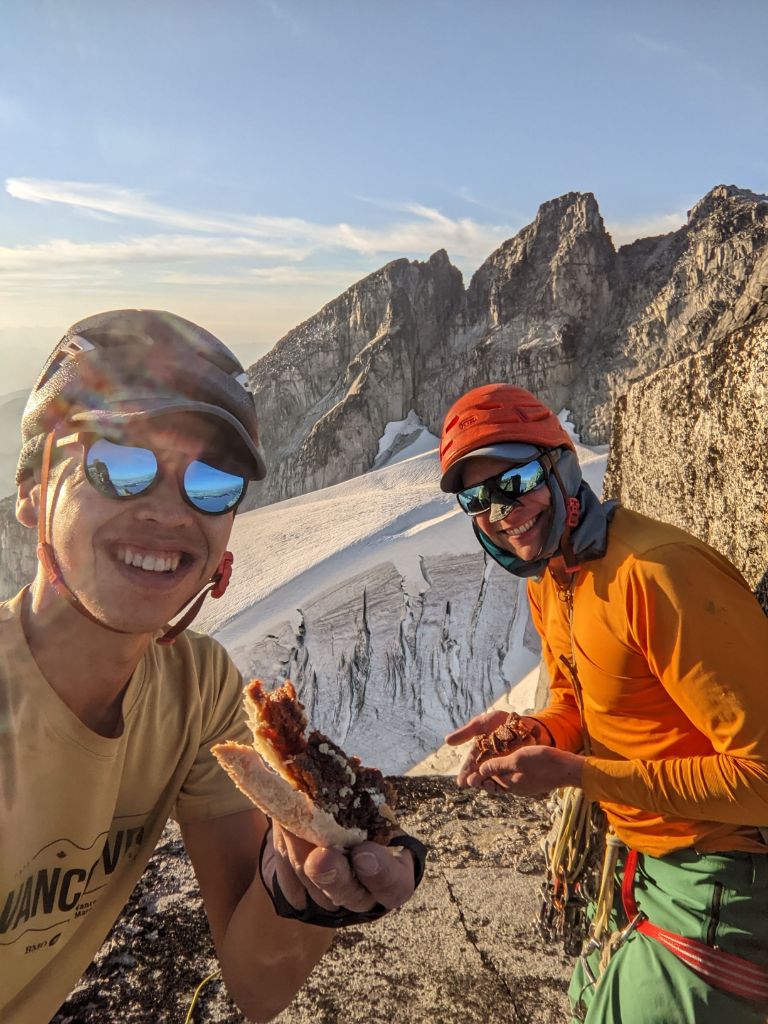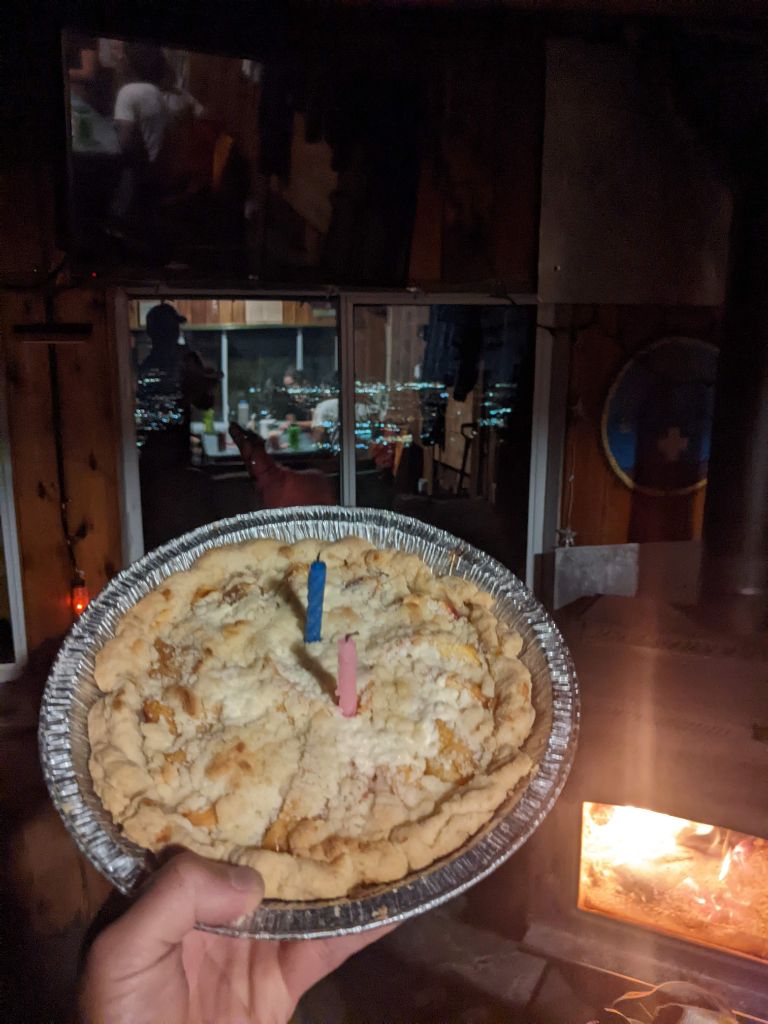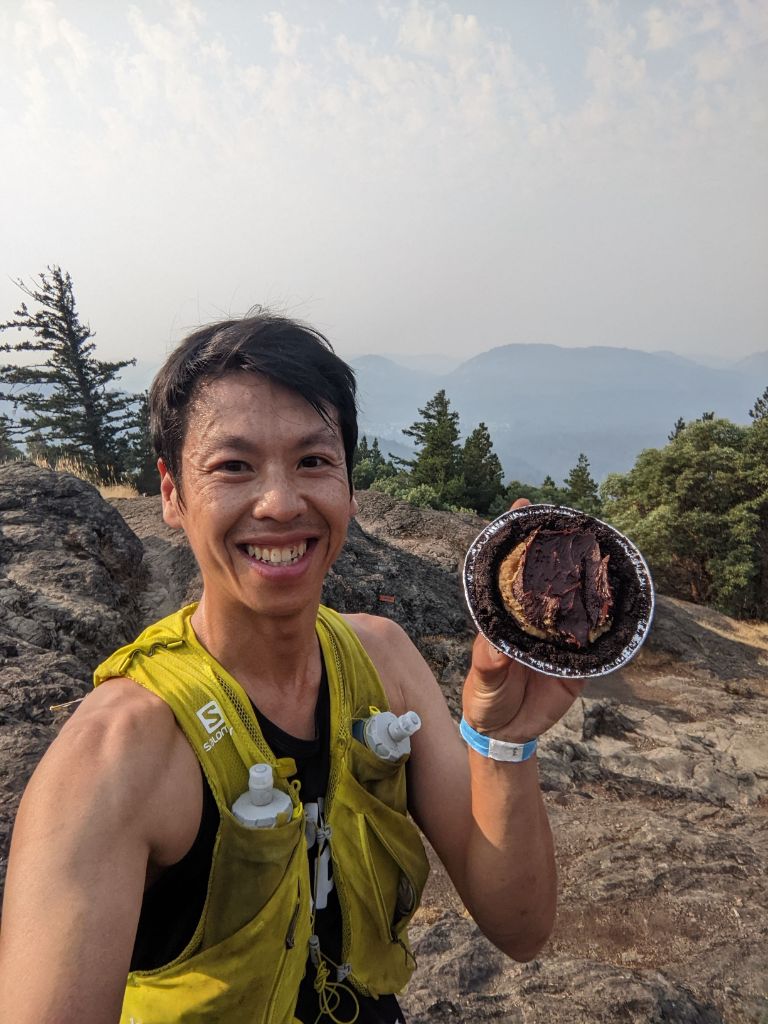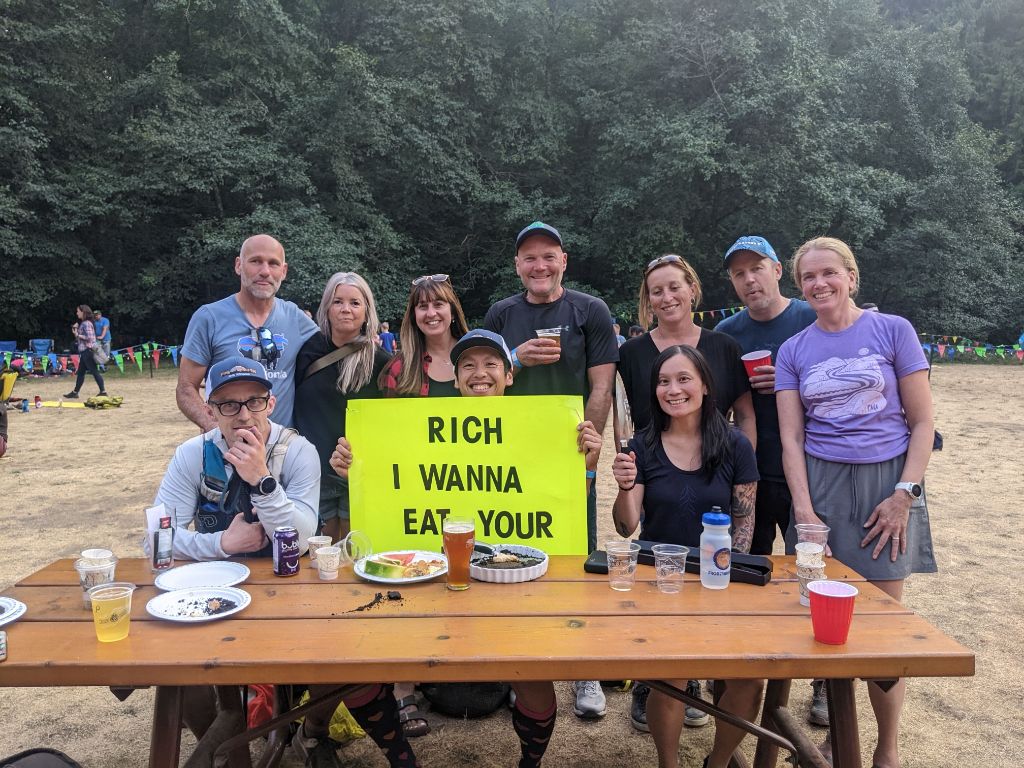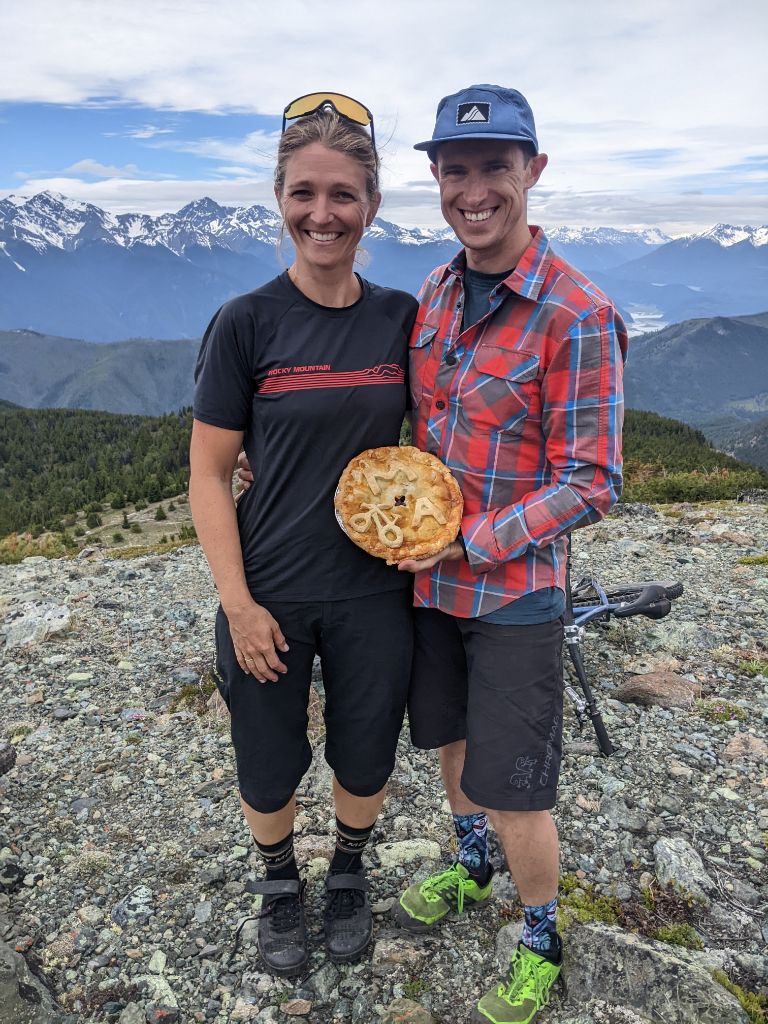 Shulaps Wedding Hike-a-Bike Cherry Pie, July 22, 2022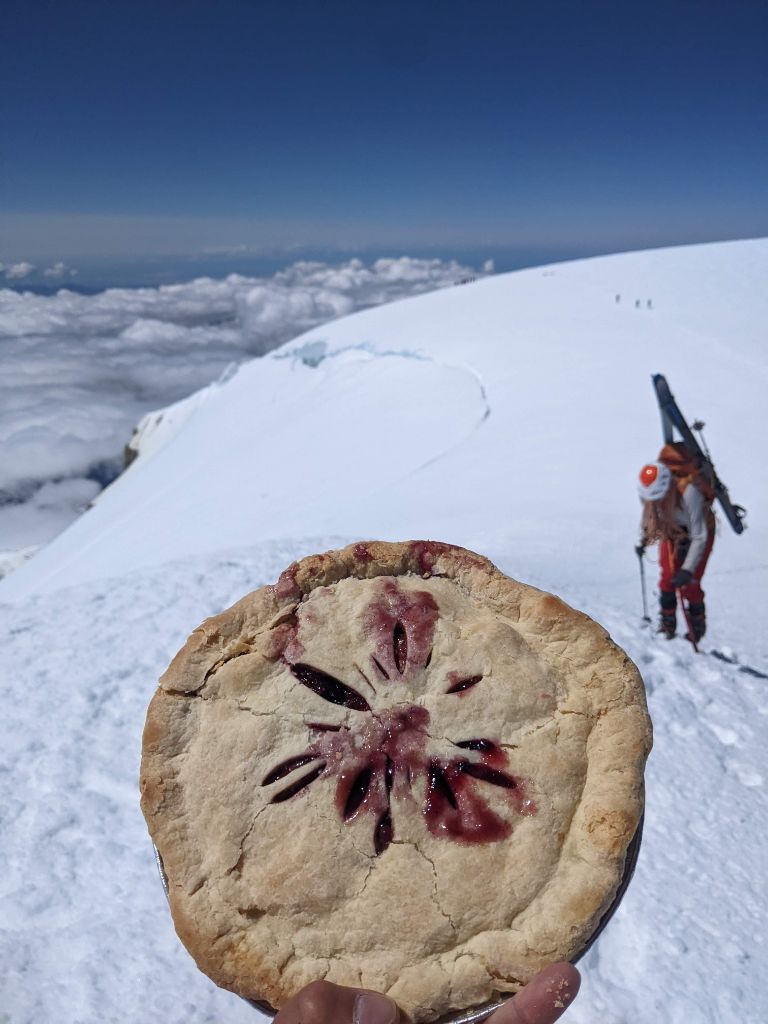 Strawberry rhubarb on top of Komo Kulhsan (Mount Baker) with Julie, July 1, 2023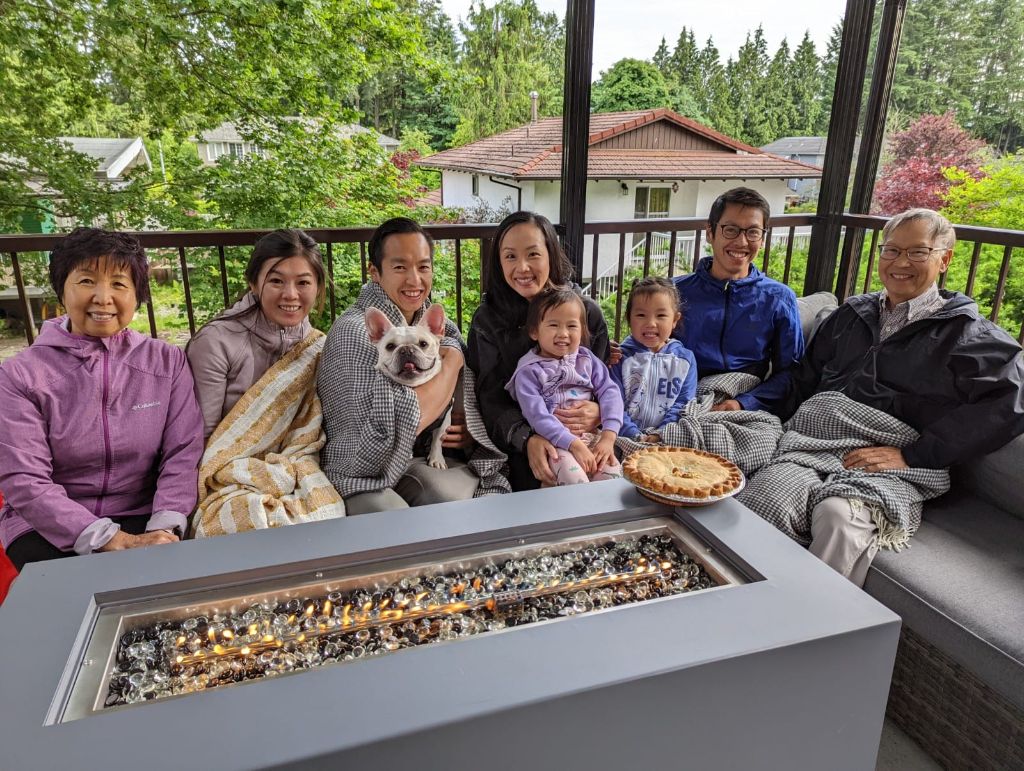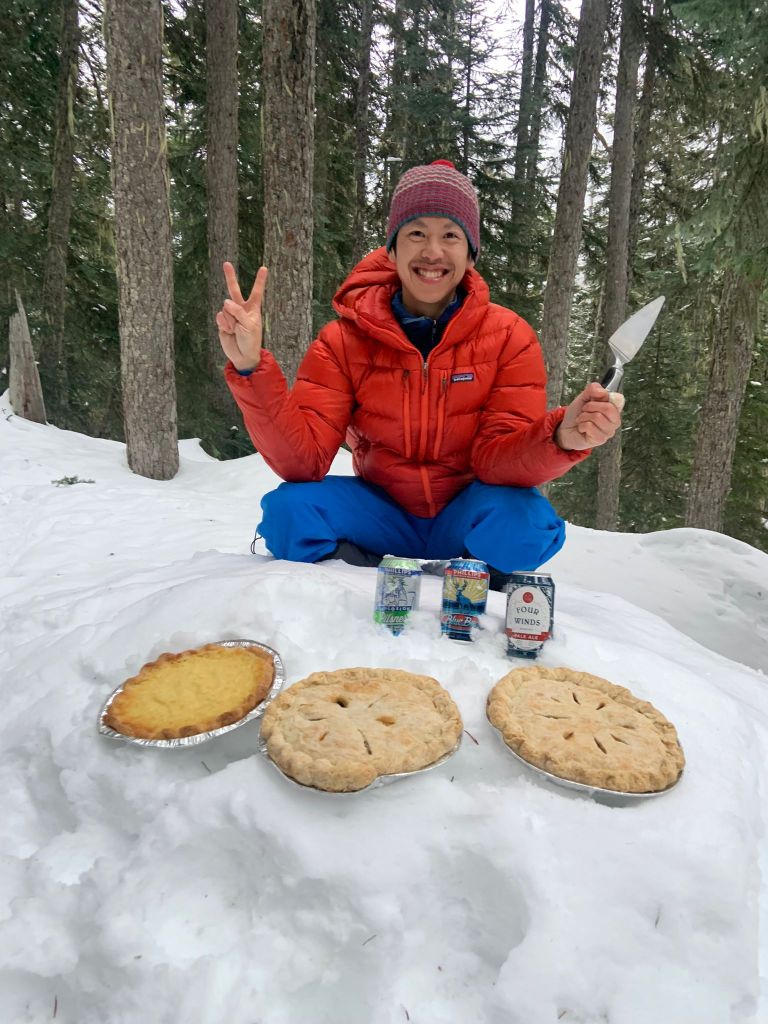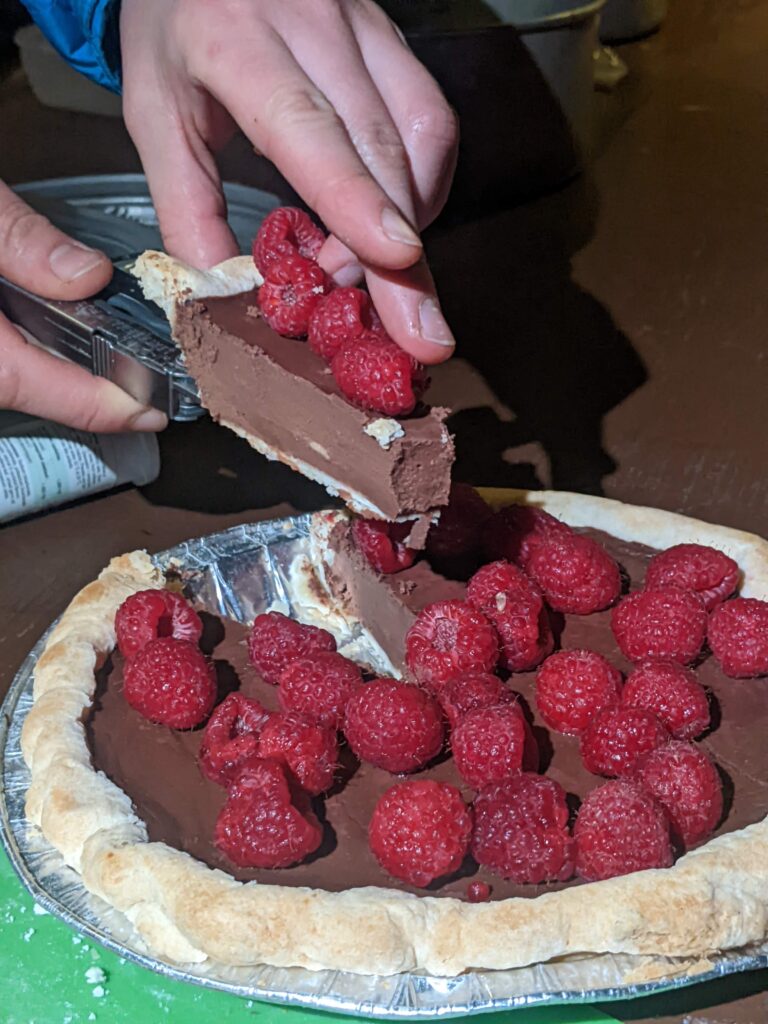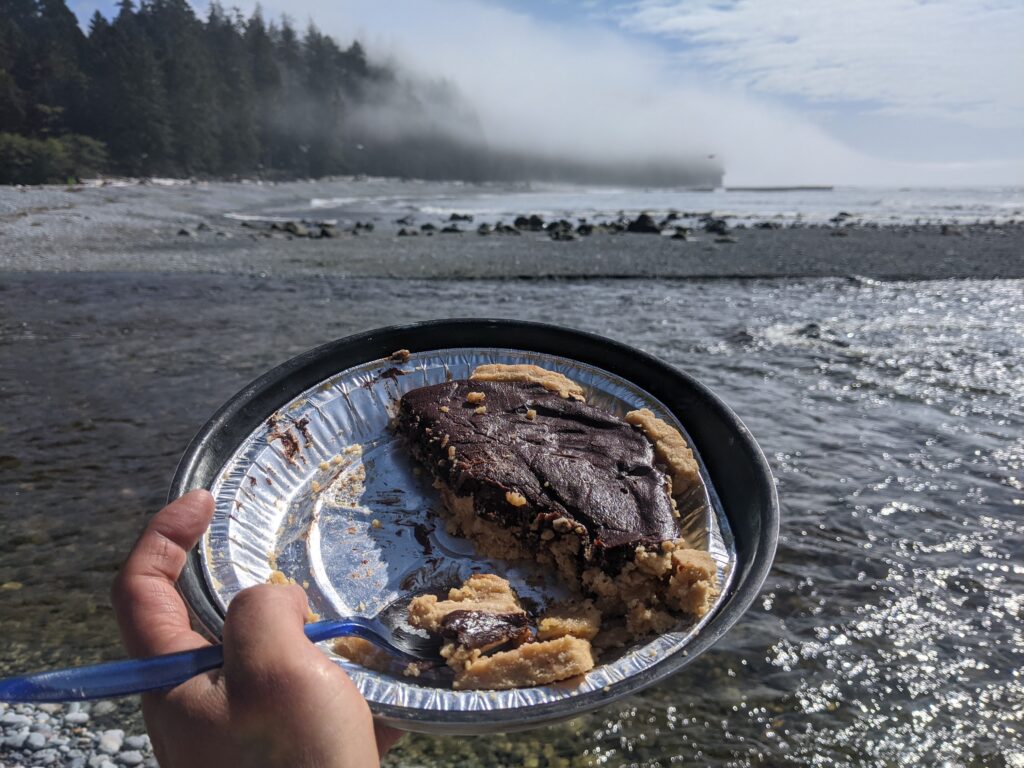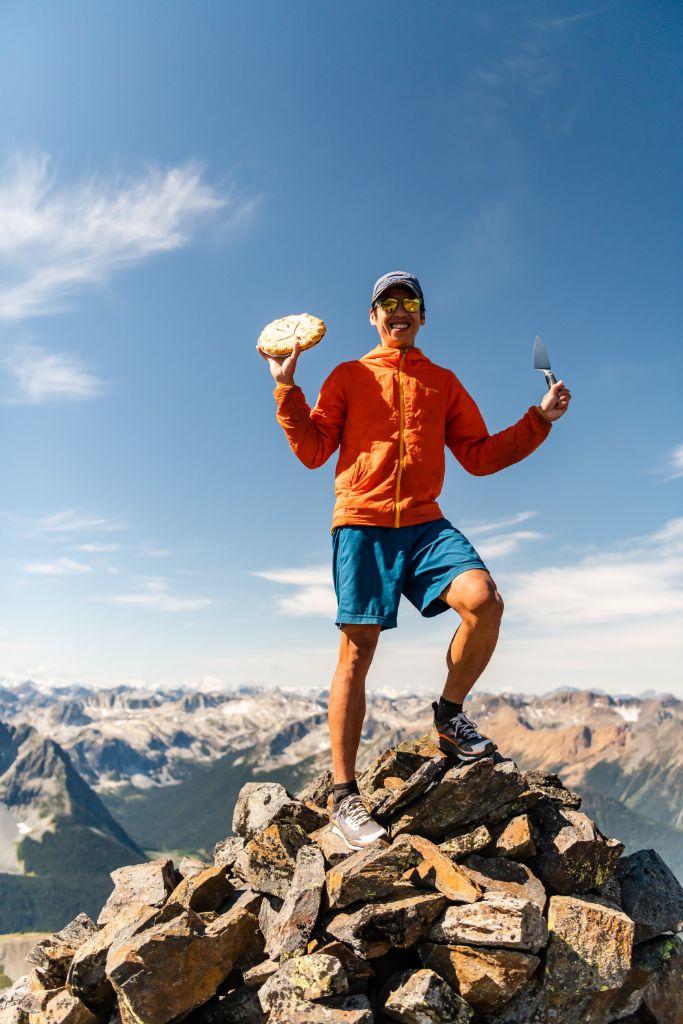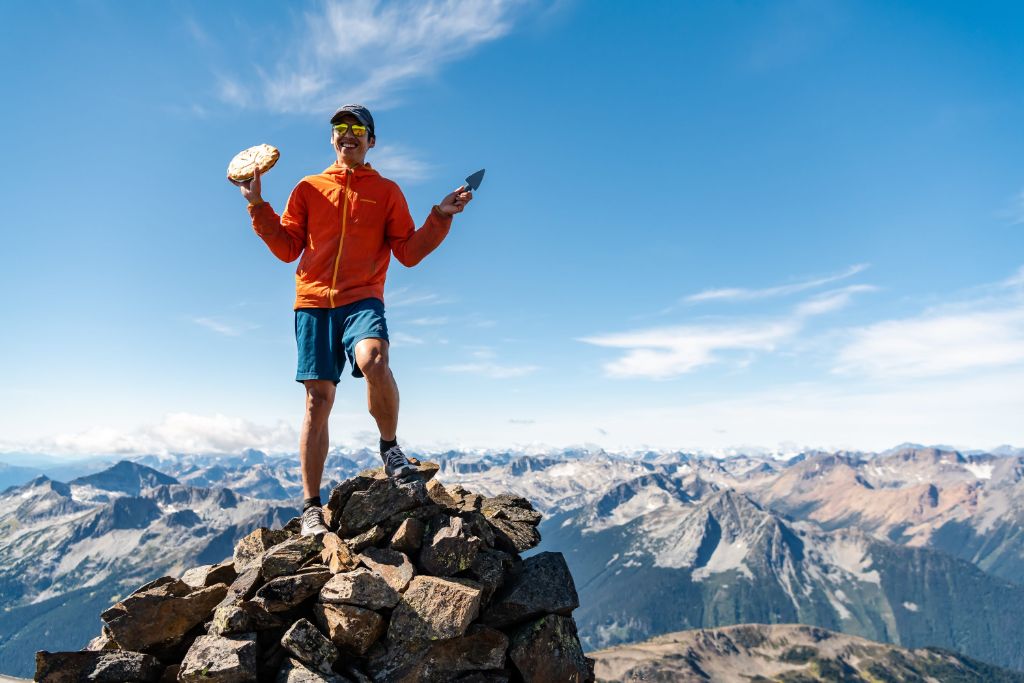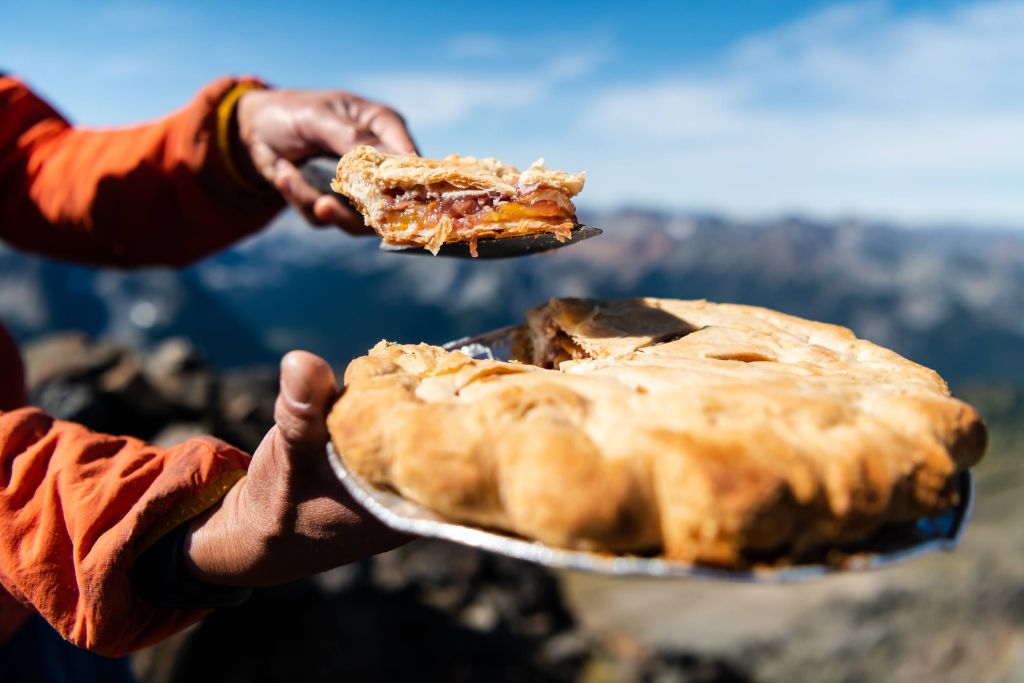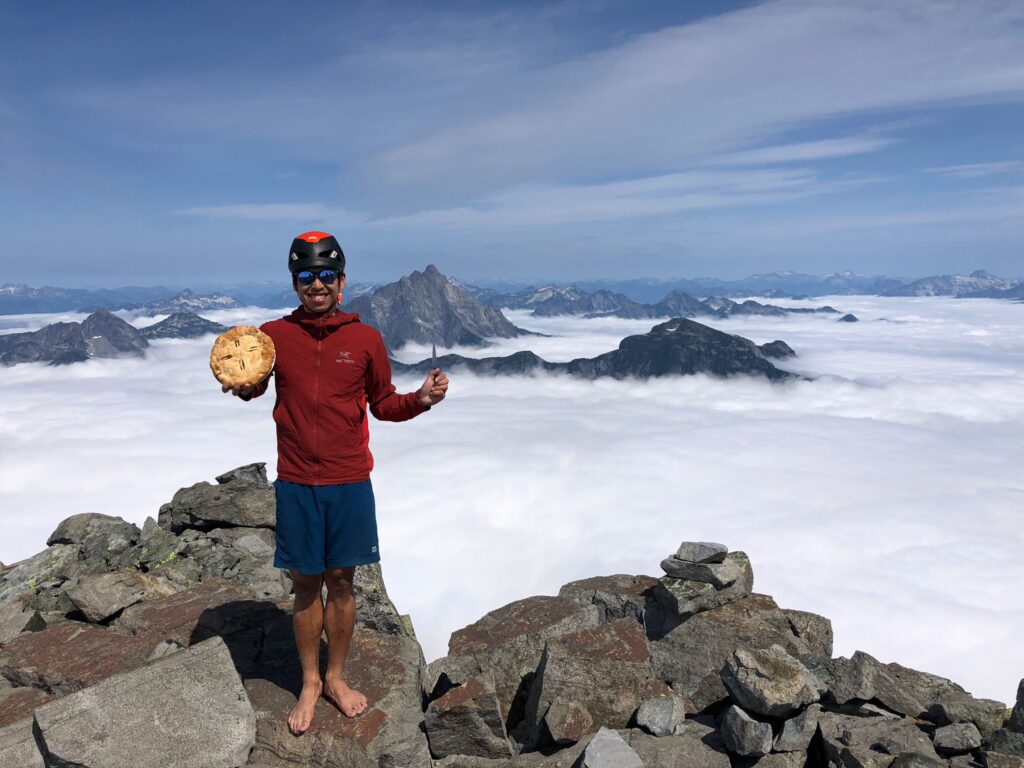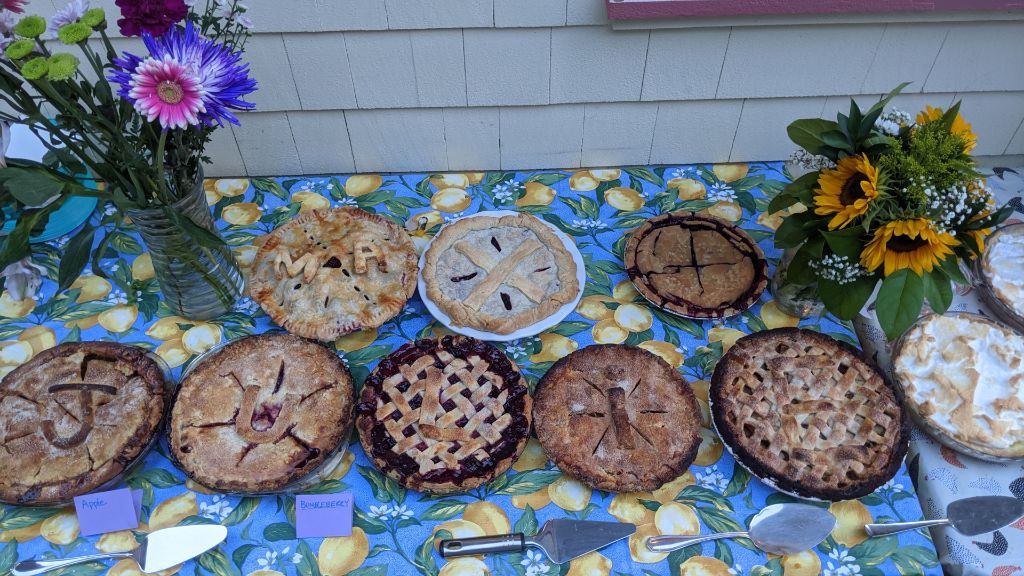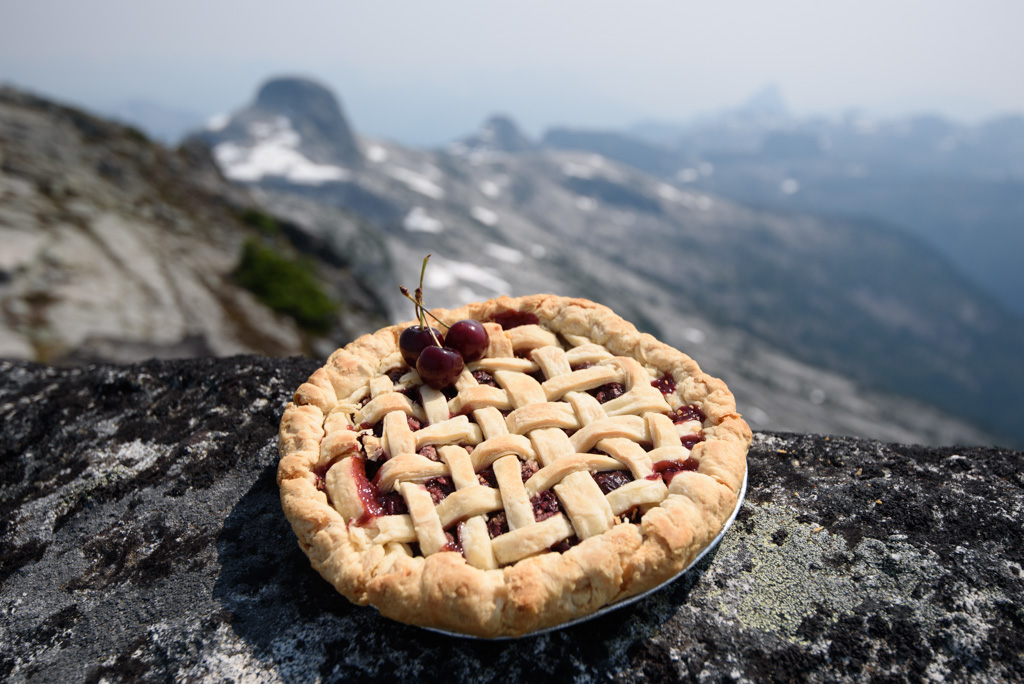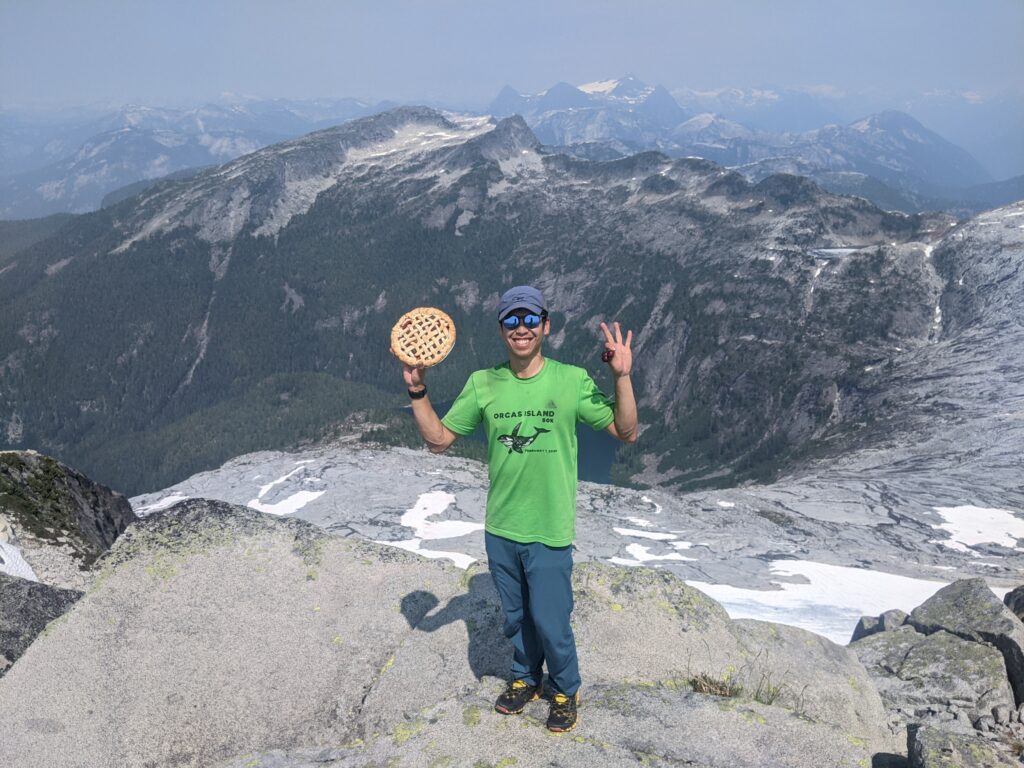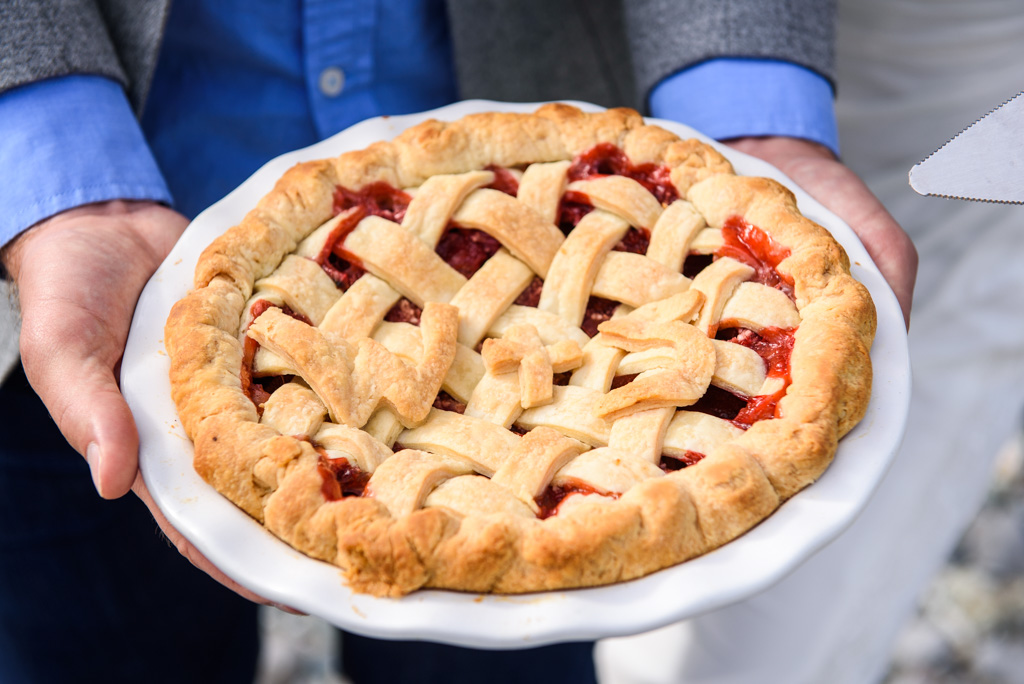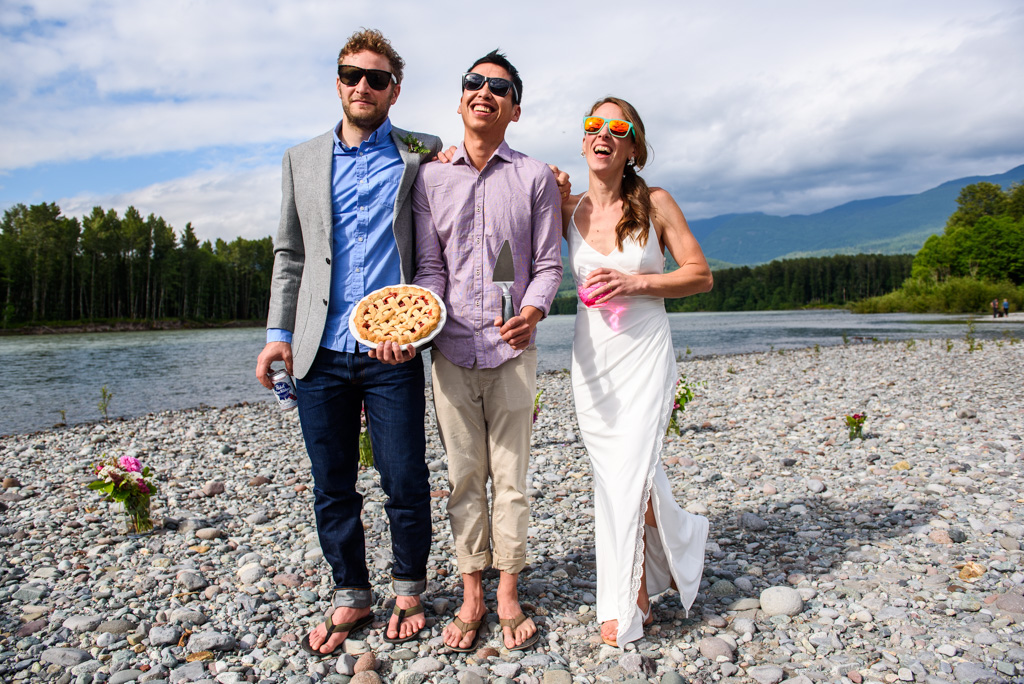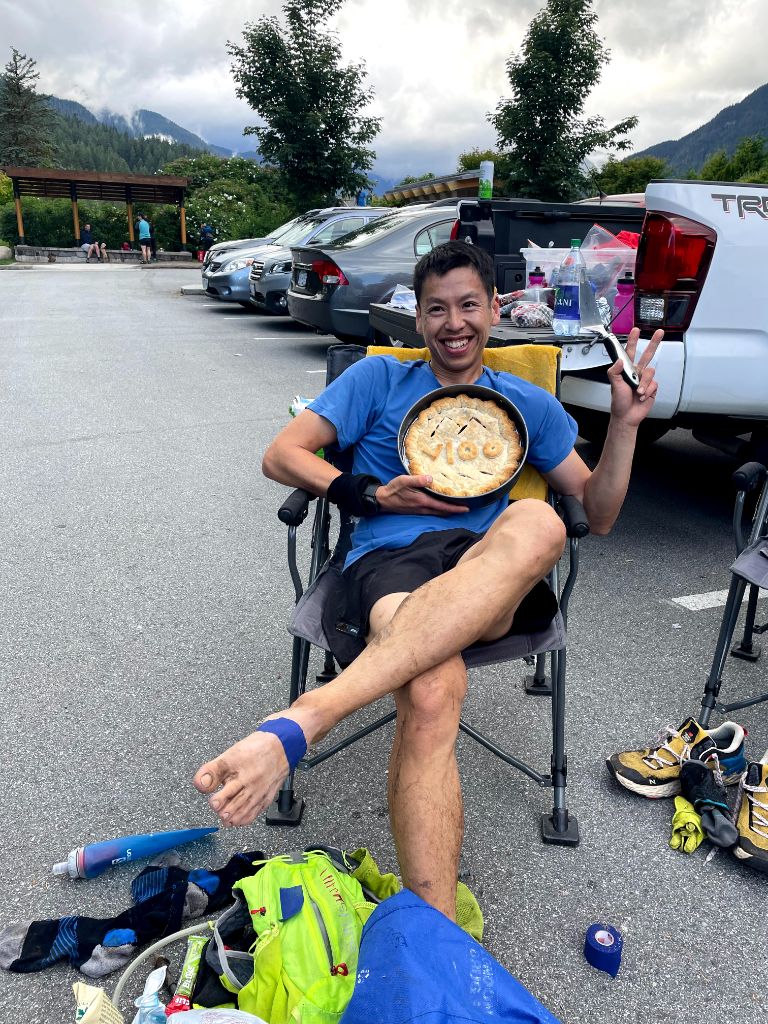 Vancouver 100. Apple berry pie at Cleveland Dam. June 5, 2021.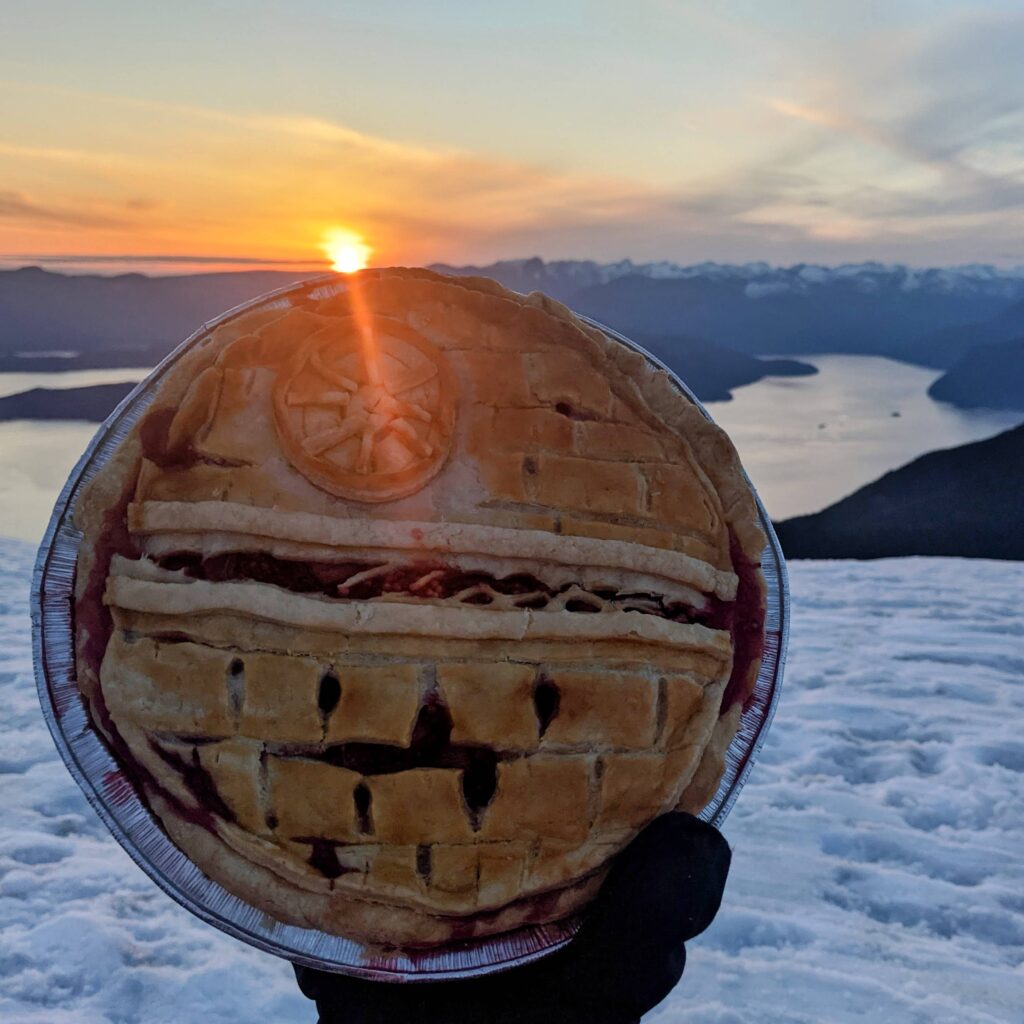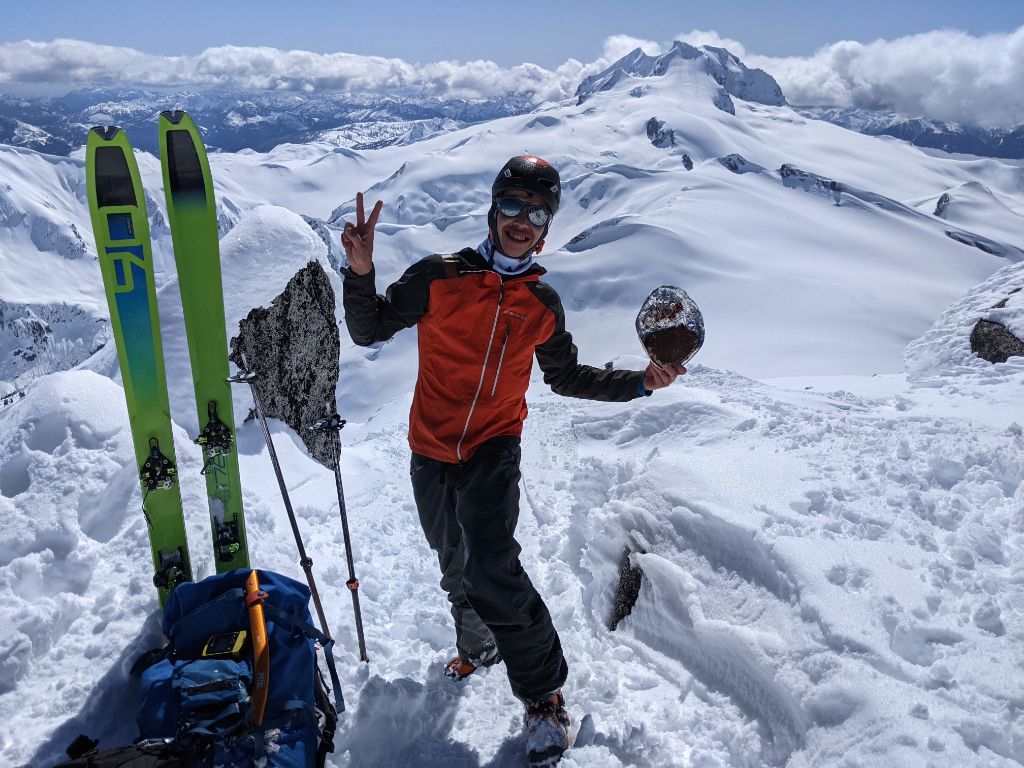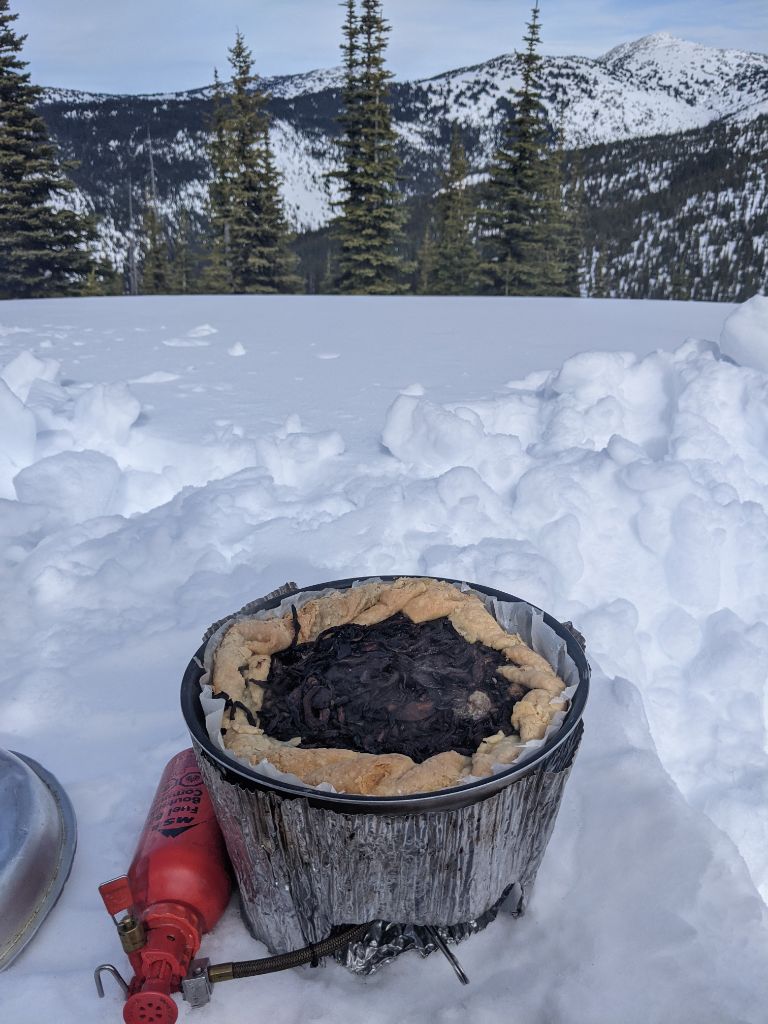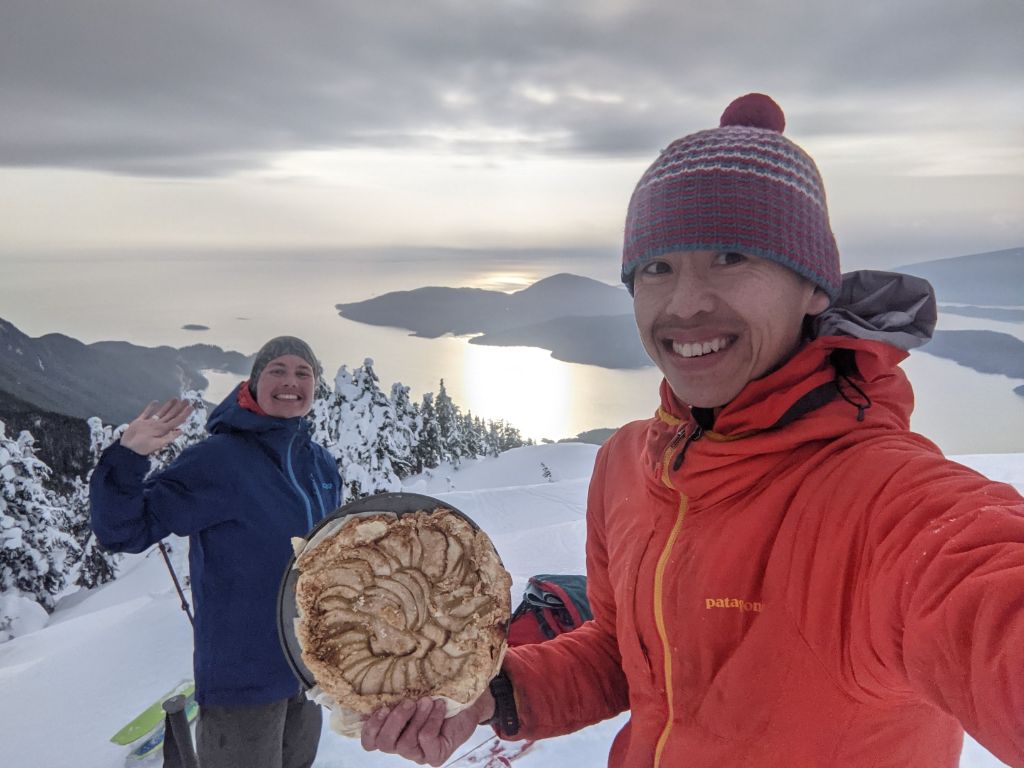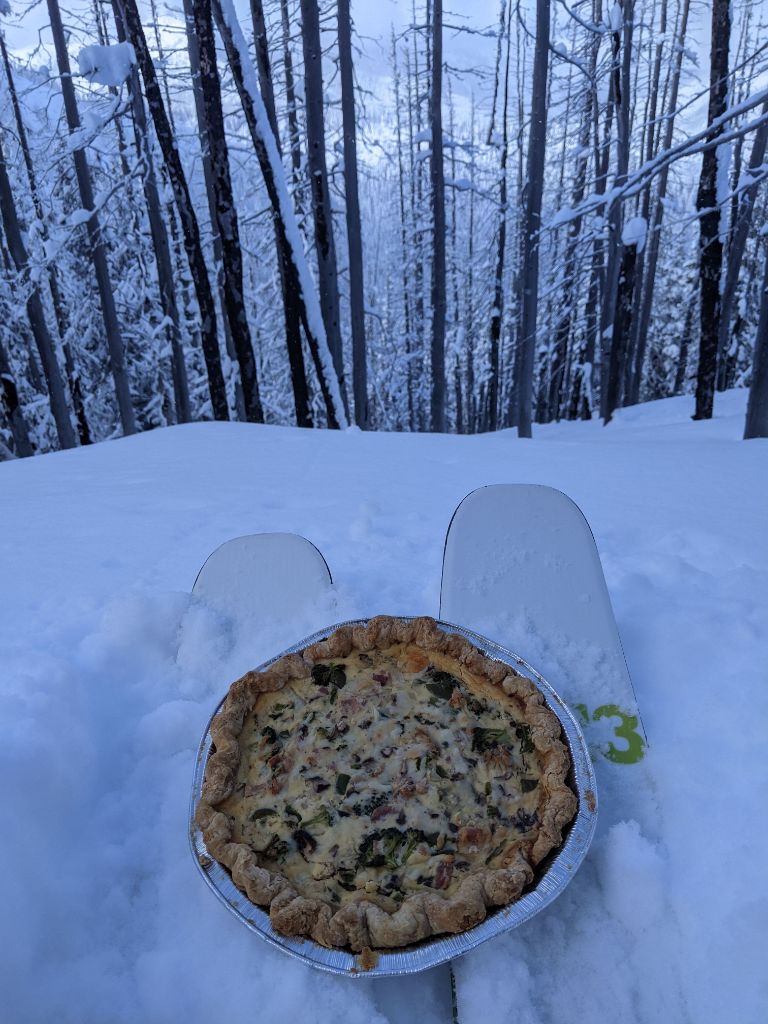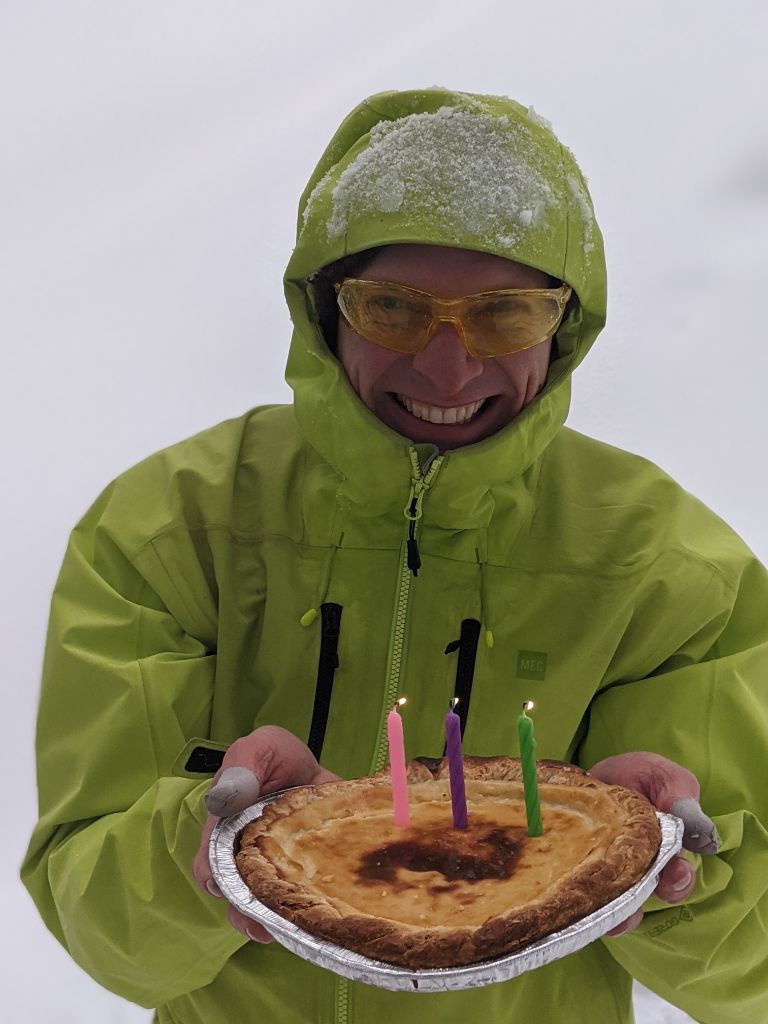 Powder and Portuguese egg tart deep in the North Shore backcountry with Nick, Jan 30, 2021.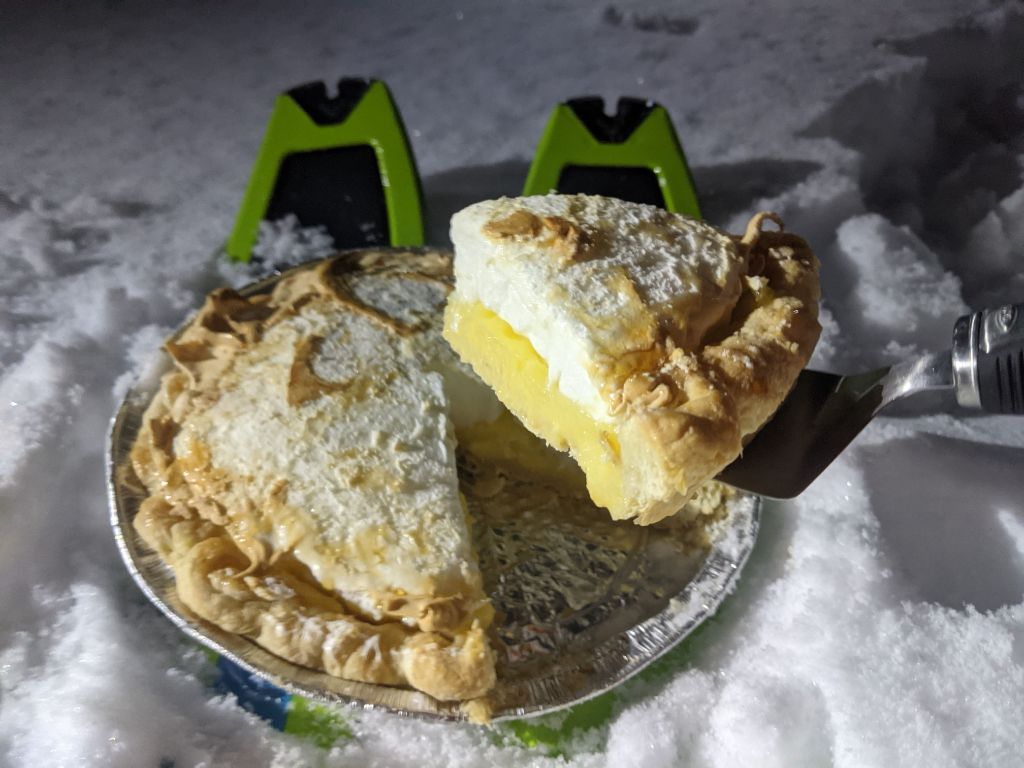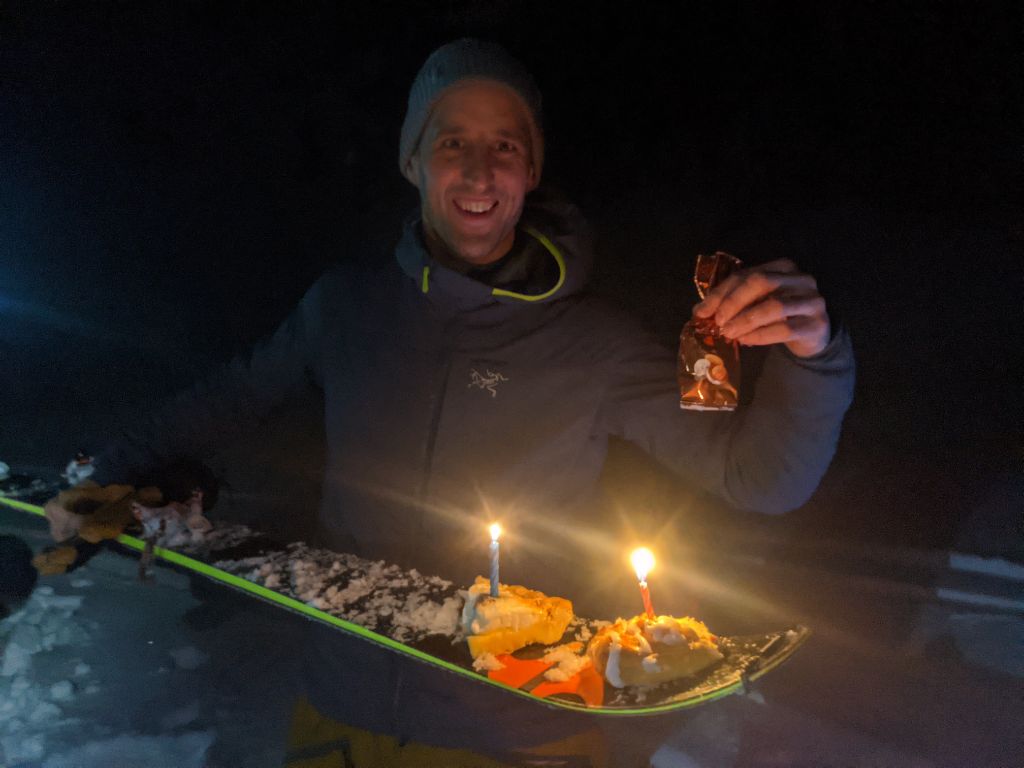 Lemon meringue pie at De-pie-cier Lake for Cam's birthday, Jan 28, 2021.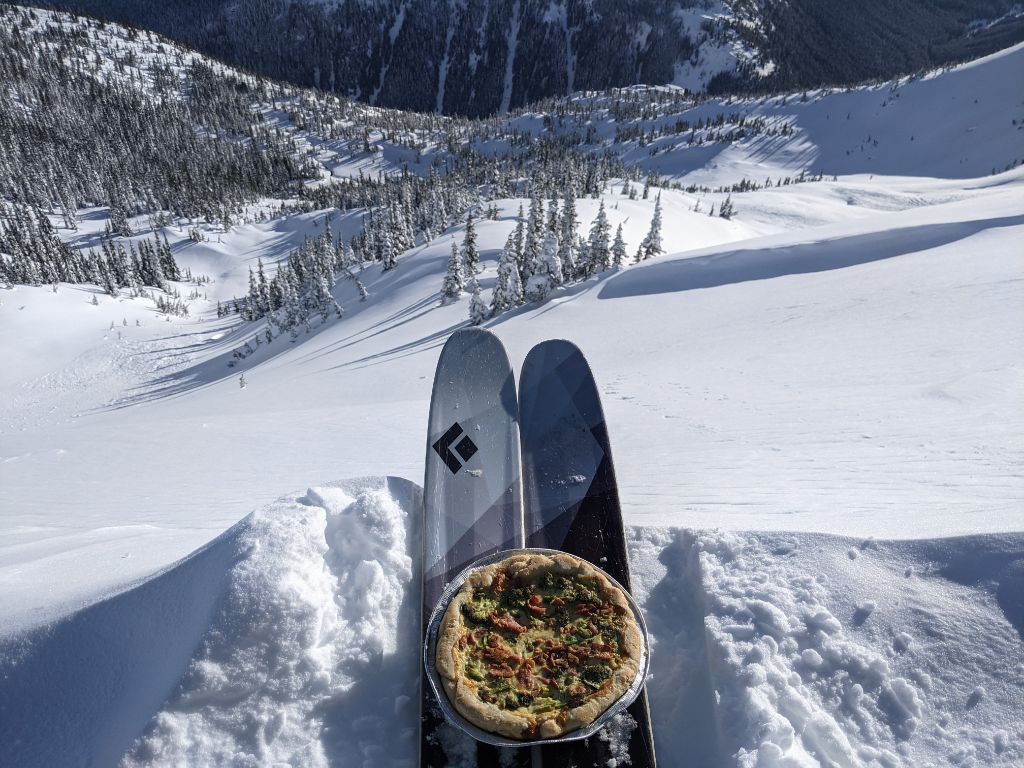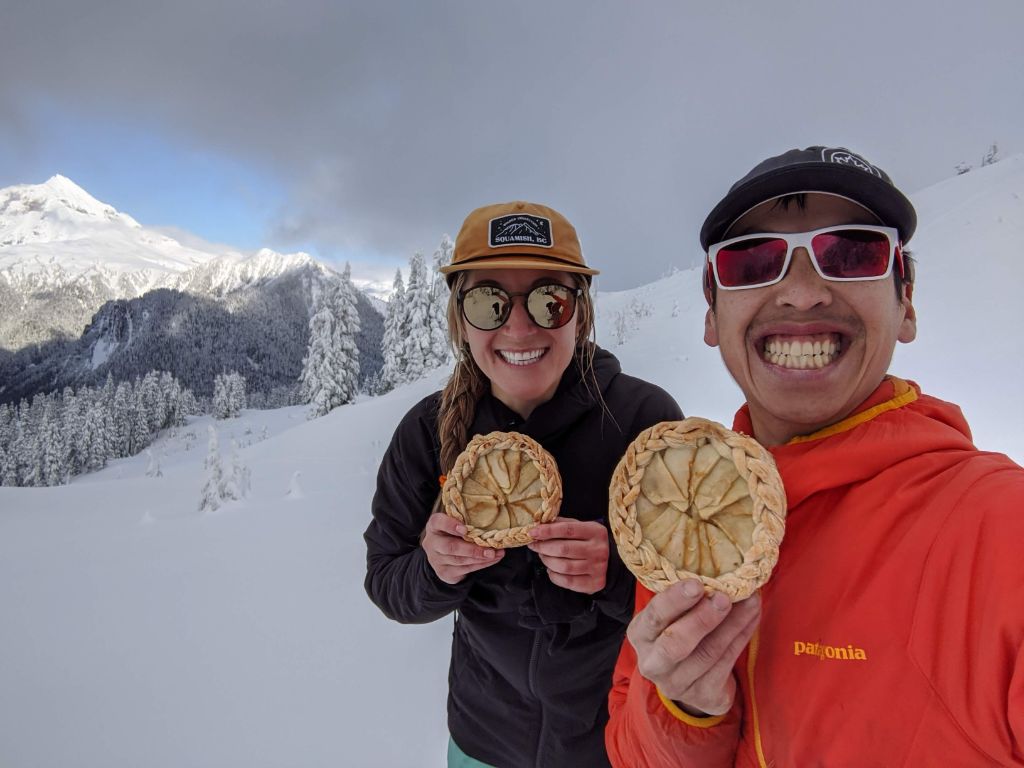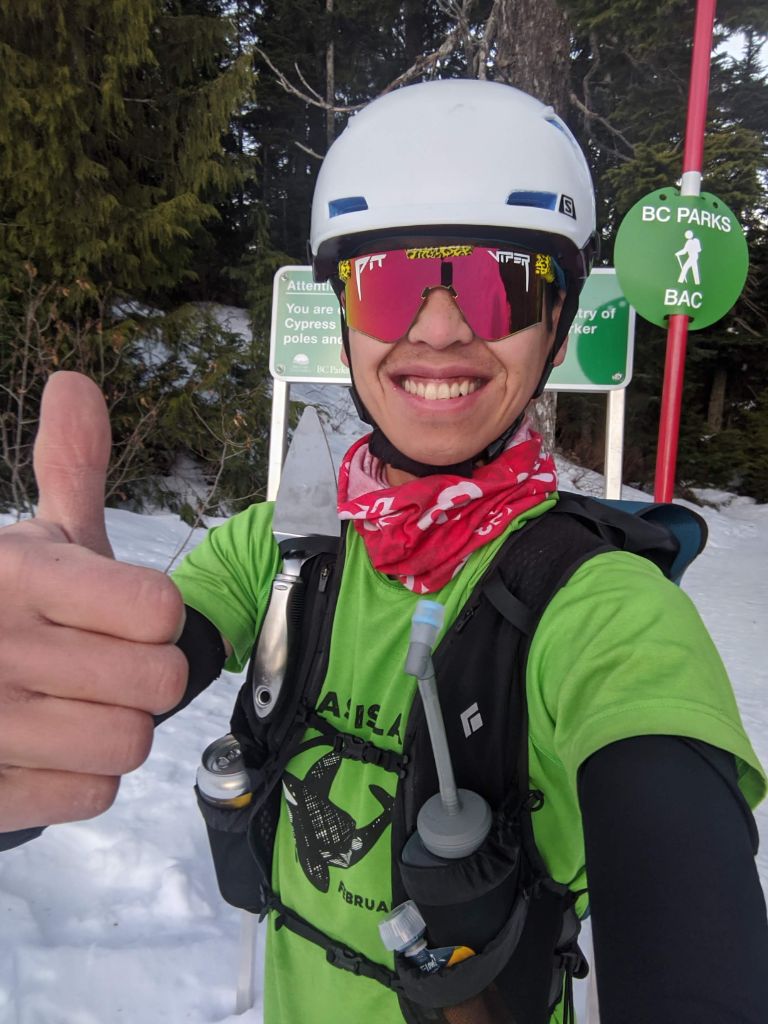 Ski-mo race pie. A virtual all you can eat vert/crust event on Black Mountain. Dec 5, 2020.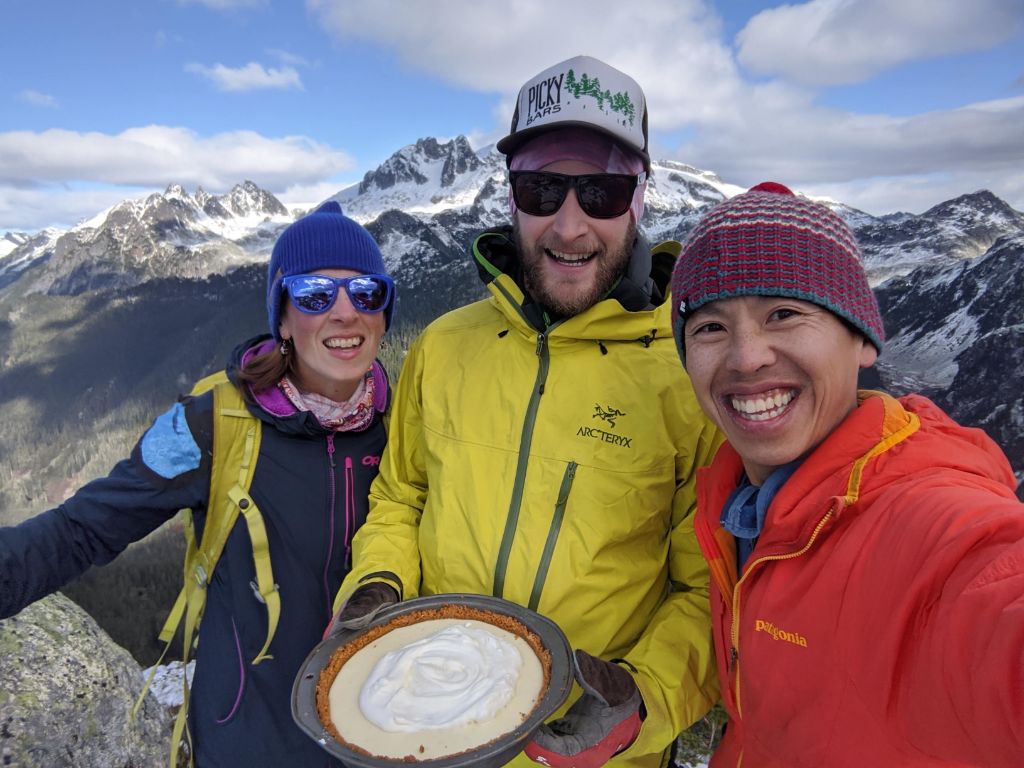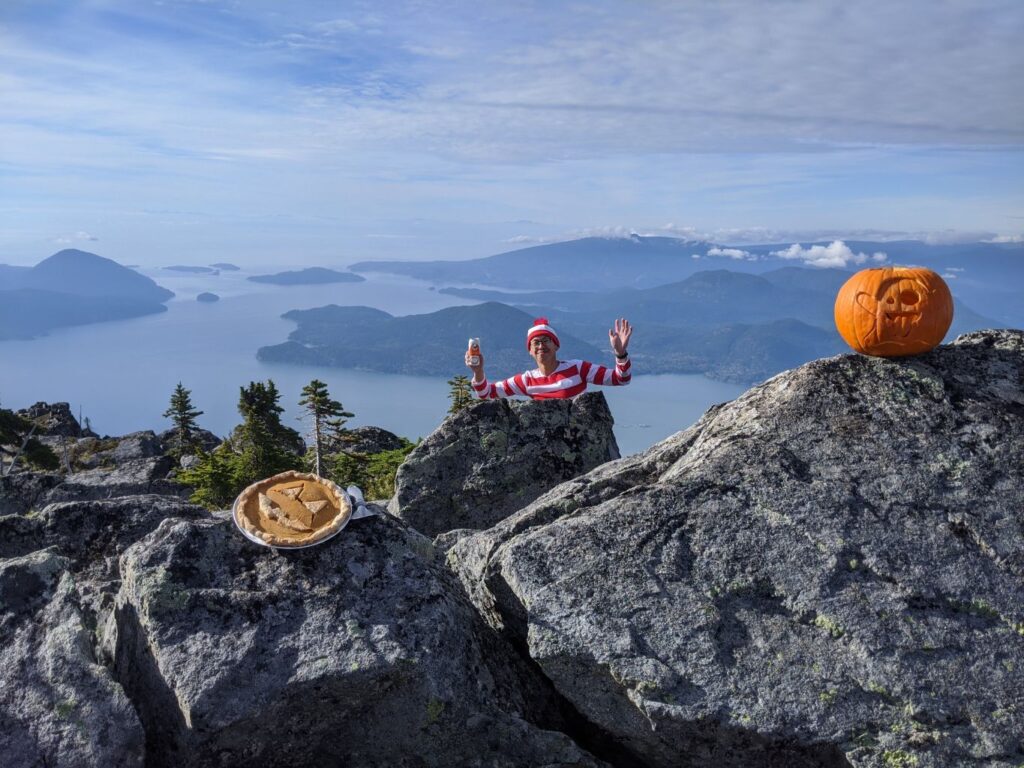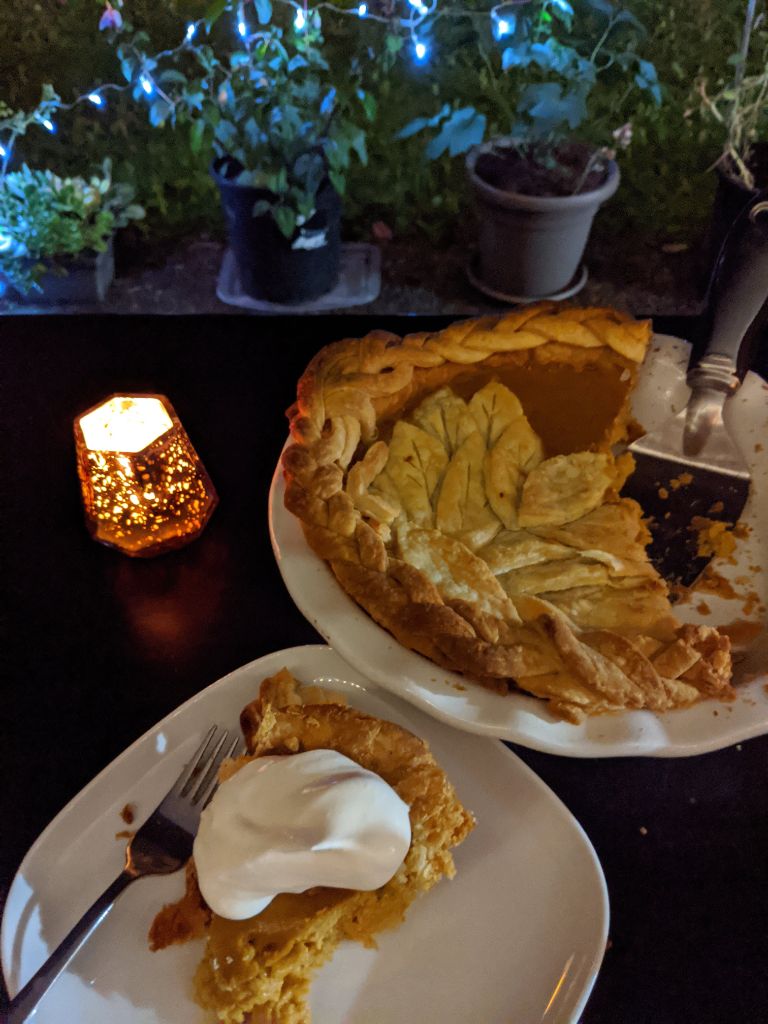 Enchanted Lions. Apple pie on top the Lions (East Lion via the SW face, West Lion by standard route) with Nick.
Forks on Forks Peak. Apple Pie with Macallan 12. An obscure peak on the North Shore Mountains, but very rewarding. A great first meeting of the North Shore Whisky and Pie Club. October 3, 2020.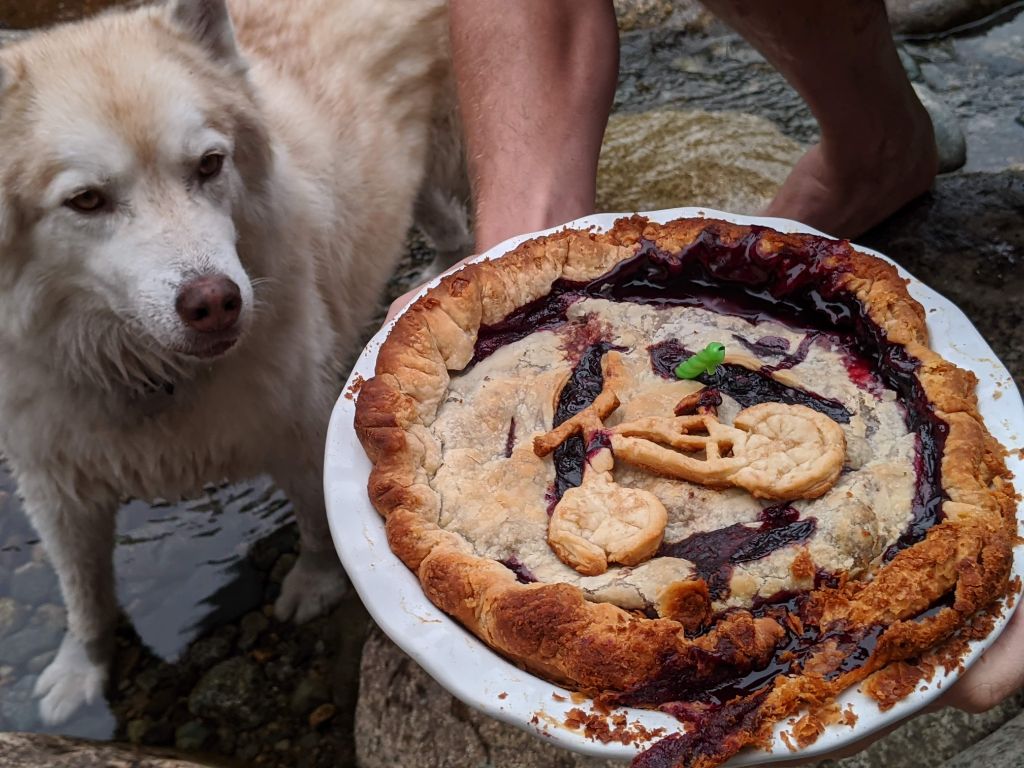 Brunch Pie on Coliseum Mountain. This was part of Aeron and Rae's Cove to Cove hike, and I joined at Cleveland Dam to support them with pies. At 5am on Coliseium Mountain, we enjoyed an early brunch, with a tomato basil cheddar tart, and a bacon, kale, potato quiche. Both were delicious, but I ran out of pie on top of Mount Seymour. Sept 6 to 7, 2020.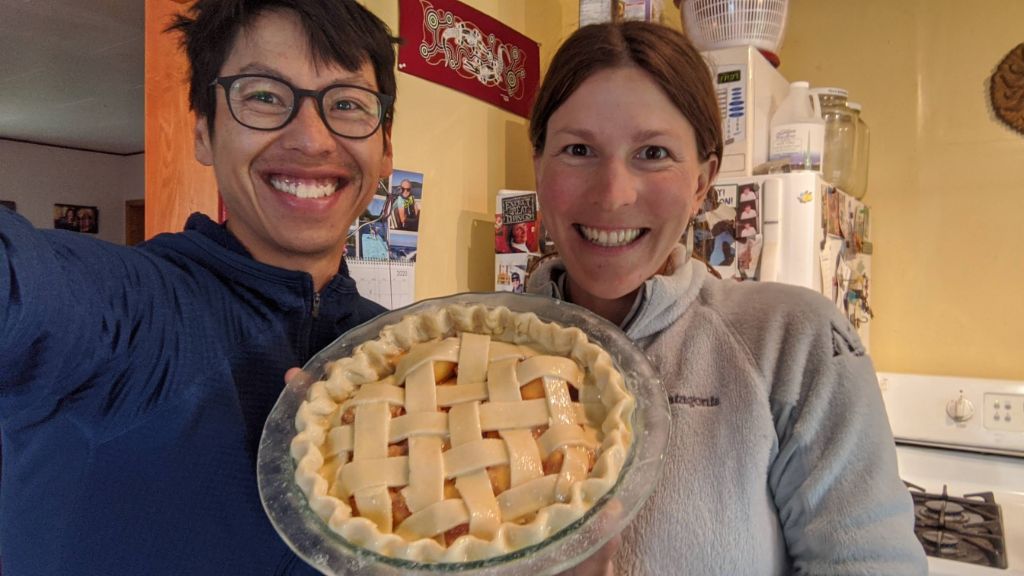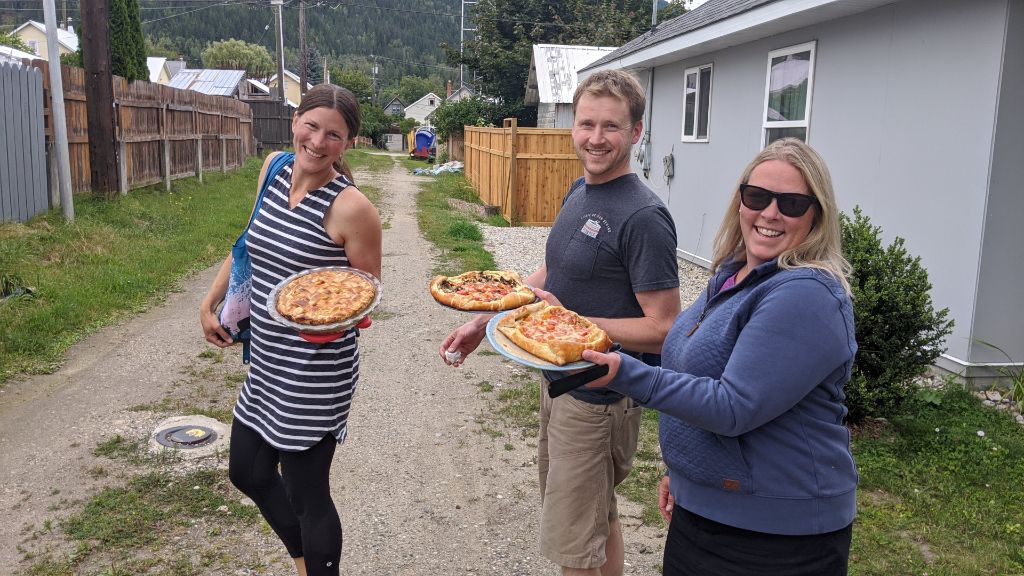 Pie-aneering on Mount Assiniboine with my apple and nectarine "A-cinna-bun" pie. I was lucky enough to climb the north ridge with Kate and Sean, at the same time as legendary Al-pie-nist, Sepp Renner. We celebrated his 55th Assiniboine summit with my completely unexpected pie, one of the "pie"-lights of his career. Aug 27, 2020.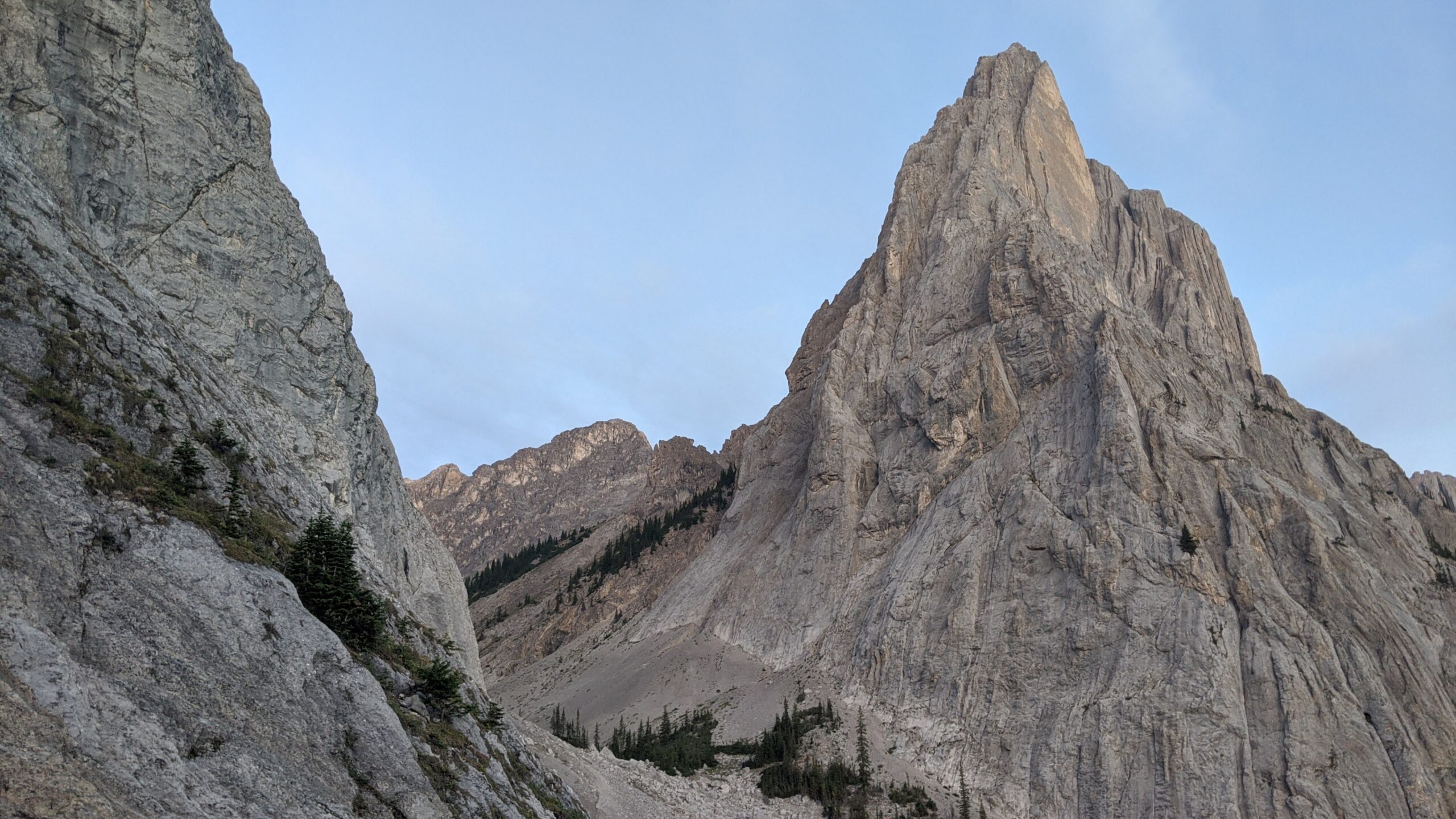 Mount Louis via the Kain route. It started rainy when we topped out on the summit, with ten rappels. We had a quick pocket pie on the summit, and then celebratory pocket pies once we were safely on the ground. As we were out of pie, there was nothing left to do but hike out, and drive home. Aug 24, 2020.
Eisenhower Tower with the remaining half of the peach pie, plus extra peach pocket pies. The rock wasn't as bad as I expected, especially compared to Mount Mike. But honestly, I prefer my pastry laminated, not the rock. Aug 23, 2020.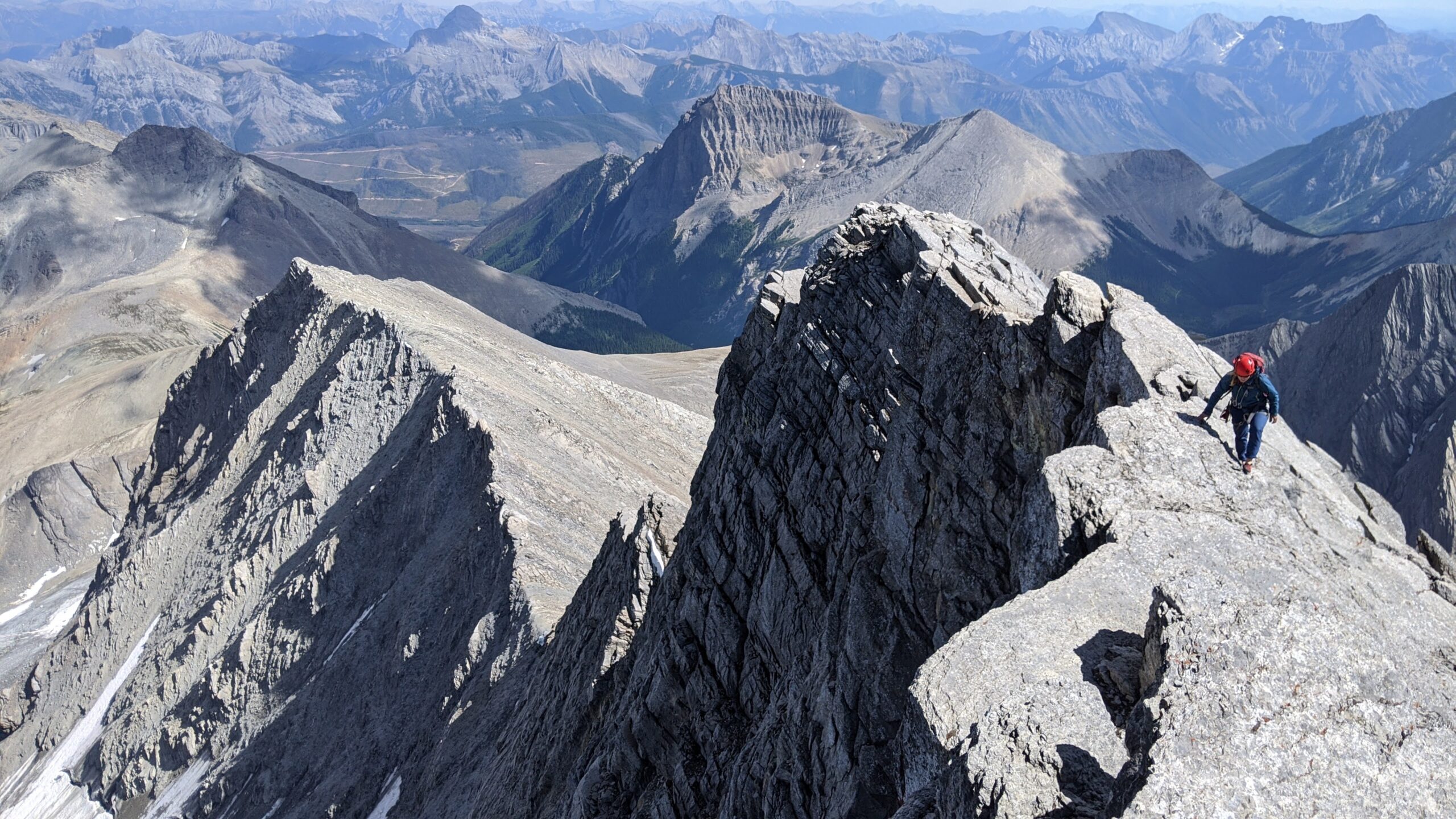 Traverse of Mount Mike in the southern Rockies, with an ascent of the east ridge, and descent of the SW ridge. Meghan and I bought peaches from the organic gas station in Kimberley, and baked a peach pie and peach pocket pies in preparation for three days of climbing in the Rockies. This was the first of three big peaks. Aug 22, 2020.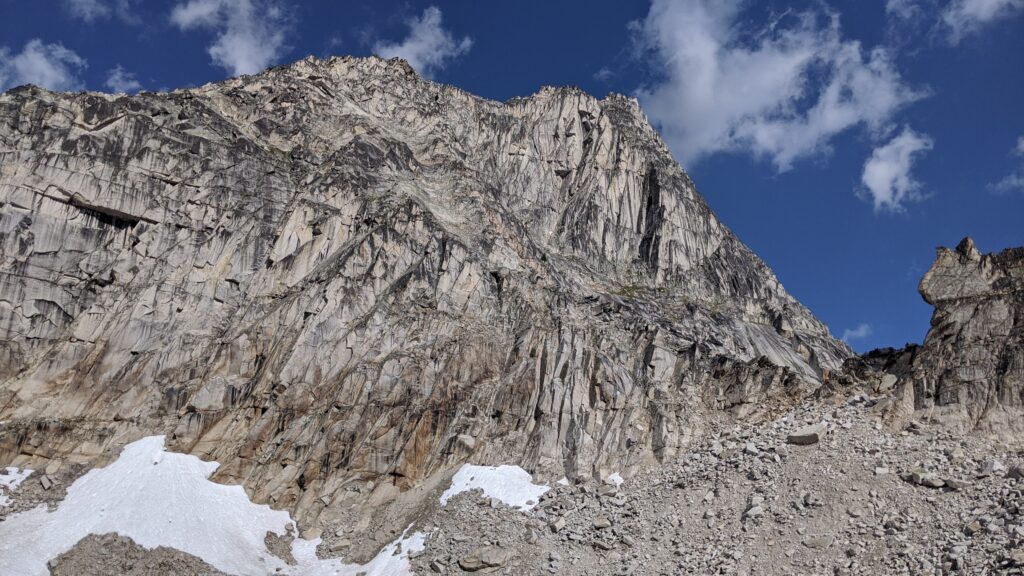 Brenta Spire Southwest spur and South Ridge with all that was left of my Snowpatch Pie. Aug 19, 2020.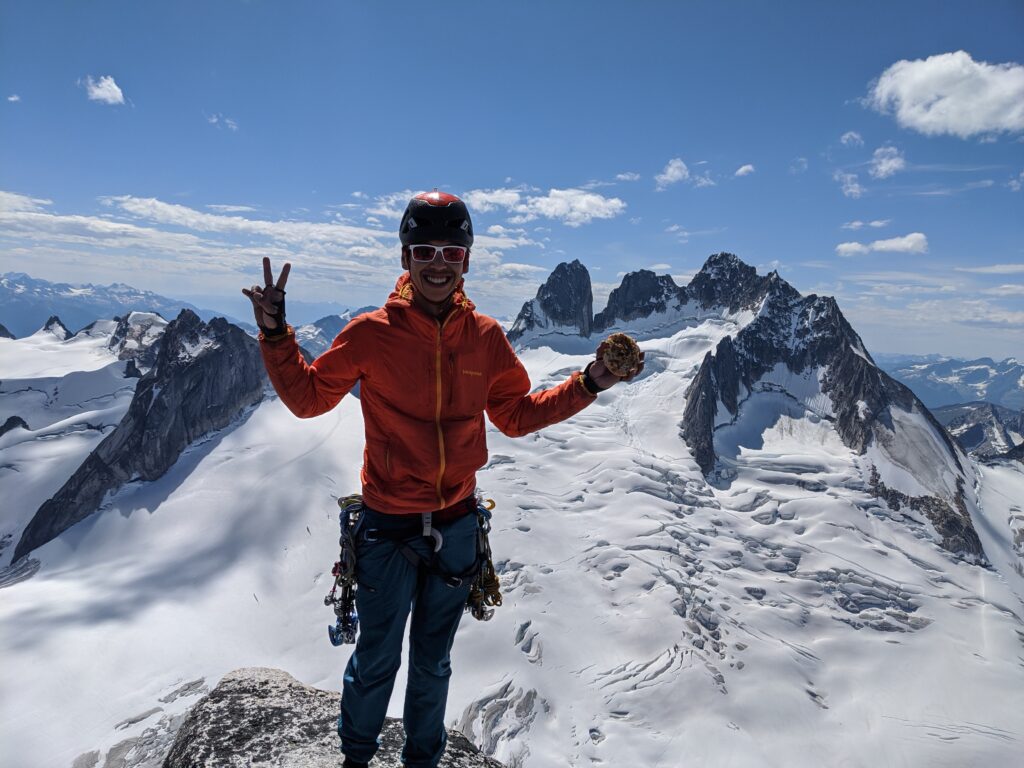 The classic apple pie, on the northeast ridge of Bugaboo Spire with Lucas. Aug 18, 2020.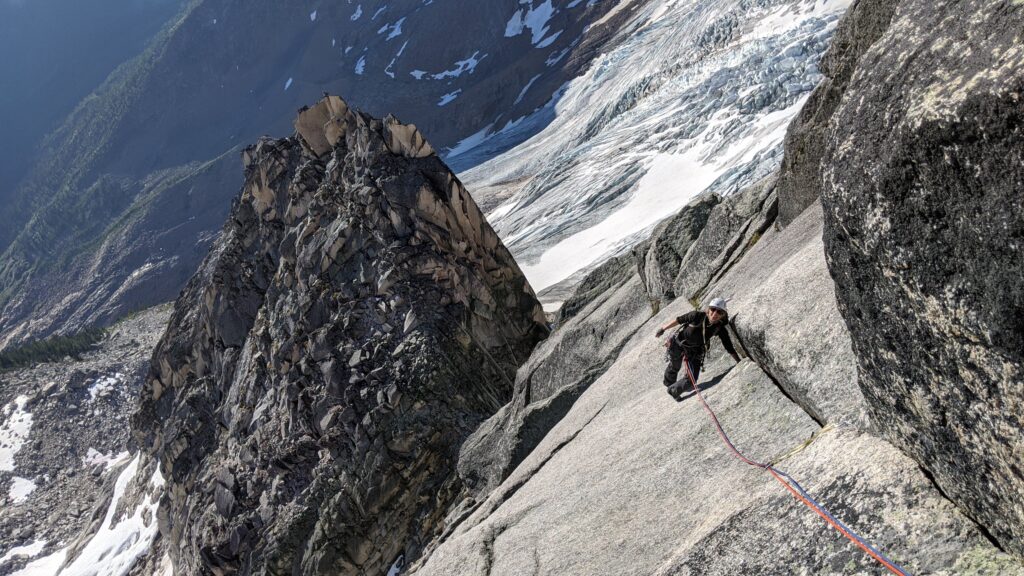 Snowpatch Route on Snowpatch Spire. It was Sarah's birthday, so I surprised her with a chocolate pie on the summit. The lower satellite summit south of Snowpatch is known as the Son of Snowpatch. We had the son of Snowpatch Pie up high, and then the full pie at Applebee camp. Aug 16, 2020.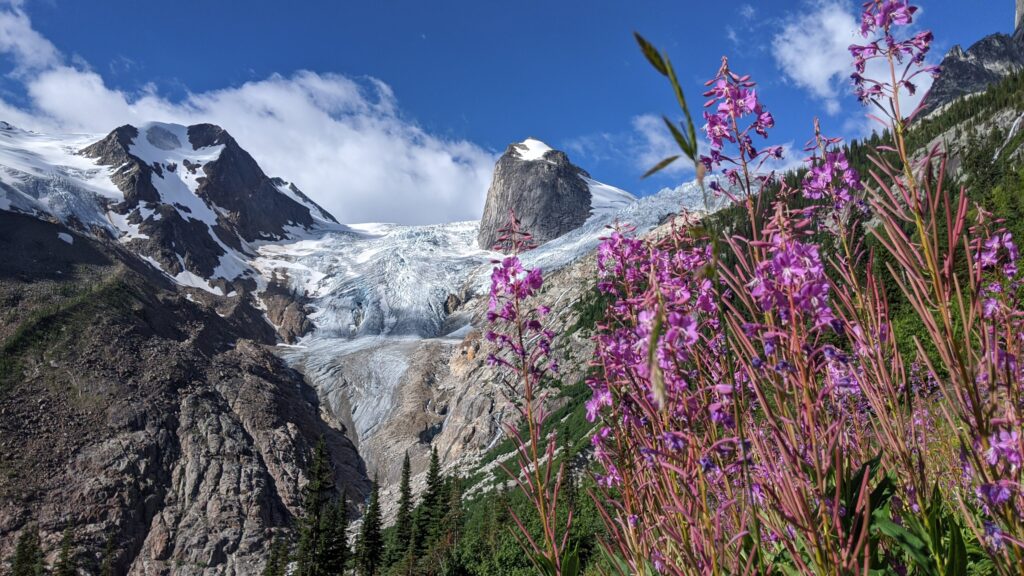 Sarah and I hiked into the Bugaboos for a few days of climbing. Our first climb was Ears Between Direct on the Crescent Spires. Trip planning was difficult for me on this one, as I facing a dilemma on how many pies to pack into the Bugaboos. In the end, I opted to go with mini-pies for the summits, and a base camp pie. This was an apple and chocolate pie on our first summit in the Bugs. Aug 15, 2020.
After waiting what felt like forever for summer to arrive, Nick and I finally got a chance to do the Tantalus Traverse, from Sigurd Creek to the tippy top of Tantalus and back down the Squamish River, with a bivy at Lake Lovelywater. Conditions were perfect for some fast and light al-pie-nism. Fast and light, pie at night. Chocolate almond hazelnut pie, only 858 grams to keep things light. July 18-19, 2020.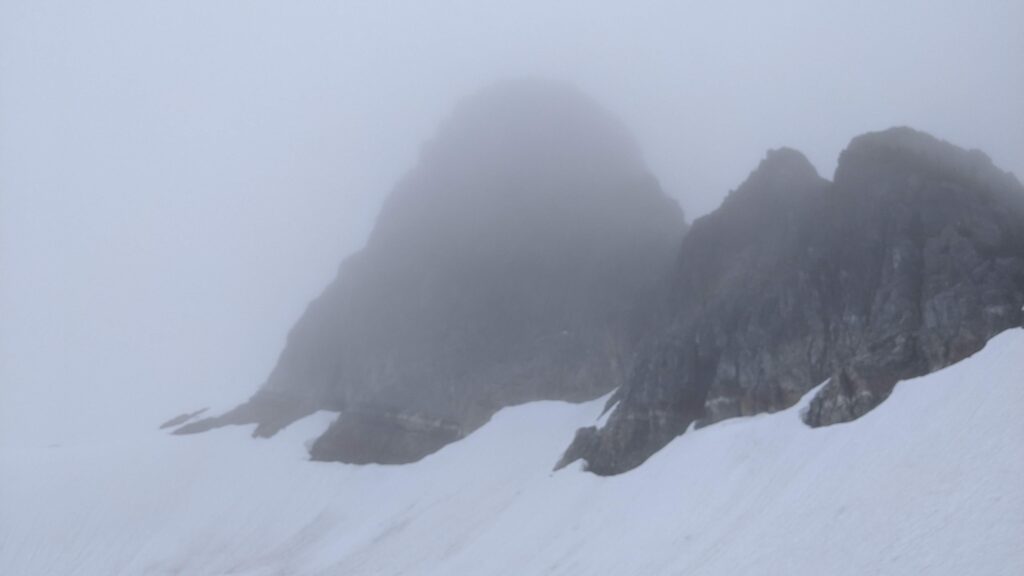 Chocolate Hazelnut Pie on top of Co-Pie-lot and Sky Pie-lot Mountain with Susie, July 4, 2020. This pie was originally planned for the Tantalus Traverse, as high calorie as possible, but the weather didn't cooperate for the Plan A. Instead Susie and I had a very foggy day of pie-aneering in the Shannon Creek basin.
A very berry pie on top of Cypress Peak, with Aeron, Rae, Diana and Dylan to celebrate Tau Day. Unfortunately, there was only one pie, rather than 2π on June 28, 2020.
Giant egg tart pie on top of Mount Gardner, for a birthday hike and sail with Anne, Mary, Christian and Laura on June 13, 2020.
Christmas Gully Strawberry-Rhubarb Pie. A solo outing skiing off Mount Strachan, June 1, 2020, the day Cypress Provincial Park opened up again for recreation after closing for COVID-19.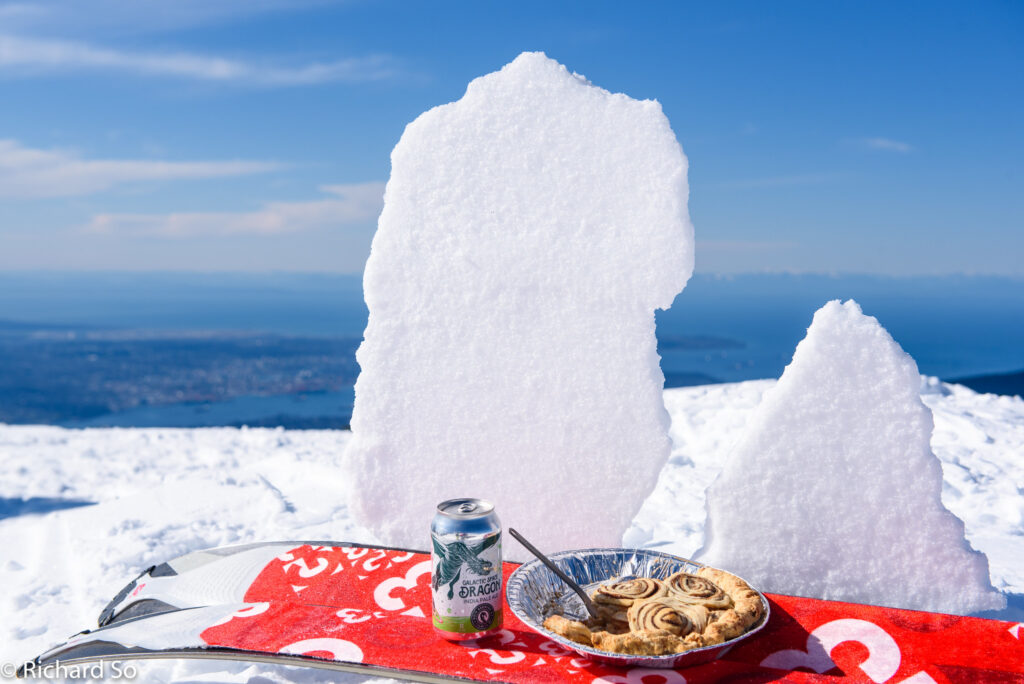 Happy Pi day, the tastiest day of the year! I was a little worried about the lack of crust after cancelling my usual pi day celebration to avoid a gathering over 250 people, but there was no shortage of crust today (unless you were trying to buy butter and flour at the last minute today). Instead of having all the members of the #northshorebeerandpieclub get together, the directors opted for a much smaller low key event to discuss ways to mitigate the current situation, while members opted to bake remotely and submit mouth watering pie photos instead. We concluded that it's much safer to stick to one pie per person for the foreseeable future. Hopefully we can share pies again for July 22, which is Approximate Pi day. And frozen crust is never fun to ski on, and best saved for pastries.

Director of the North Shore Beer and Pie Club, March 14, 2020.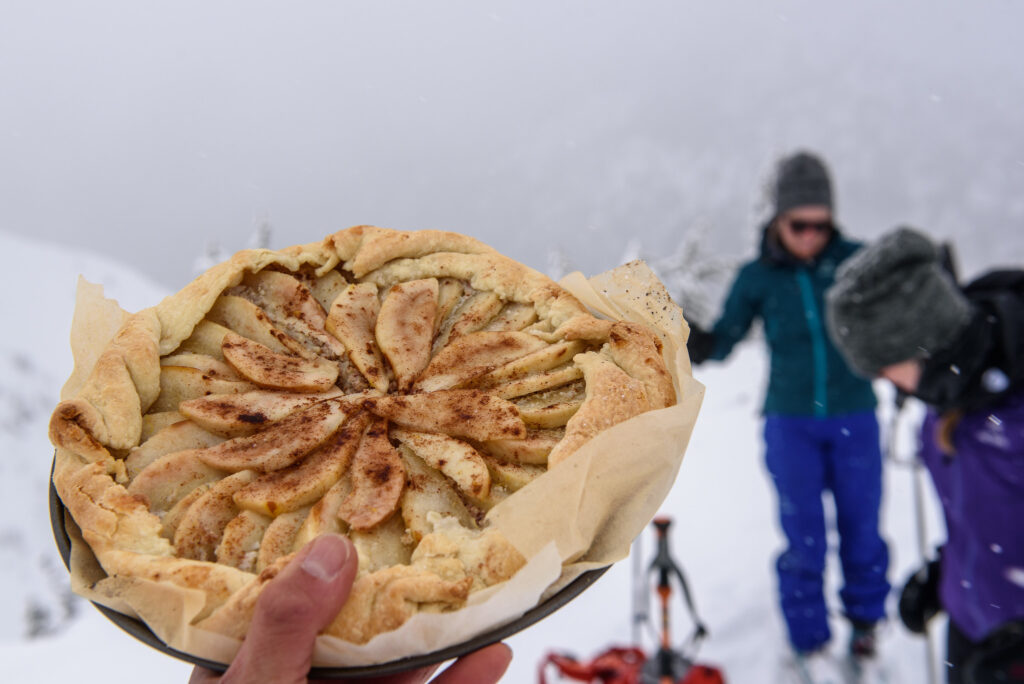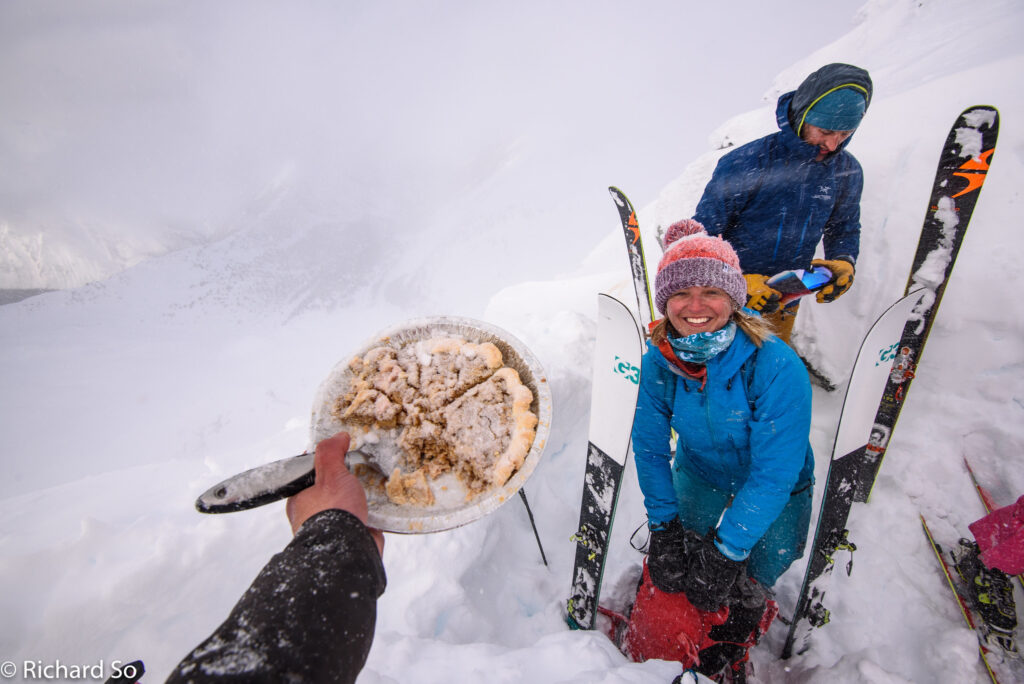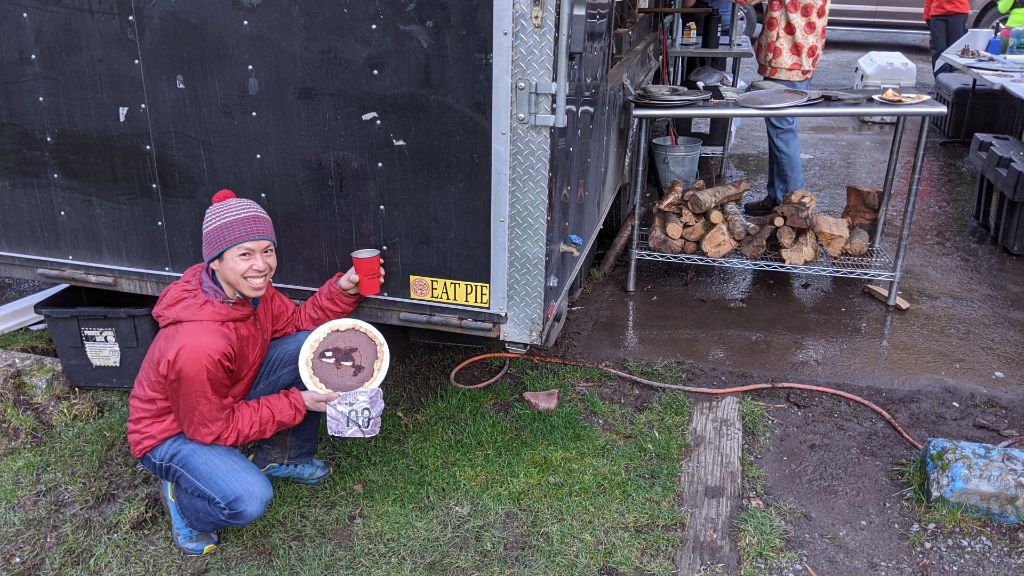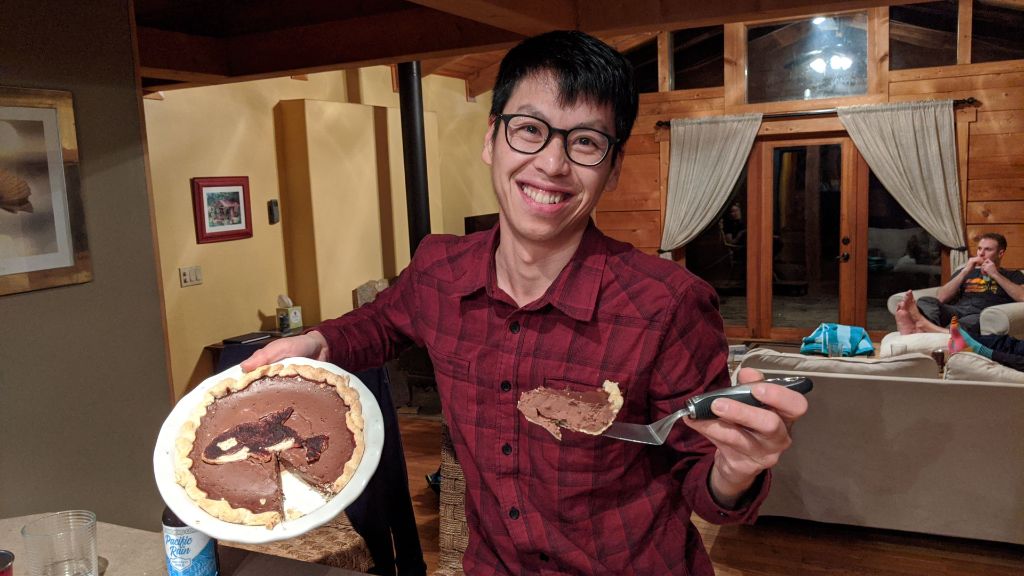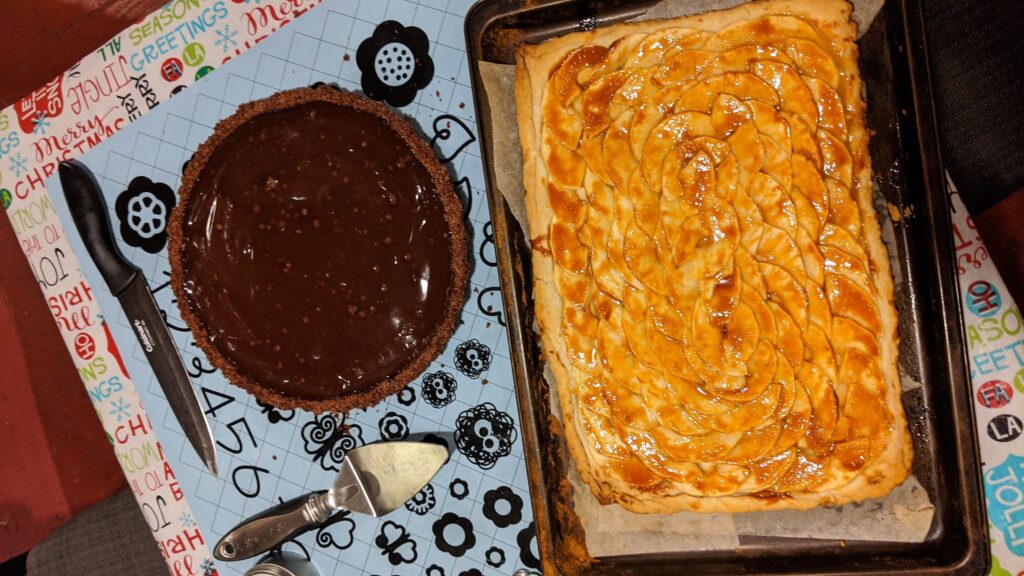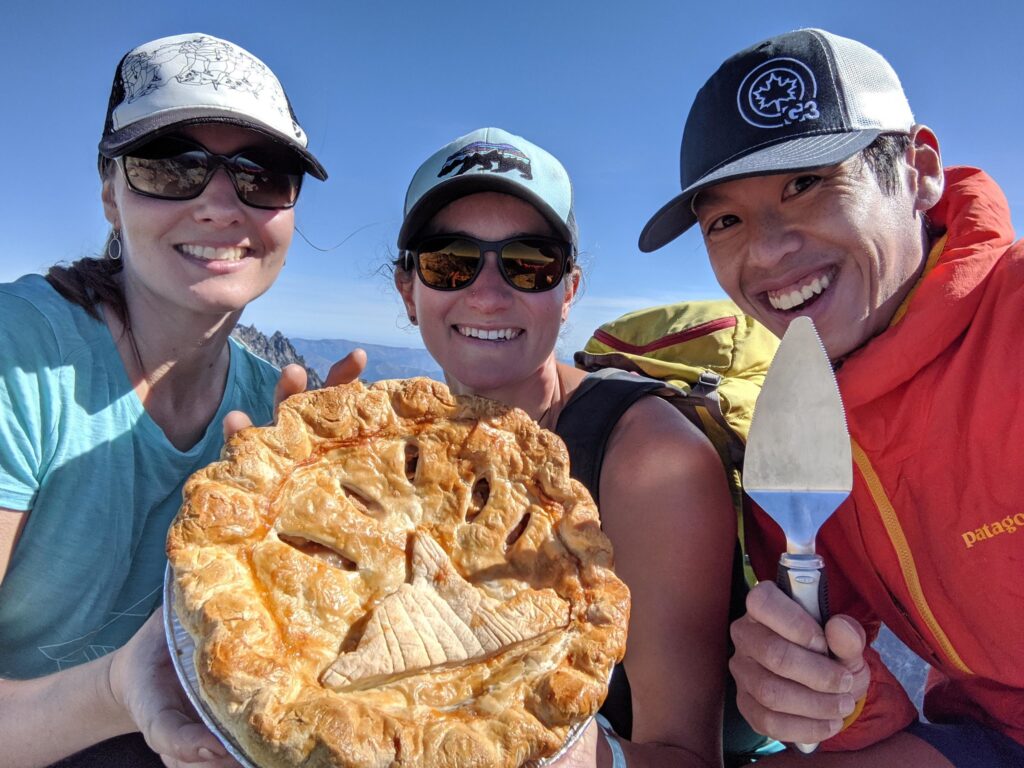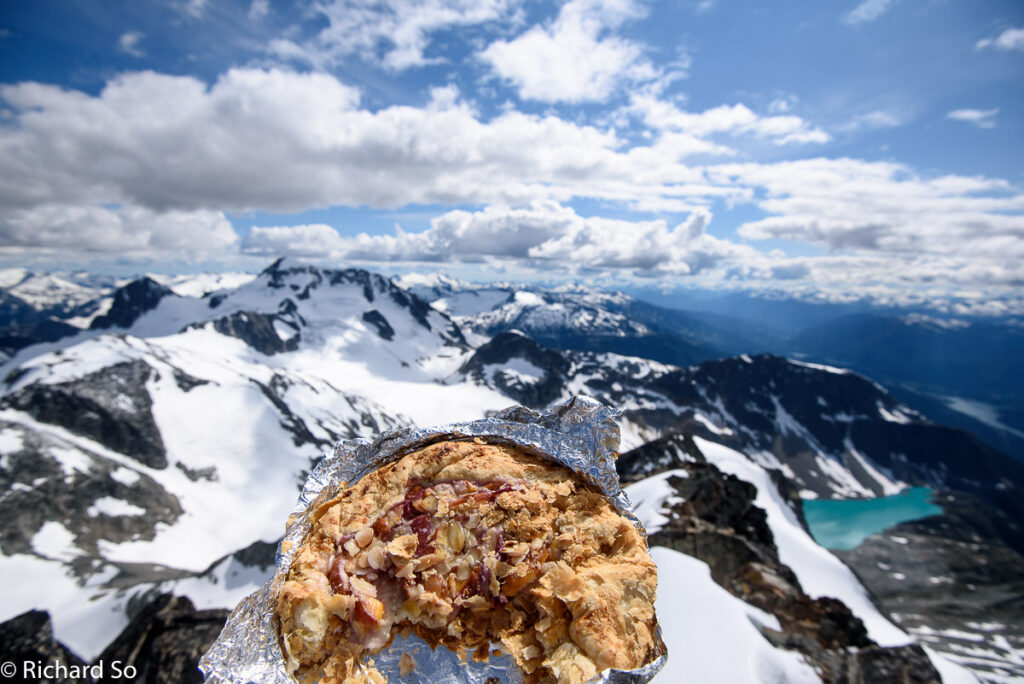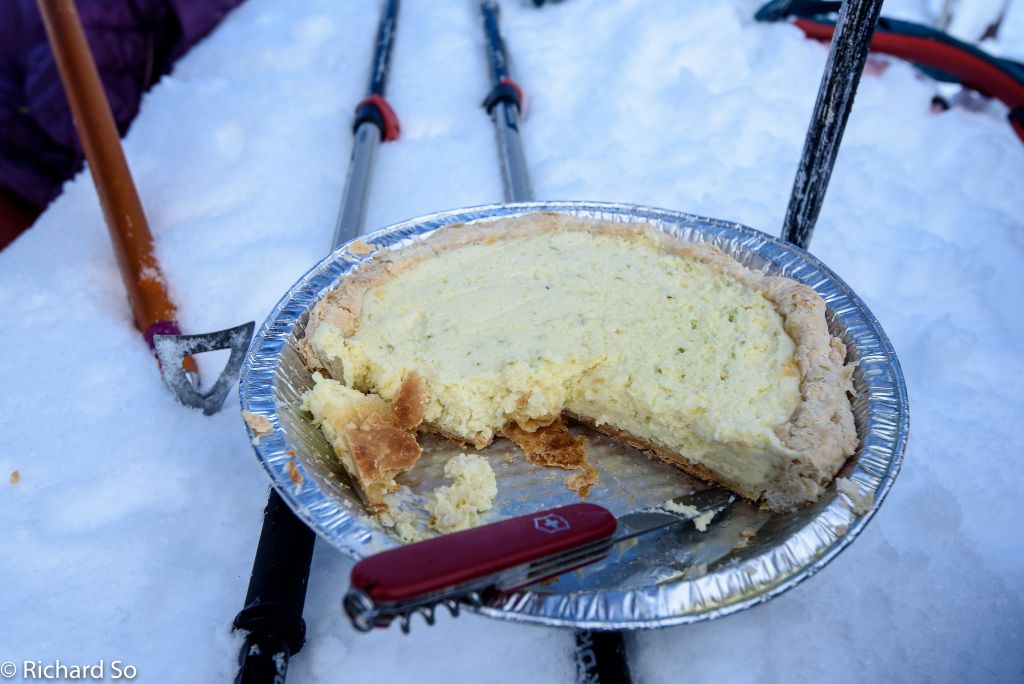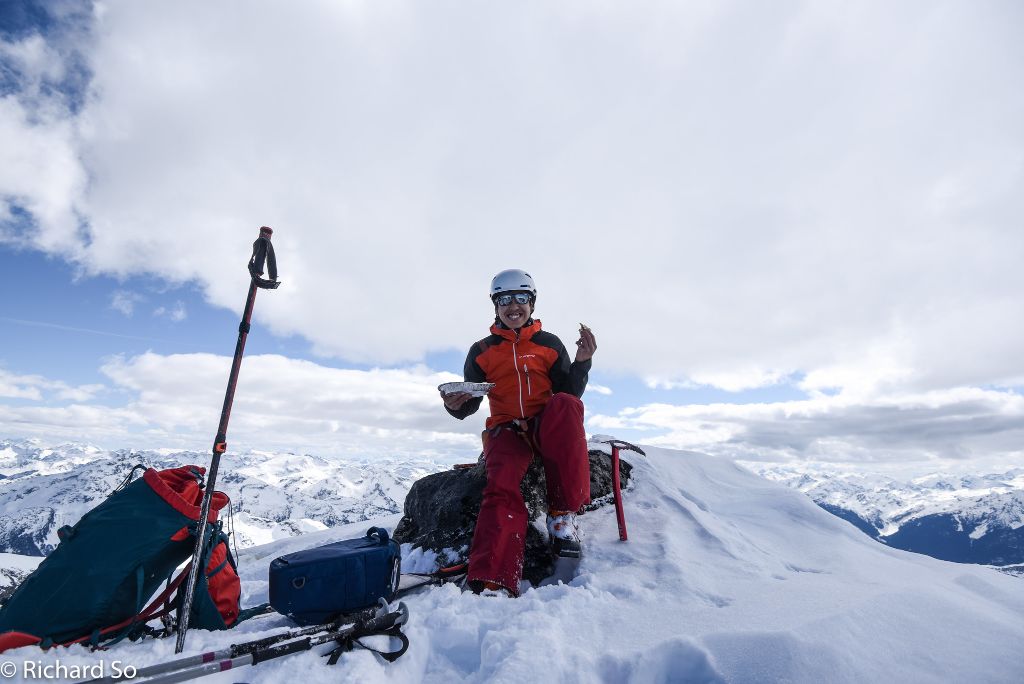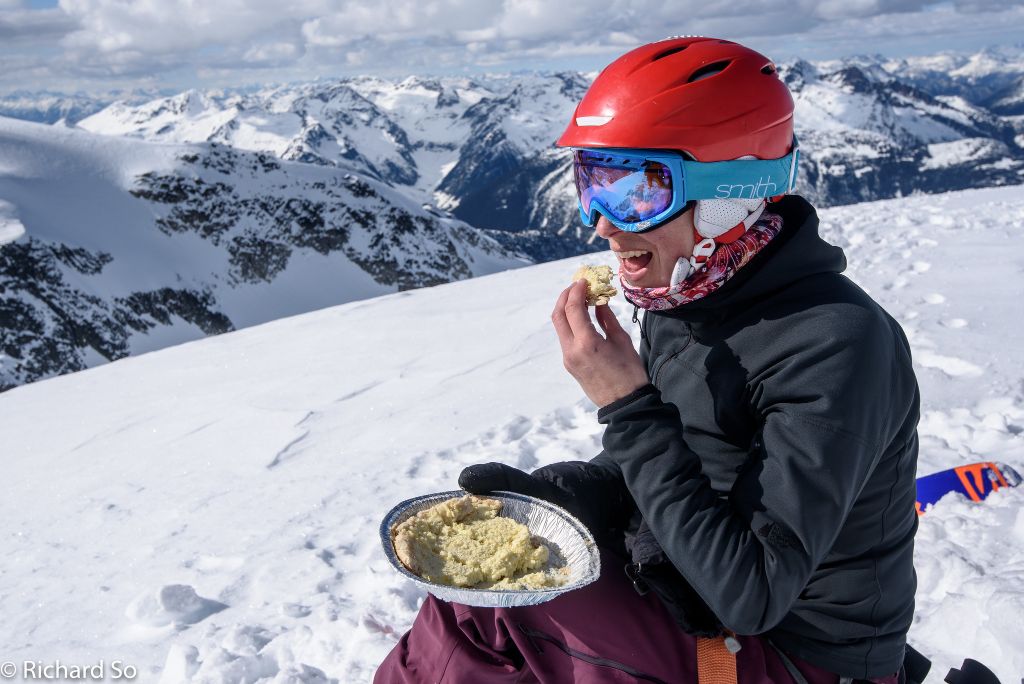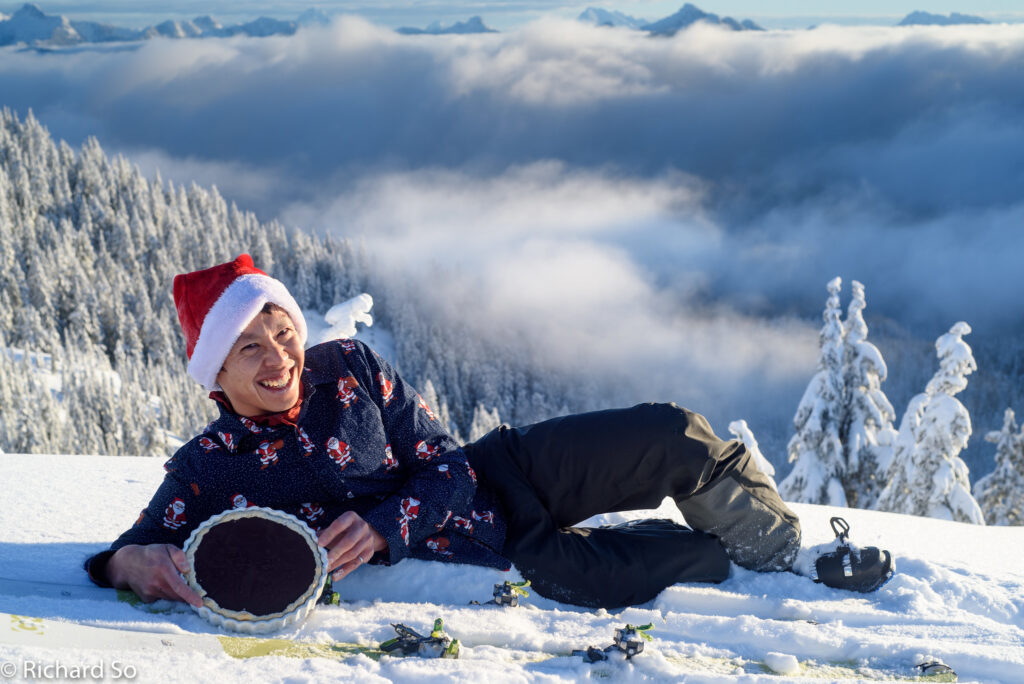 More pies on the next page.