The Fat Dog 120 is a 120 mile non-stop foot race that starts in Cathedral Park, and finishes in Manning Park. Due to forest fires and flooding in the past year, the traditional route has not been run since 2017. The race was cancelled in 2018 due to forest fires, 2020 due to COVID, and again in 2021, so it's been a much anticipated race. This would be my first attempt at a 100 miler distance, having only run two 100km's (Van 100 in 2016, 2021), and Fat Dog 70 miler in 2016. My training leading up to race day was just enough, but I had not done any long runs over 50km. My weekly mileage around 80km with two bigger 110km weeks. I wish I did some more night running, and more runs in the heat, but it was a cool start to summer in Vancouver.
My main concern for the run was my right ankle and peroneal which have always plagued me by the end of every long race I've ever done. I had a foot injury (posterior tibial tendonitis) back in February which I've been rehabbing. For a couple weeks in February, I wasn't able to walk around without pain and stopped running completely for six weeks. I worked on strength and conditioning, mobility and foot function leading up the race. My only goal this time, was to get to the top of the Skyline I descent, and be able to run down. In 2016 at Fat Dog 70, my ankle swelled up on Skyline ridge, and I had a long slow hobble in the dark down the last runnable 10km downhill to Lightning Lakes.
The 2022 course followed the original route up until the Pasayten River crossing. A small change but significantly harder section followed a steep fire block between Pasayten and Bonnevier. A big loop out to Hope Pass was added, then back along Heather to Blackwall Wall, and a final loop of Skyline I trail to finish at Lightning Lakes. The race was advertised at 123 miles (198 km), but the final number was slightly longer at 127 miles (205 km), with 8400 m elevation gain. No particular leg was longer than advertised, GPS watch distances aren't that accurate, but it seems like most people, fast and slow, recorded over 200 km.
This seems like a massive distance, but when you break it down into small slices, it doesn't seem so far. I never thought of the distance remaining to the finish, only the distance to the next aid station and what I might be able to eat there.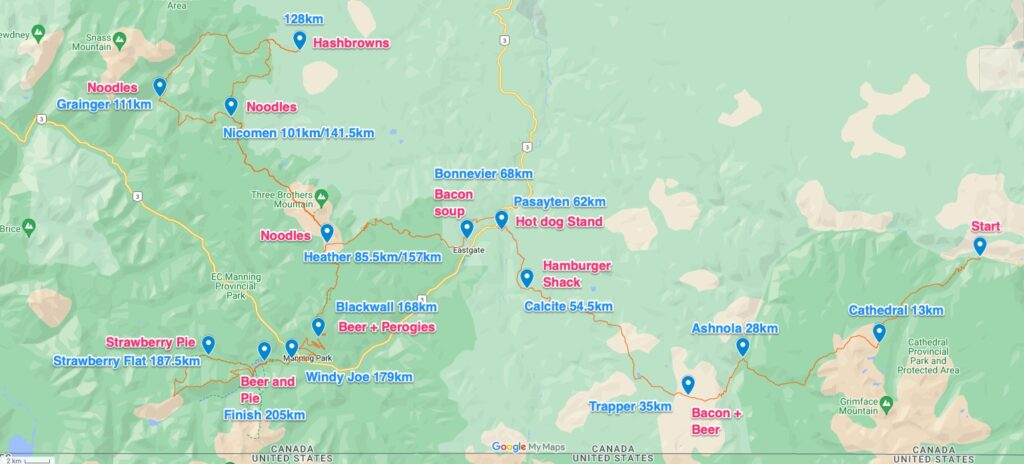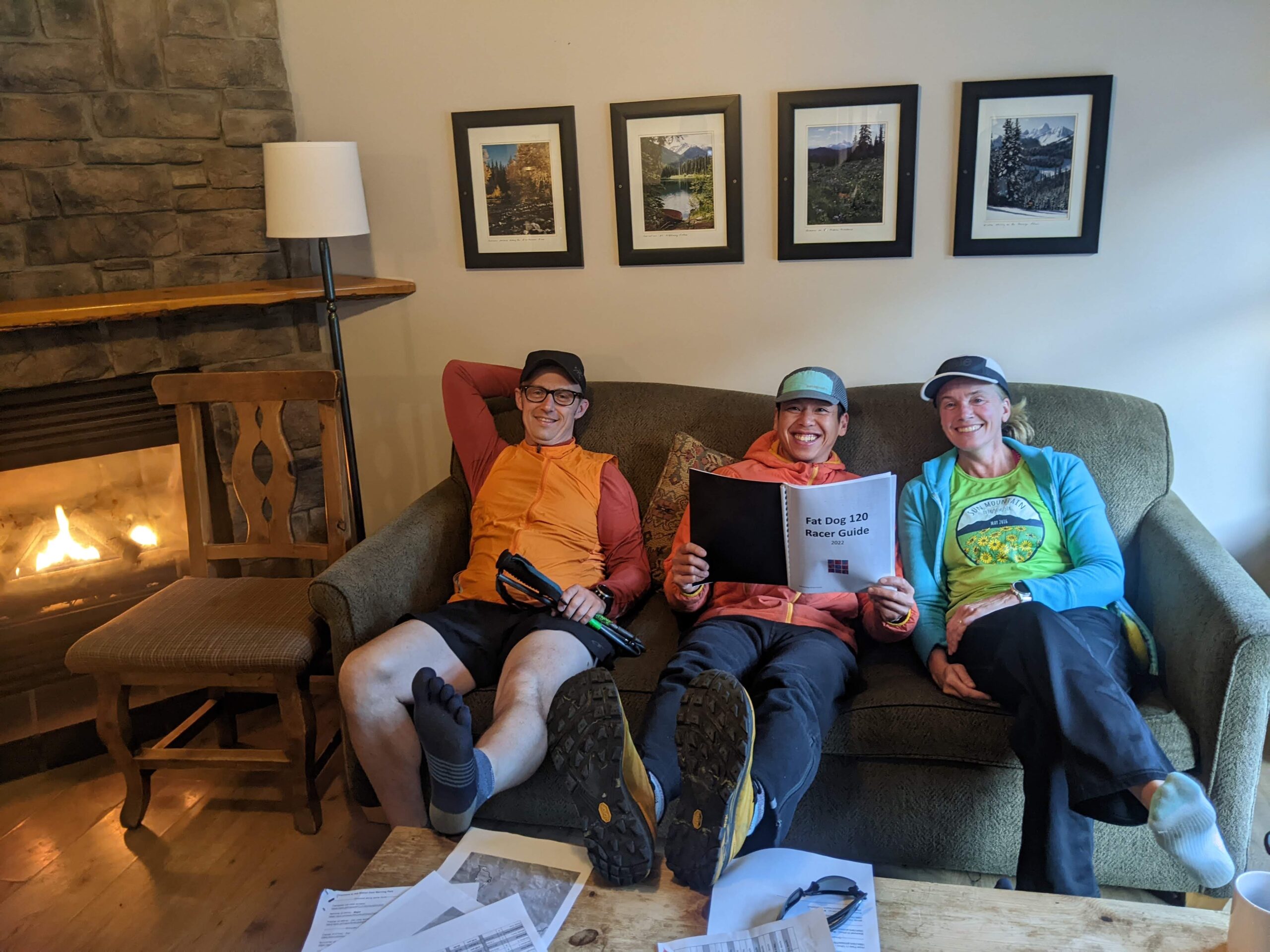 Leg 1: Cathedral – 13km
Race started at 10am, after a 2 hour bus ride from Manning Park. The weather was almost perfect, not too hot, and the smoke from the Keremeos Fire to the north was fairly minor. There were 131 racers to start, out of 171 that were registered to start. I slept ok, but not amazing. I woke up at 4am and wasn't able to get back to sleep.
The first climb up to Cathedral aid station (13km) is the biggest one of the race. It goes up and up, with almost 1500 m ascent. I tried to keep the pace very comfortable, and setted into the back of the pack. I thought my hydration (500mL per hour), nutrition (250 calories per hour), and electrolytes (salt tabs, gels, tailwind) were spot on, but I developed a mild headache two hours into the race, which wouldn't go away for another ten hours. I suspect it was due to the smoke. Maybe I"m just a bit sensitive to that as the pacing and nutrition felt well enough my comfort zones. For the race, I used a Salomon Adv Skin 12 pack, which worked well to carried all the mandatory gear, also the most common pack on course.
Leg 2: Ashnola – 15km
The descent into Wall Creek to the Ashnola aid station (28km) is the first big downhill, over 1100 m descent. It goes on forever, with a spectacular section through the burnt forest from 2018. My right ankle started bothering me at this point, and I realized the long descent in one direction on the cambered trail (right side uphill), was causing stress on my ankle from the lip of my shoes. I've put in 150km in this pair of Topos Mountain Racer, but this feeling hadn't happen to me yet (I've experienced it before). These long distance efforts are often less about physical conditioning, and more about troubleshooting the issues that arise. I asked for a pair of scissors at the Ashnola aid station, but they didn't have anything. Fortunately, my ankle only rubbed on the downhill, and I climbed up to Trapper aid station, where I found scissors to remove the top 1cm of my right shoe.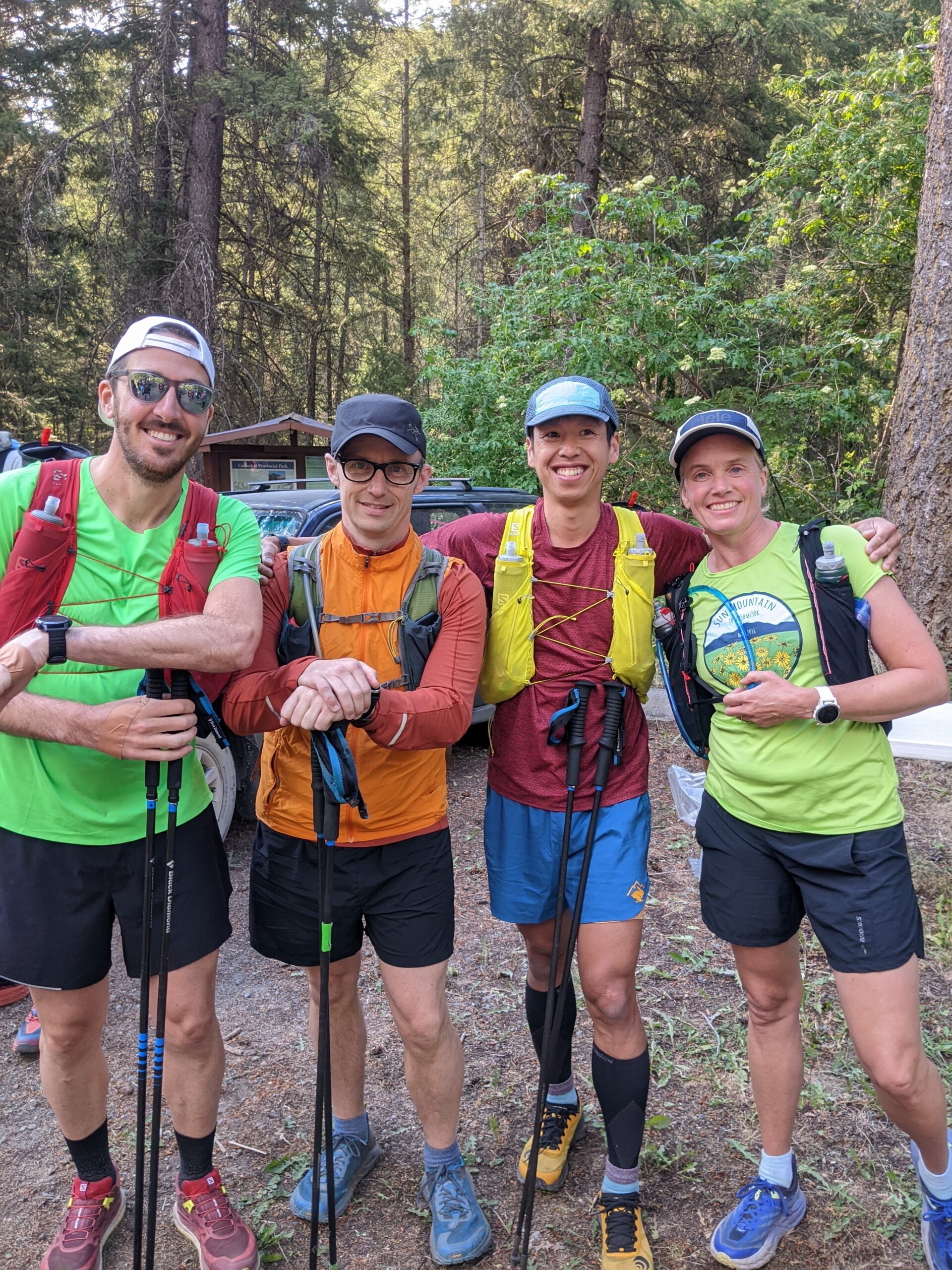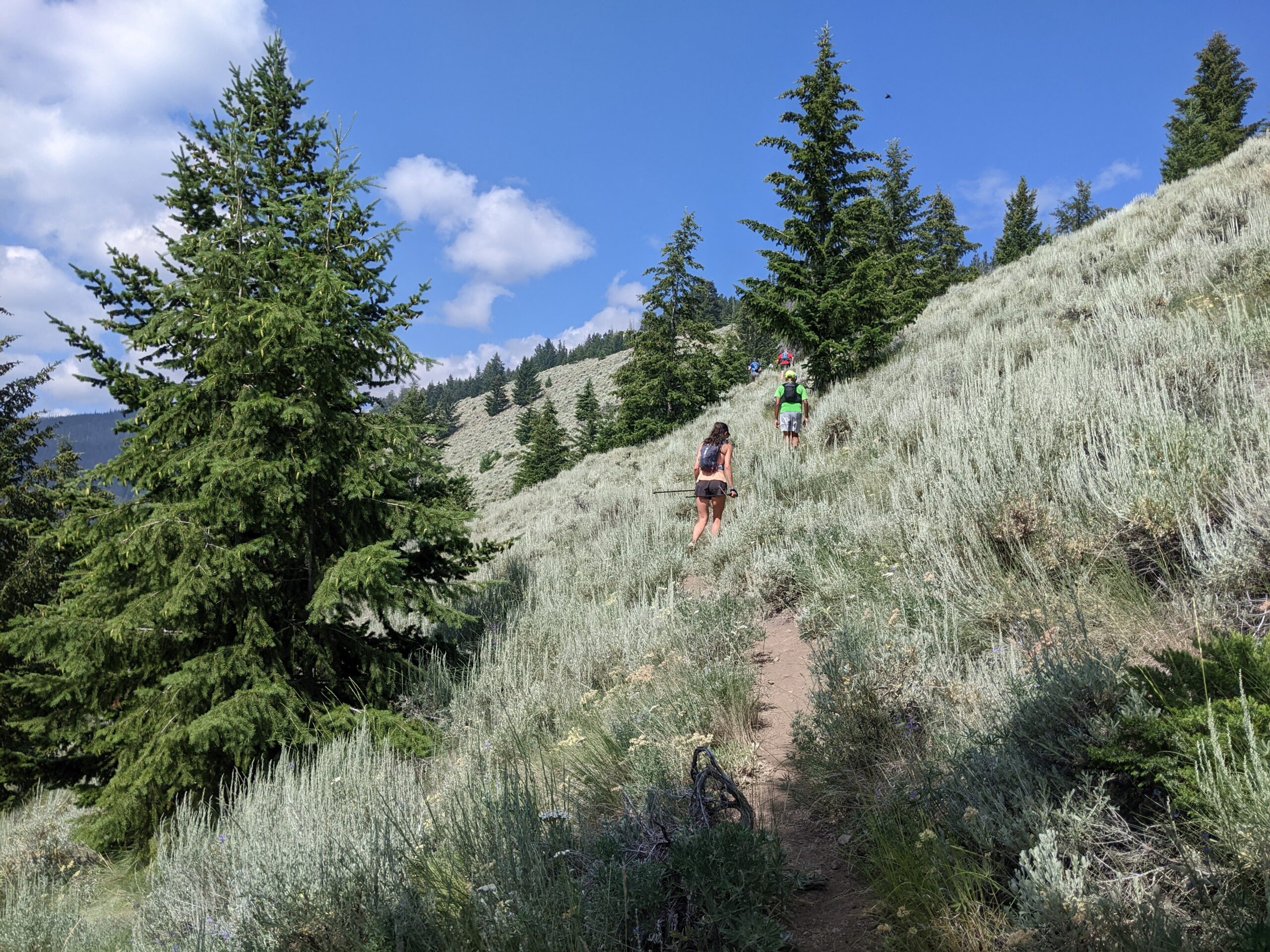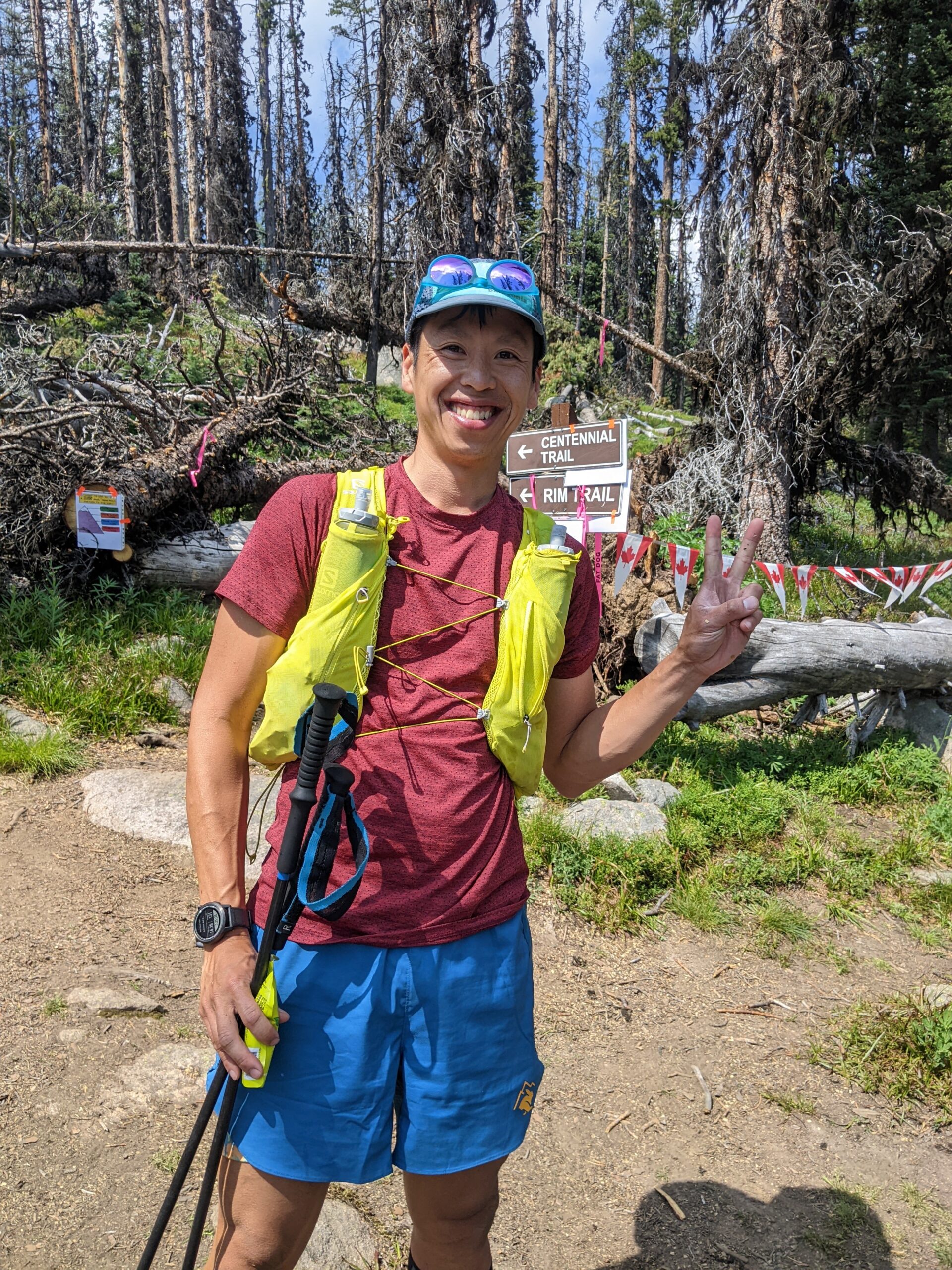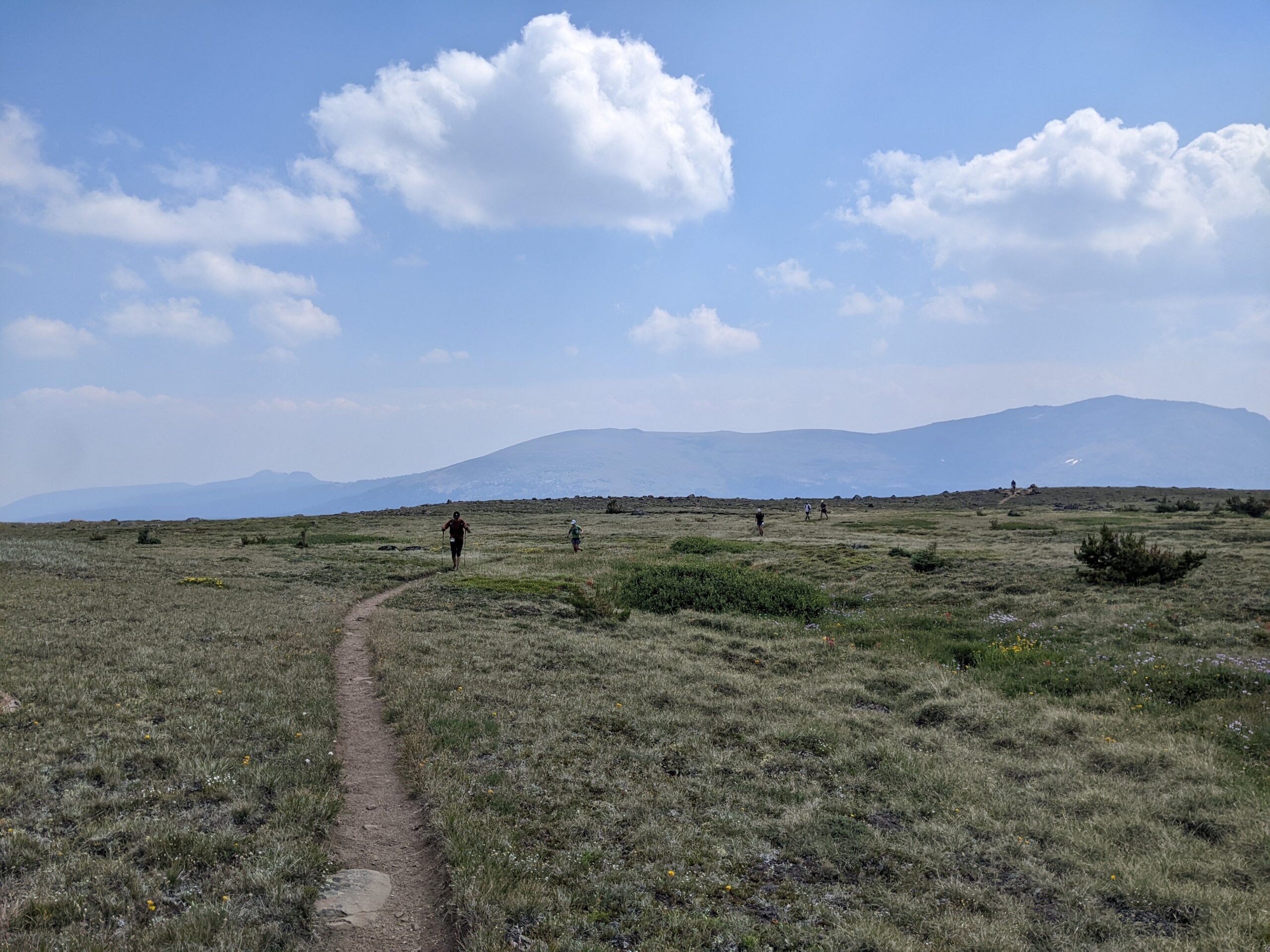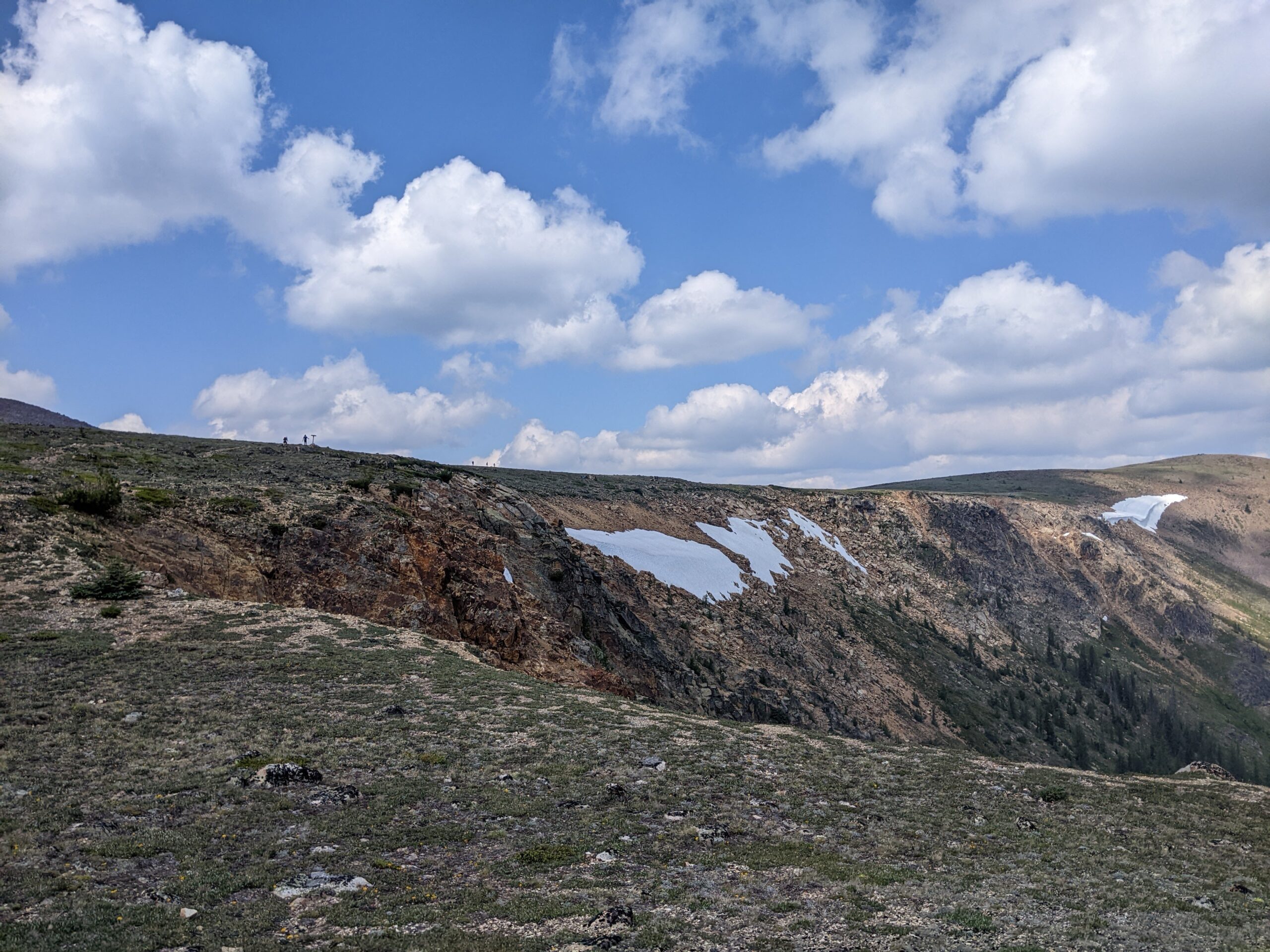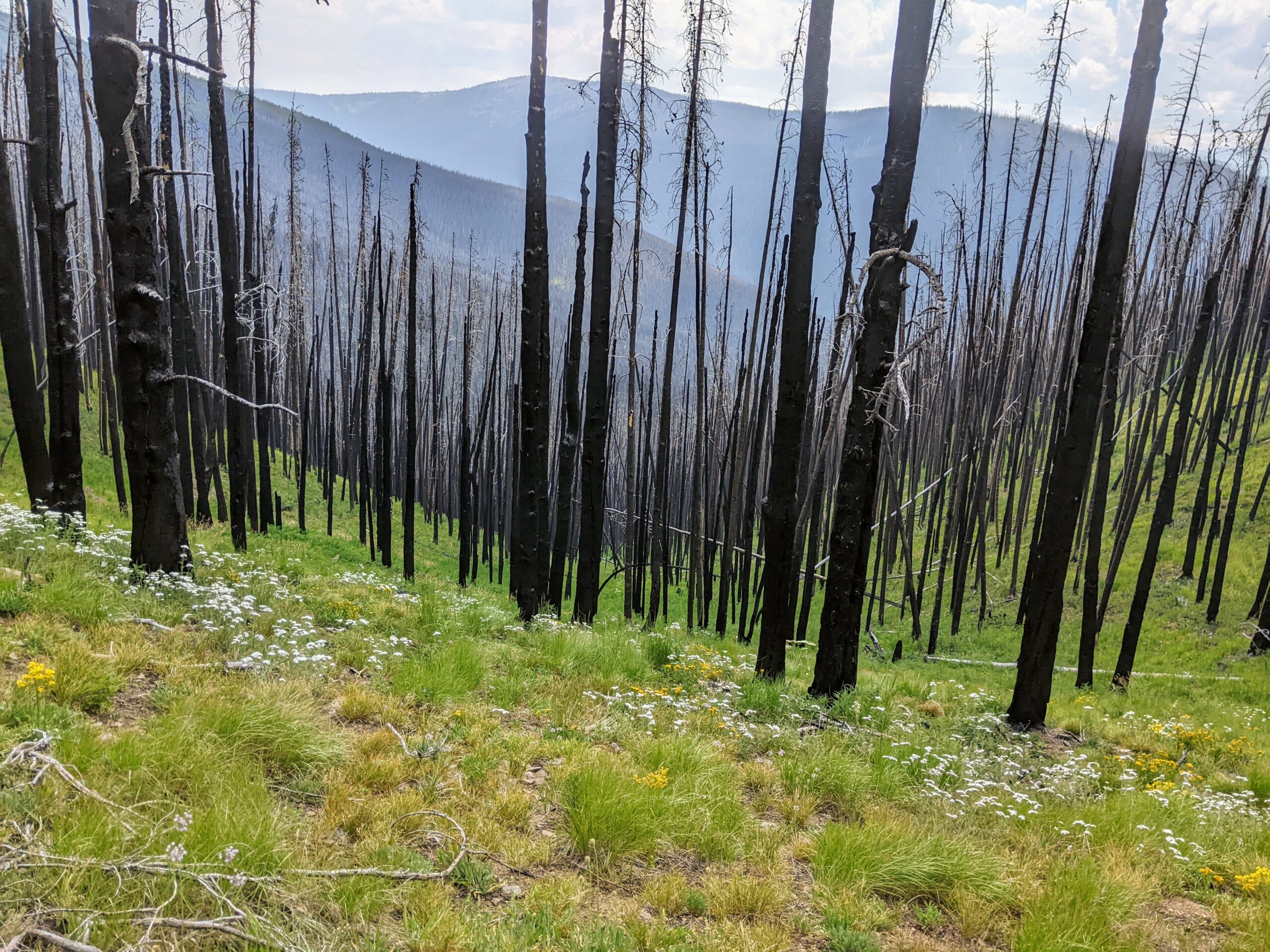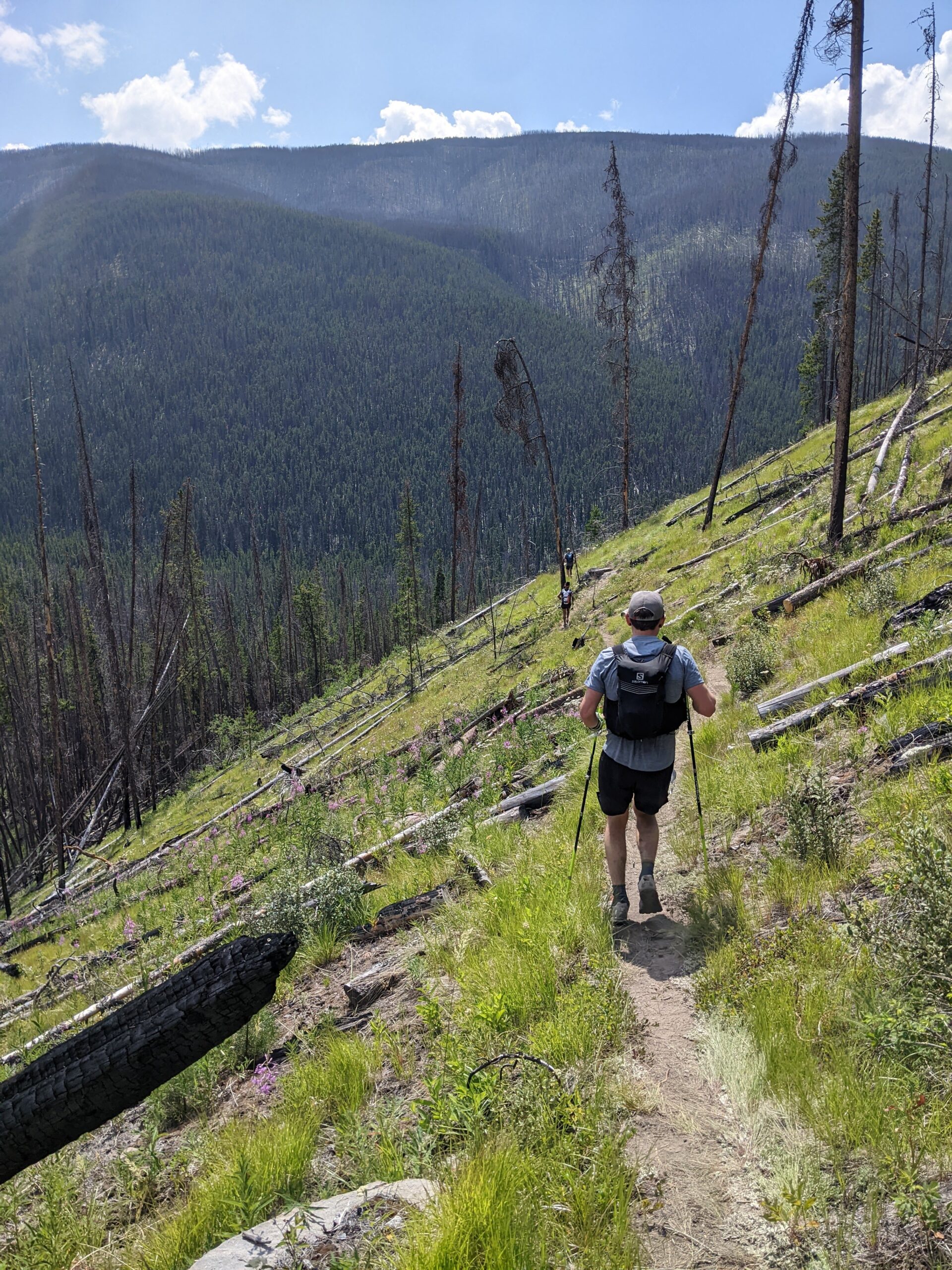 Leg 3: Trapper – 7km
I left Ashnola aid station around 3pm. After shuffling on the road for a bit, another steep climb begins up to the Trapper aid station (35km). The heat was getting to a few people, I passed somebody who's stomach had turned, puking on the side of the trail. This was the slowest climb for me. I tried to keep my heart rate below 140bpm and make the climb as easy as possible. I think I ended up a bit too slow here, as I never had any issues with the later climbs. Next time I'll try a bit harder both on the uphills and descents. I made it to Trapper aid station for a happy hour beer at 5pm, thanks to the Grim Reaper. And thanks Amber and Oliver for volunteering at the first aid tent, and helping me sort out my shoe and ankle issue with scissors and some tape. Oliver is a fellow sailor, and also comes from a training regime of drinking on boats, sailing through the night, and not sleeping enough. I felt awesome leaving Trapper, well hydrated for the next section. The beer definitely helped!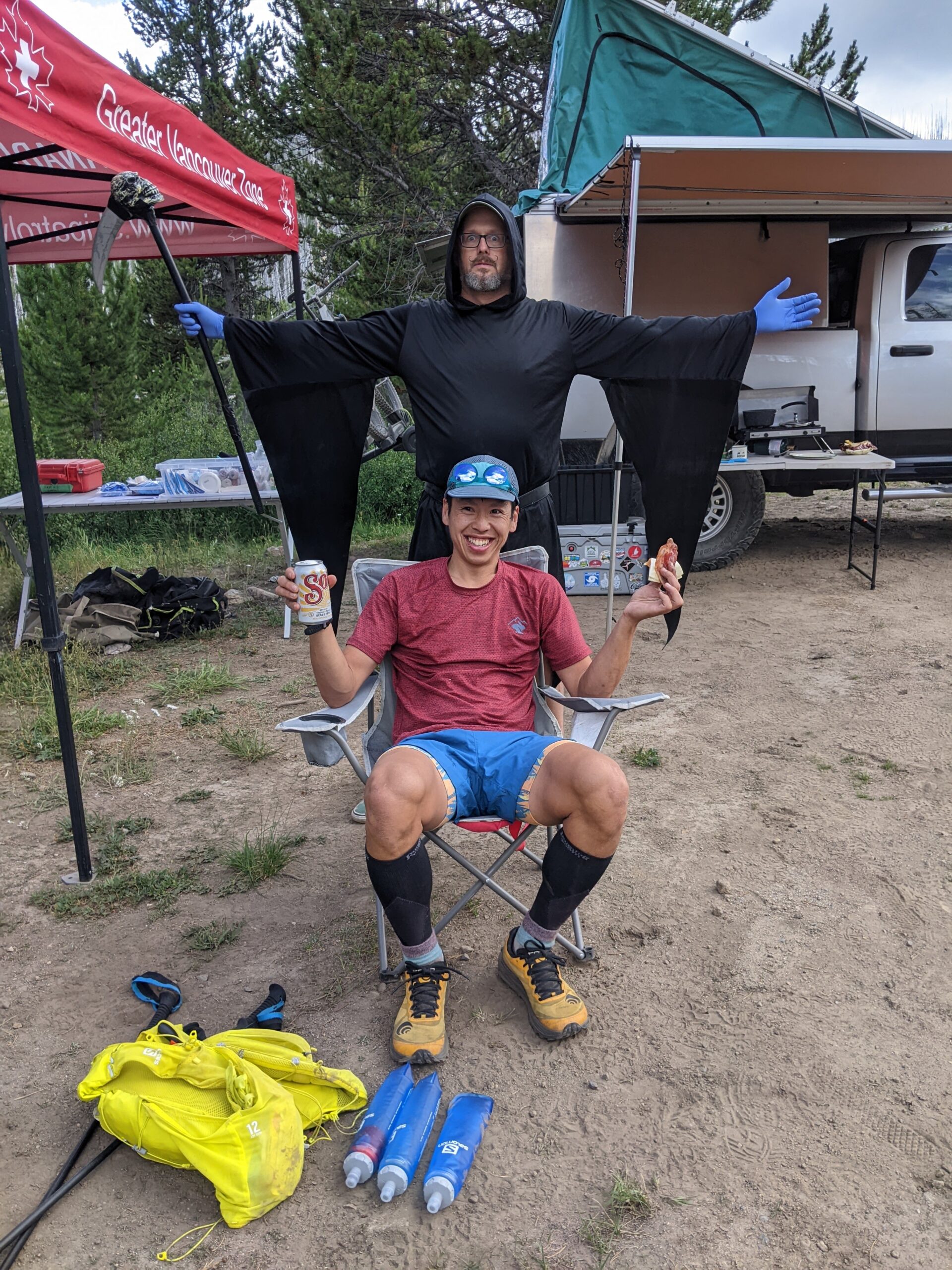 Leg 5: Calcite – 19.5 km
The distance between the Trapper (35km) and Calcite (54.5km) aid station is 19.5km. Some runners were caught off-guard by this long distance, as the race guide had mistakenly stated 15.1km for this leg (later corrected in an email). At my mostly walking pace, 4km is almost an hour. I carried 4x500mL soft flasks with me (race requirement is 2L of water capacity). Most of the time I filled them half full ( I had a XA filter, but never used it), but I was happy to have them completely full with Tailwind for this leg. I was also peeing much more than normal, not sweating much, and consuming more liquids than normal, and I did wonder if I would have salt retention issues later on.
The terrain around Trapper Lake and Flat Top mountain is stunning. The terrain transitions from the desolate burnt forest with new growth emerging, leading into jaw-dropping gorgeous wildflowers and meadows. A brisk wind kept things cool, but with my headache I kept the pace to a fast walk for most of it. I slowly caught a few runners, and took lots of opportunities to stop and soak in the views of the North Cascades. I was least familiar with this section, but I'd highly recommend it if you like single track, wildflowers, and endless meadows.
It's a fast runnable downhill to the Calcite aid station, I did a mix of walking and jogging. I arrived at Calcite aid station 10.5 hours later, at 830pm. The timing was perfect, the tikka torches were lit, the hamburgers were on the grill. My only regret was not adding cheese to my burger, I'm not sure if there was a bacon option, but it was perfect loaded with relish. My headache was still there, so I had some coffee and hoped it was a side-effect of caffeine withdrawal. Thanks Doe for checking up on me and making sure I was feeling ok.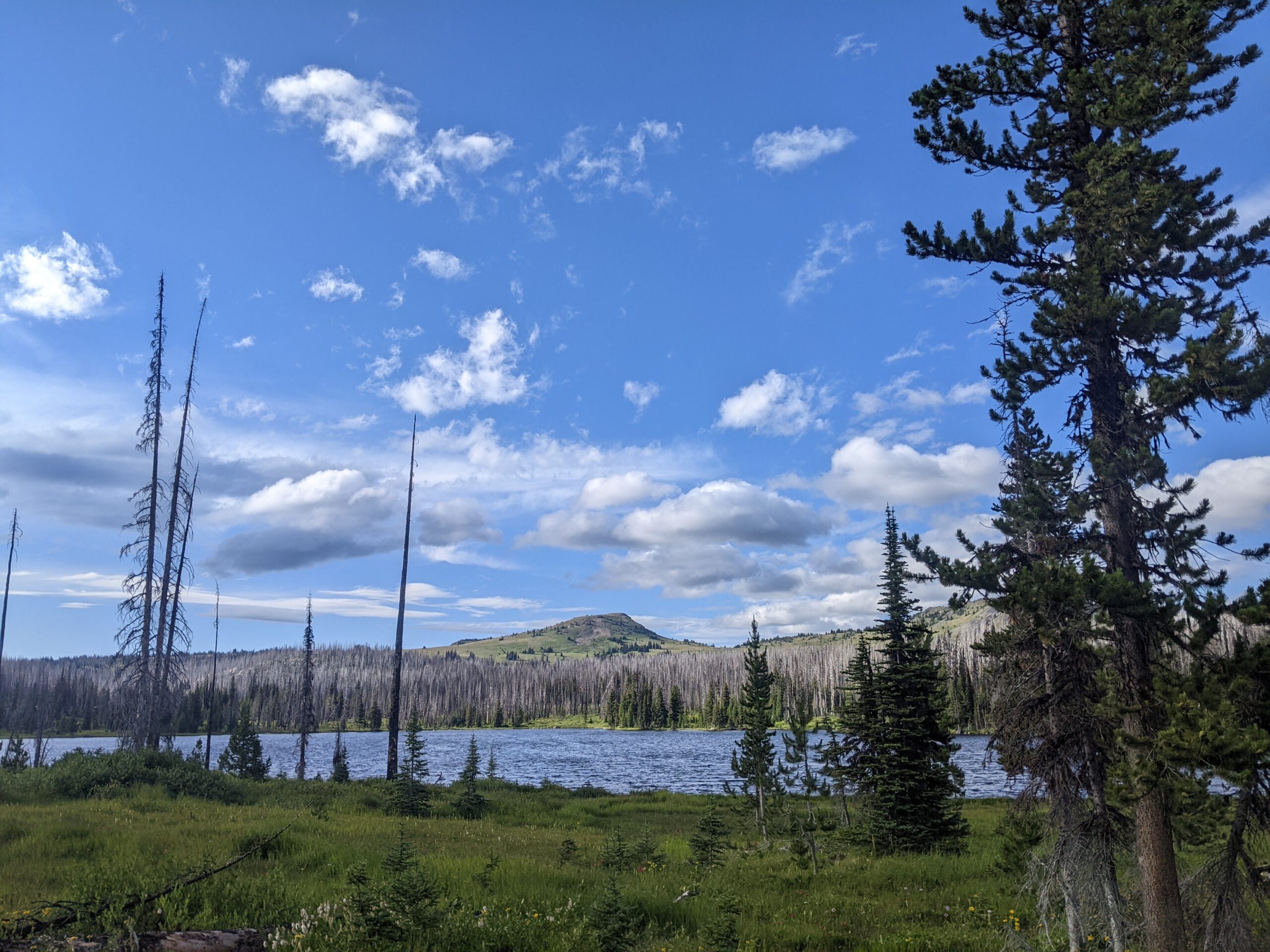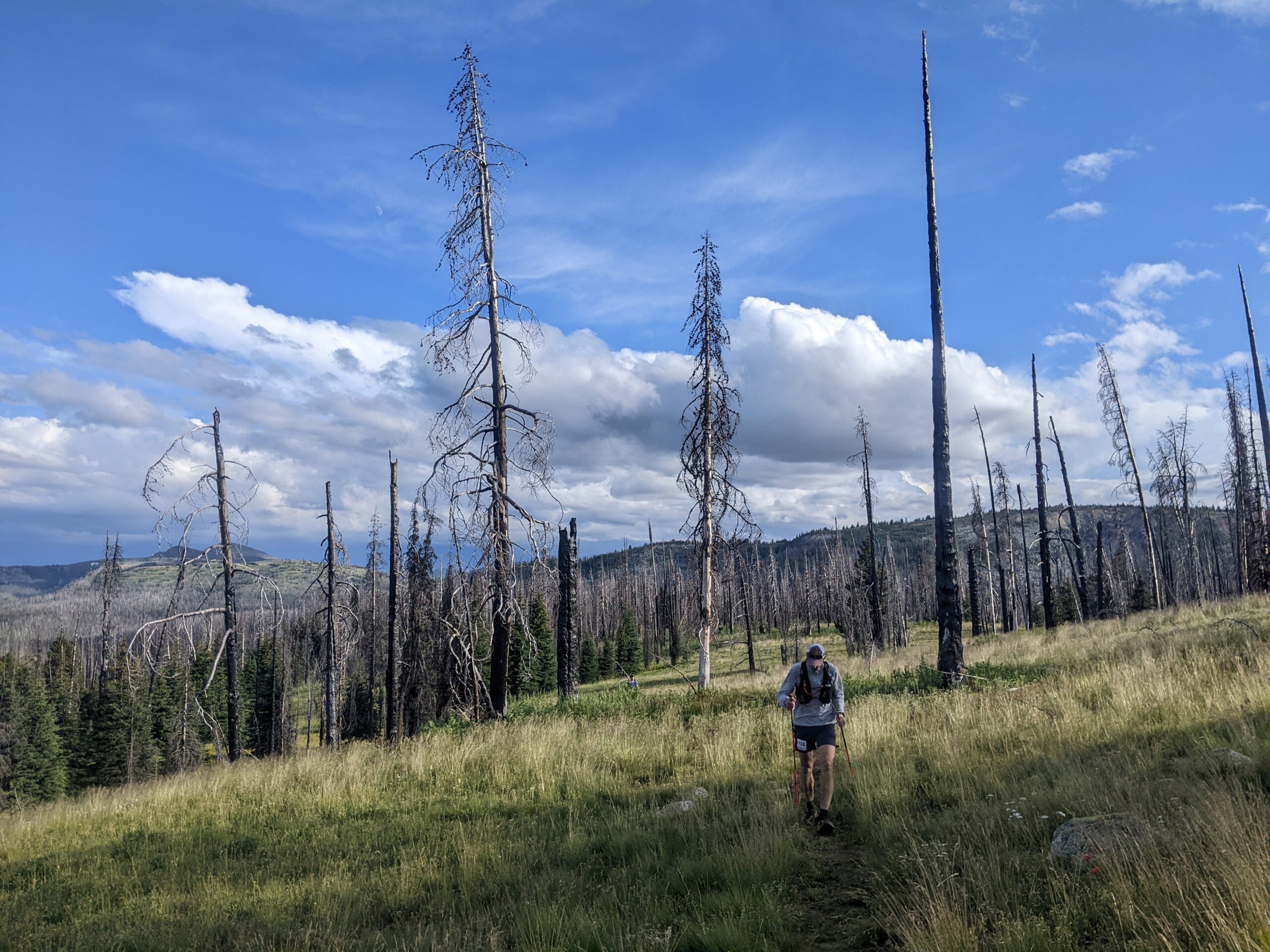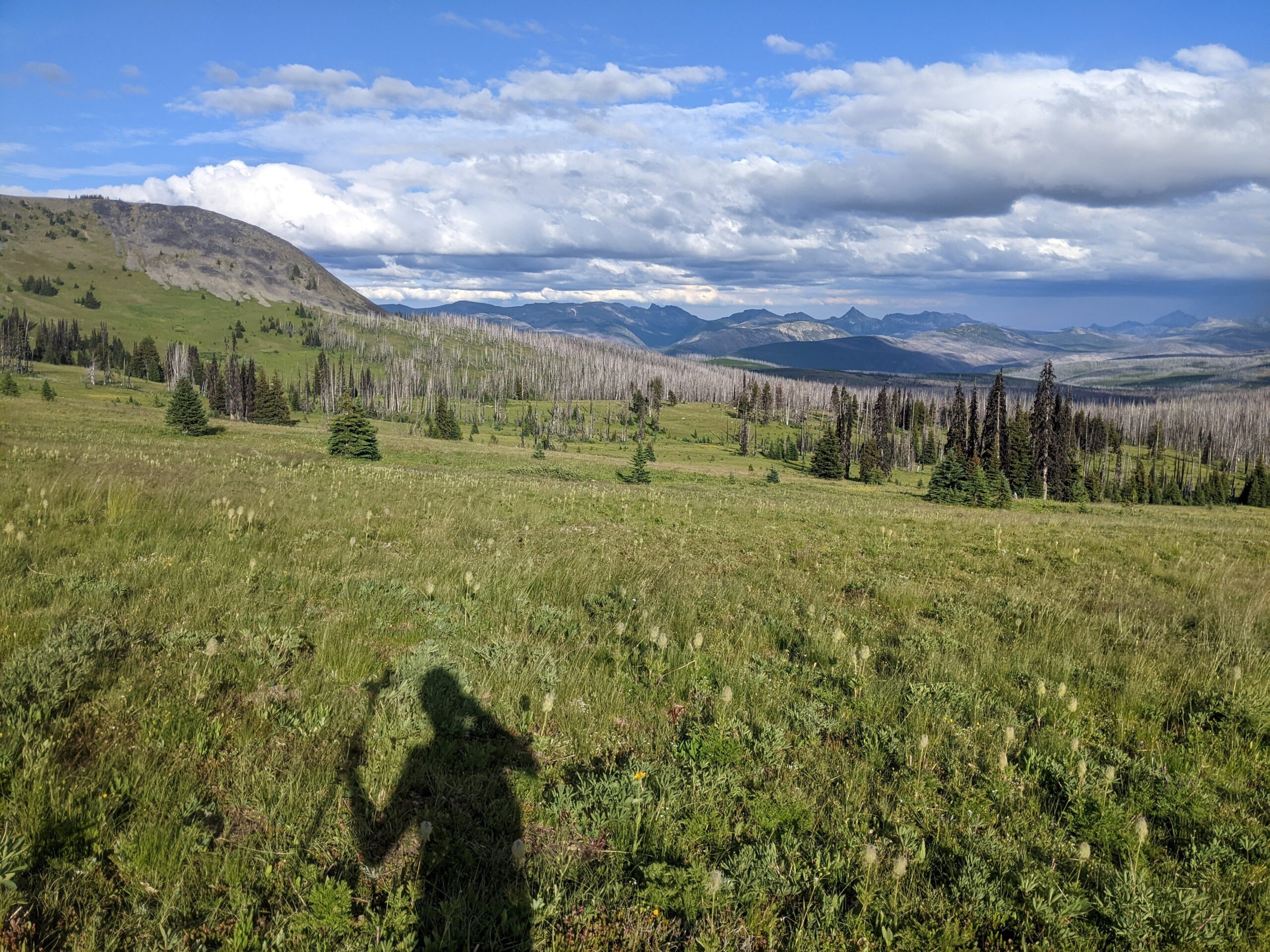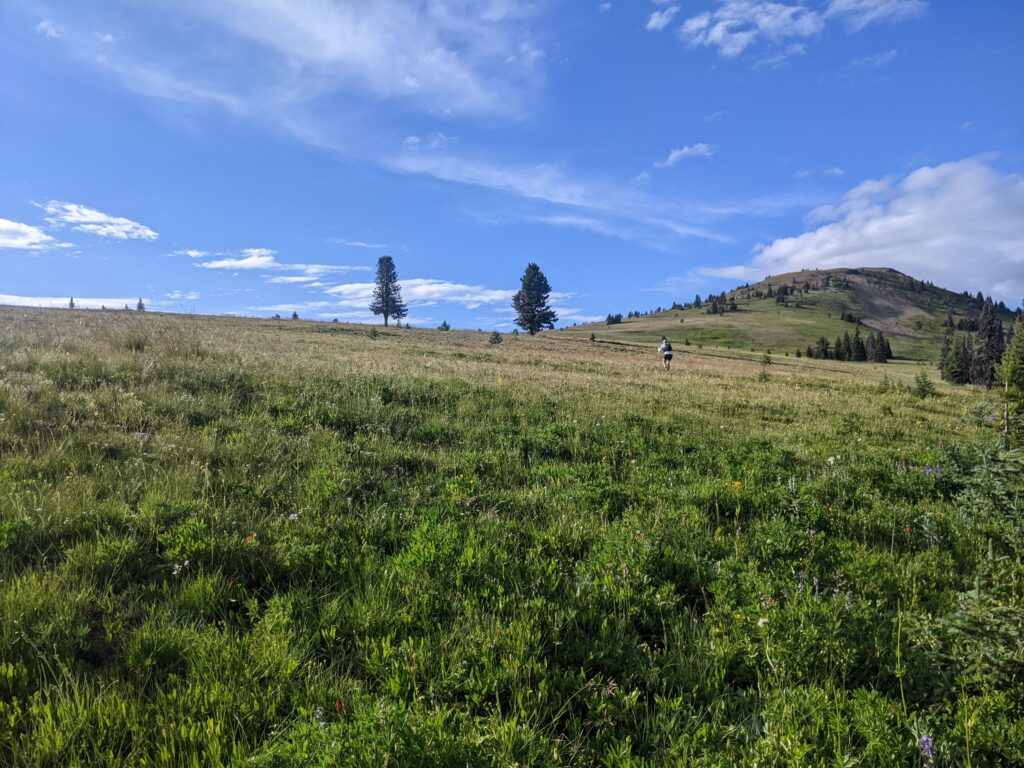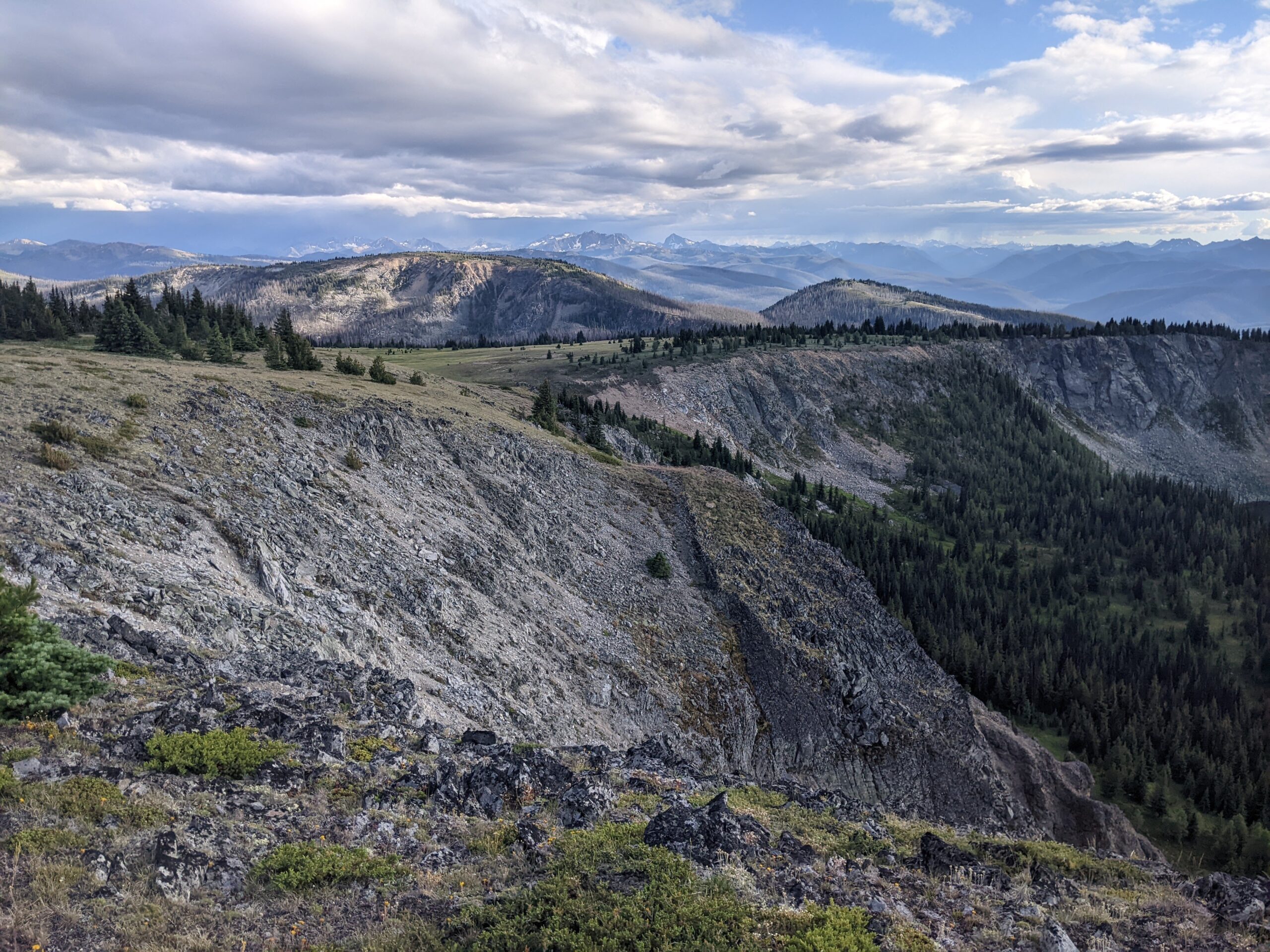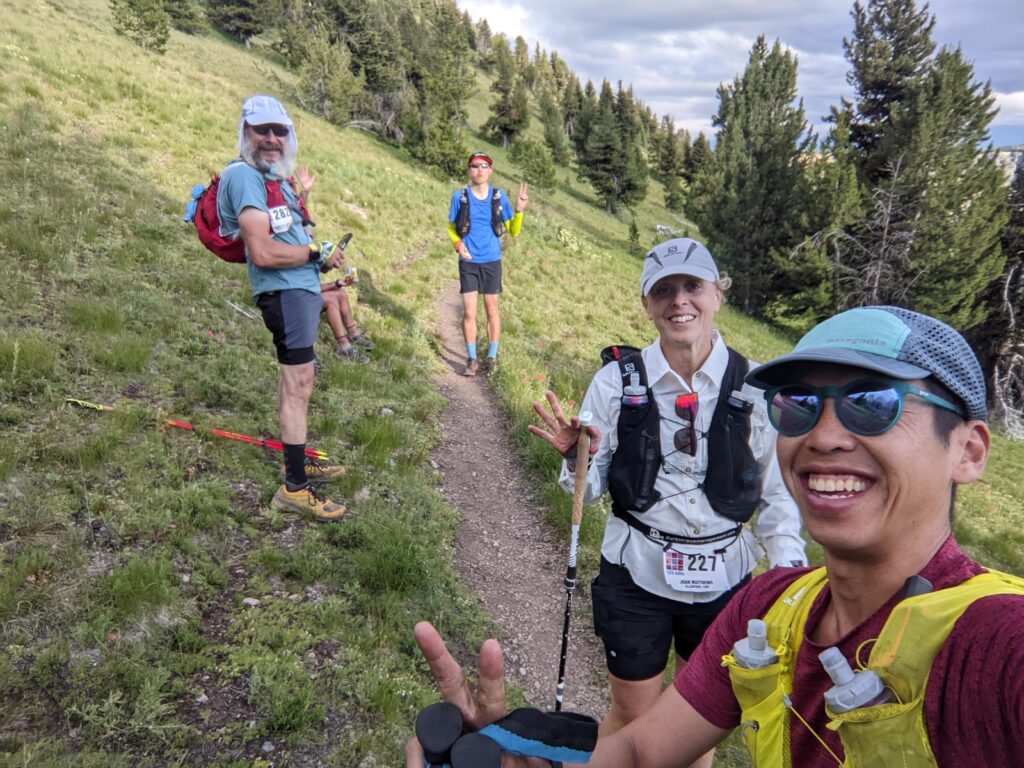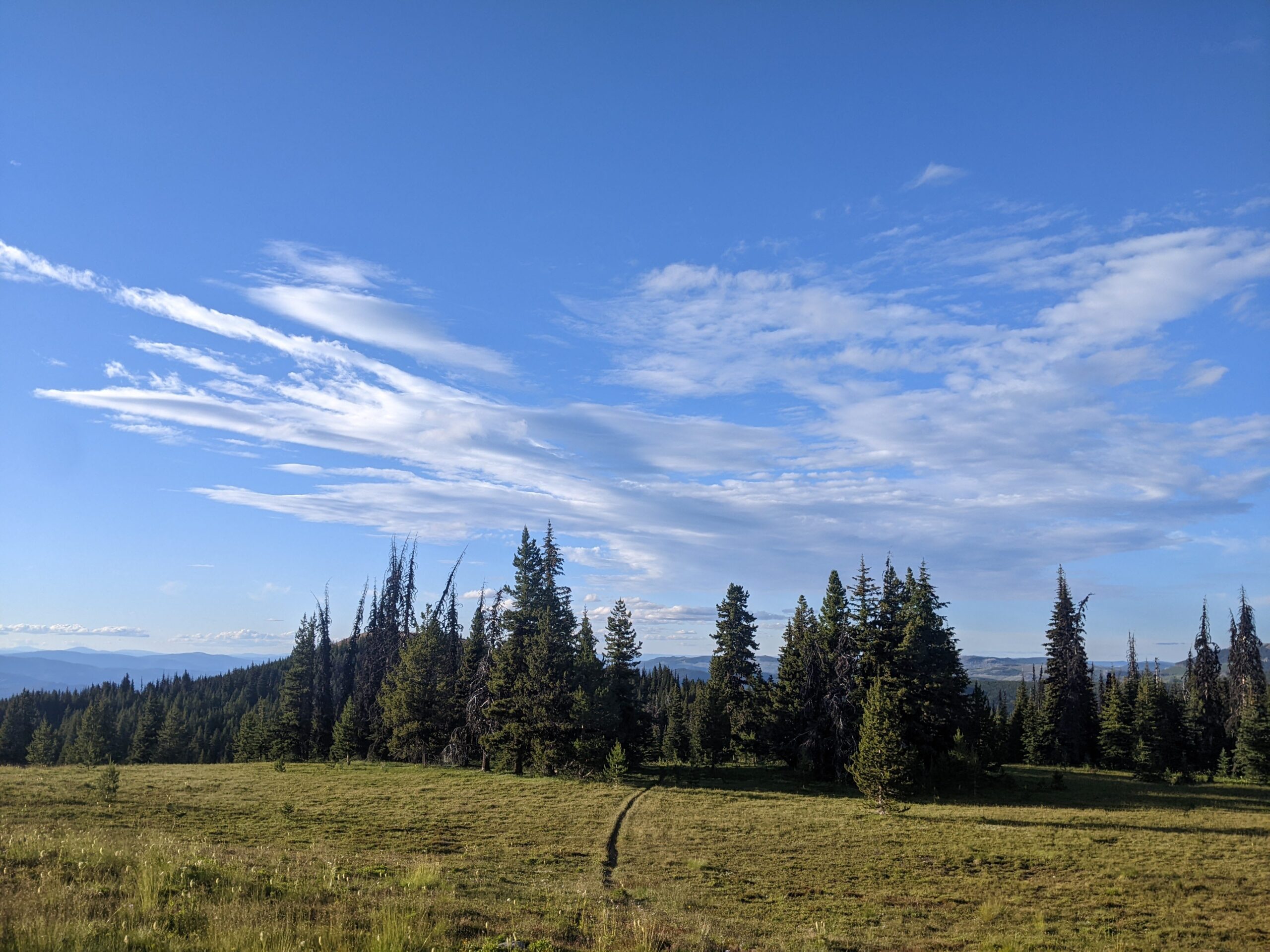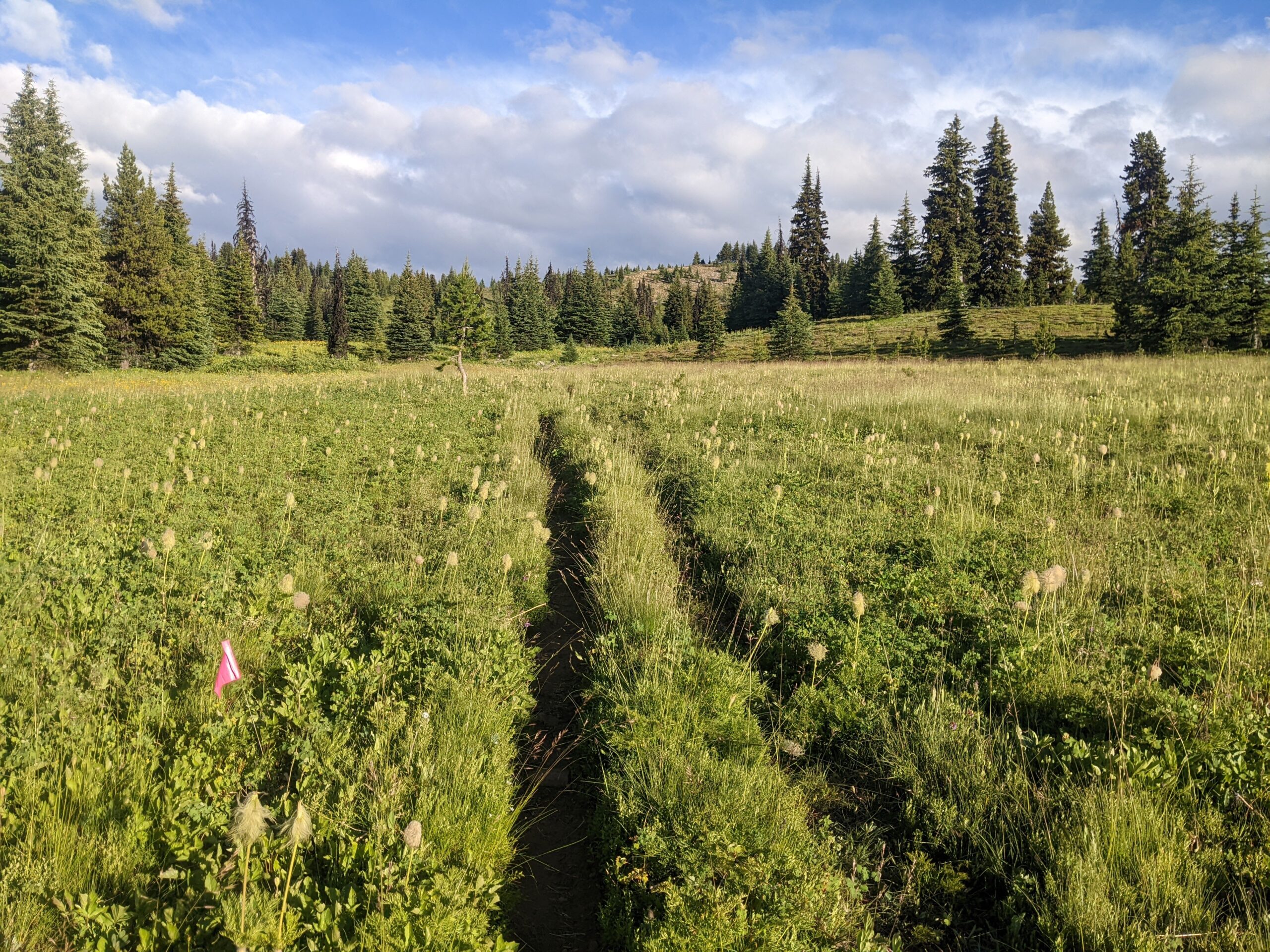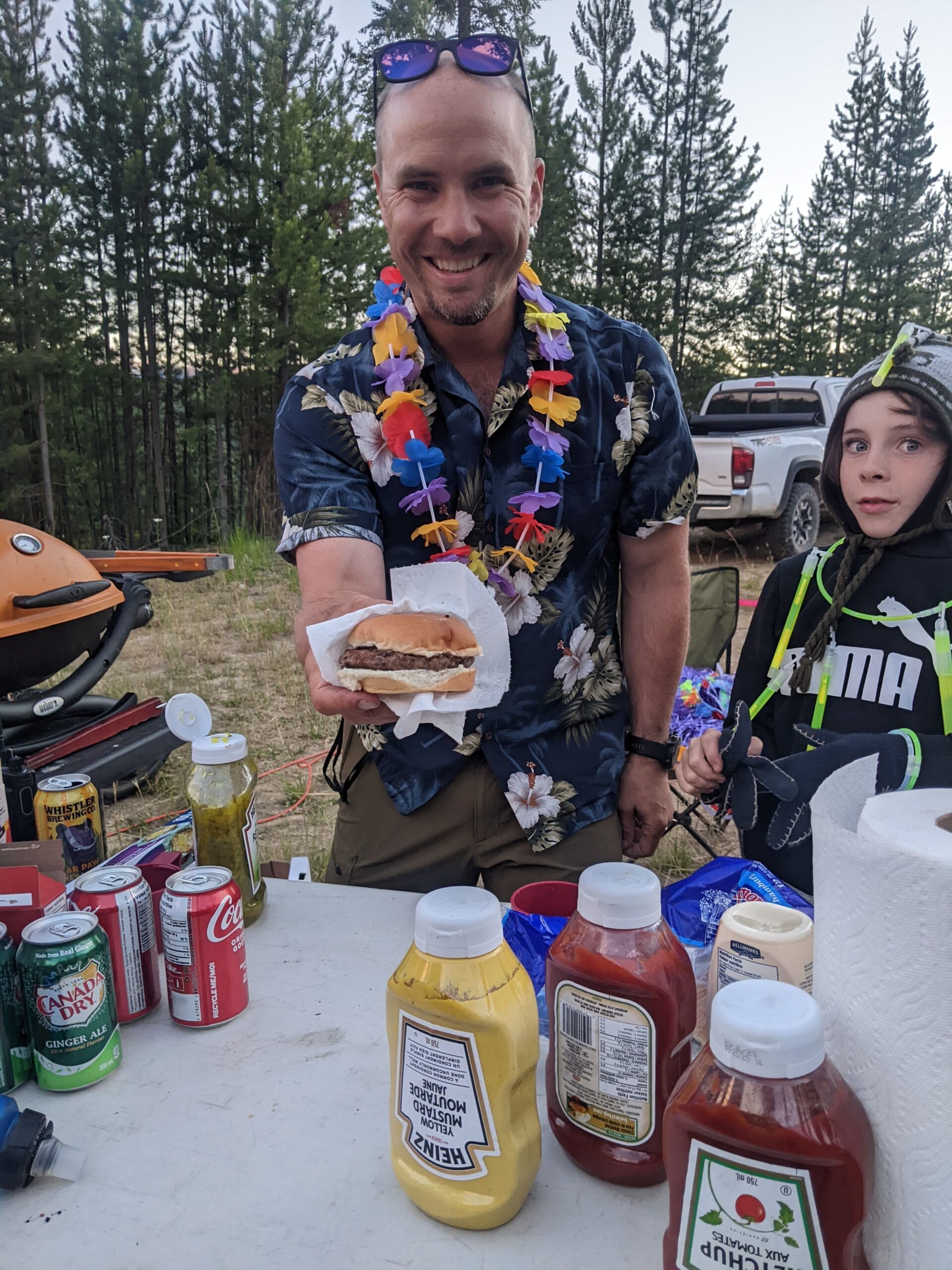 Leg 6: Pasayten – 7.5 km
Originally, my plan was to get to the Pasayten river (62km) before dark, but I was moving at a casual pace, well behind that goal. The only goal now was just to finish, and also have a fun time the entire way without entering the pain cave. My headlamp (Fenix HL60R) went on just after Calcite. I carried an extra 18650 battery with me, and for the night legs I had a backup Zebralight which uses the same battery. I hit the Pasayten River at 9:30pm, 7km after Calcite. There was a lineup, as one of the runners ahead had taken off his shoes. This was a poor decision as the river current was strong, the water level was knee height, and bed surface was slippery boulders. Unfortunately, he fell in twice and got his shoes wet anyways. I had a change to shoes (North Face Vectivs) in my drop bag. While drying out my shoes, I entered the Pasayten hot dog eating contest. Thanks Alice for volunteering and feeding me more than a healthy share of hot dogs.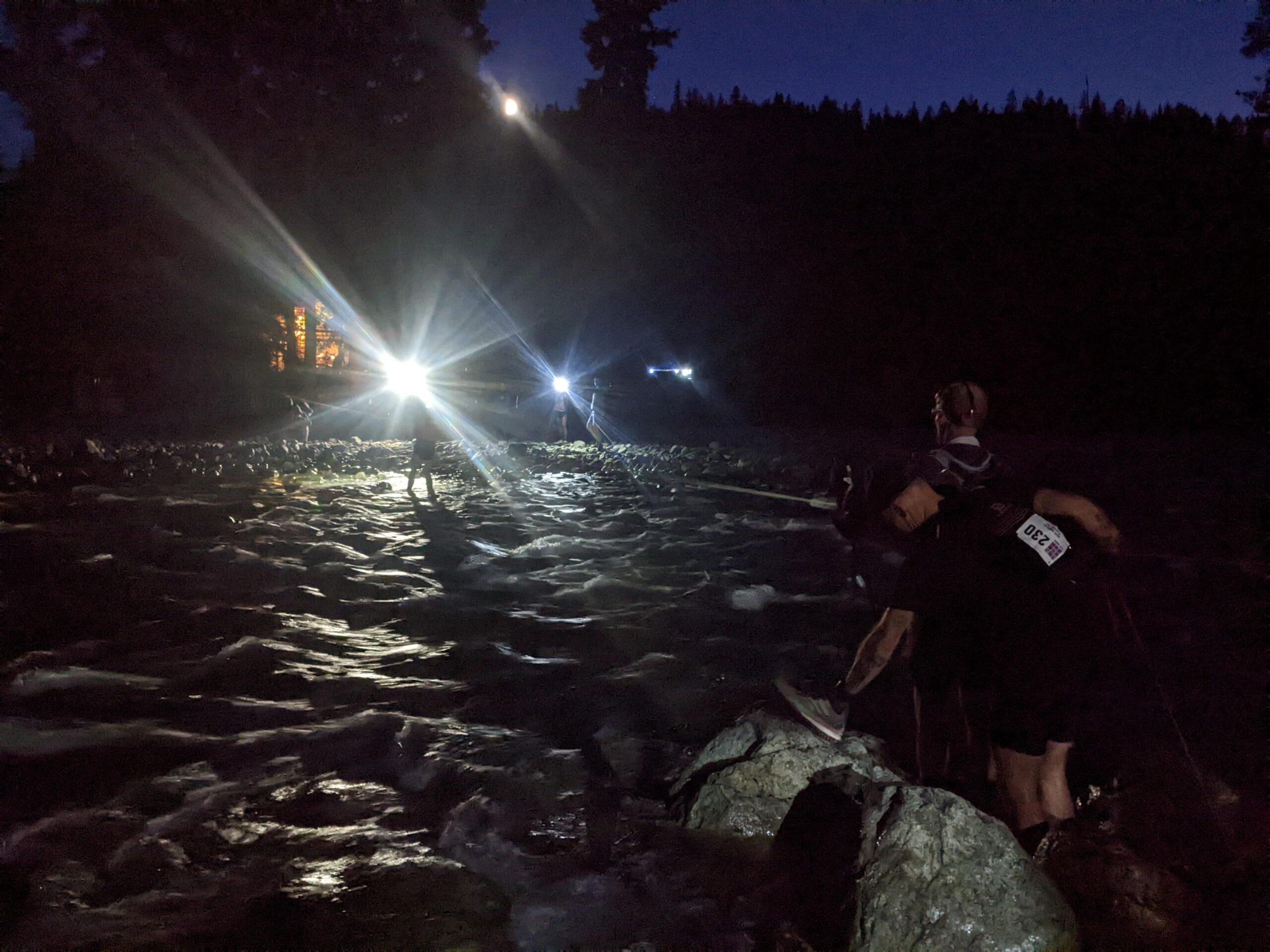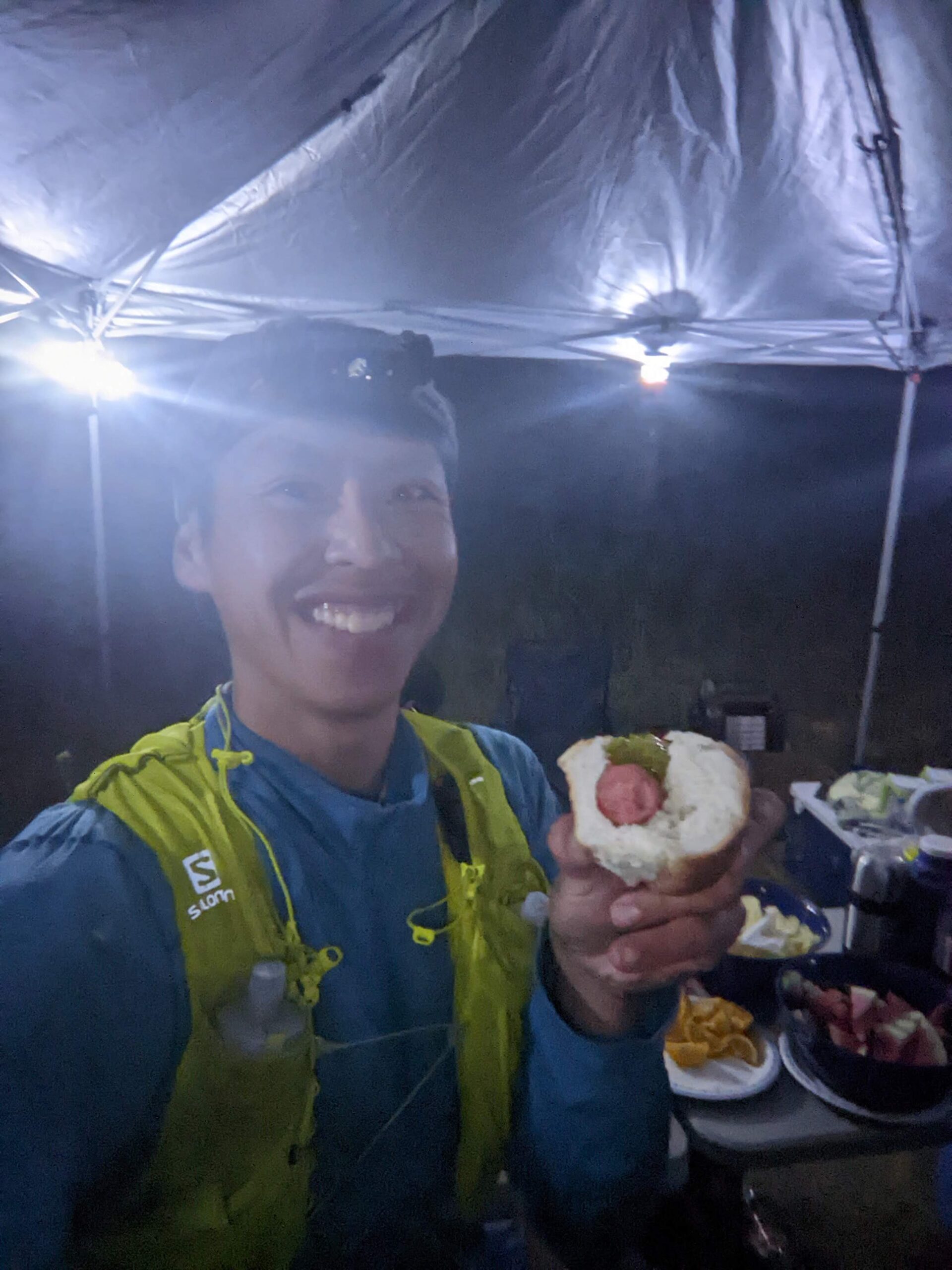 Leg 7: Bonnevier – 6km
68km
The next 6 km to Bonnevier are not particuarly memorable, asides from a few steep punchy climbs on the fire block road. Imagine 25-30% grade climbs, loose rocky/sandy footing, going up in the dark with no sense of when they would end except for the view of the headlamp that I was chasing on each hill. Probably the hardest section of the course, but it didn't last long. A short descent on the FSR brought me to the Bonnevier aid station, where Holland Mike and Greg were hanging out waiting for Karen Dave and Mike behind me. Thanks for helping me with filling up water and getting food for me. I swapped out a few things, including bringing my heavier Gore-Tex jacket and leggings as the temperatures would drop to 5C overnight with moderate northerly winds. In hindsight, I never need the leggings or the heavier jacket, and my long sleeve plus Ultimate Direction rain-jacket would have sufficed for me as I had arm sleeves too. It was alot of extra weight to carry all the way to Hope Pass, but better safe than sorry.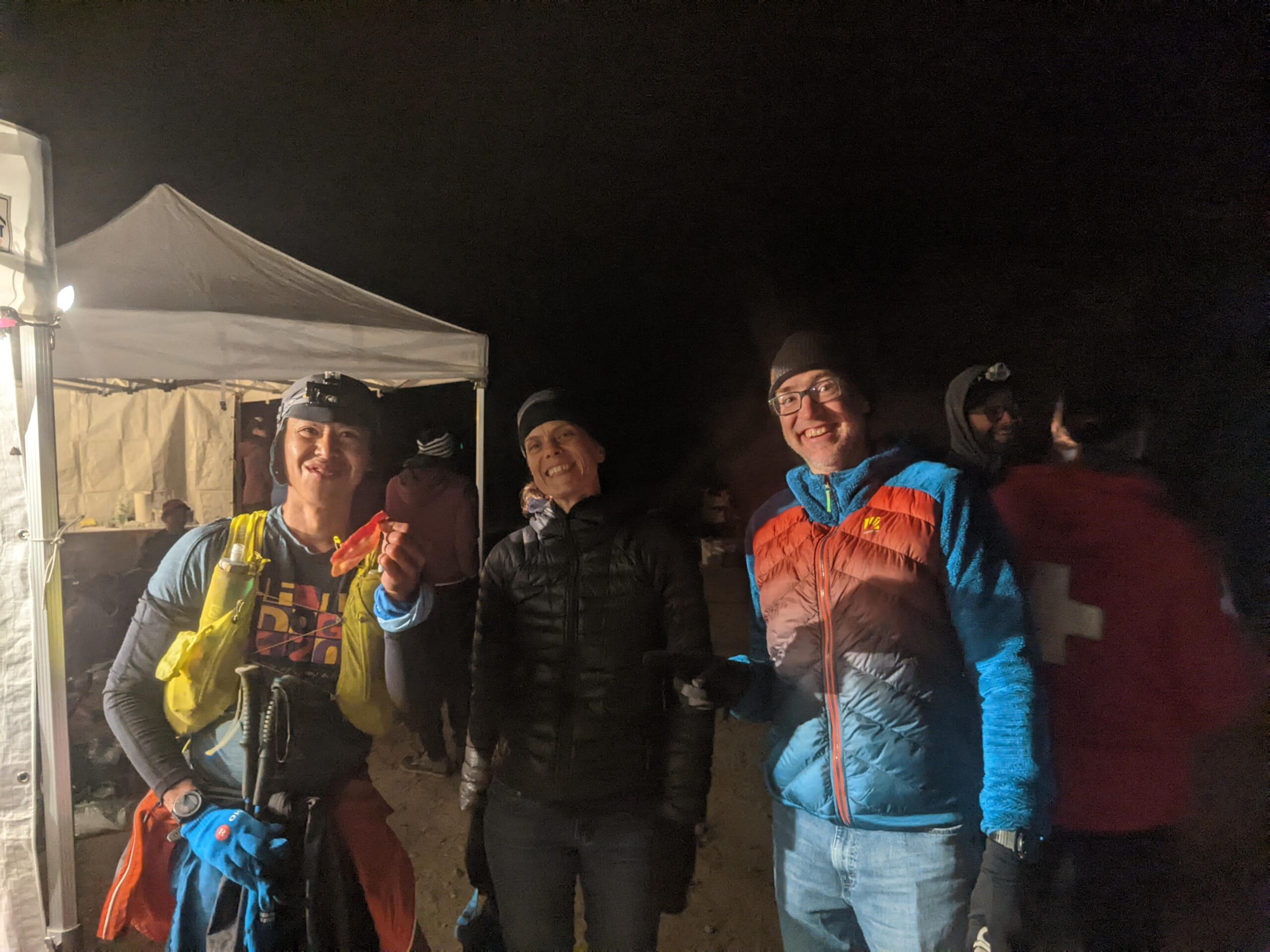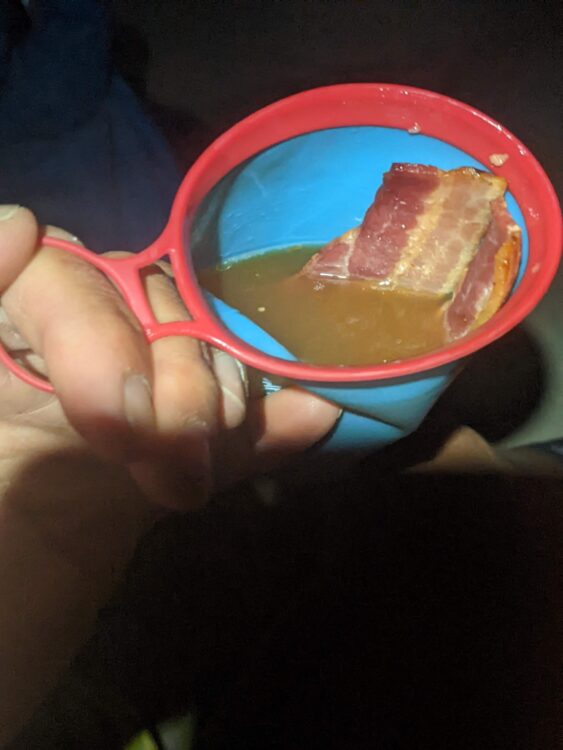 Leg 8: Heather – 17.5 km
I caught up to Johnny leaving Bonnevier, and walked the next big climb up with him. There is an initial 575 m climb, a short descent, followed by another 590 m climb to reach the Heather aid station (85.5 km). I walked the entire climb, even though there were some sections i could have run.
I think the pressure of the headlamp strap on my head was helping with my headache and it was completely gone by the time I hit the Heather aid station. We caught a group of runners ahead and for a while we were a train of lights marching up in unison. I was feeling good at the top, and made it to Heather aid station around 3:20 am. It was windy as expected, with a few runners huddled up behind a tarp. I wasn't planning to stick around and get cold. I waited for some hot water and noodles, filled up my reusable cup and continued my walk into the dark. The stars were incredible, and once in a while I would turn off my headlamp, pause and see if I could spot a shooting star. There wasn't really a rush to get anymore, and everything just felt comfortable on the trail. I walked as fast as I could, and only ran when the trail was smooth and buff.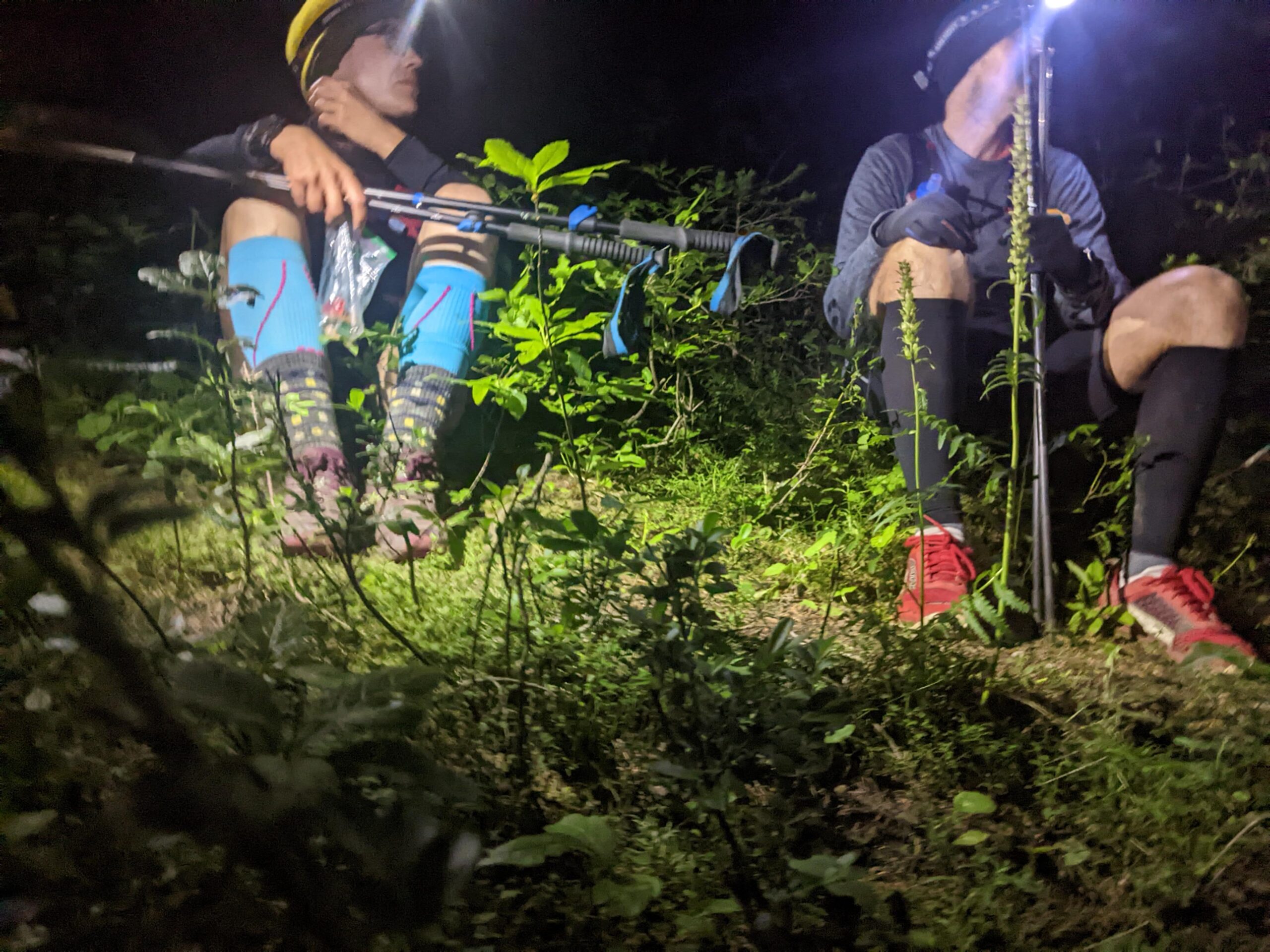 Leg 9: Nicomen – 15.5 km
I enjoyed every leg of Fat Dog, but the Heather trail is one of my favourite trails around, walking through endless fields of lupines and paintbrush. The best part of the 2022 course is that you get to run through Heather trail twice. I thought I would be running this in the dark, but with my more casual pace I timed the sunrise perfectly, just before the last climb before dropping to Nicomen Lake. I love the early morning just before the sun hits, knowing that things will get brighter again. I ran a bit with Xiao, his pacer Jacky and another runner, Ben, here. The descent into Nicomen Lake is a bit eroded and muddy and wet just before the lake. I fell here during the 70miler (slipped on mud, hit a rock) so I was a bit more cautious this time. Nicomen Lake (101 km) is the most remote aid station on course. Everything is hiked in and out. Thanks Dennis and family for camping out and taking care of all the runners.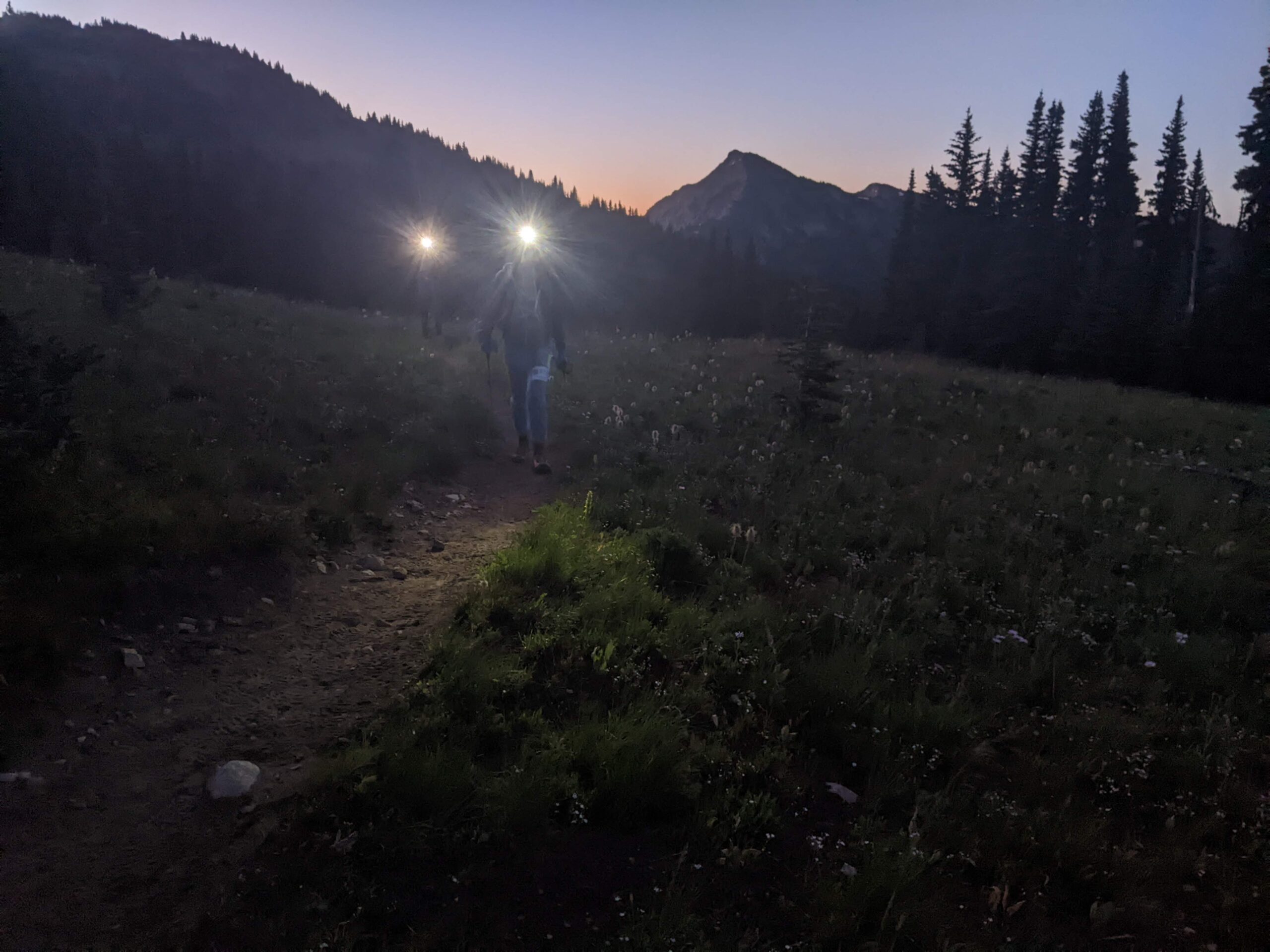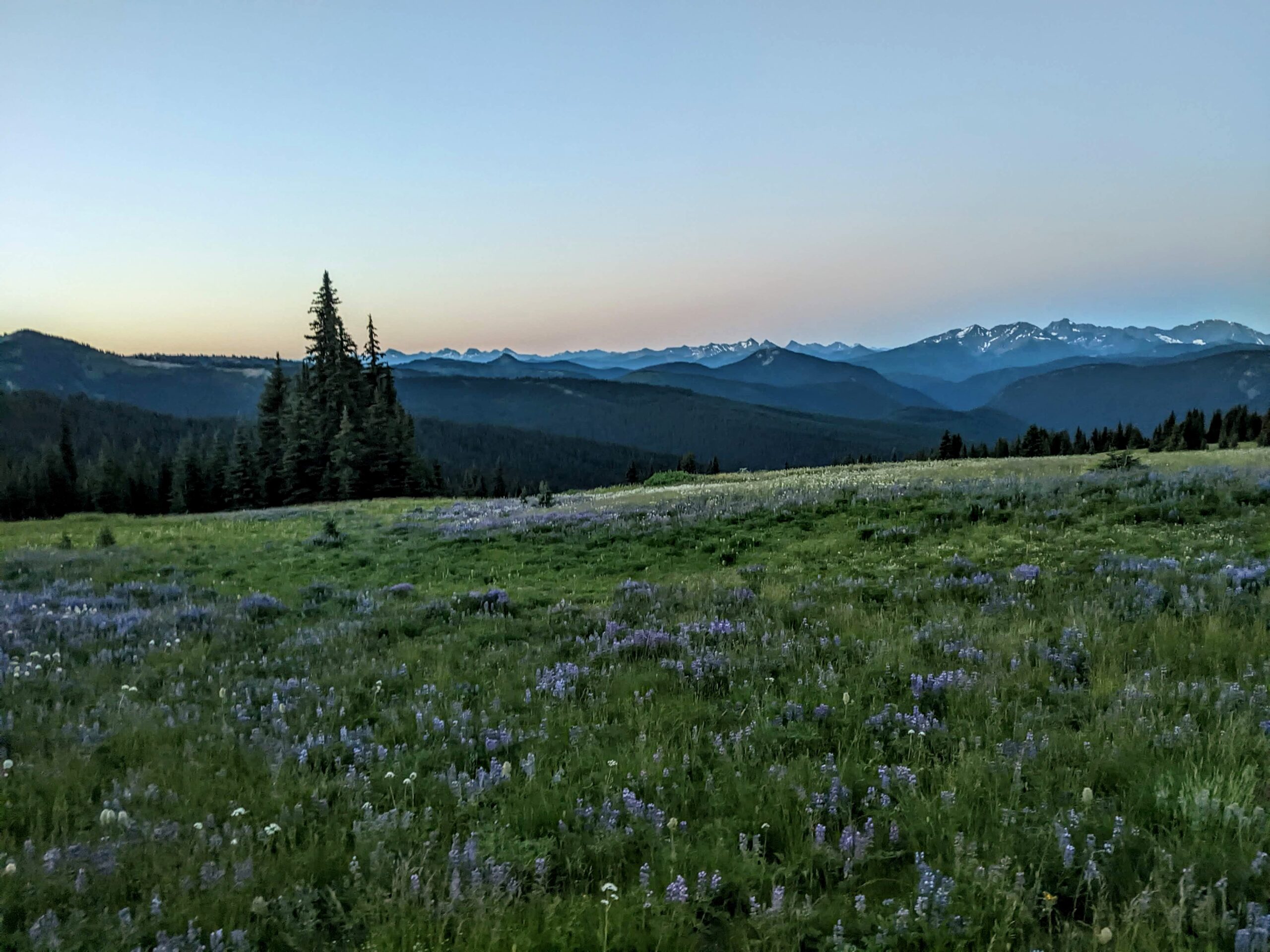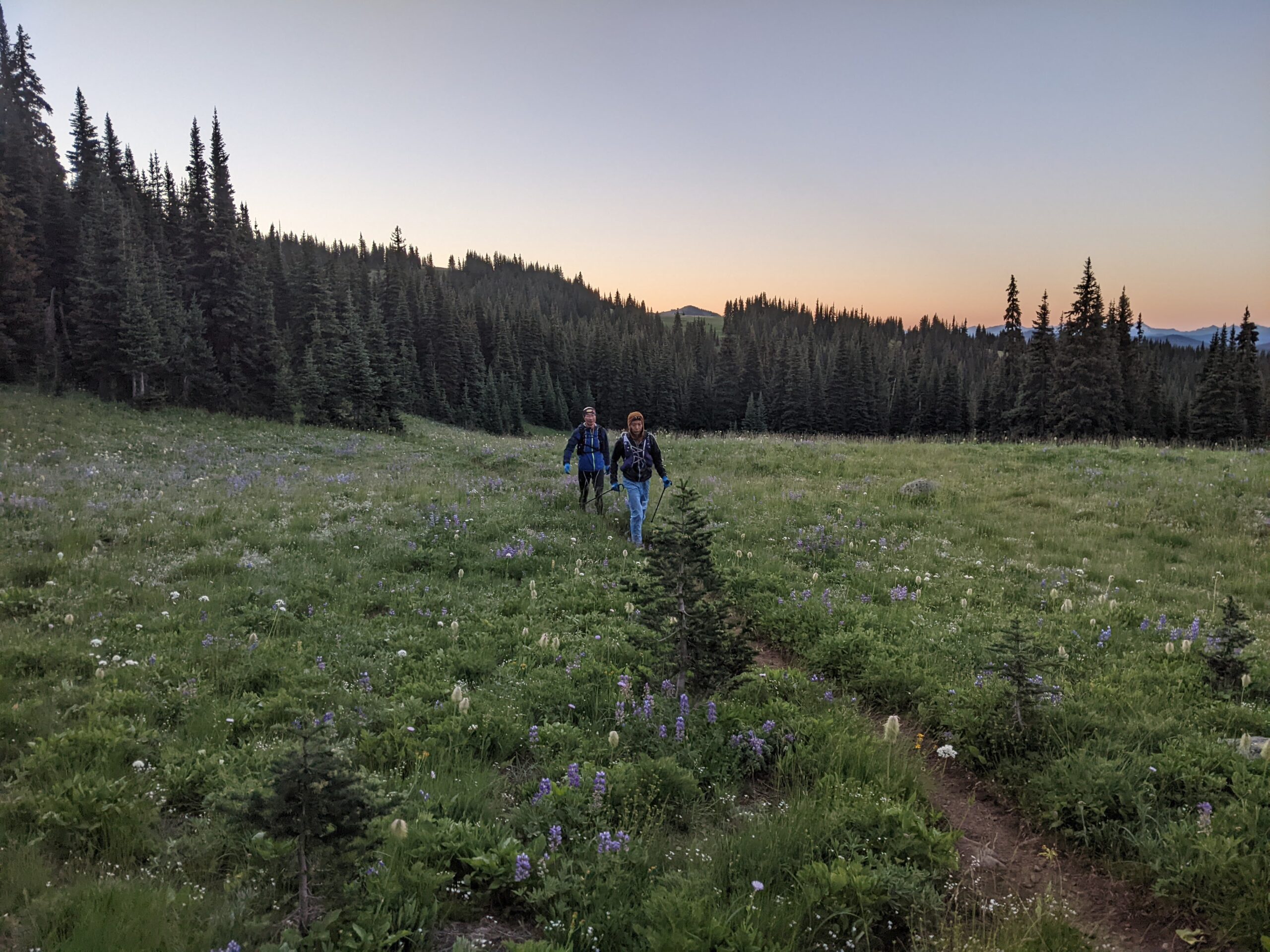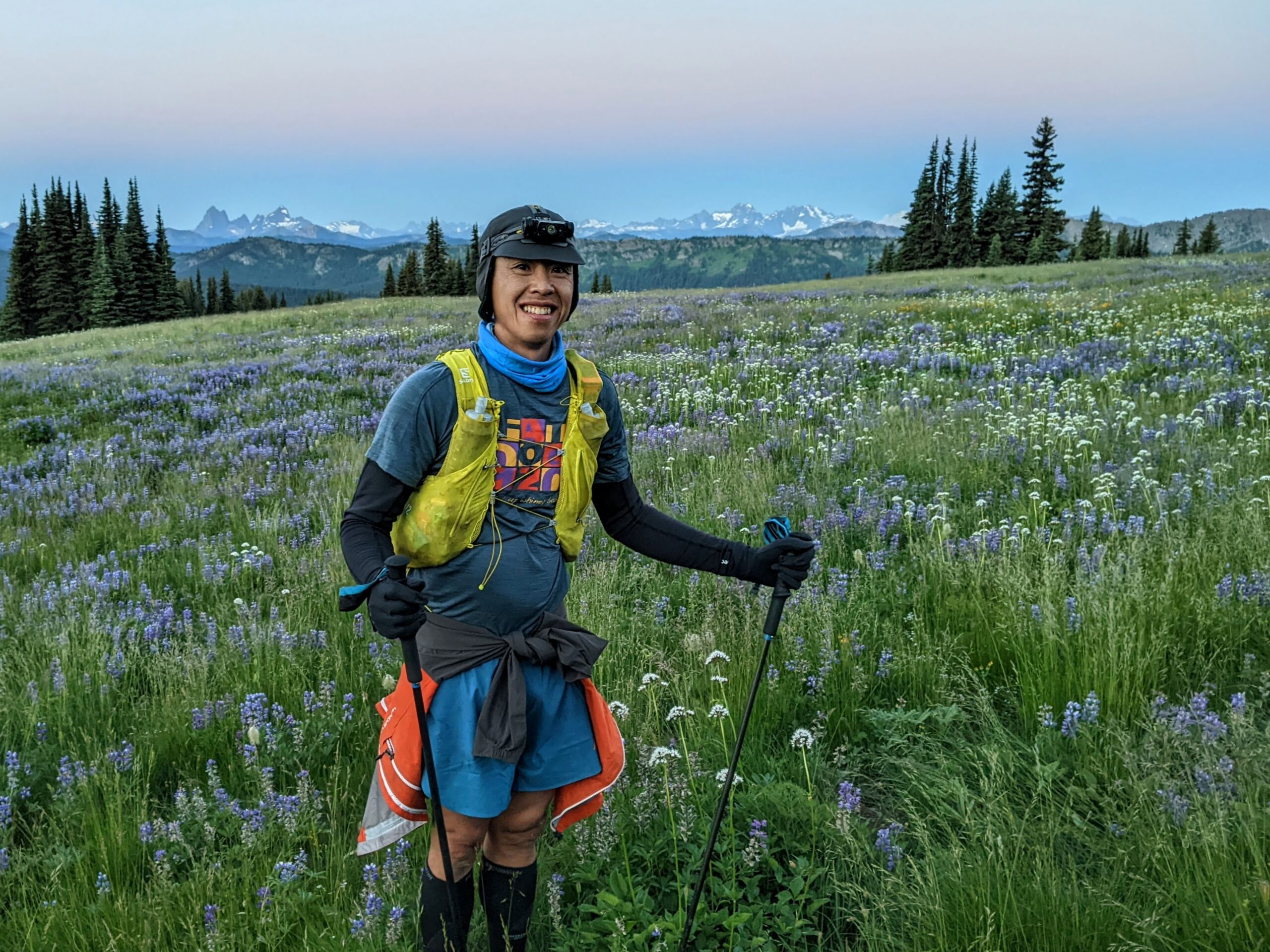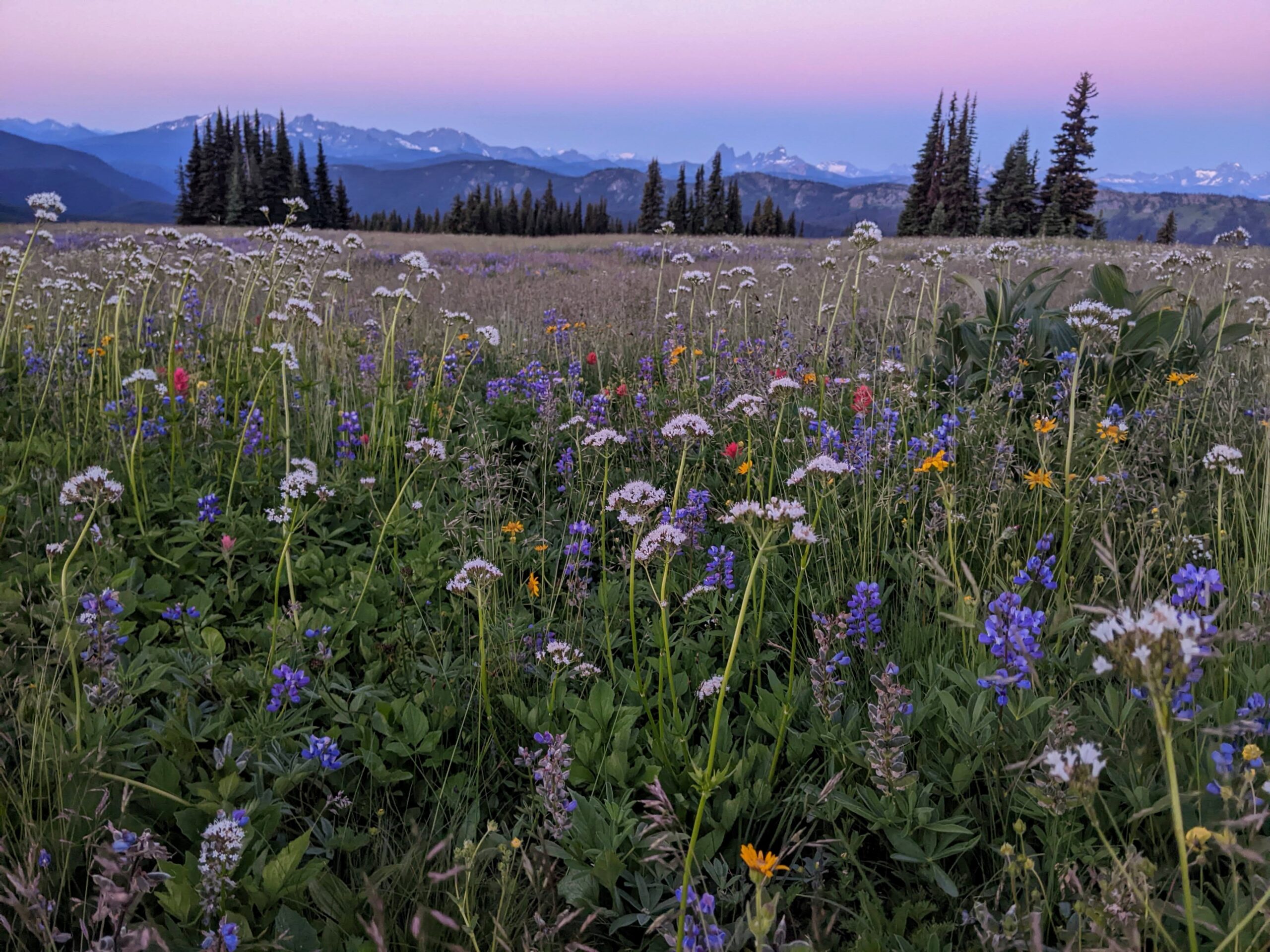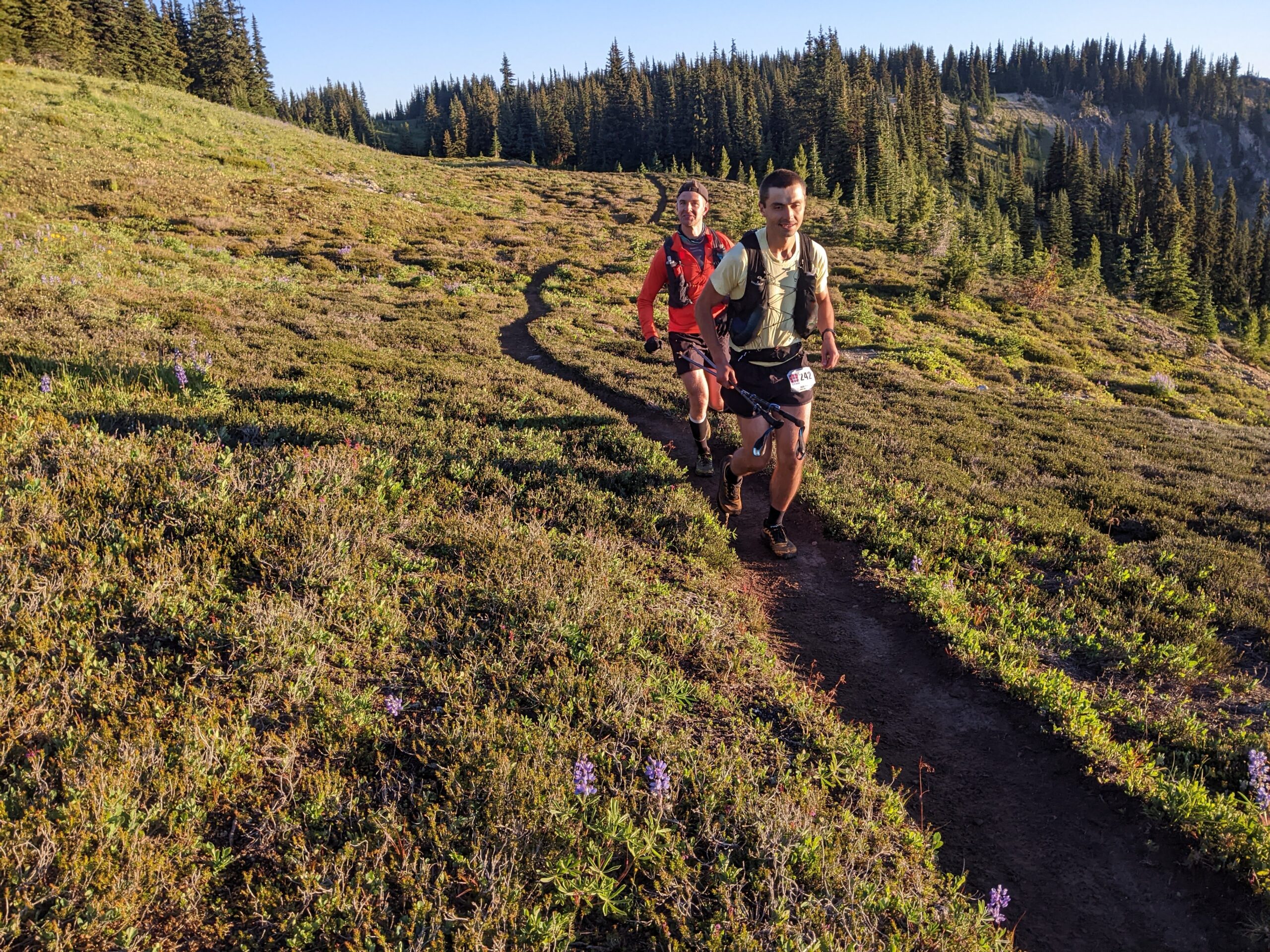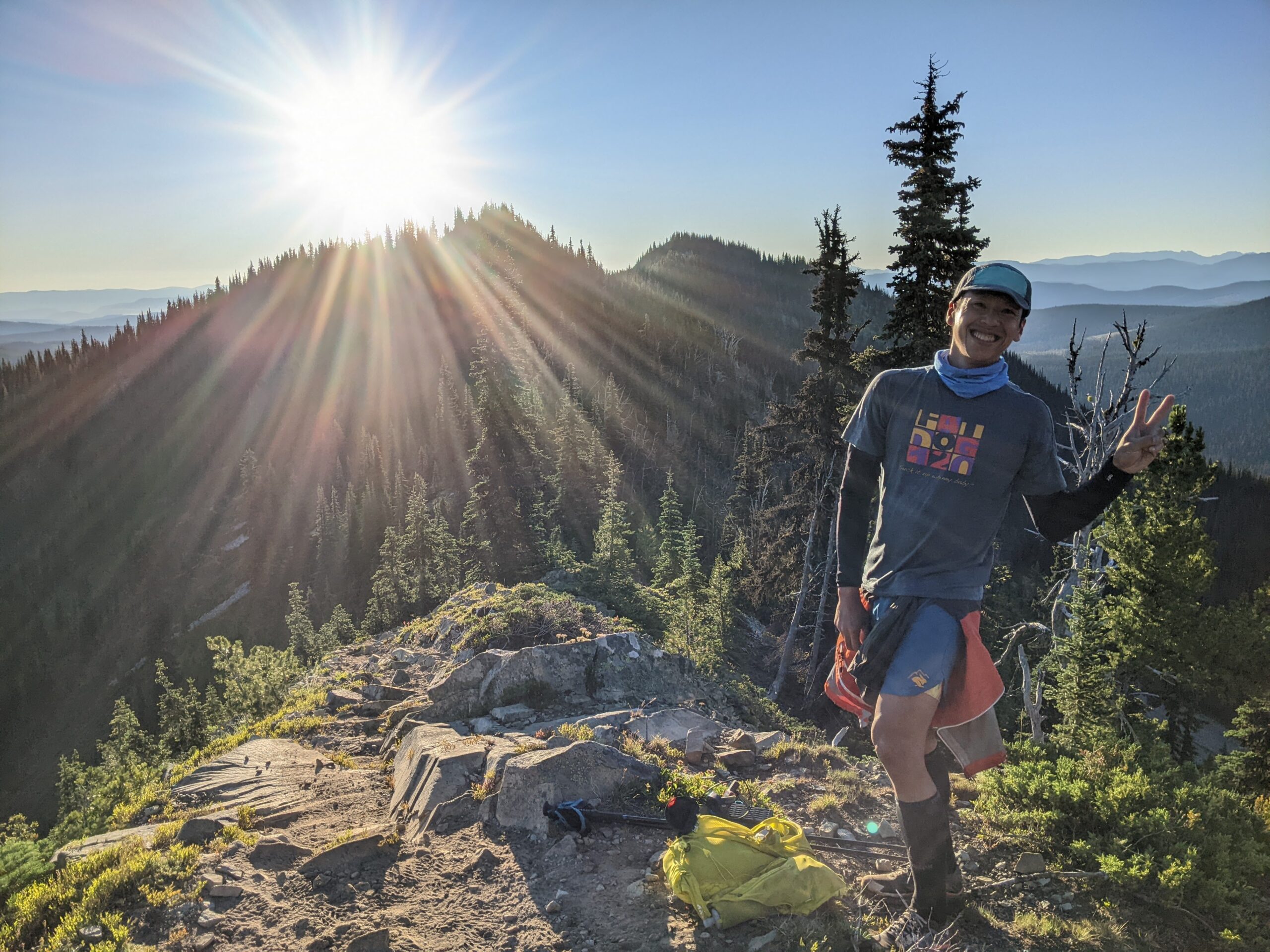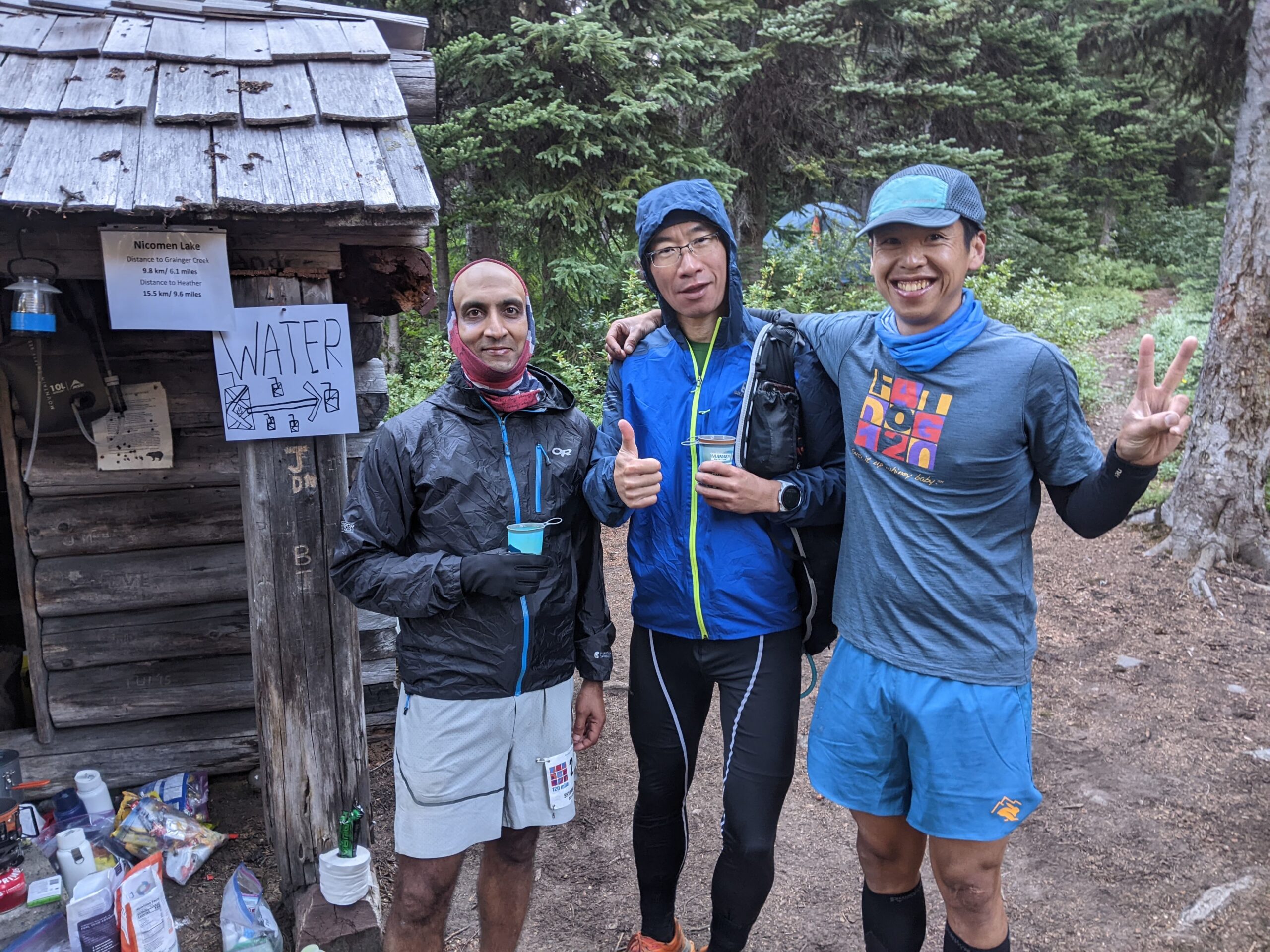 Leg 10: Grainger – 10 km
A quick fuel stop at Nicomen with cold bacon, coffee, cup noodles, and a gel got me ready for the fun downhill to Grainger. I was familiar with this descent from Fat Dog 70. From Nicomen Ridge to Grainger, it's 12 km descent with 1100 m descent. Everything was feeling good and I passed Wing and Etienne on the way down. I recognized Etienne's pacer bunny ears. He paced the 3:30 group at the BMO marathon this year and I was running along with him until my calves got tired on the seawall. Knowing I had Fat Dog later in the summer, I jogged the rest of the way rather than taking a chance on an injury.
I felt great now though, and only walked to give my quads a bit of rest as a precaution. I arrived at Nicomen around 7am, and Grainger at 9am. Grainger Creek (111 km) is another remote aid station, but this one is closer to Hwy 3, so it was better stocked with more Spring energy gels. These things are awesome, basmati rice based, not sticky at all unlike regular gels. I had one every 30 minutes. There's even an apple cinnamon pie flavour, the 180 calorie "Awesome Sauce." I carried these, along with Xact bars and Gu gels.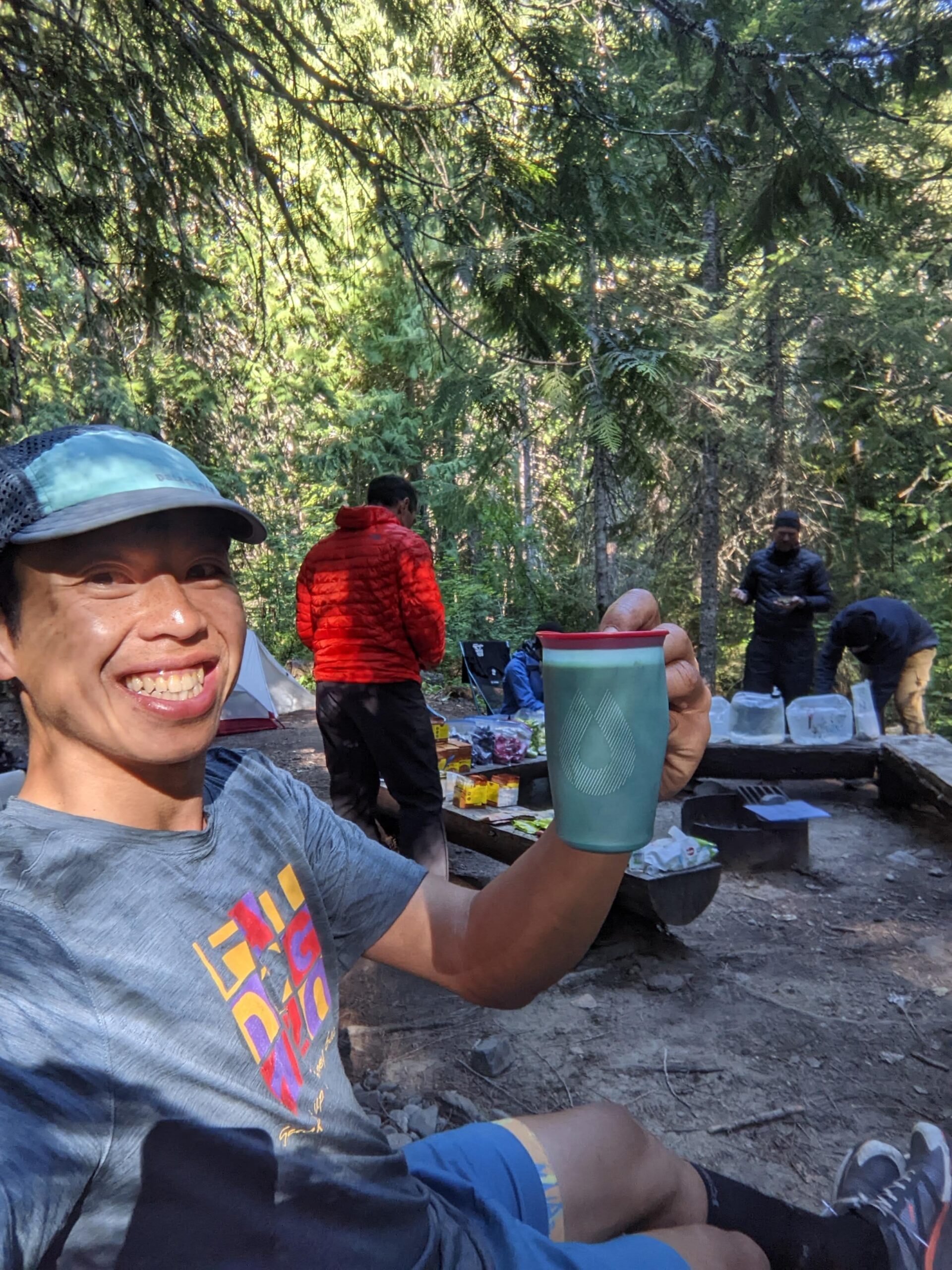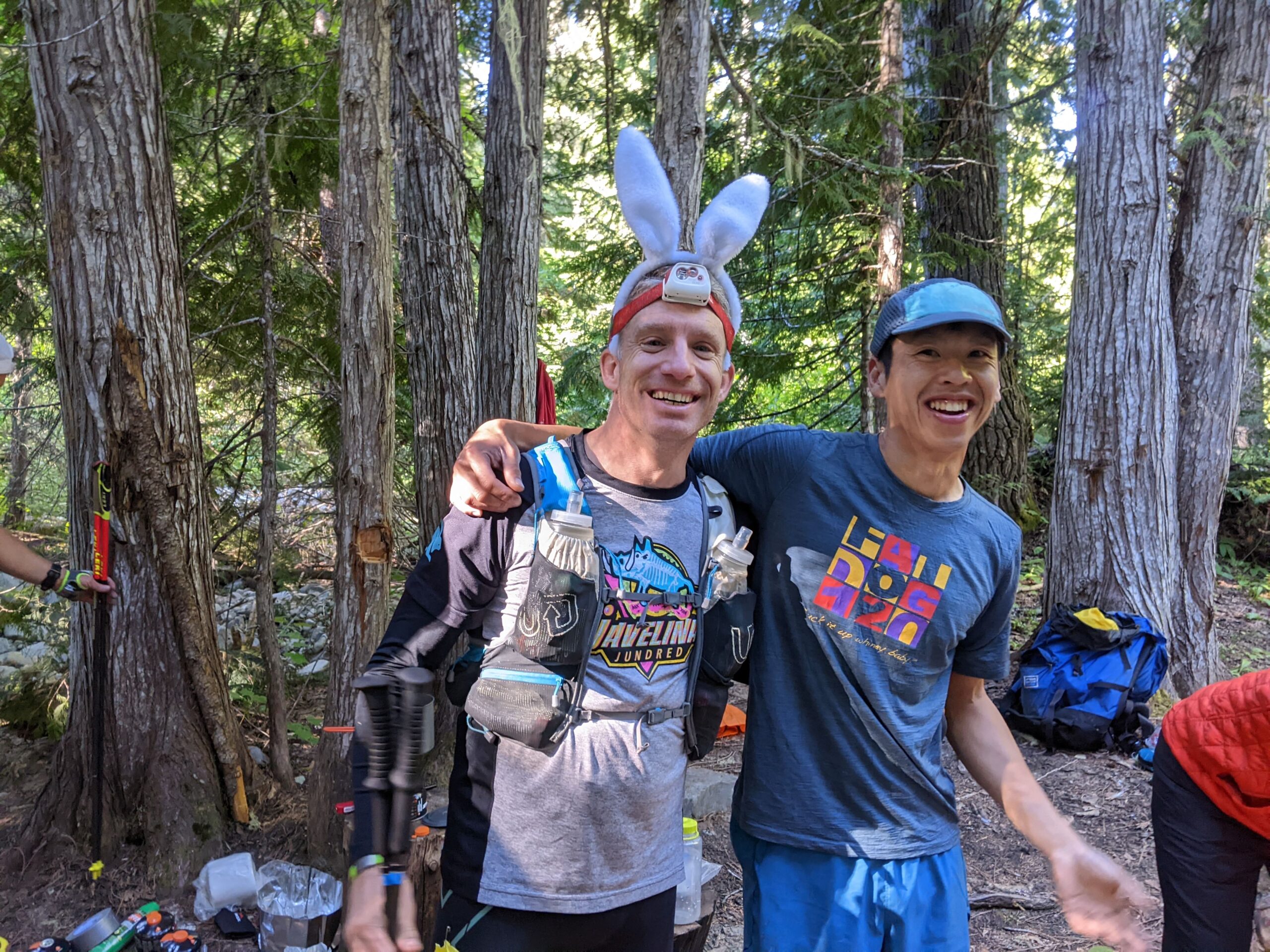 Leg 11: Hope Pass – 17 km
The next section was an unknown for me, with over 900 m of climbing to Hope Pass over 14 km, and then another 3 km out and back to the Hope Pass aid station (128 km) on the Whipsaw FSR. The leg was longer than advertised by 1.5km, the largest deviation for any of the legs (we were told the distances were only estimates).
I filled up all my water bottles, but I wish I didn't. The first half was undulating and runnable uphill, with plenty of good flowing creeks along the way. Might be different story in a dry year. The 70 milers began to pass me now, and I put in my best effort to make up some time on the big climb. It went well until the top when the heat started to get to me, and I slowed down to make sure I was still feeling comfortable. I was really looking forward to some real food. I made it to the aid station at 12:30pm, had a can of coke, hashbrowns, and some perogies. I brushed my teeth too, as I was experiencing the same loss of taste/over sugared feeling in my mouth/tongue, similar to the Garibaldi Traverse last year when I ate nothing but gels and bars. I left the aid station with a ziplock bag of watermelon and orange slices which I ate as I hiked back along the loop to Nicomen. My longest aid station breaks were at Bonnevier, Hope Pass, and Blackwall. I spent 30 minutes at each of these aid stations, but I didn't mind as it was good to refuel and rest.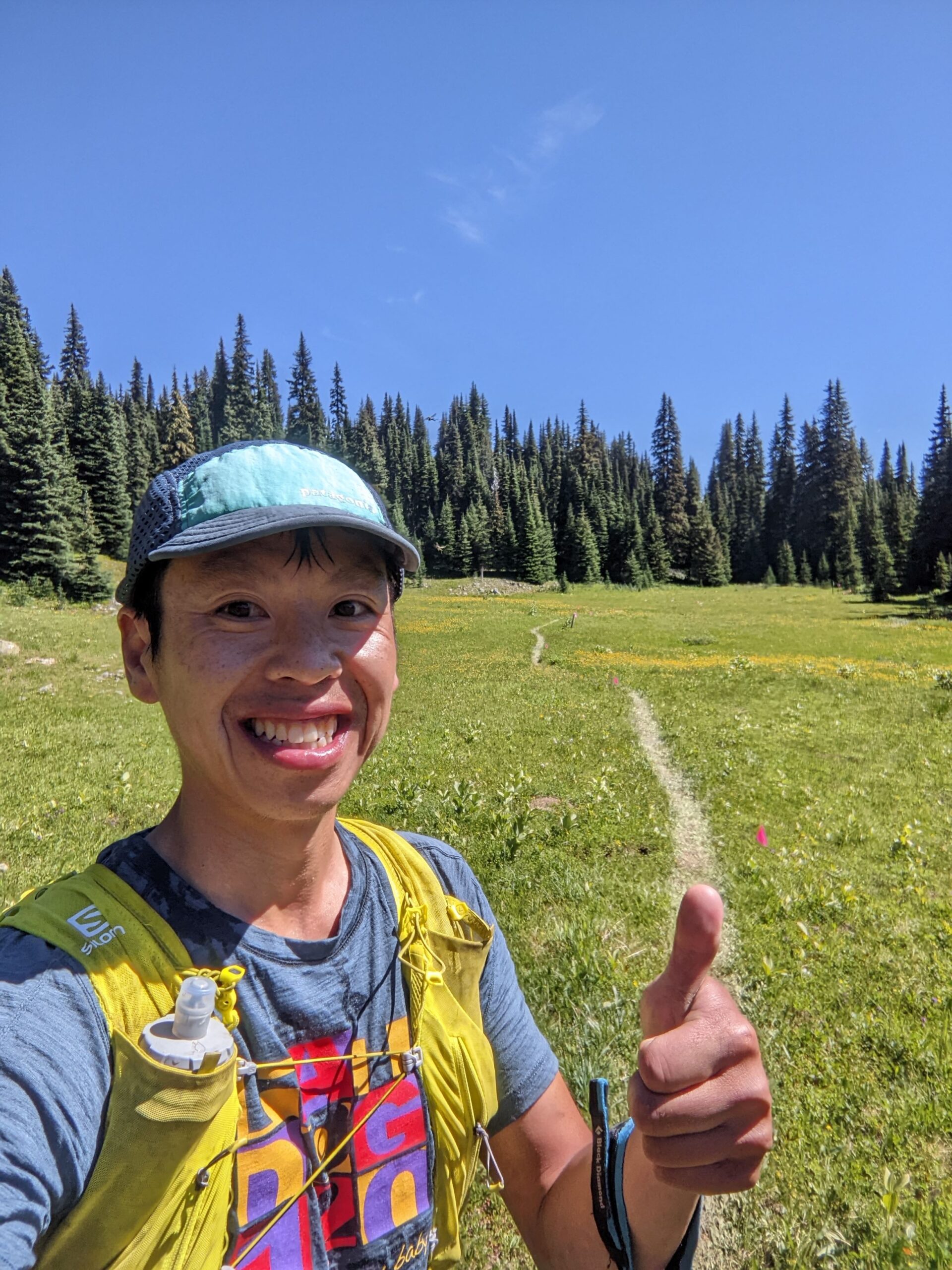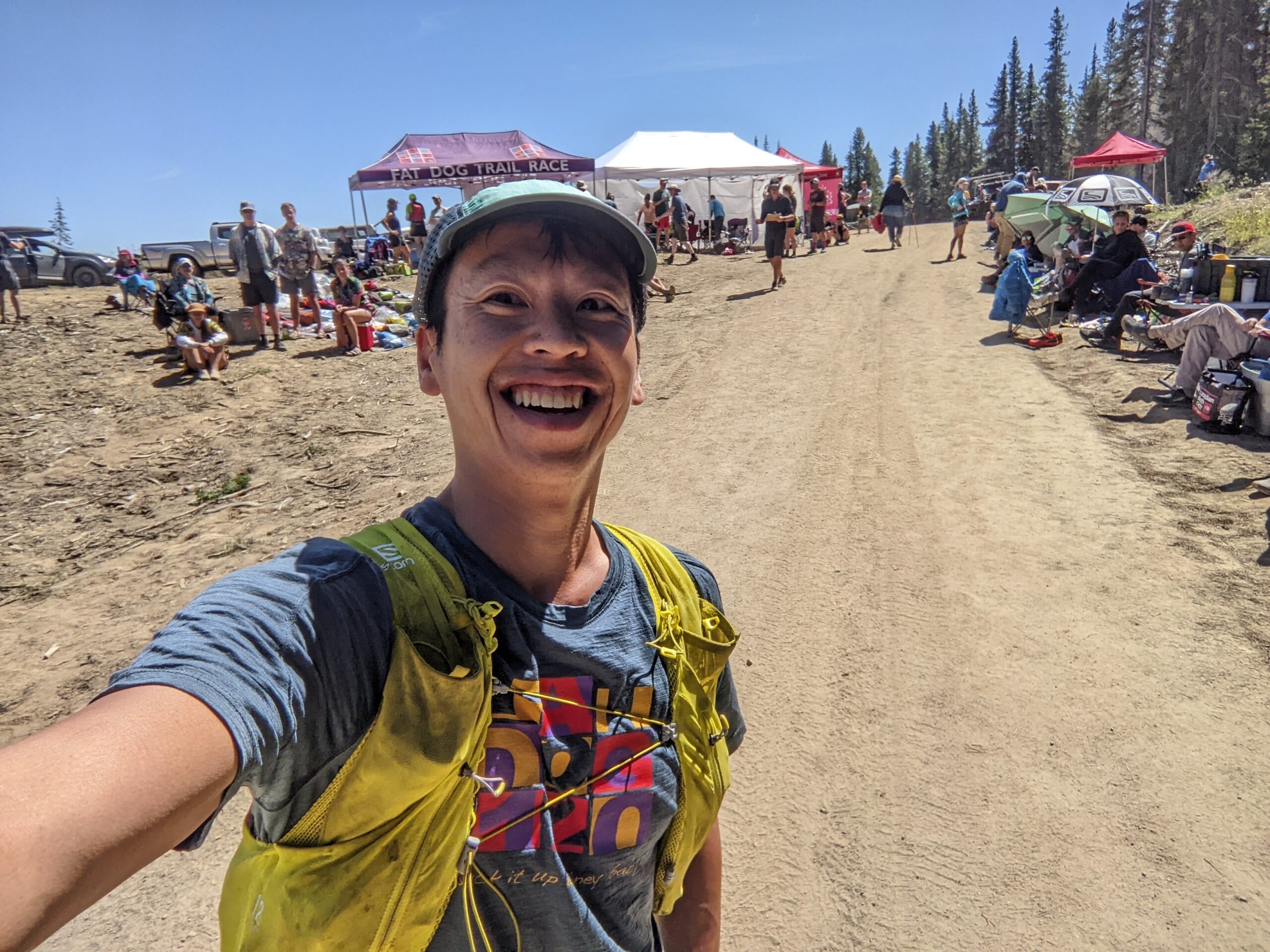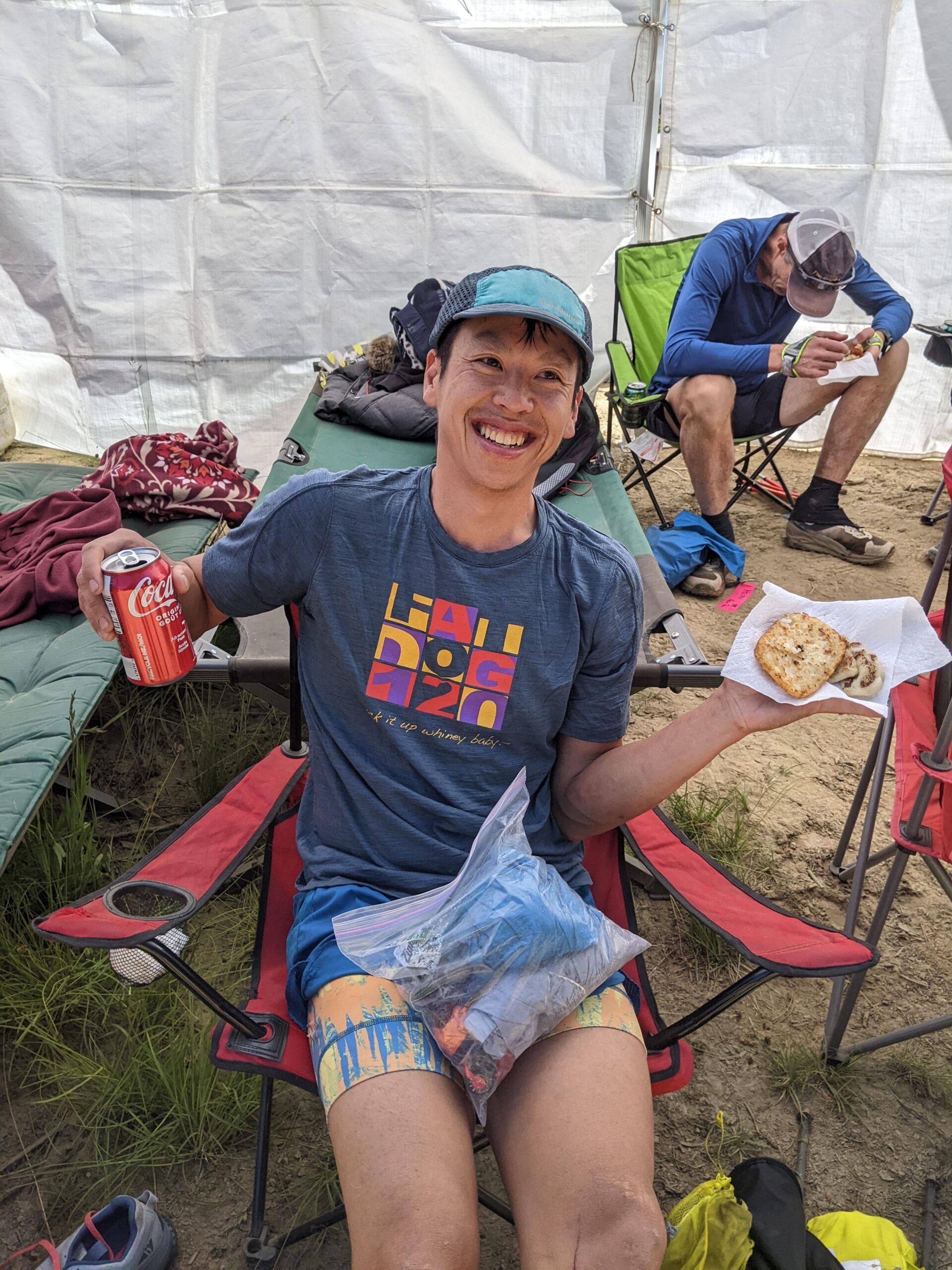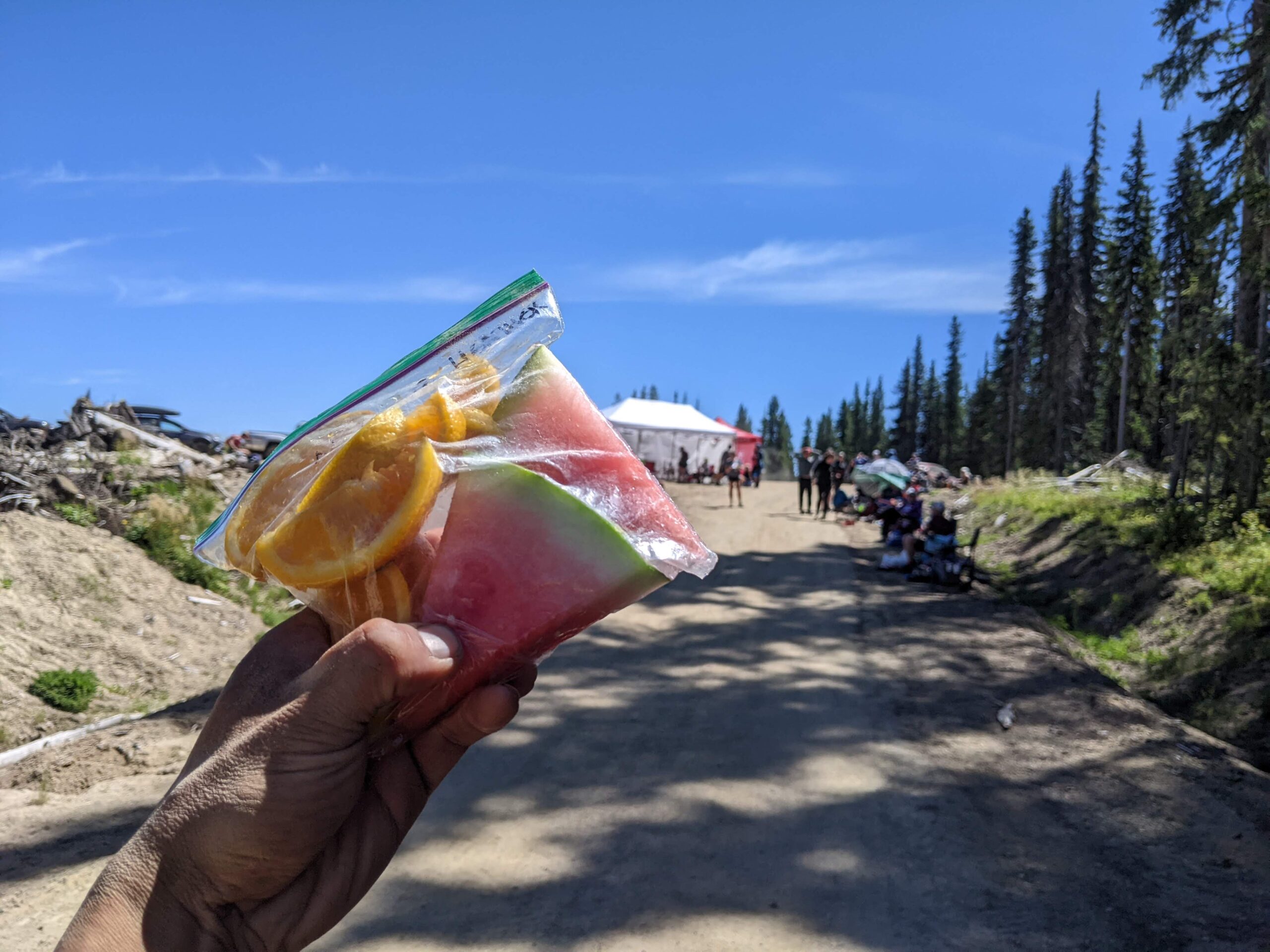 Leg 12: Nicomen – 13.5 km
I left Hope Pass aid station at 1 pm, and arrived at Nicomen Lake again (141.5 km) at 4pm. I power-walked all the way from Hope Pass, and it never ended until the final descent. I was too lazy to run in the heat, and I found that I could walk at a consistent 10 min/km pace, and there were no 120 milers passing me until Blackwall. Psychologically it was easy too, I had already covered 128 kms, and there was just 70-75 km's left to power walk. Basically walking the West Coast trail in a day, and once I put that into perspective I was pretty certain I would finish Fat Dog comfortably.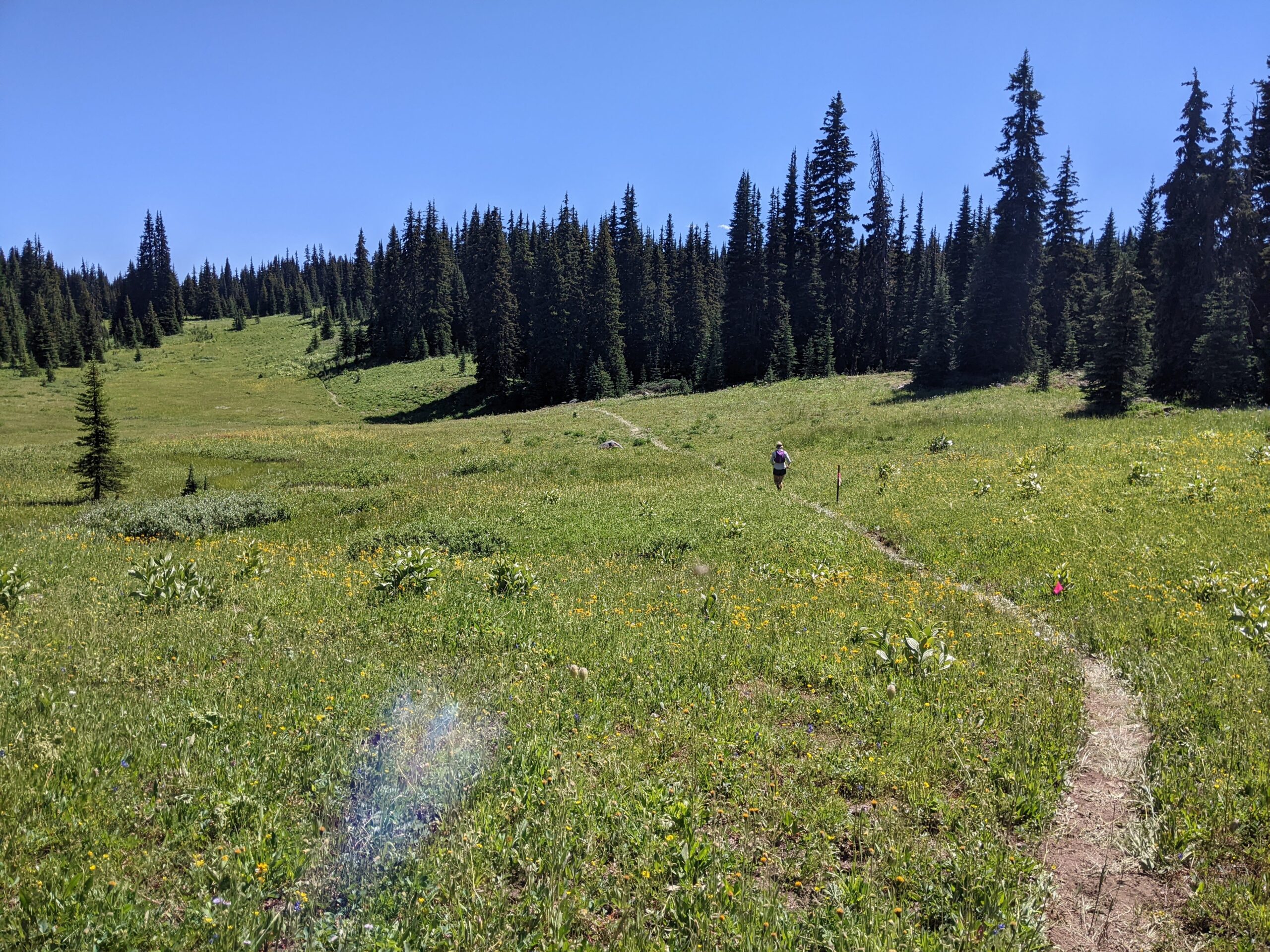 Leg 13: Heather – 15.5 km
It was pretty quiet on the Heather trail on the return leg. I saw a couple hikers on their way to Nicomen Lake, the last couple runners of the 40/50/70 mile races. Asides from the heat, I was feeling great here. It just felt like I was out there on a hiking trip. I dunked my hat in every creek crossing along the way to cool off. I stopped this time at Heather aid station for some noodles, just as the mosquitos were coming out. 157 km down, and it was 8pm. Another sunset high up, just the way I like it.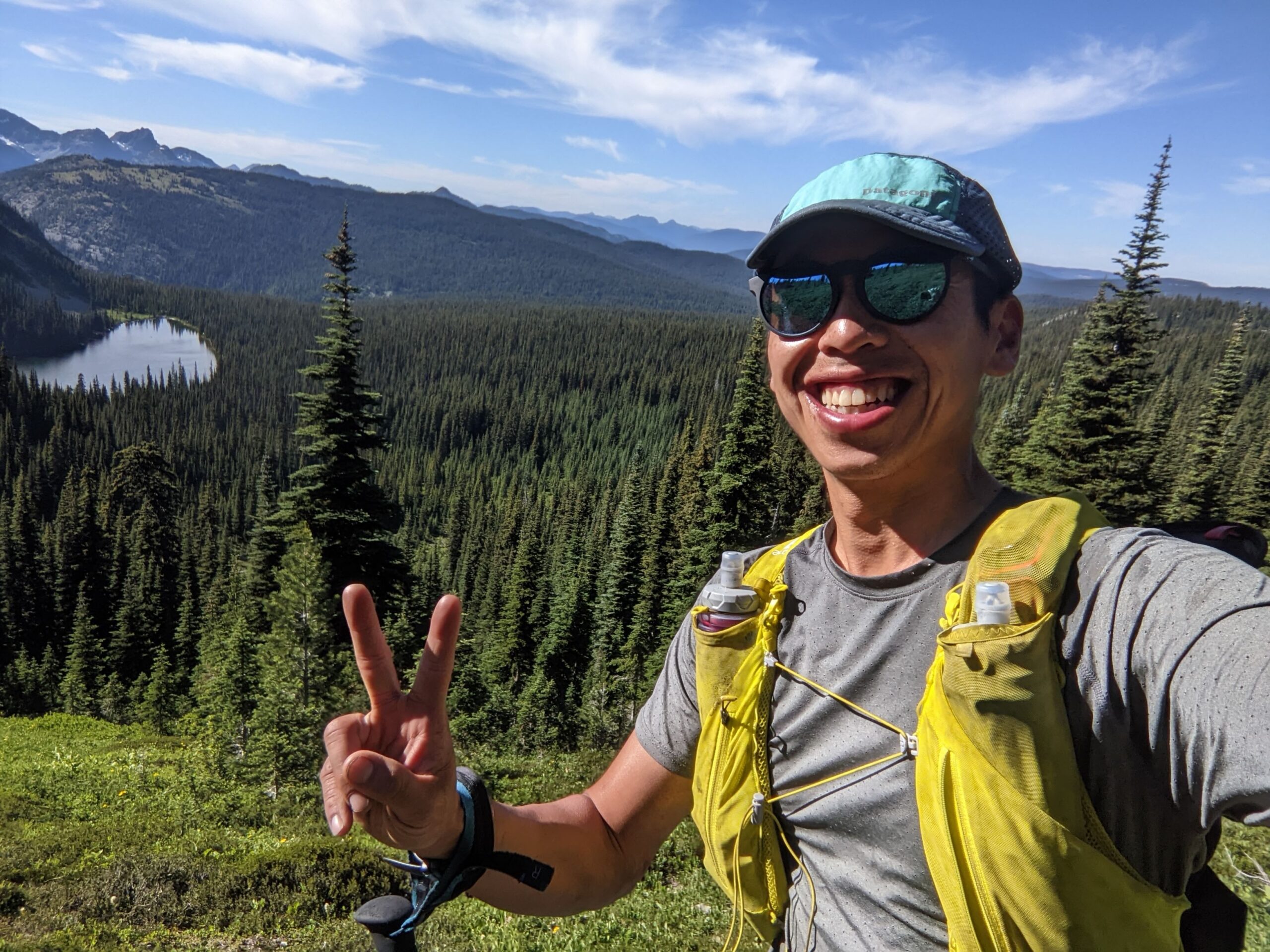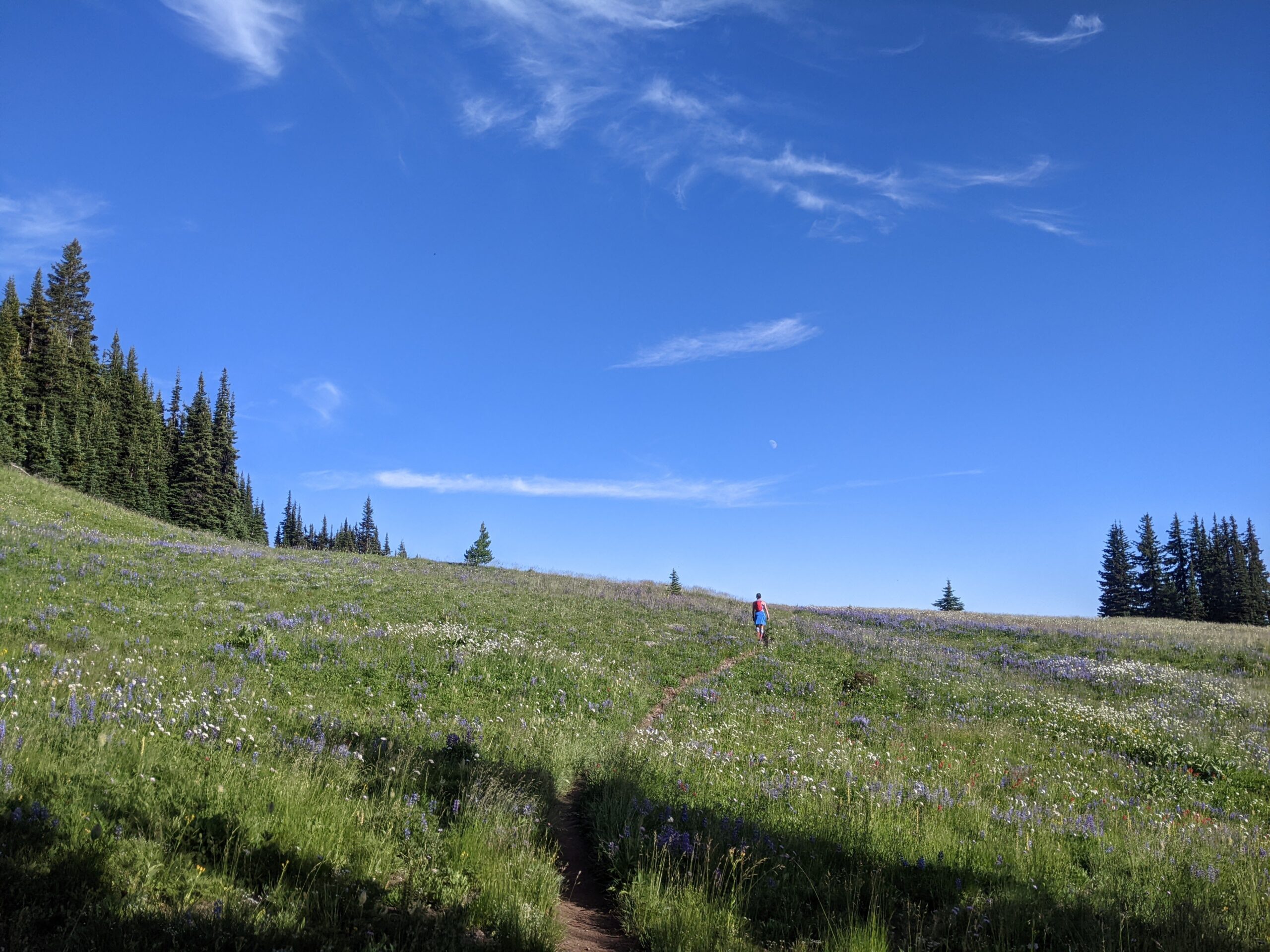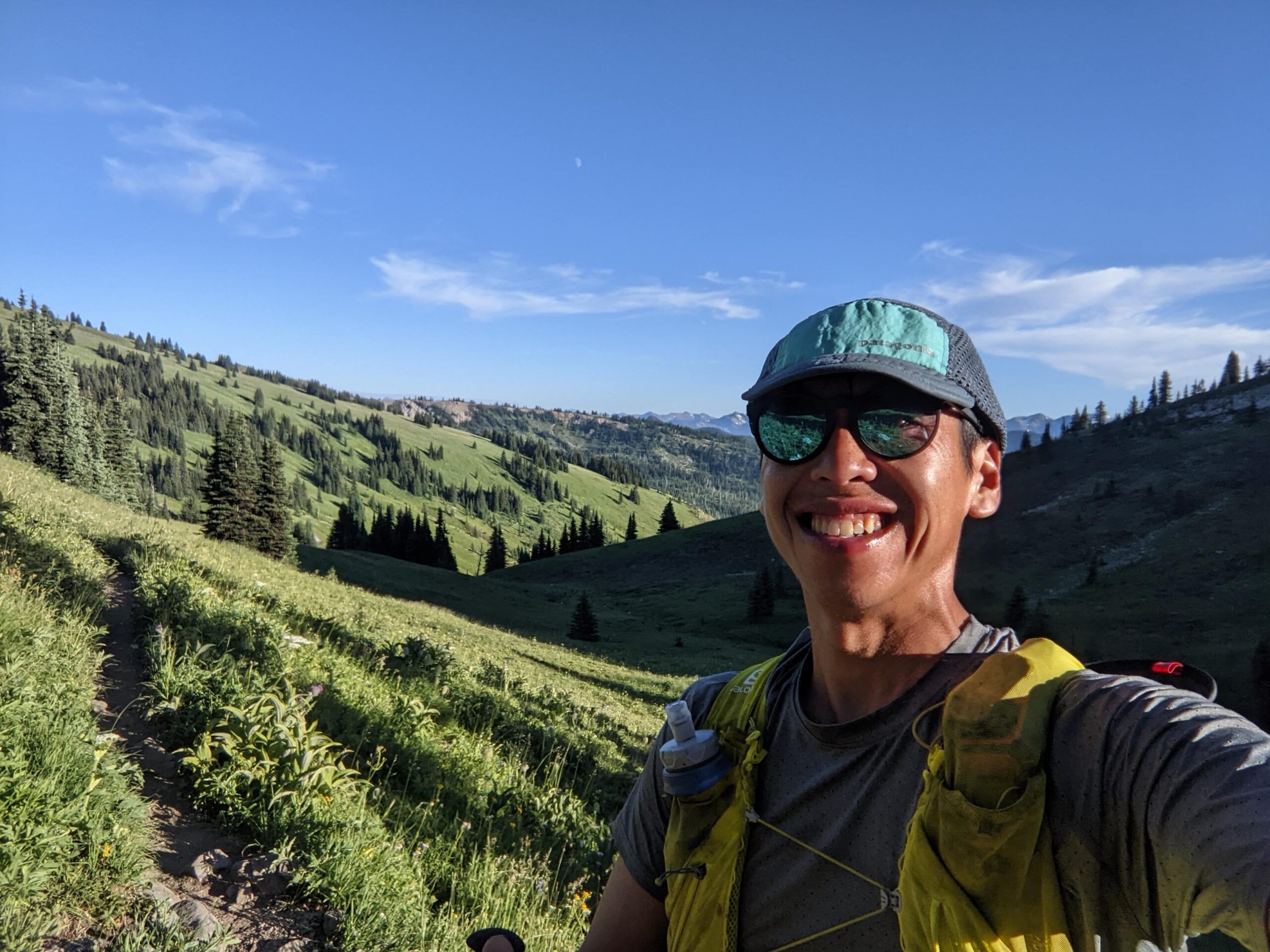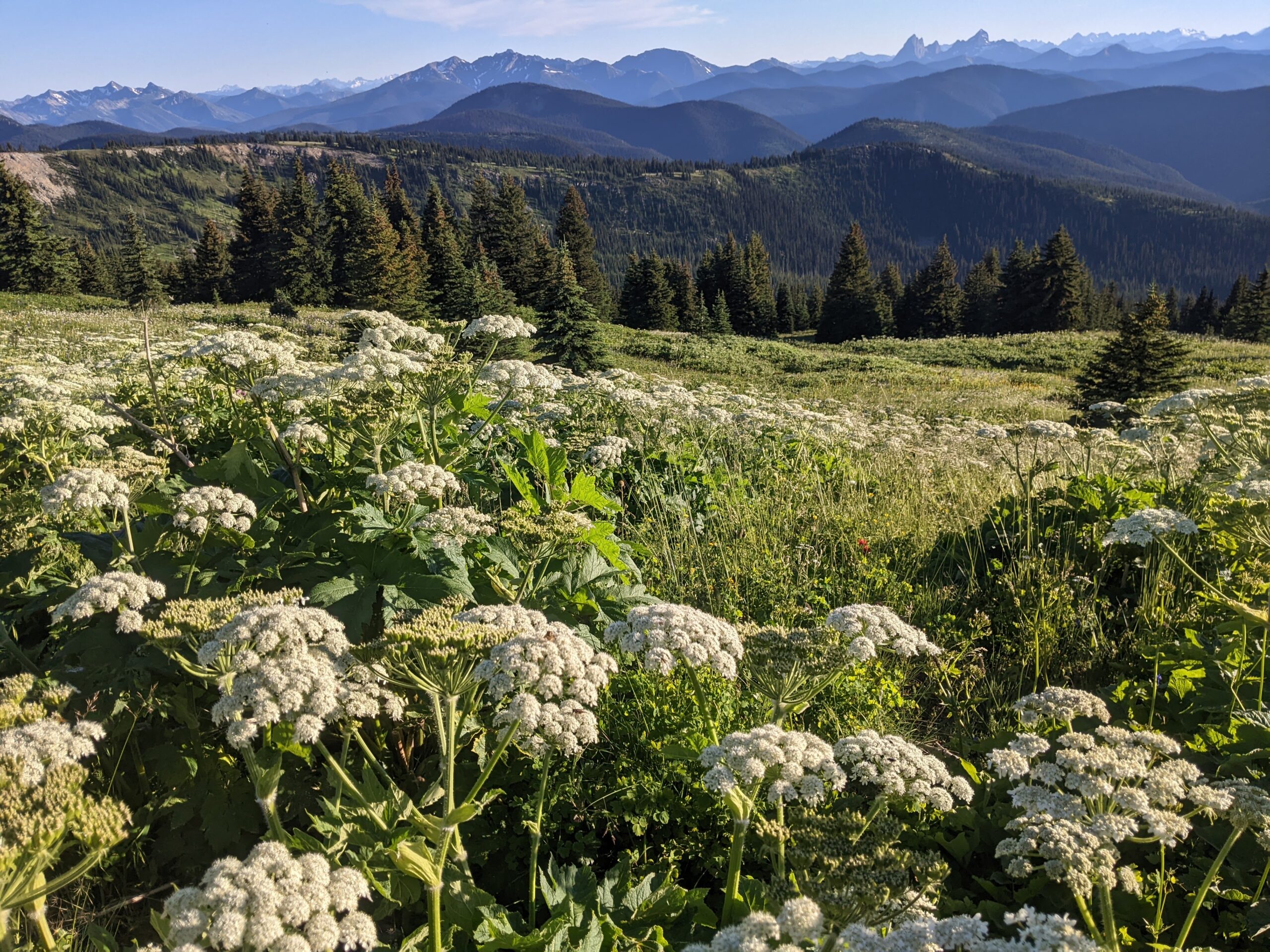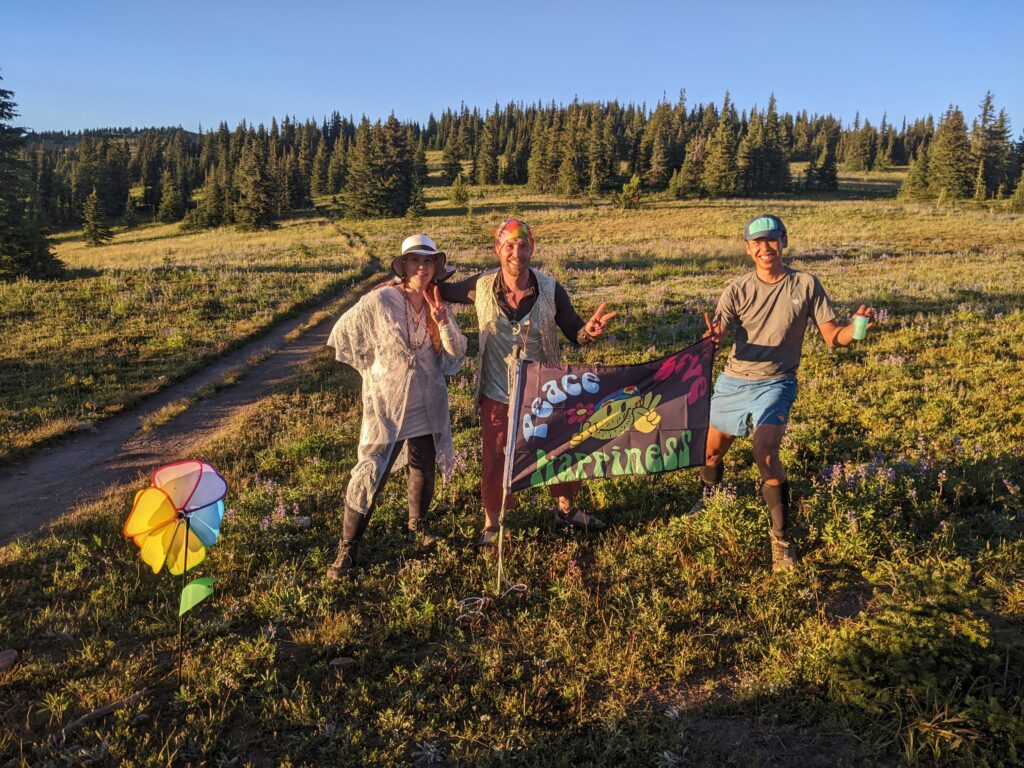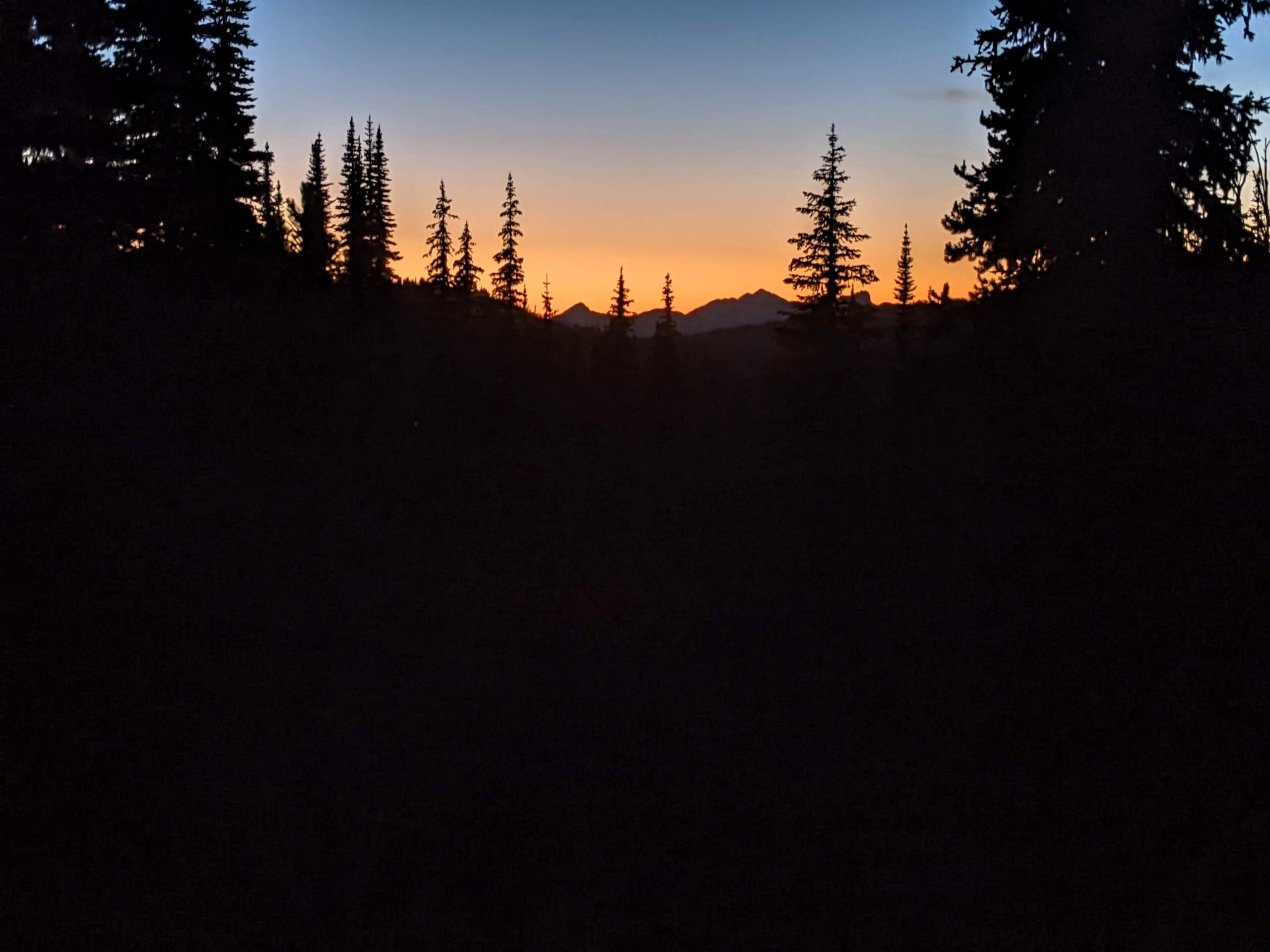 Leg 14: Blackwall – 11 km
Technically it's a net descent from Heather aid station to the Blackwall aid station, but it doesn't feel that way while climbing out of the low point at Buckhorn camp. The double track to the lower parking lot goes on forever. My headlamp came out at this point, and it was dark just as I hit the road. I continued my march along the road, just as another 120 mile relay runner caught up to me. I made it to the Blackwall aid station (168 km) at 10:30pm.
Leg 15: Windy Joe – 11 km
I wasn't planning on having crew or a pacer for Fat Dog, but I was happy that Sarah was willing to drive out to Manning Park to pace me for the last 37 km of Fat Dog. We crushed a beer each, and ate some cake that she brought. I ate way too many perogies here. They were just so good, best on the course, nice and crispy. Who ever was cooking them here did an outstanding job. I also ate quesadillas and fried rice, and probably a can of coke.
Leaving Blackwall, everything was feeling good except my right quad was starting to feel a bit sore though. We continued walking the whole way down Blackwall road, not because of my quad, but because it was the easy thing to do. Once in a while a car would pass by and cheer us on. It was a casual walking pace down the road and over to Windy Joe aid station at 179 km (~1:20am). We didn't stop long, just a top up of Tailwind.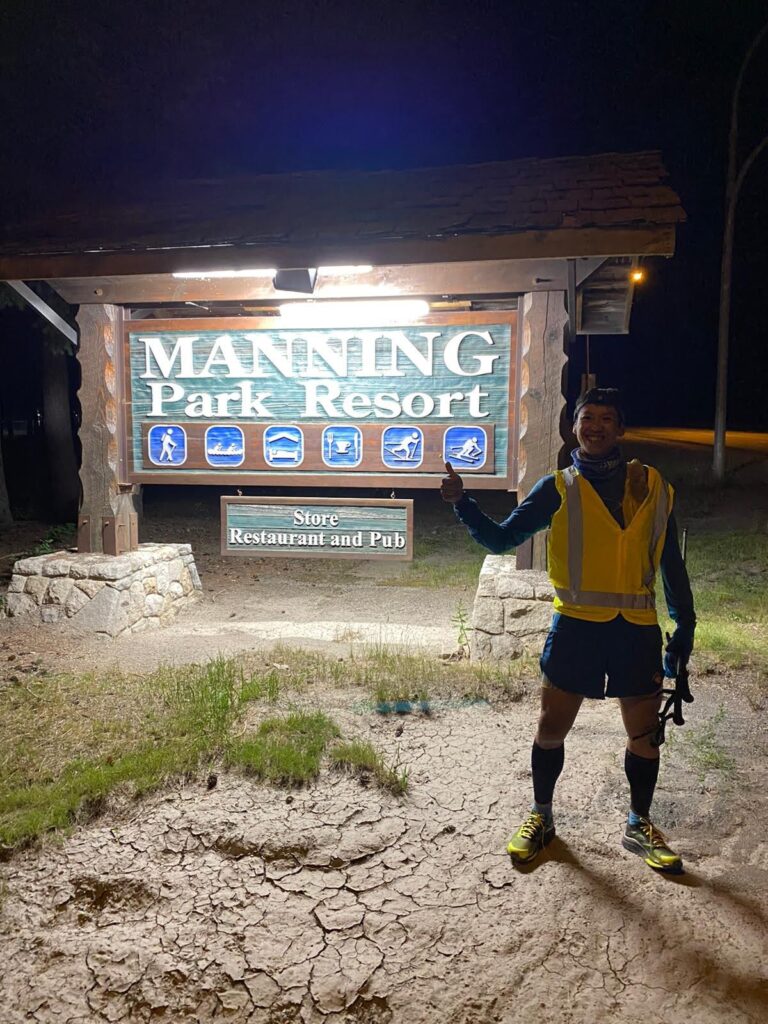 Leg 16: Strawberry Flats – 8.5 km
I popped one painkiller on the way to Strawberry Flats (187.5 km) as my patellar tendon was bugging me just a bit now. I was pretty happy that this was the only thing bothering me, I didn't even have sore feet. We were still moving at a comfortable 11-12min/km pace on the slight uphill to Strawberry Flats. There were finally more runners around too, a contrast from the solitude along the Heather trail earlier. At this point in race, everybody is suffering, and the mantra is just one foot in front of the other.
At this last aid station of Fat Dog, there was pie on offer. Strawberry crumble. I asked Sarah to take my photo. She said it was three fourteen while snapping the shot. Of course it was and my race number just happens to be 143.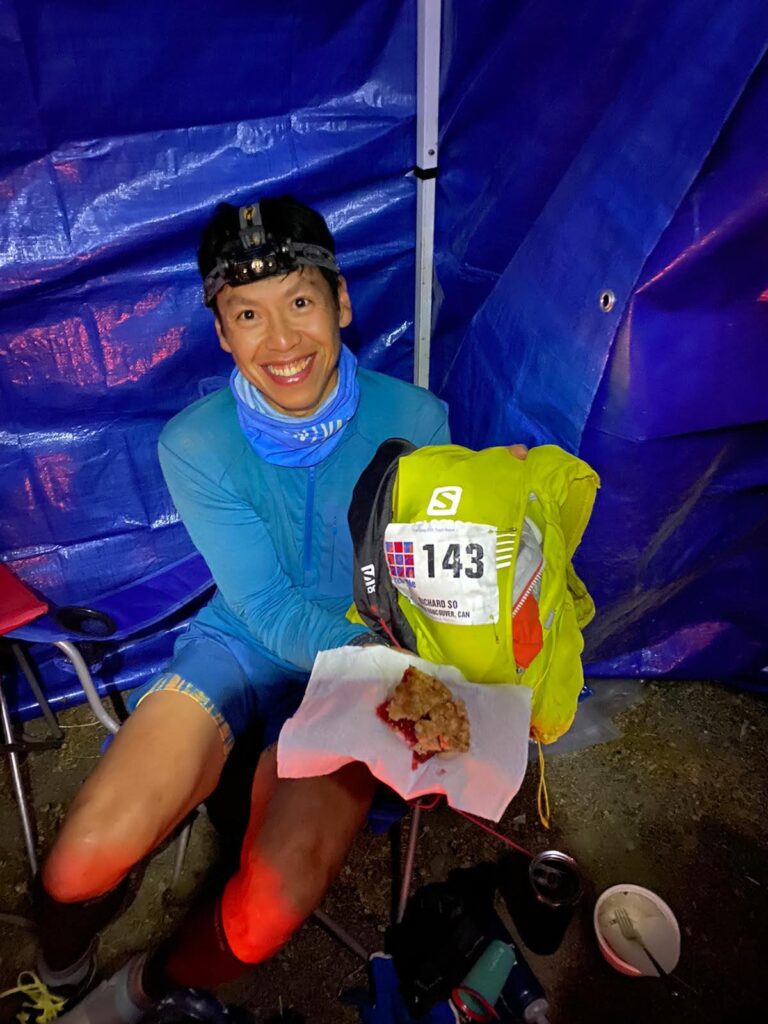 Leg 17: Finish – 17.5 km
I ran the Skyline I loop two weeks earlier, so I was pretty familiar with the trail and the numerous up and downs. It took me 55 minutes to go from bottom sign to Skyline junction last time, whereas now it took me 1hr 23min, which included a couple quad stretch breaks. I was pretty happy with how things were going. I had a caffeinated gel (one of four over the three days). I've never been awake for this long before. Near the top, I had to stop to deal with my first blisters of the run, a small one on each of my little toes, which formed as I was pushing the pace uphill. These have now turned into callouses. In hindsight, I should have changed into a wider toebox shoe like the Altra Lone Peaks, but I left them in my Hope Pass drop bag and never switched into them. The worst five minutes of the run took place here, me trying to tape up my toes, while a million bugs swarmed me. Thanks Sarah for swatting away the bugs for me, even if you hit my head more than once.
I caught the final sunrise of the run at the top of Skyline. That's two sunsets, and two sunrises in one continuous run. So awesome that they were all in high places. We cruised down the descent. For the 6km 726m descent segment "Skyline Dive," it had taken me 51 minutes last time, whereas it was 1hr 04min this time. Both times included a few photo breaks but I was feeling pretty good as we cruised the last section along Lightning lakes into the finish line at 7:22am Sunday morning, 205km and 45hrs 27min since starting at 10am on Friday morning. I crossed the finish line, and told the Erik the race director that I'd definitely do it all again. It was that much fun.
Fat Dog 120 was exactly what I imagined it would be. Every mile was memorable, whether it was hard, outrageously scenic, or both. I had a chance to share the trails with some amazing people, supported by all the volunteers who make this event possible. This was the most fun I've had on the trails, and I'm already looking forward to my next long "run."
Race results – only 73/131 runners finished (56% finishing rate)