Dec 3-4, 2016
Note: This area sees quite a bit of snowmobile traffic in the mid-season. If you want to ski here, it's probably best to check it out in the early season when the lower reaches of the Eight Mile/Seven Mile road aren't snowmobile friendly yet. I've seen visited it one other time mid-winter, and found the amount of snowmobiler traffic tolerable, as in, we were able to share the terrain. See trip report from 2017 when Willy and I skied the Rock and Roll slide path.
Sam Mckoy and I spent the weekend skiing in the headwaters of Seven Mile Creek, the less traveled area between Cayoosh Mountain and Marriott Basin. With a lot of open terrain, this area reminded me of skiing around McGillivray Pass. We approached via the north fork of Cayoosh Creek, the same way you would go for the North Glacier, or exiting the Million Dollar Couloir or Swivel Rocker. We camped at the lake at 1900m on the pass between Cayoosh and Seven Mile Creek. There are short runs, and long runs accessible from here. You will need to ski along a valley with quite a bit of overhead hazards, crossing a kilometre of avalanche paths from either side, so definitely pick a window of stable conditions for exploring this area.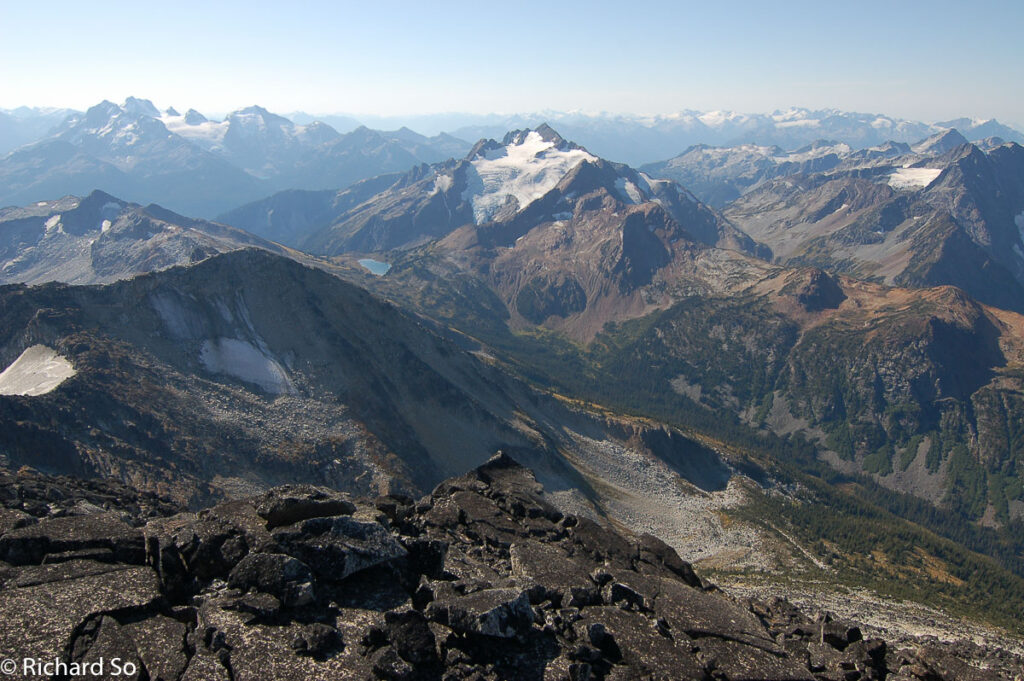 This is an old photo from an autumn trip when we scrambled up Mount Marriott. Looking down from the ridge, you can see Seven Mile Creek, with the lake left of centre that we camped at. The Joffre group is off on the left, Cayoosh at centre, and Saxifrage Mountain on the right. Way in the back on the right is the Wedge group, and Mount Currie. The approach to the lake is from the other side. On the second day, we skied from the lake, up to the right, then down the north facing slope to treeline and then across to the ridge separating Seven Mile and Eight Mile creek.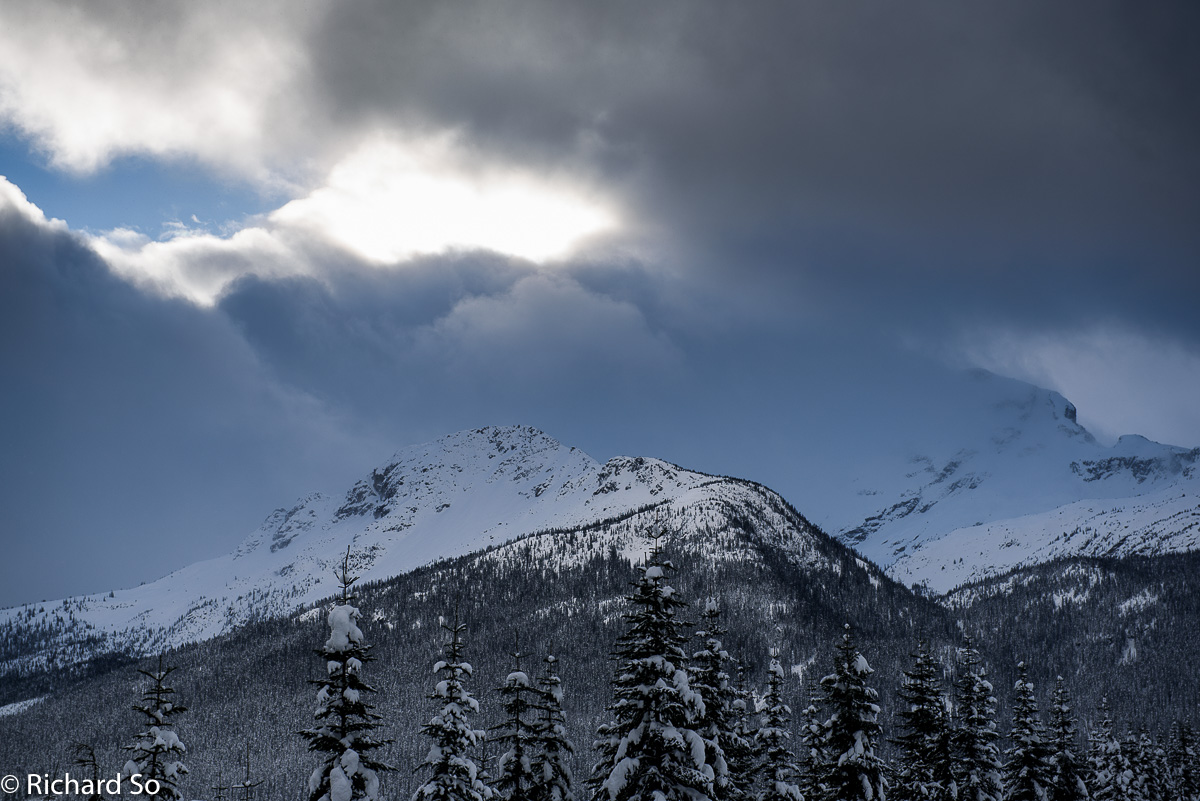 The forecast was unsettled on Saturday morning, with light snow falling throughout the day. We didn't get that early of a start, as I stayed later than I should have at my work Christmas party. A view of Chief Pascall with strong winds blowing clouds around, keeping the Joffre group out of sight.

The approach to the lake is fairly short, only 700m elevation gain, over six kilometres. The first section is on the Cayoosh logging roads, and then up the north fork of Cayoosh Creek. There was just enough snow low down to make this approach work. Stay on the south side of the creek until around 1475m, and then find a spot to cross over to the north side of the creek to avoid unpleasant steep sidehilling around tight trees on the forested ridge between the Armchair Glacier and Swivel Rock.

This flat valley at 1600m is exposed to the four avalanche paths (Rock and Roll) off the ridge separating Cayoosh Creek and Marriot Basin. We climbed up the climax slide path at the head of the valley. You could either switchback straight up or cut left across the rocky headwall and then back right. The lake is behind the forested ridge on the right.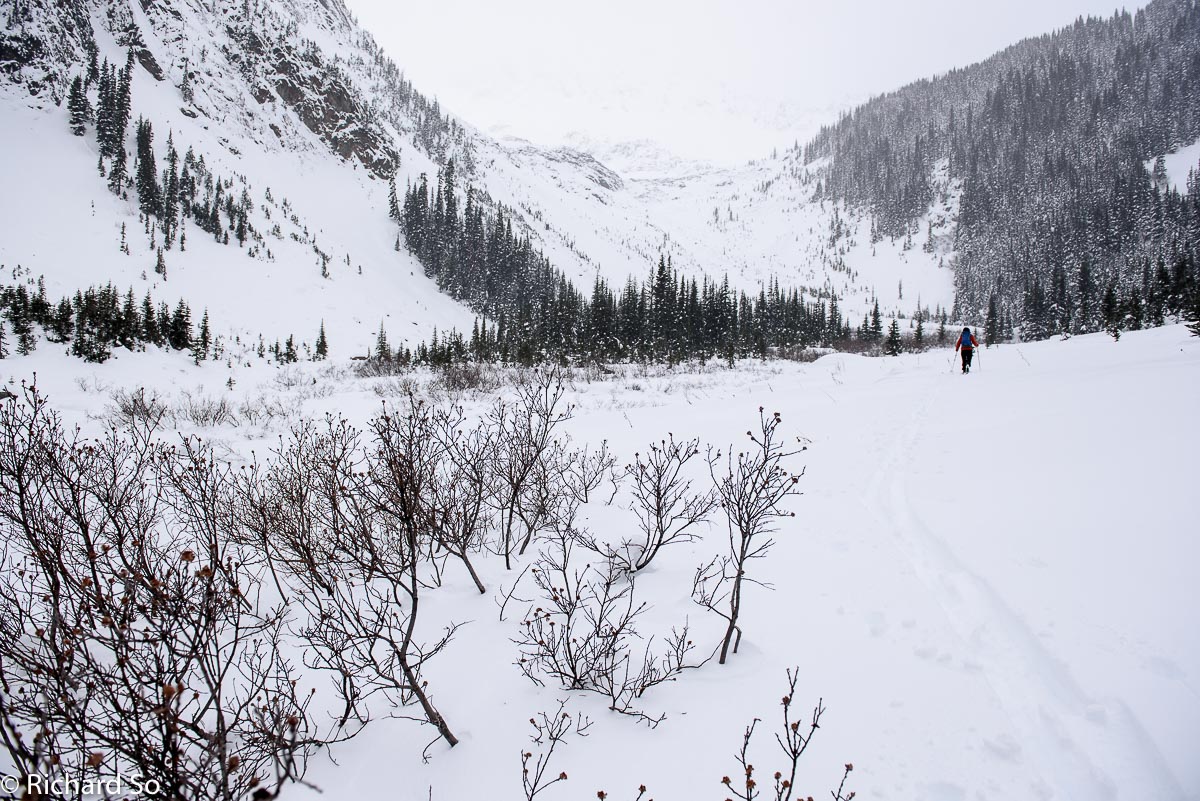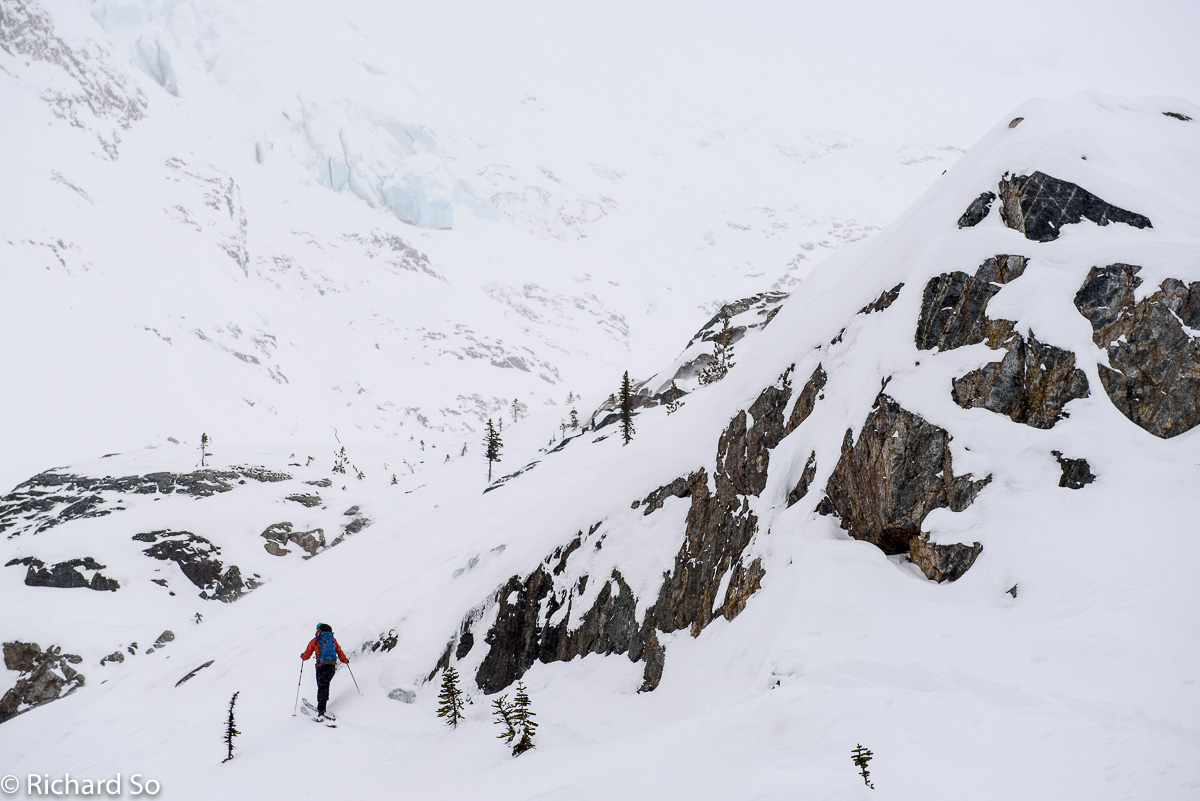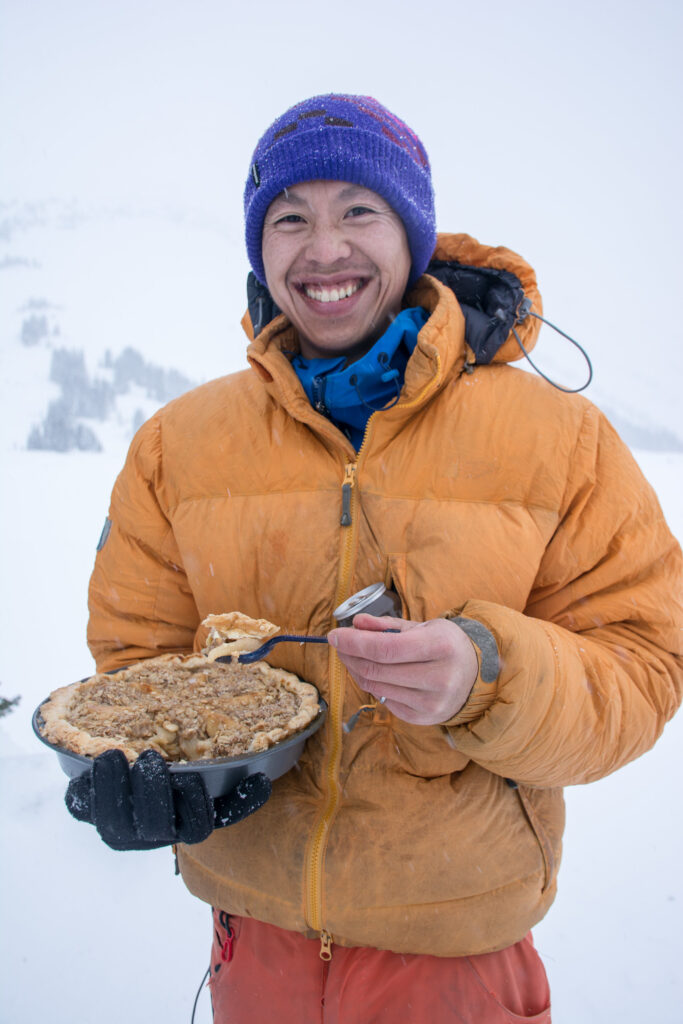 I don't usually bring my big puffy. But the forecast was calling for double digit negative temperatures, for the first time this season. It usually takes me a bit of time to acclimatize to the cold. Even though the cold temperatures wouldn't arrive until the next morning, I brought all my warm clothes for the night. Probably a bit overkill as I was too warm most of the time.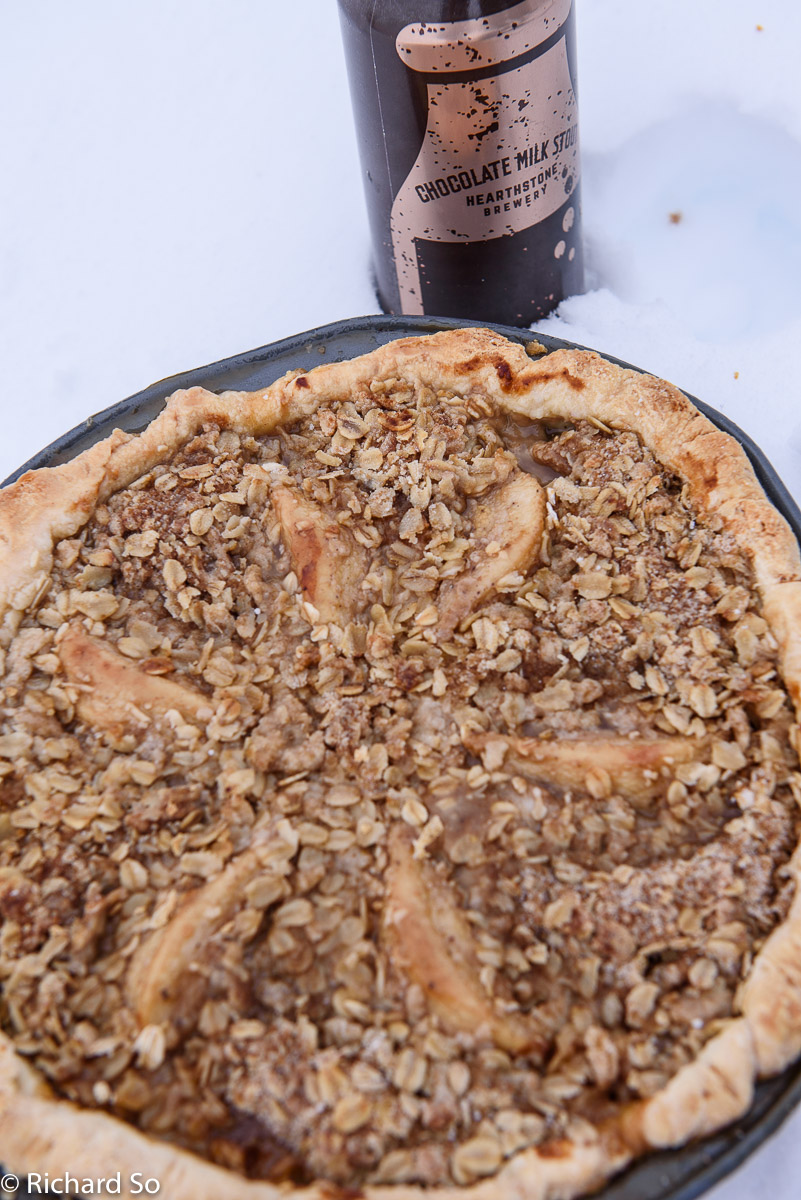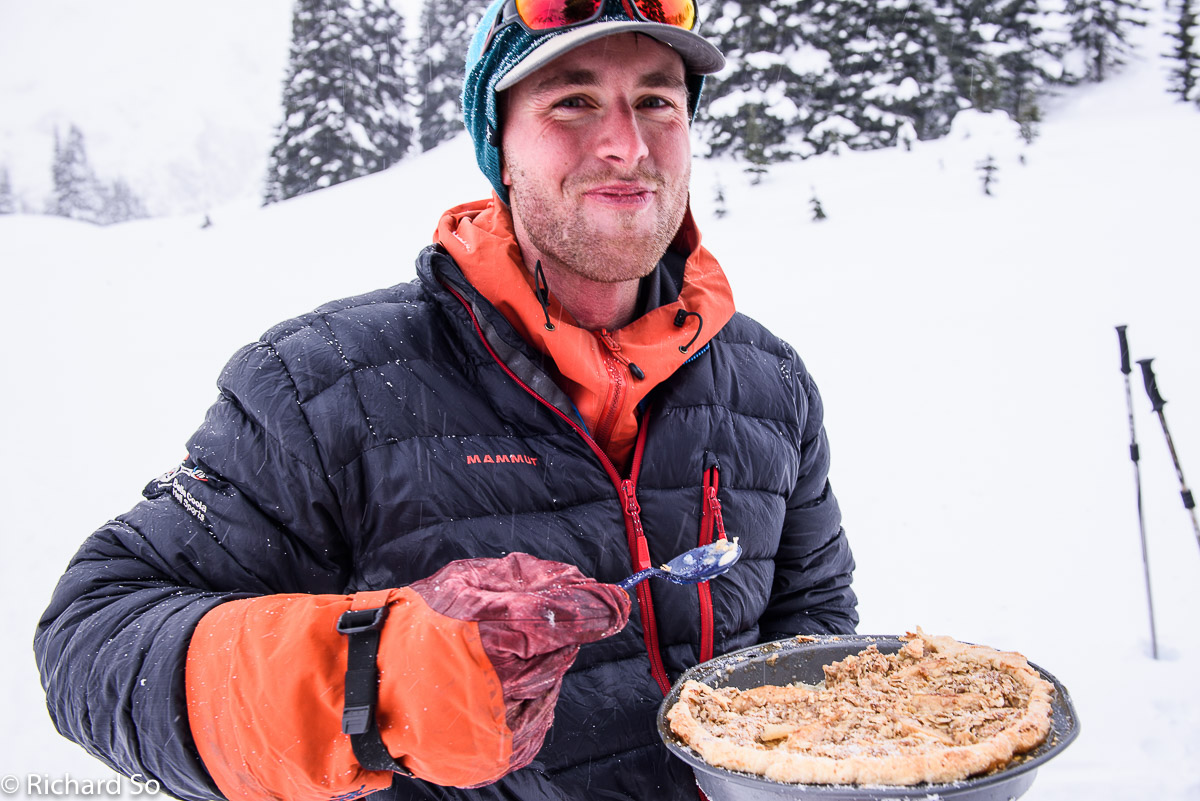 Sam approves, and a little shocked that I brought the entire pie up. Knowing how fit and fast Sam is, I had to go a bit lightweight on this trip. I left the oven behind. Knowing how cold it would get the next morning, this was a real struggle. I didn't want to eat frozen pie.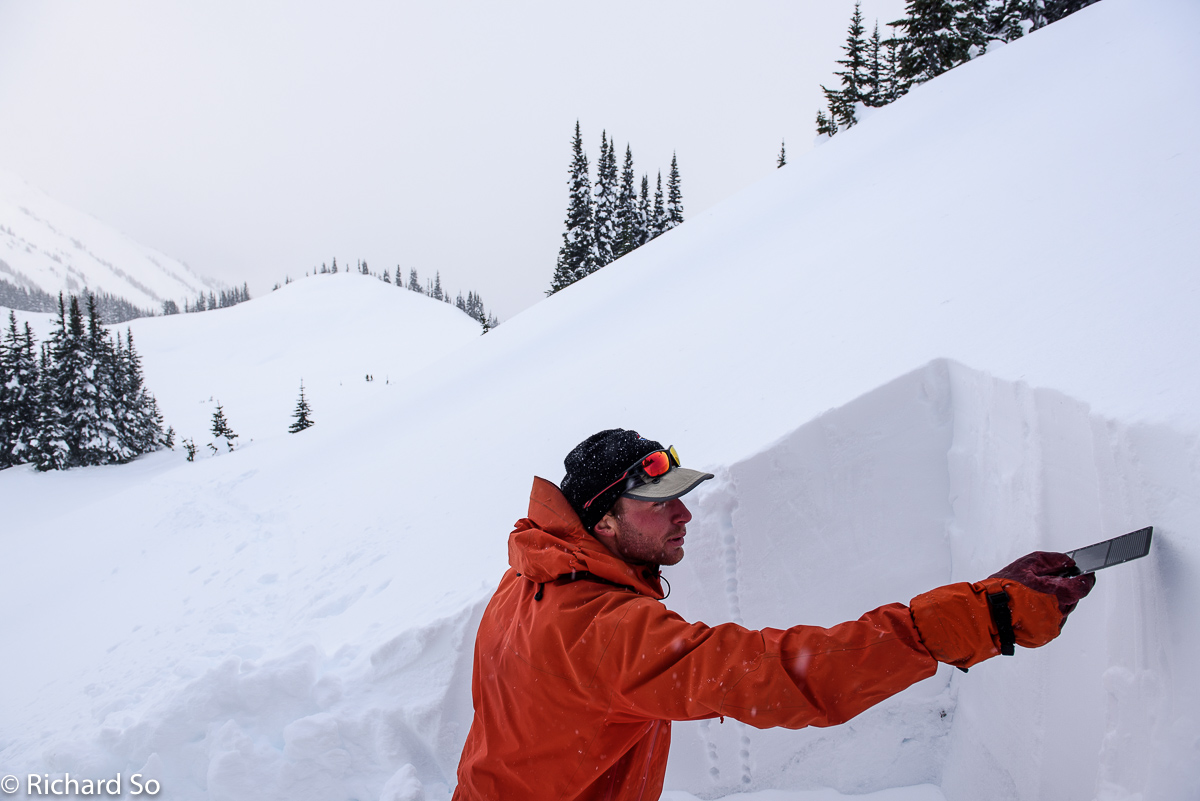 Low visibility kept us on the small gladed terrain near the lake. Sam is an ACMG ski guide. Here's his mountain conditions report from the weekend.
"Rich So and I spent the weekend camping and skiing in the 7 Mile drainage on the Duffey Lake road.

Access: We started from the Cayoosh parking lot with the route heading as if to the NE glacier before veering north above 'Rock and Roll'. Best coverage in a few years I've seen down low for this time of year. There is evidence of big trees having been tipped over with the recent big snows but things have consolidated now. Creeks are still open in areas.

Weather: Friday brought 10 cm, 5 Saturday during the day and another 5cm Saturday night. Light precip and moderate winds were experienced Saturday. Winds switched to light northerlies Sunday bringing cold, clear air.

Snow conditions: Winds predominantly from the SW had distributed snow in the alpine but wind slabs remained stubborn. At 1900m in an east facing open glade, the ~Nov 20th crust is down 90 and produced no results. When given the ol 'boot to shovel test' it released within the crust but I wouldn't expect anything other than a really large load triggering that layer. Above the crust we observed a right side and well consolidated up snowpack. Surface hoar was found down ~20cm mixed with stellars but the snow above was low density (fist). The odd surface hoar crystal was 4-6mm but otherwise small and fragmented 1-2mm. Windslabs exist in areas loaded on N to E aspects and may need a few days to bond.

Terrain and avalanche activity: We chose conservative lines but covered a large amount of ground. One natural isolated windslab was observed on the immediate lee (sz 1.5) but otherwise, no recent activity. Ski conditions were great on Sunday with ~20cm of silky cold snow. Ski cuts and tests on small features provided no results.

Overall, I think the Duffey Lake area snowpack is setting up well. The thick November crust may come to haunt us later (see facet crust combo) but for now, if windslabs are well bonded, a lot of lines might be good skiing."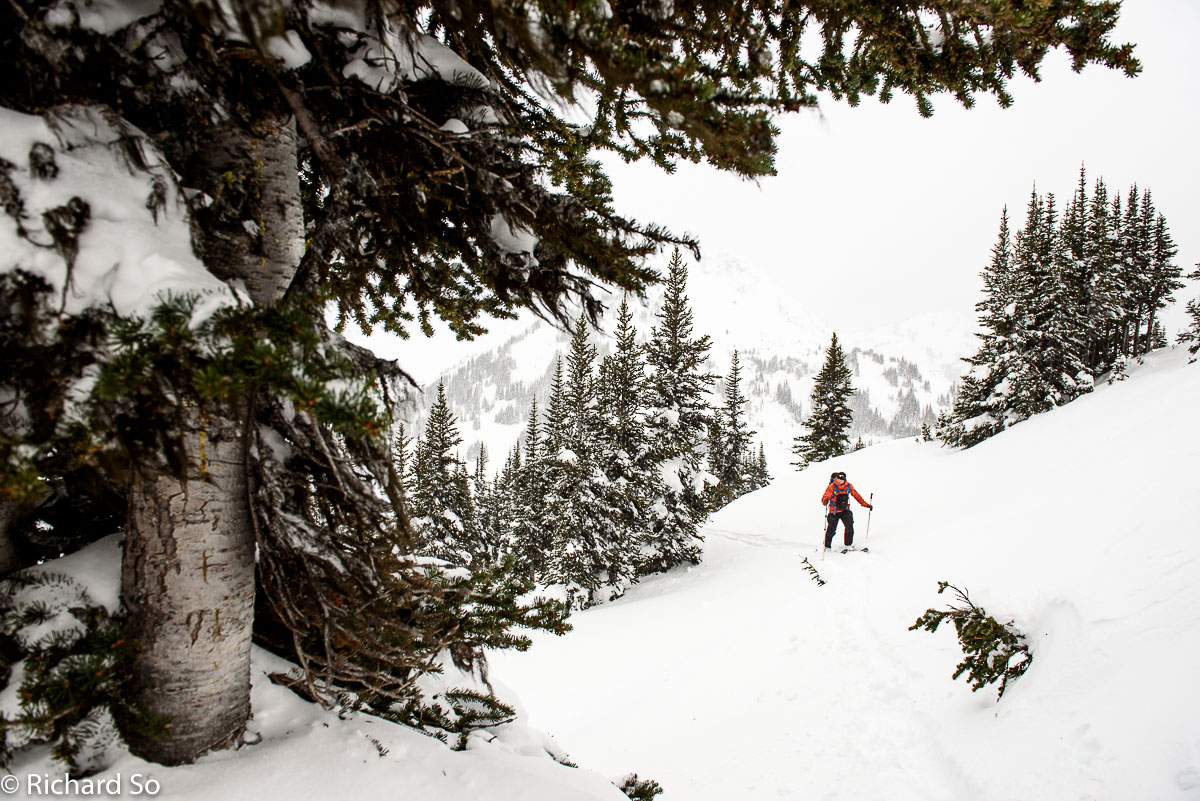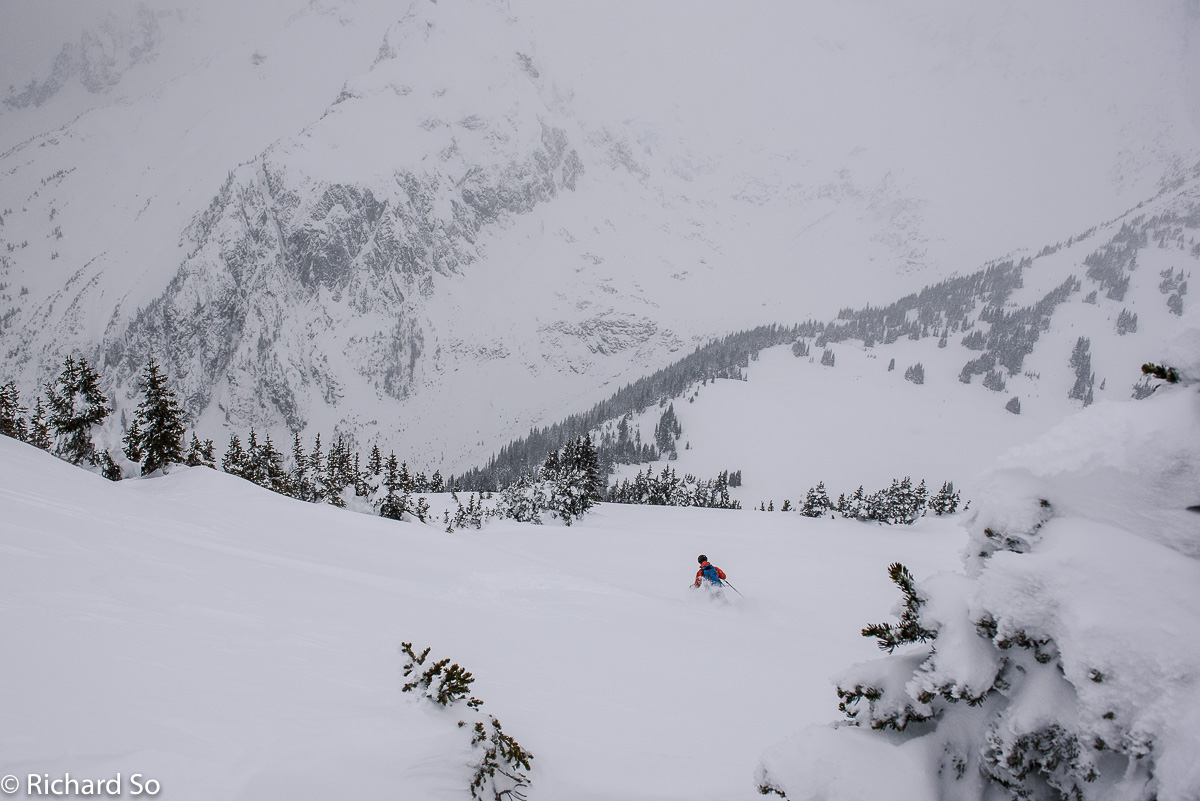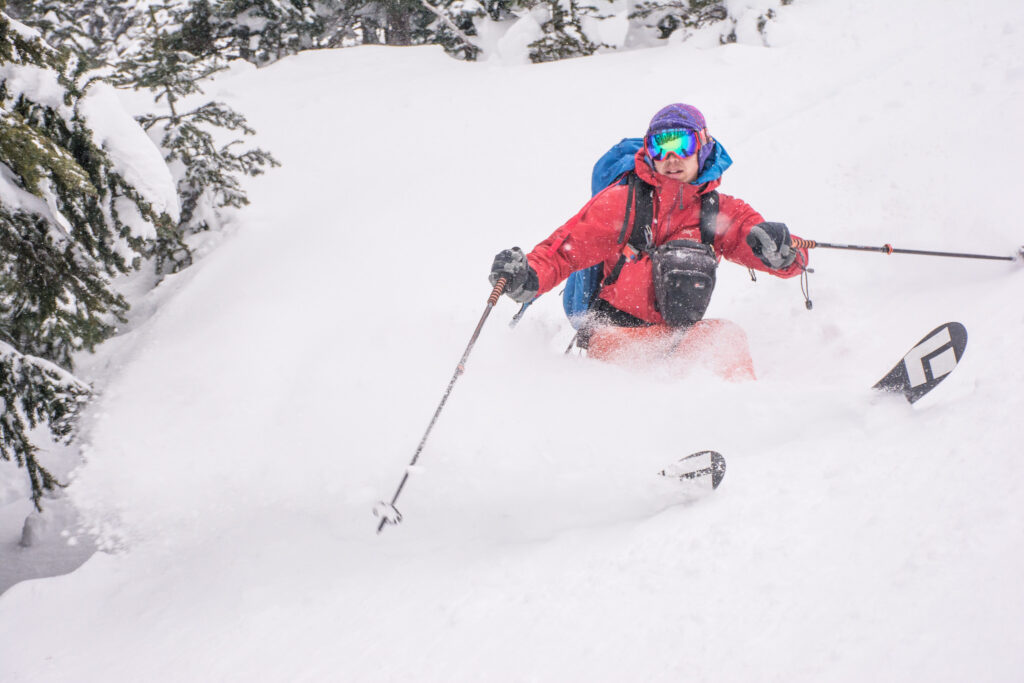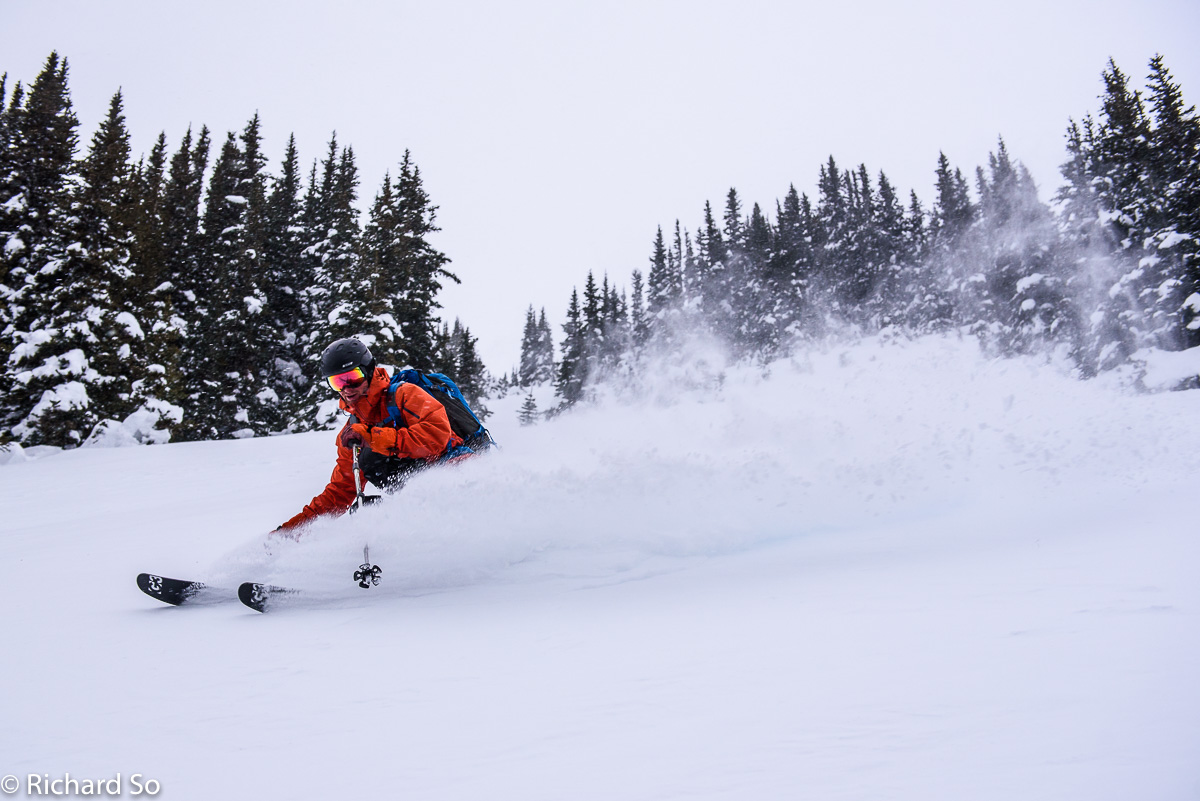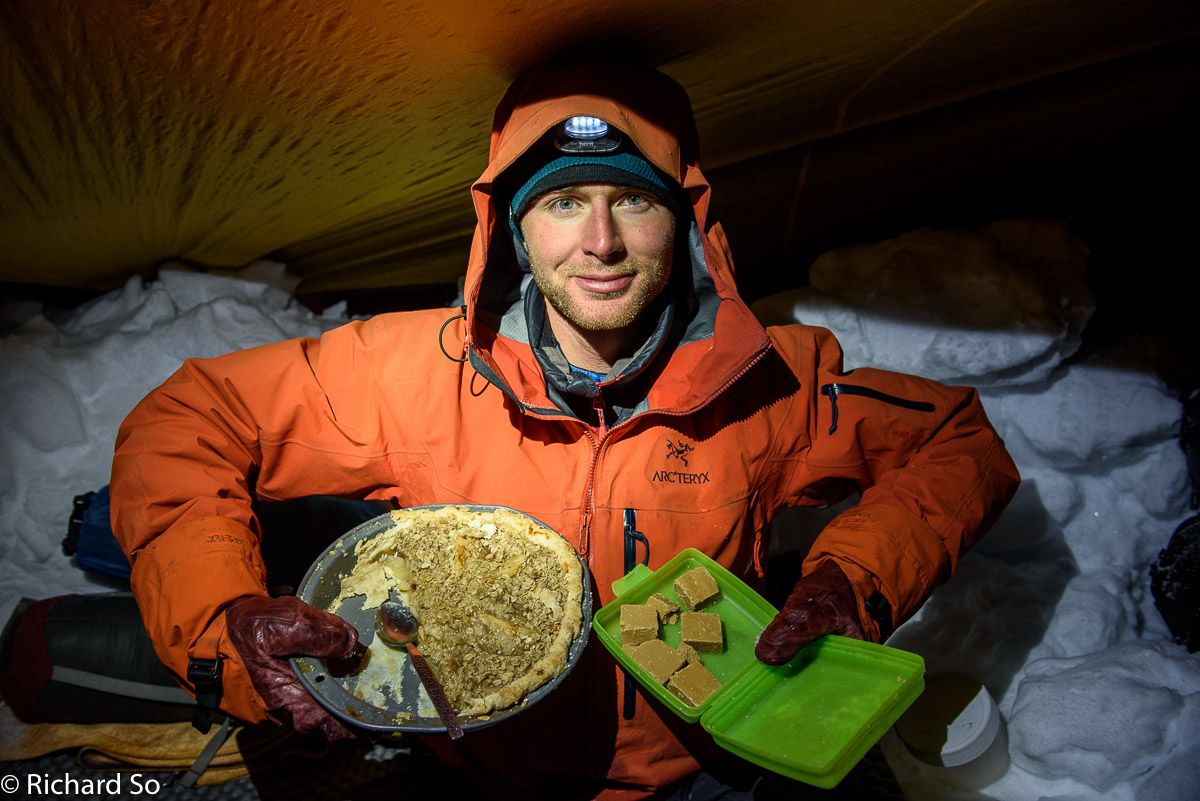 This weekend was really just an excuse to sit around and eat sweets. My pear pie, and sucre a la creme from Sam's mom. I really could have just sat around here, filling myself with both treats. But Sam was only in town briefly and wanted to ski in his backyard. I guess I have a skiing problem.
Our winter shelter was fairly basic. Just a single silnylon strung up on a tree. We dug out part of it for cooking first and hanging out in. Later in the evening, we excavated the rest of the floor for sleeping.

It snowed more than I expected that evening. I ended up waking up around 11 pm, after 5cm had fallen on it. With the wind and the flat shape, it seemed like a lot more snow. I adjusted a few of the guylines, propped up the tarp with a pole, which helped with the snow shedding.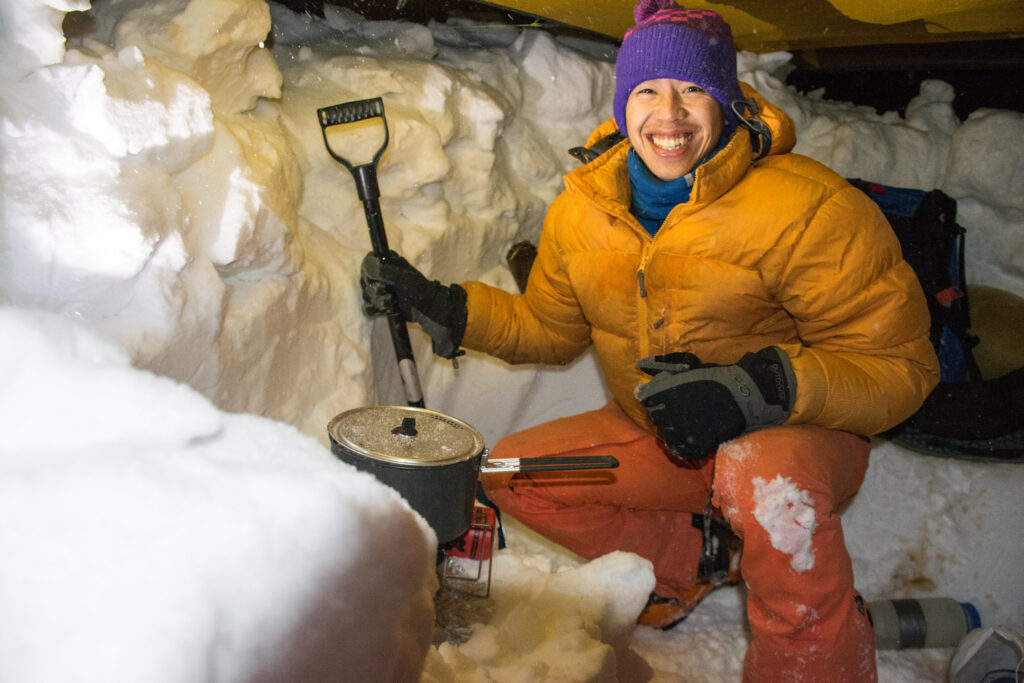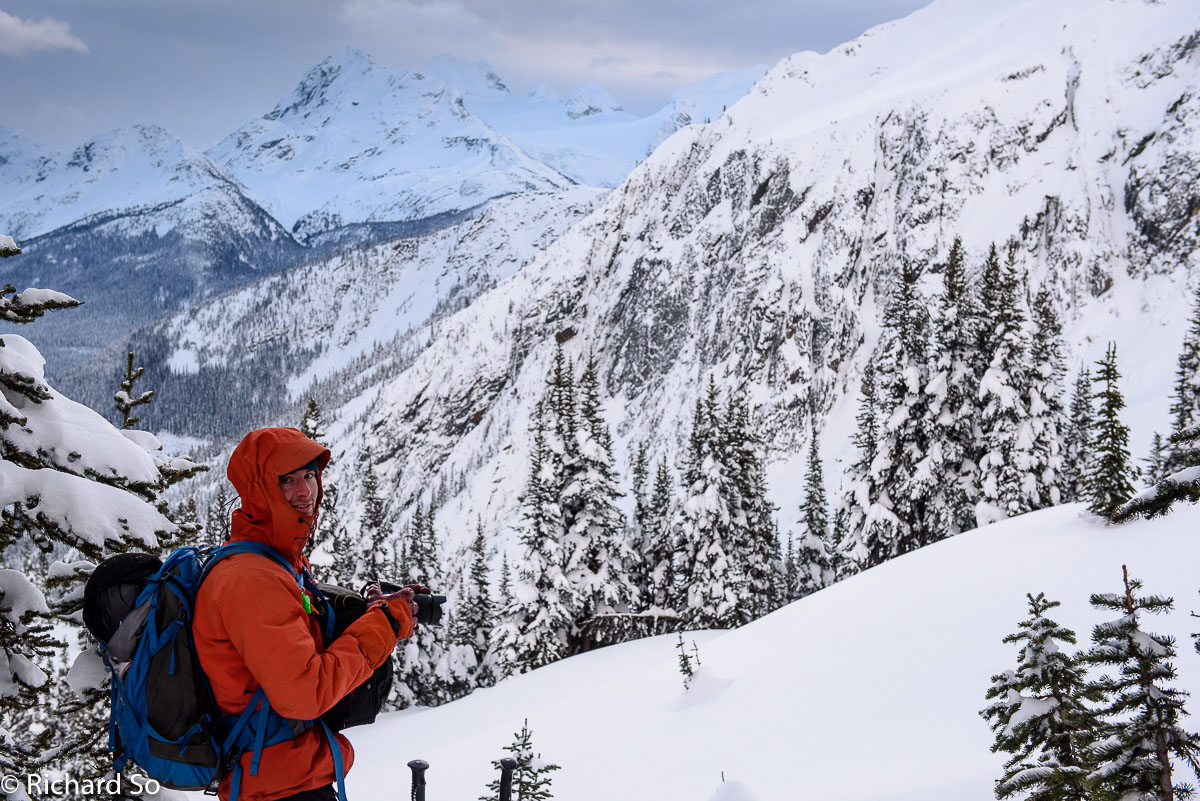 It didn't get too cold that evening. I had my -12C bag, and Sam had his -20C bag. The arctic front, which would dominate the South Coast for the next two weeks didn't arrive until late in the morning. When we woke up, it was still cloudy, with light snow. The temperature would quickly drop from -6C down to -11C. Sam pauses for a photo while skiing up to the 2100m bump above the lake.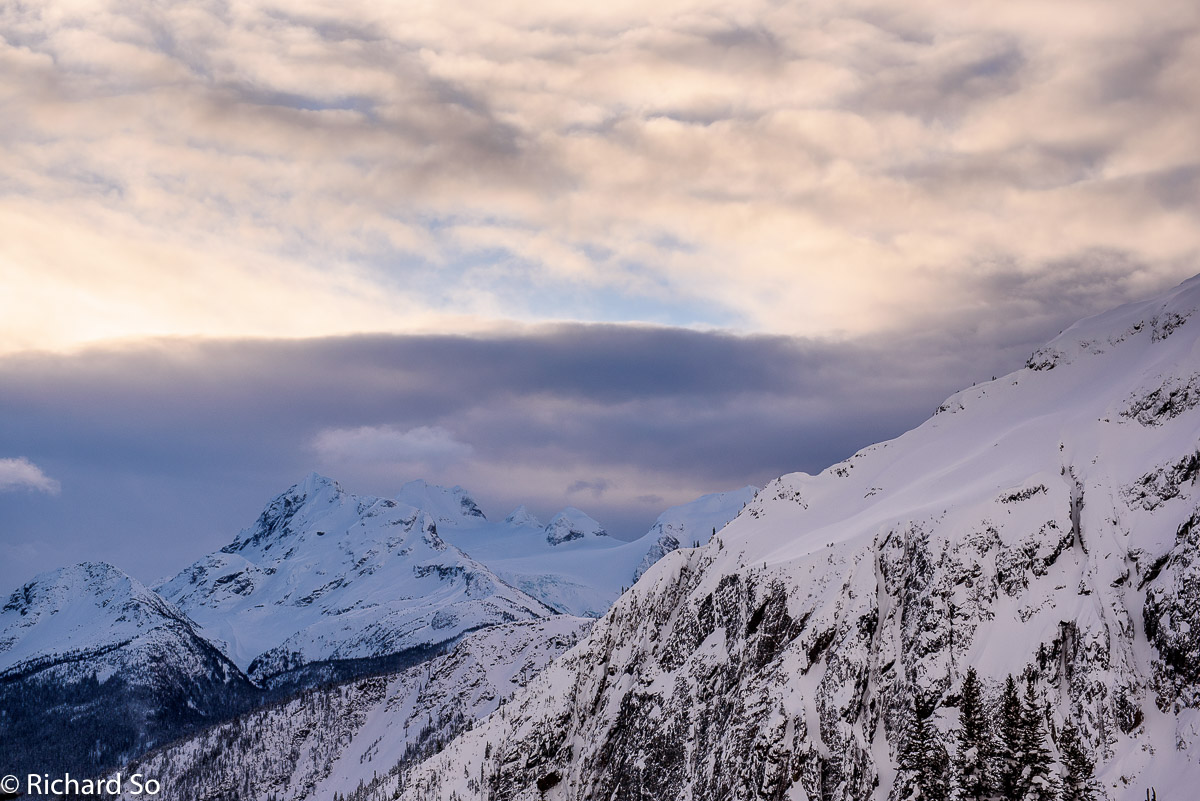 A view of Chief Pascall, Joffre, and Matier, and the steep cliffs on Cayoosh Mountain.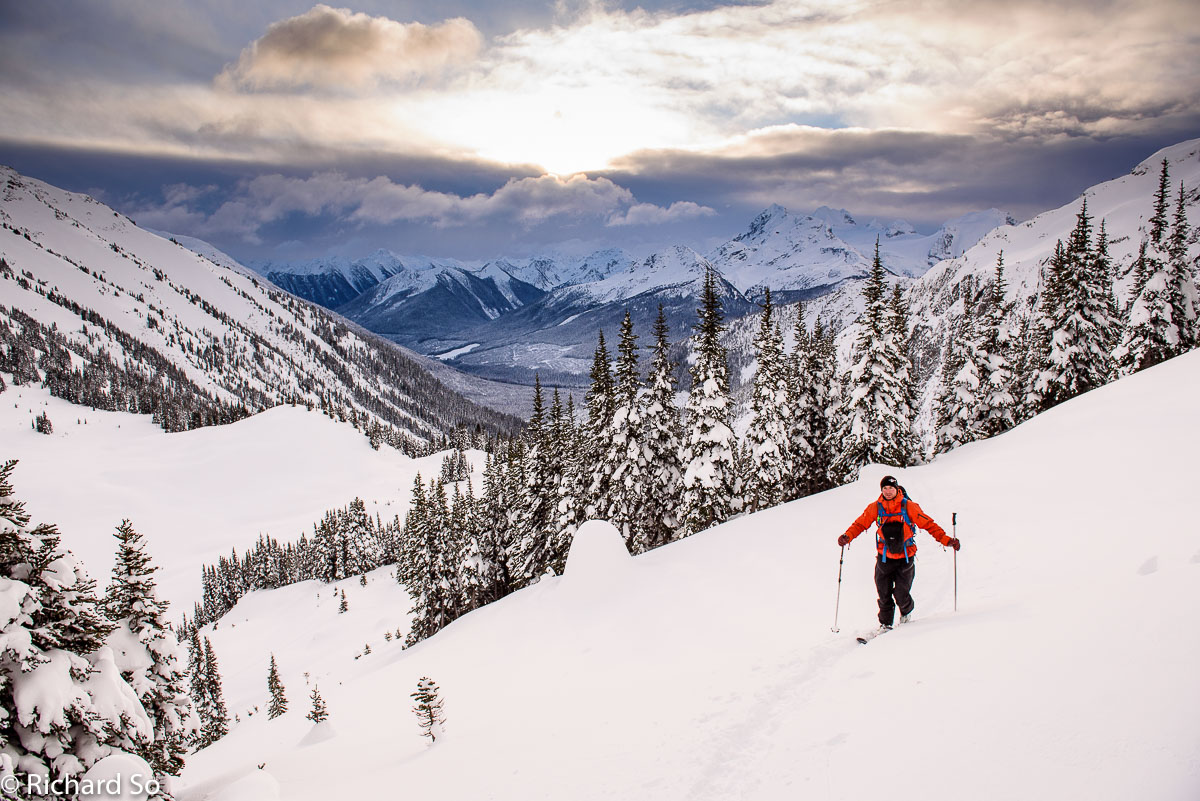 There were still a lot of clouds to the south, as we skinned up this slope. It was cold that day, and our plan was to chase the sunshine all day.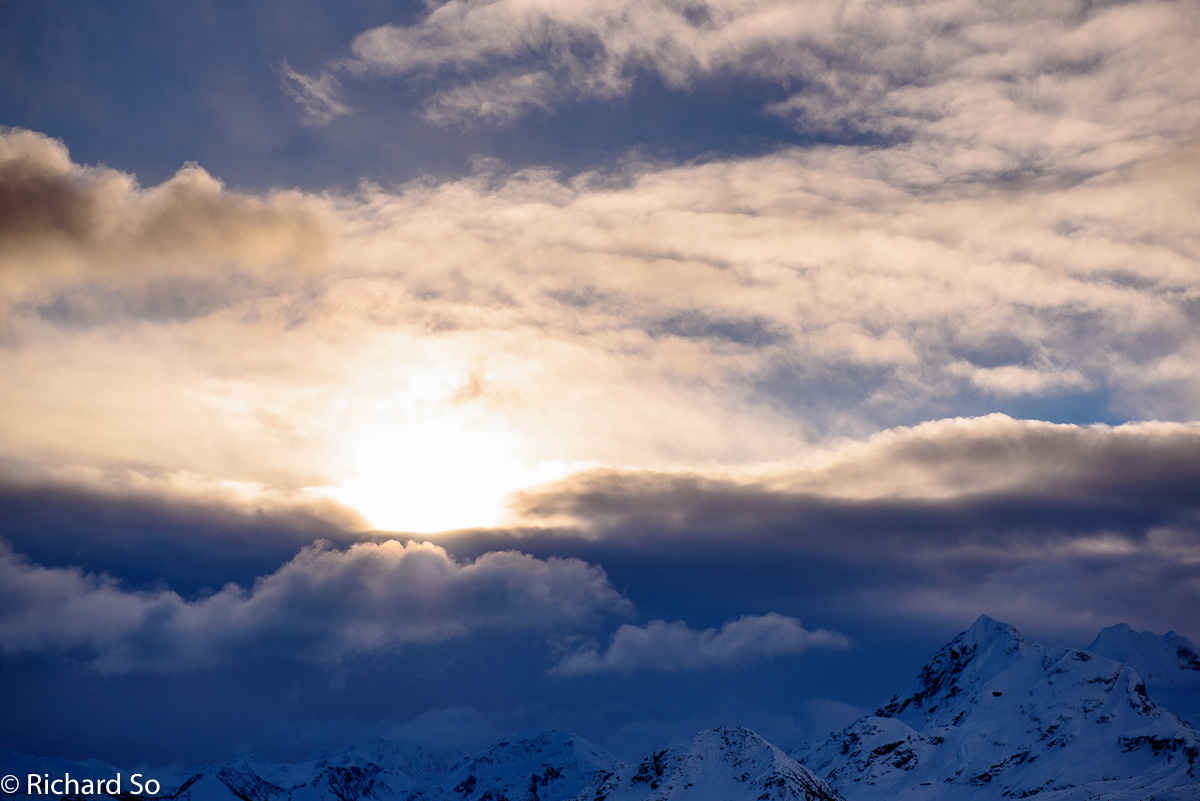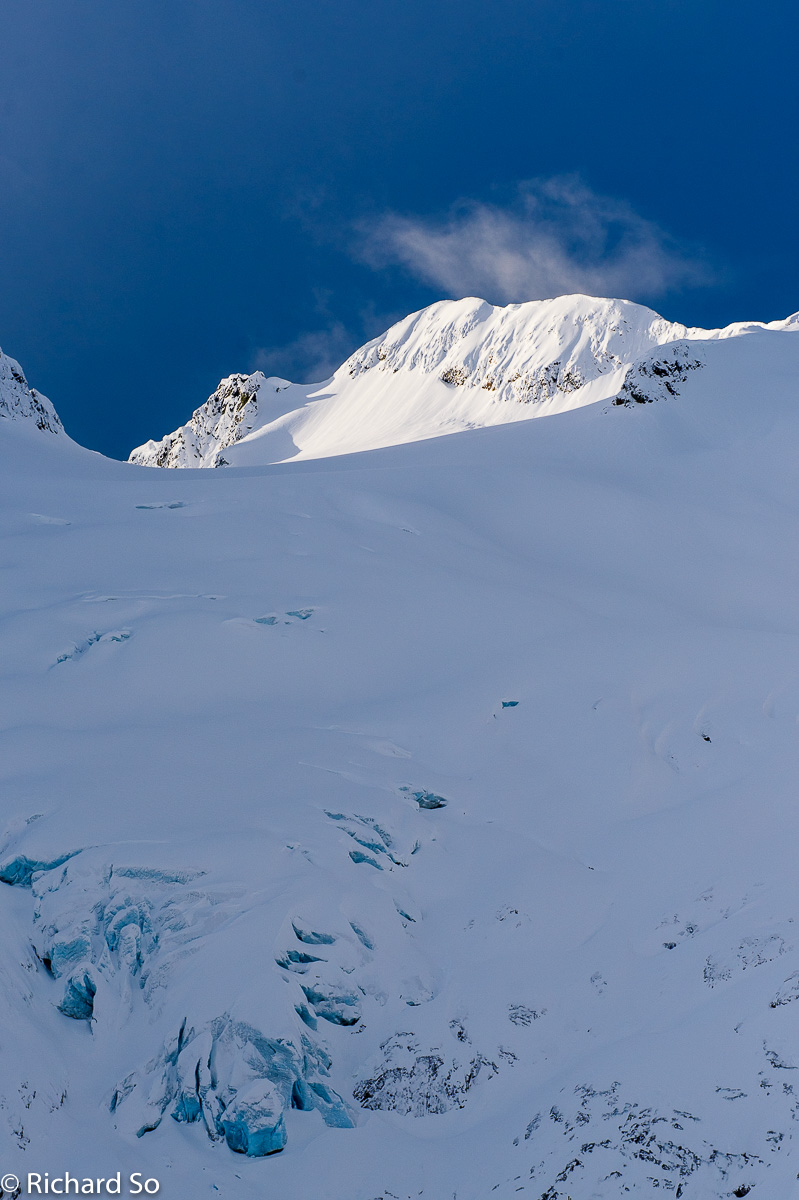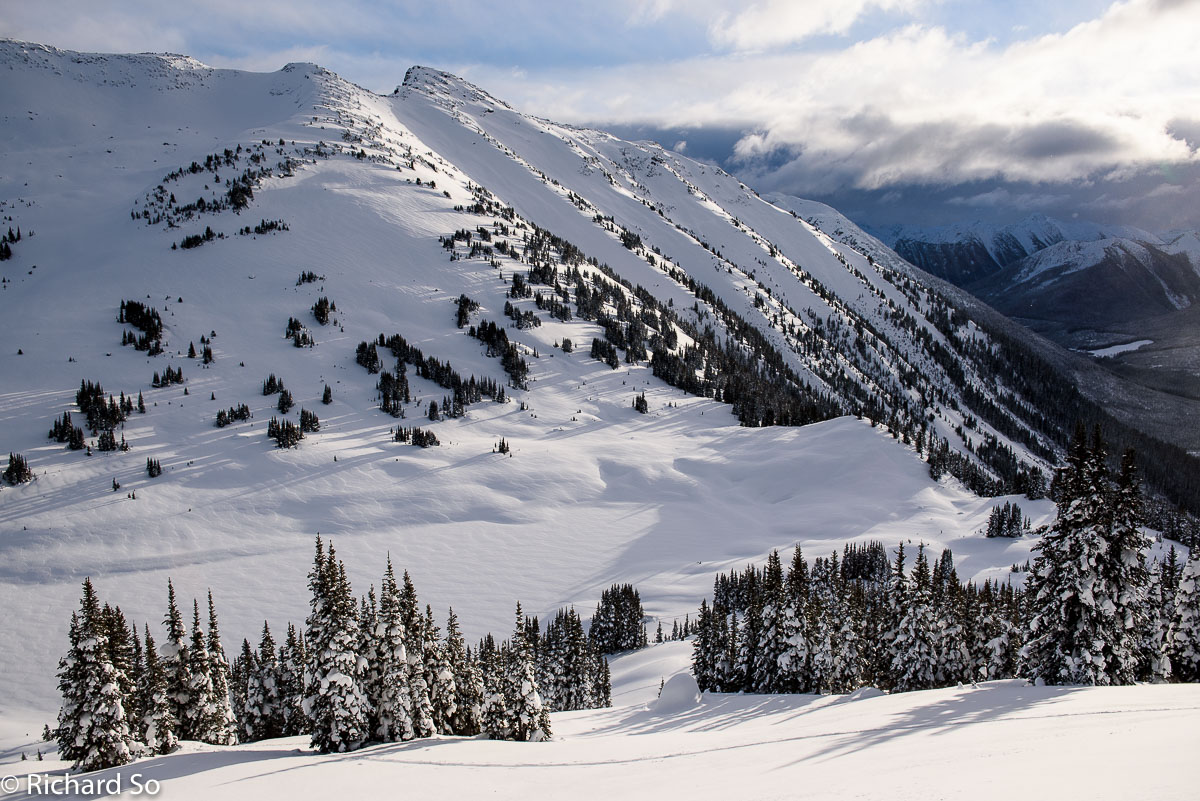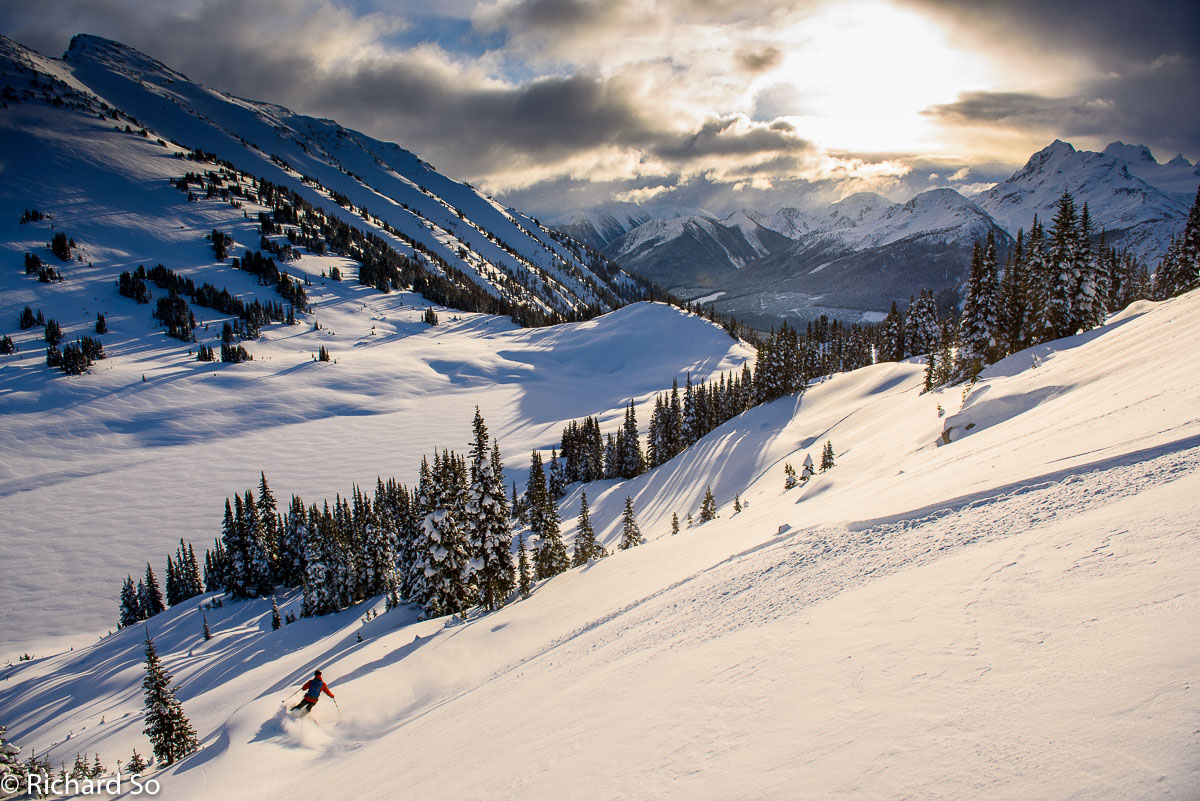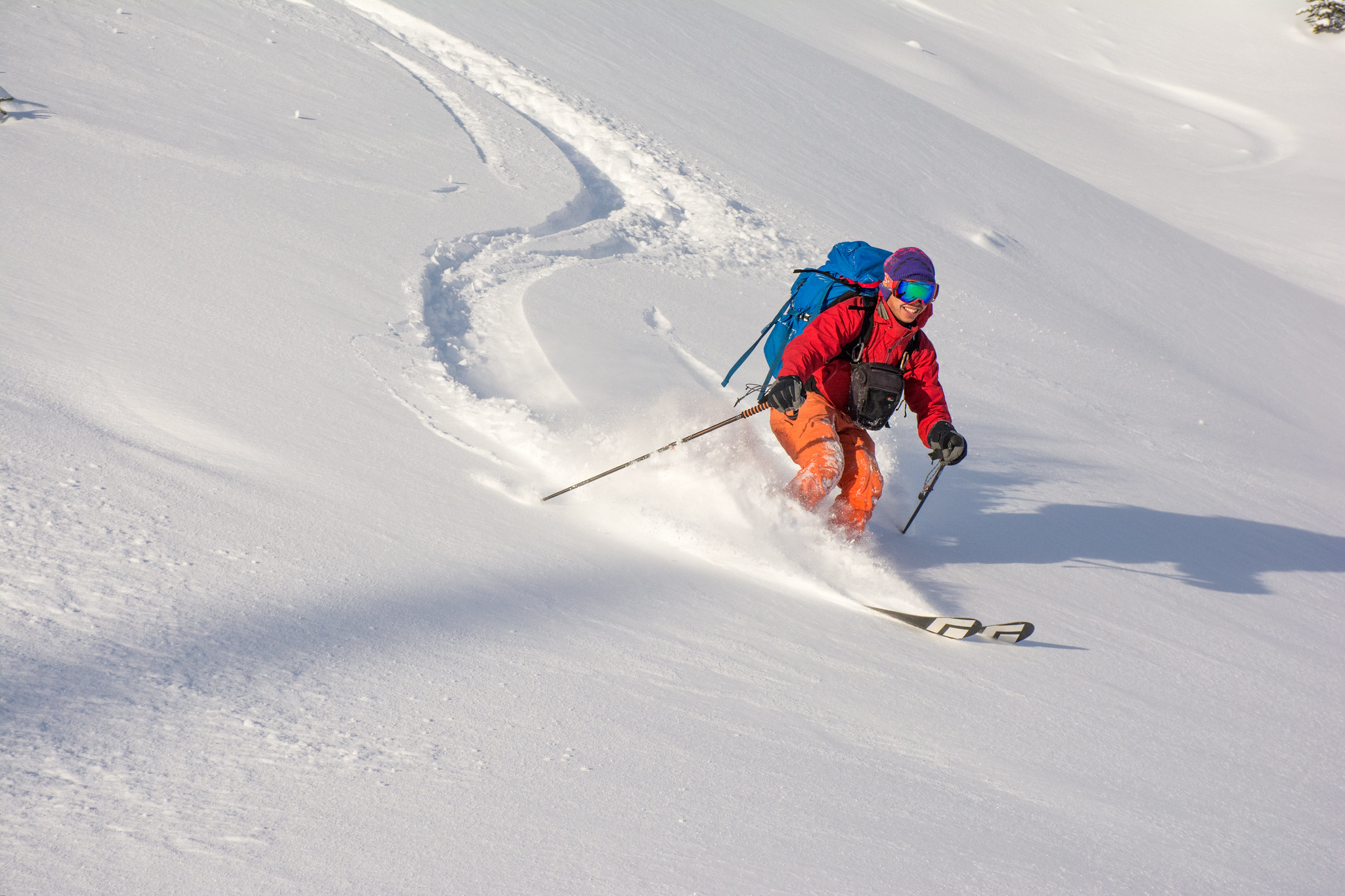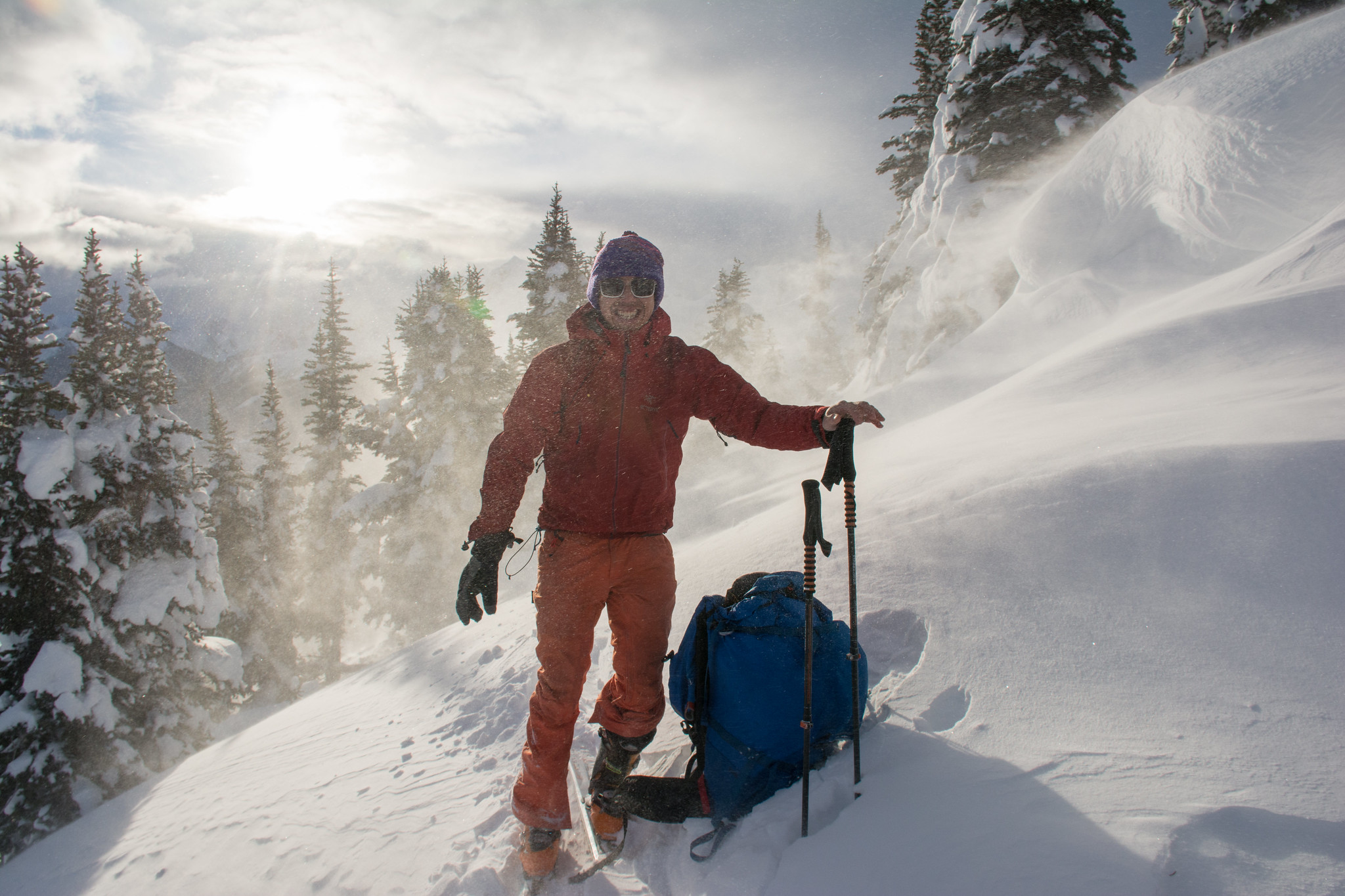 It was an awesome morning, starting with this warmup run. The wind and new snow from last night transformed the variable surfaces into 20cm of silky fast snow. I struggled with my turns on this same slope yesterday. It was effortless this morning.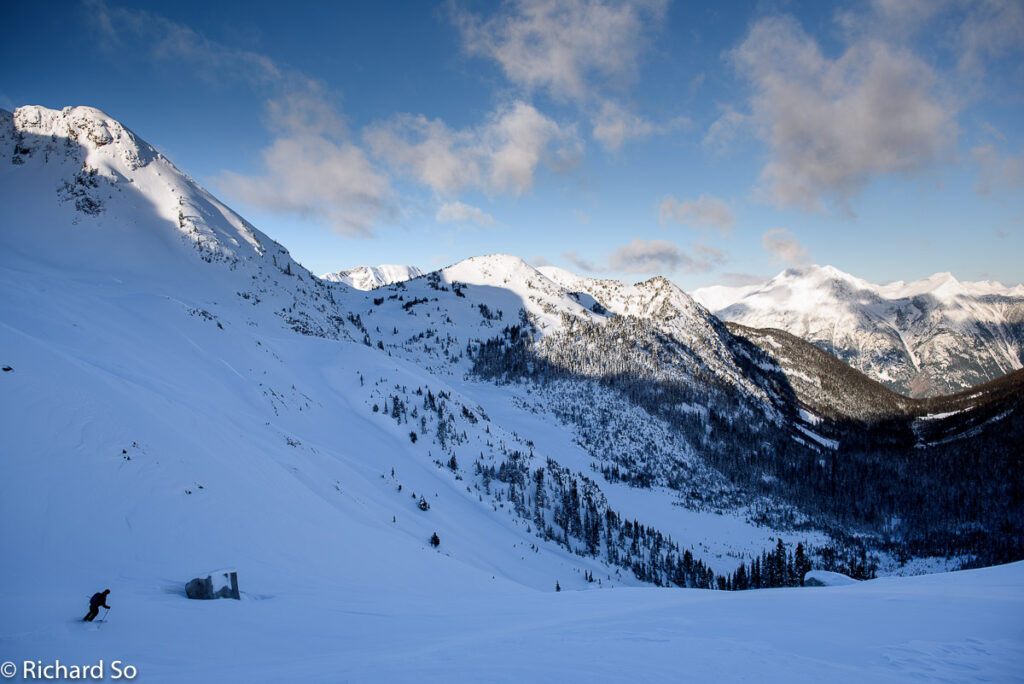 We stood on top of this long north facing run down into Seven Mile Creek. It was cold, and it wouldn't go with our plan to ski in the sunshine. We made our decision when the clouds rolled in. It was going to be cold everywhere, and how often would we get to ski down into this valley? We skied this run and then went up to the col centre-right.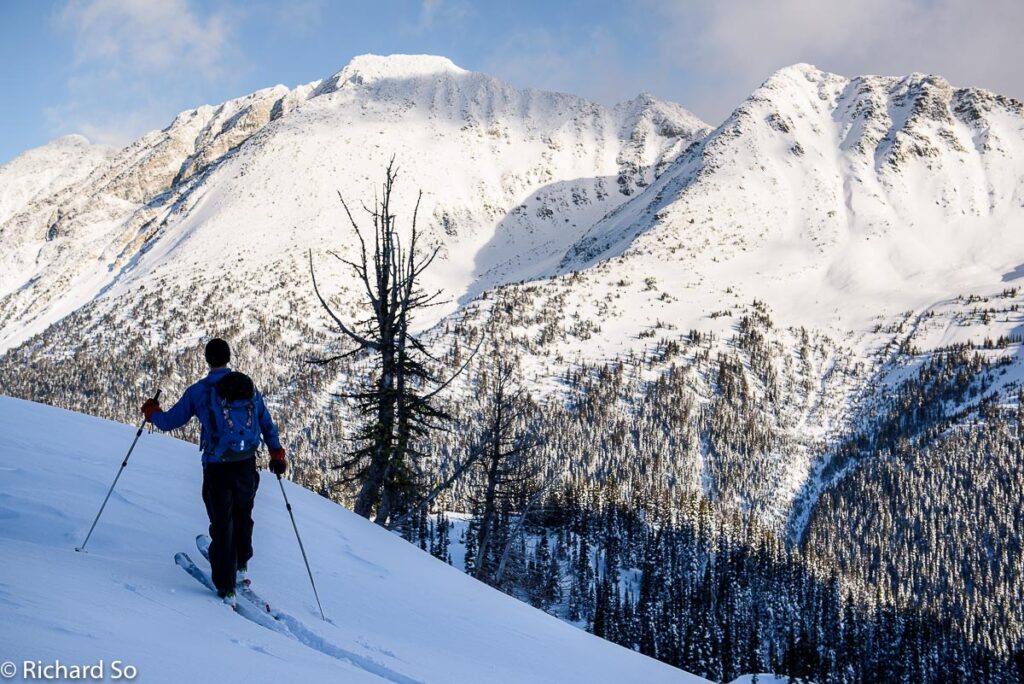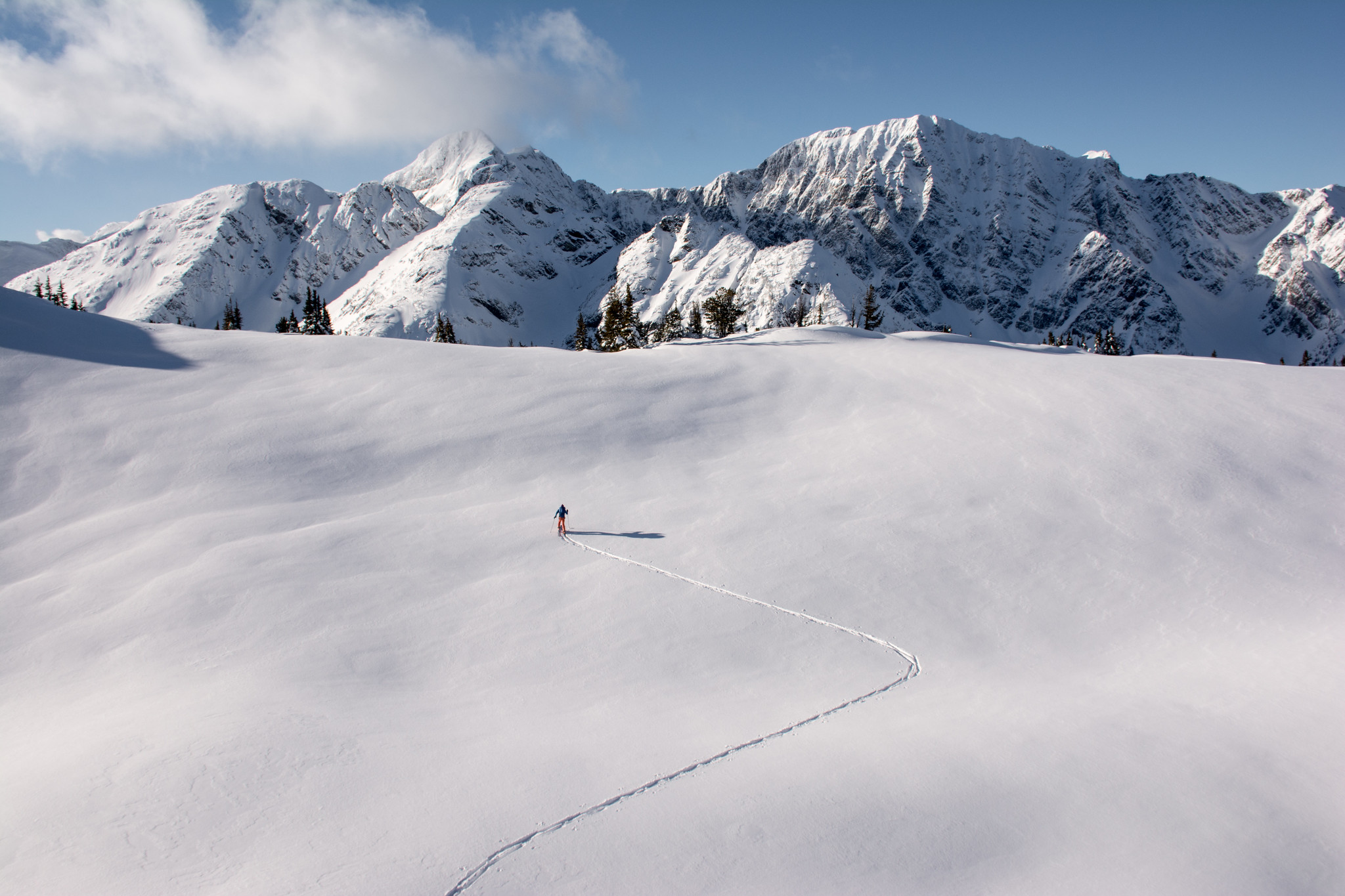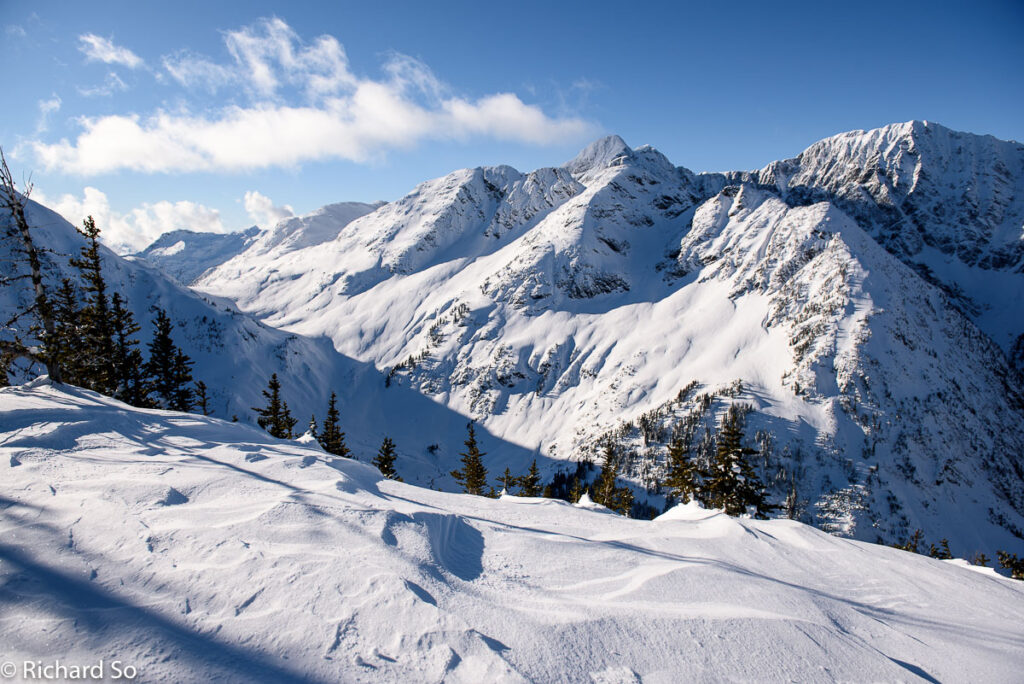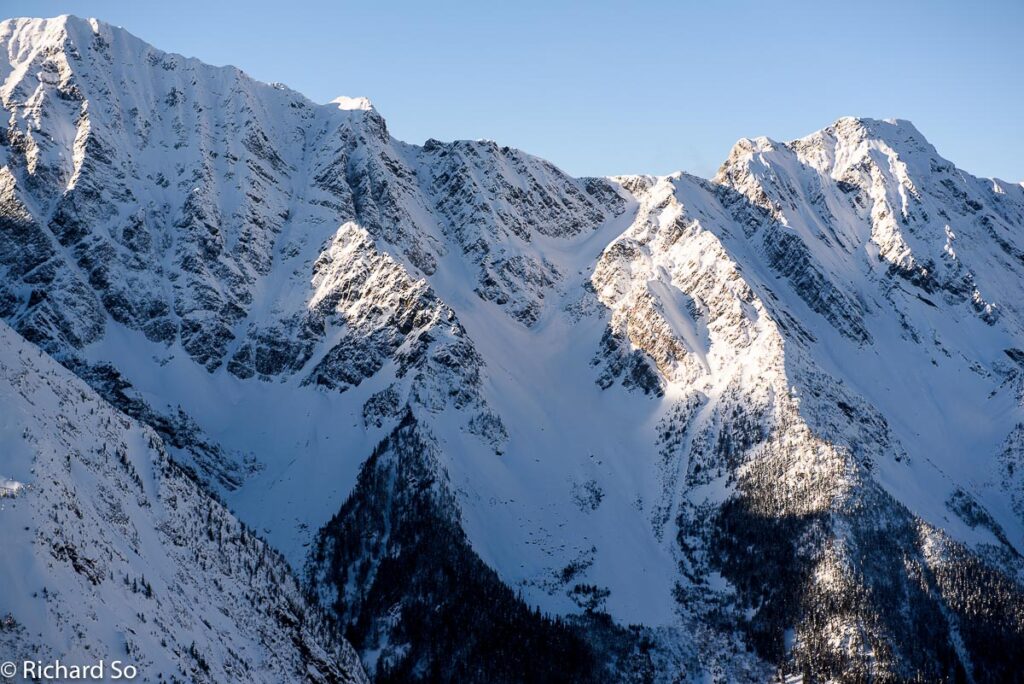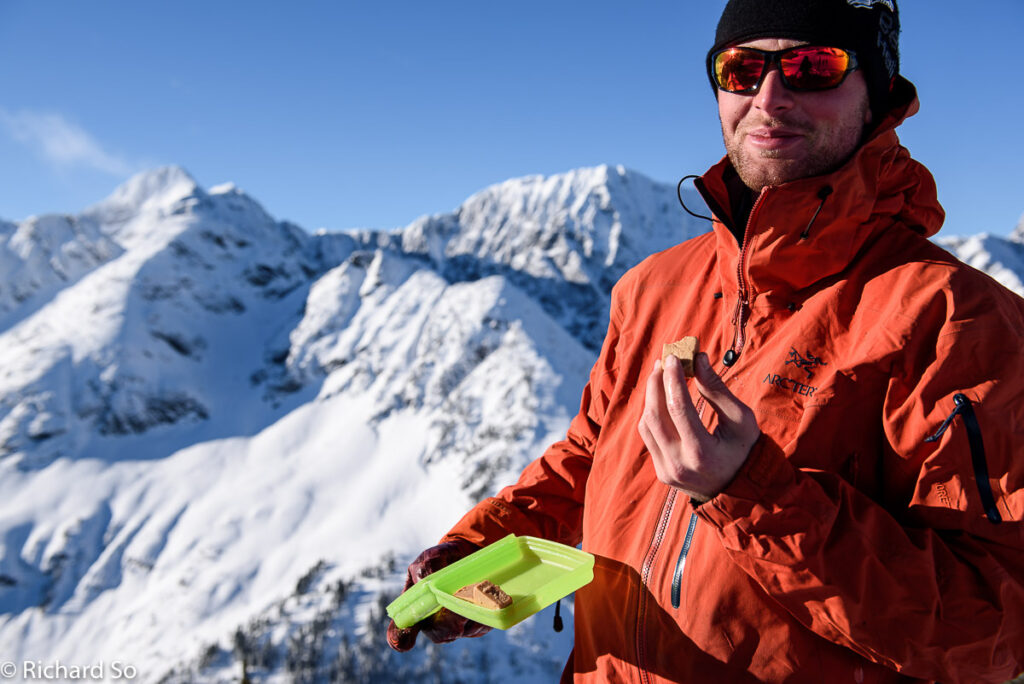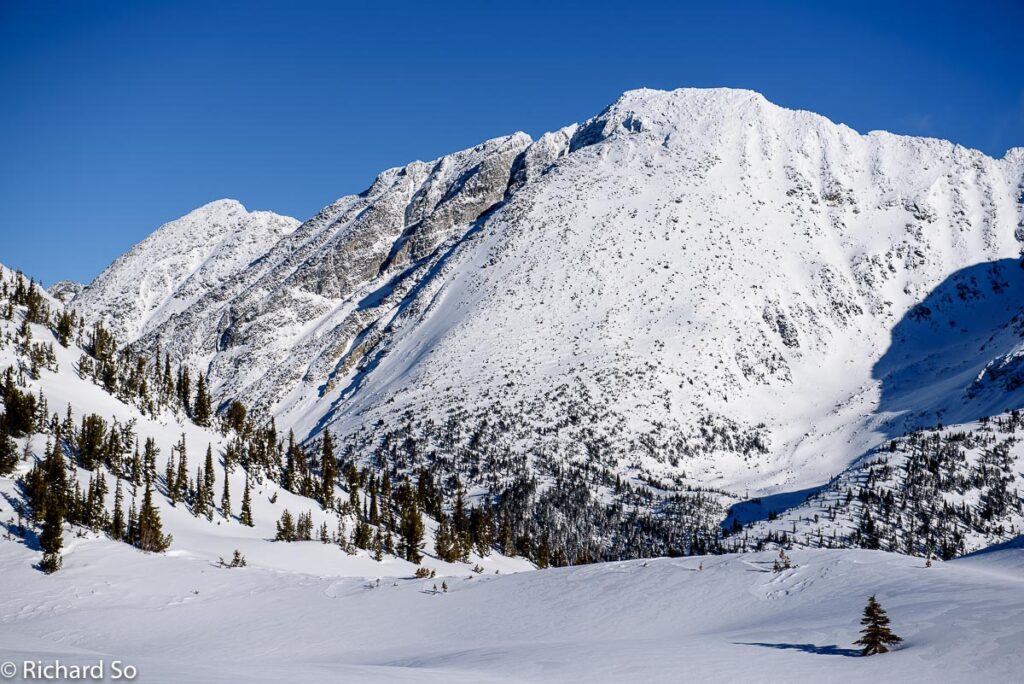 The west face of Marriott Basin. A winter ascent of Marriott takes a boot pack line up this face. From Marriott Basin, you would cross over into Seven Mile valley and then contour across these slopes. The usual summer scramble up the south ridge looks fairly unpleasant. Let me know if you've done that. This boot pack route is just based on what I've read on Bivouac.com.
If you wanted to climb Marriott, this would be the way in the winter. There are also some very impressive steep lines off the north side of Marriott. I don't know if you can ski those off the summit, and they are probably the type of lines that you want to boot pack up first.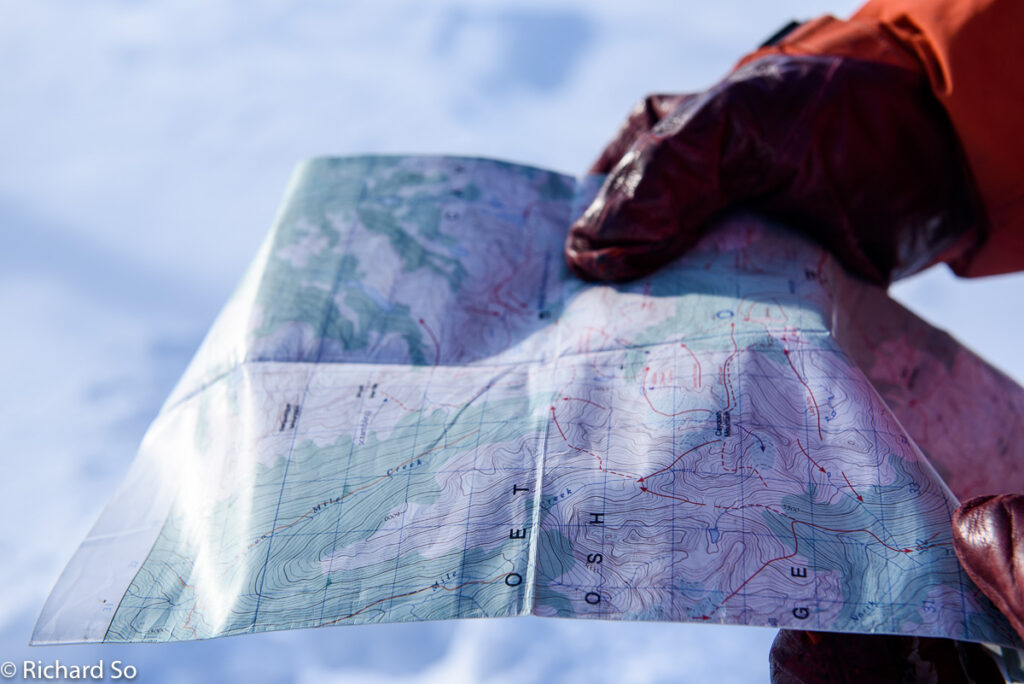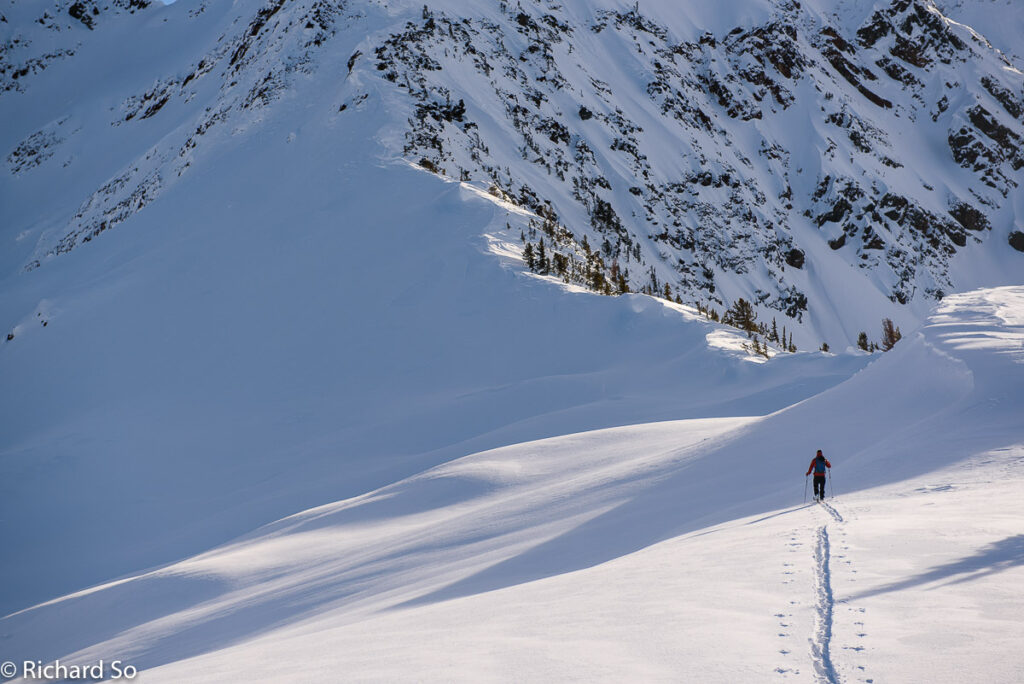 We went up a little further up to the shoulder for a nice run back down to the valley. The slope on the right, dropping down into Eight Mile valley was very tempting. But short winter days kept us here. It would be one more valley separating us from the car.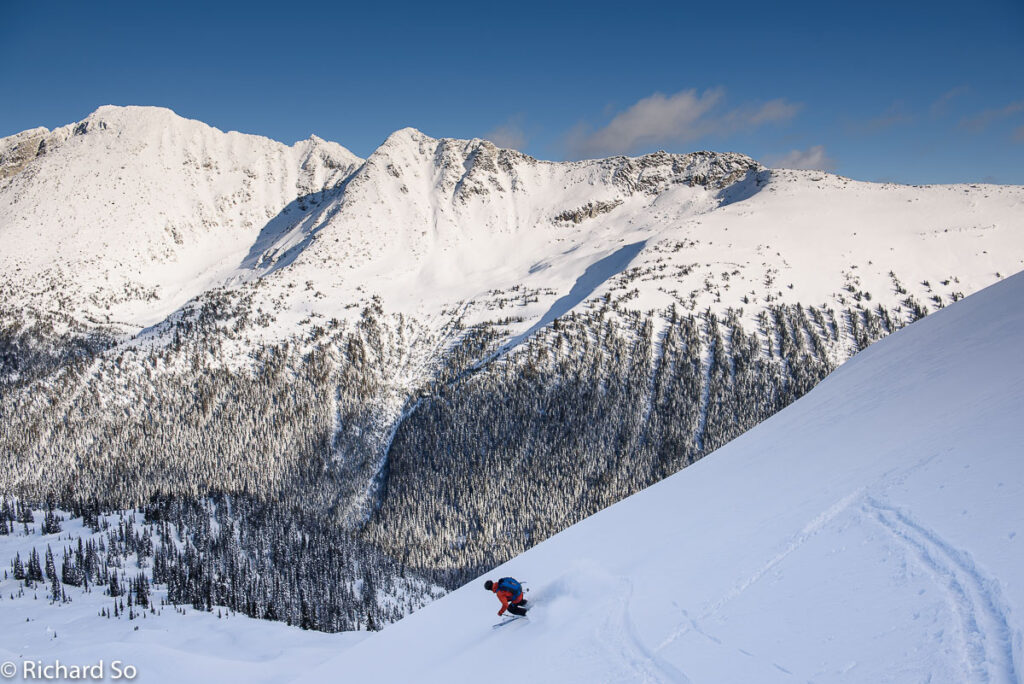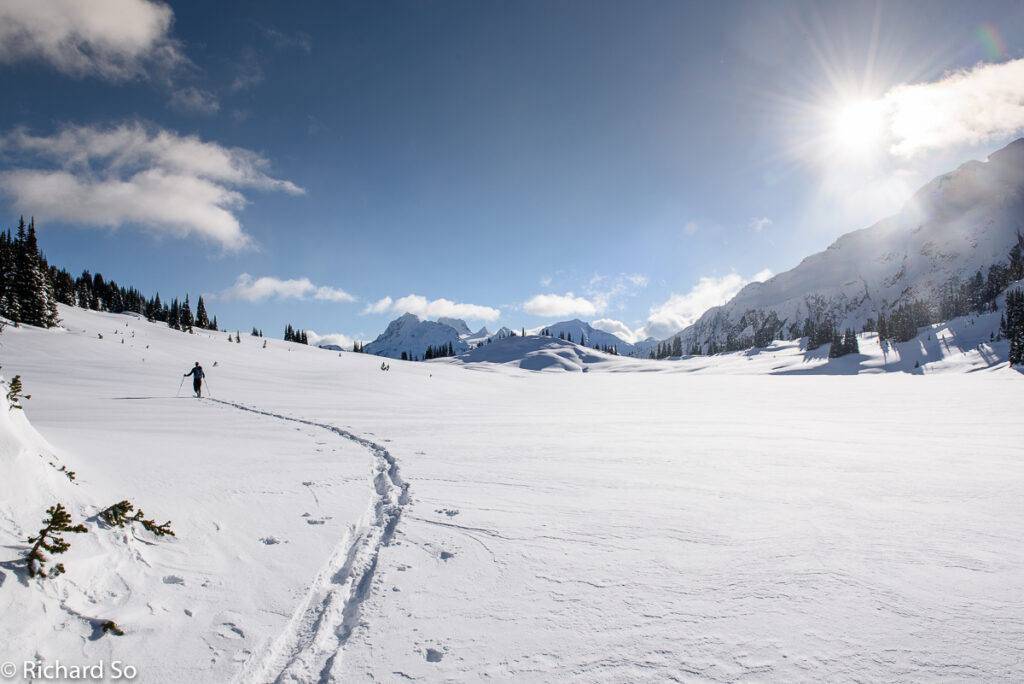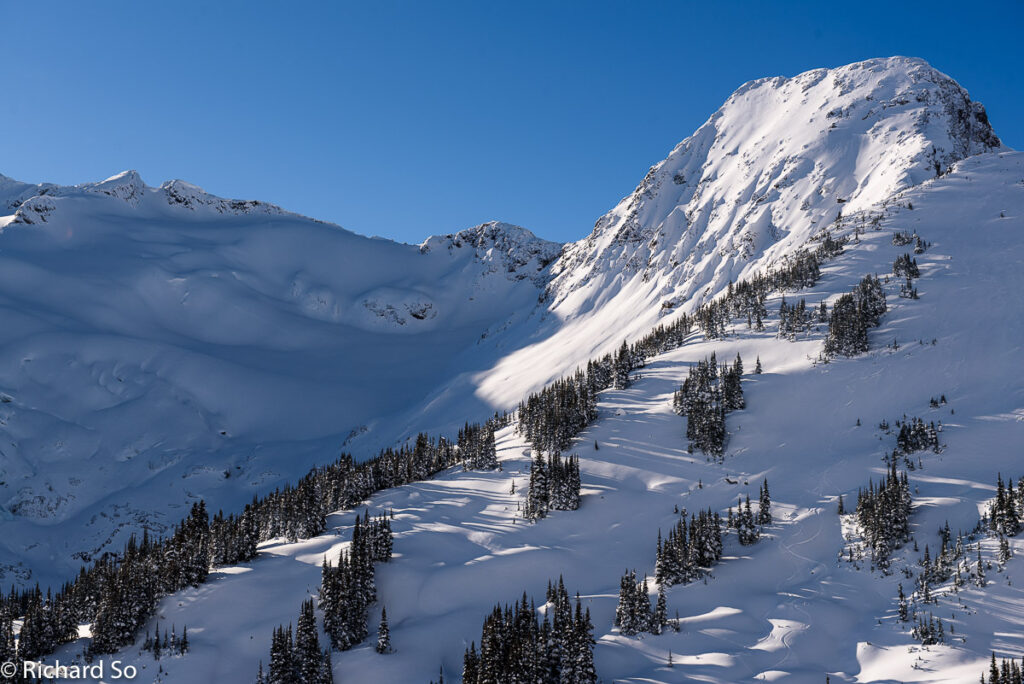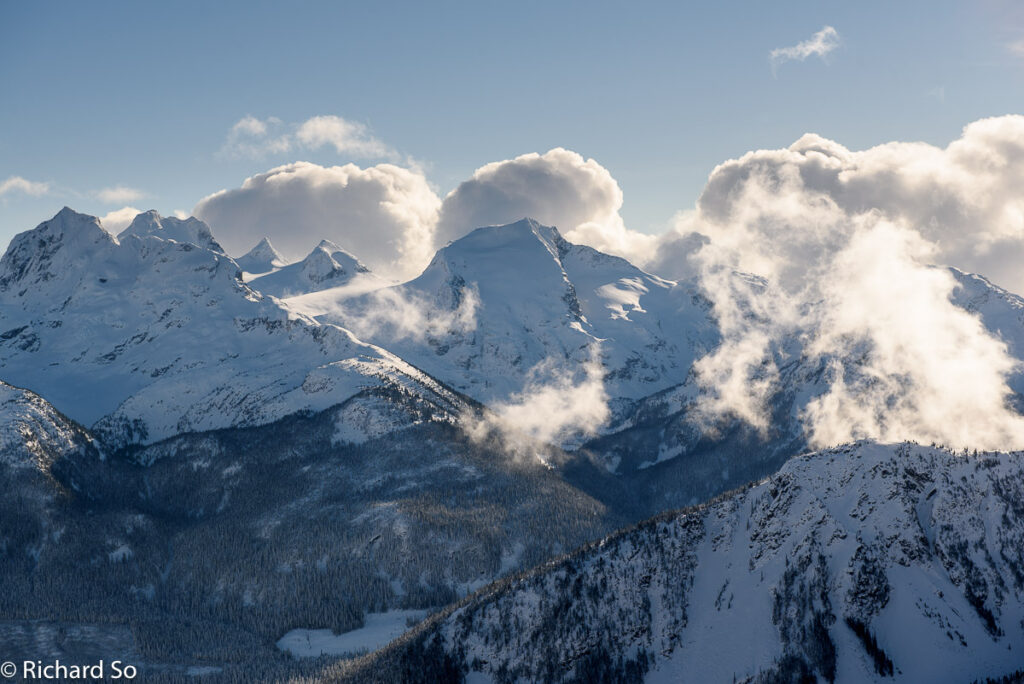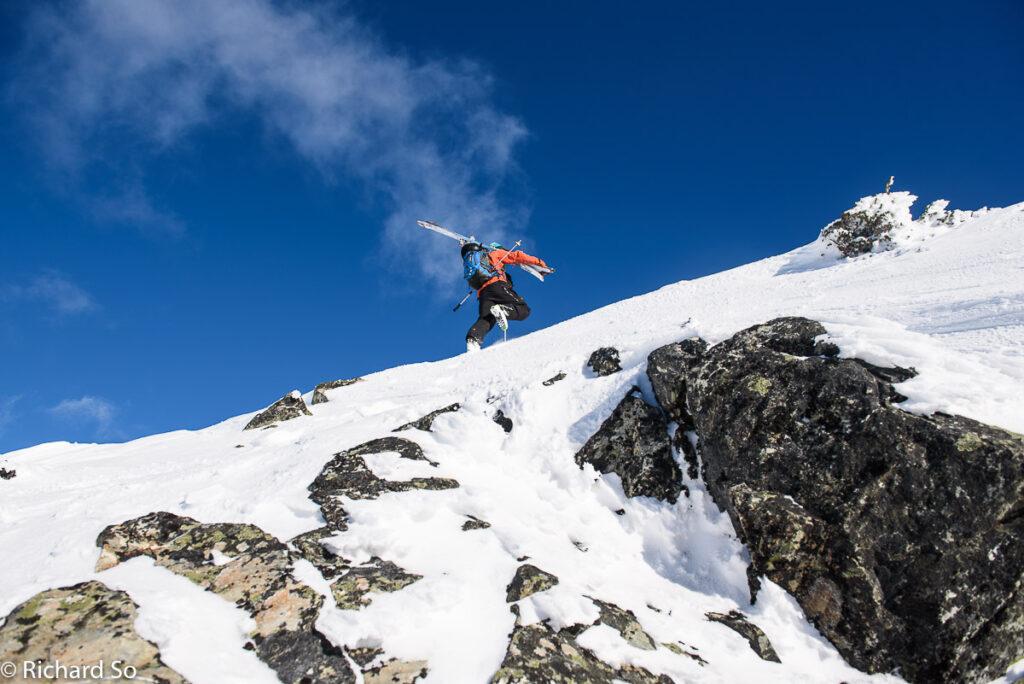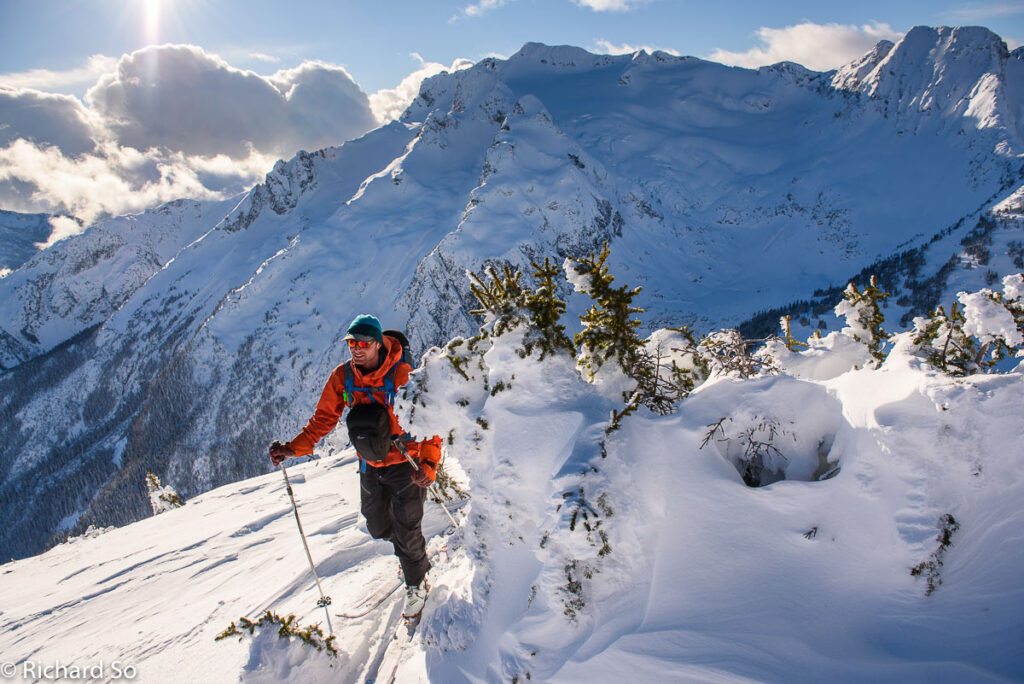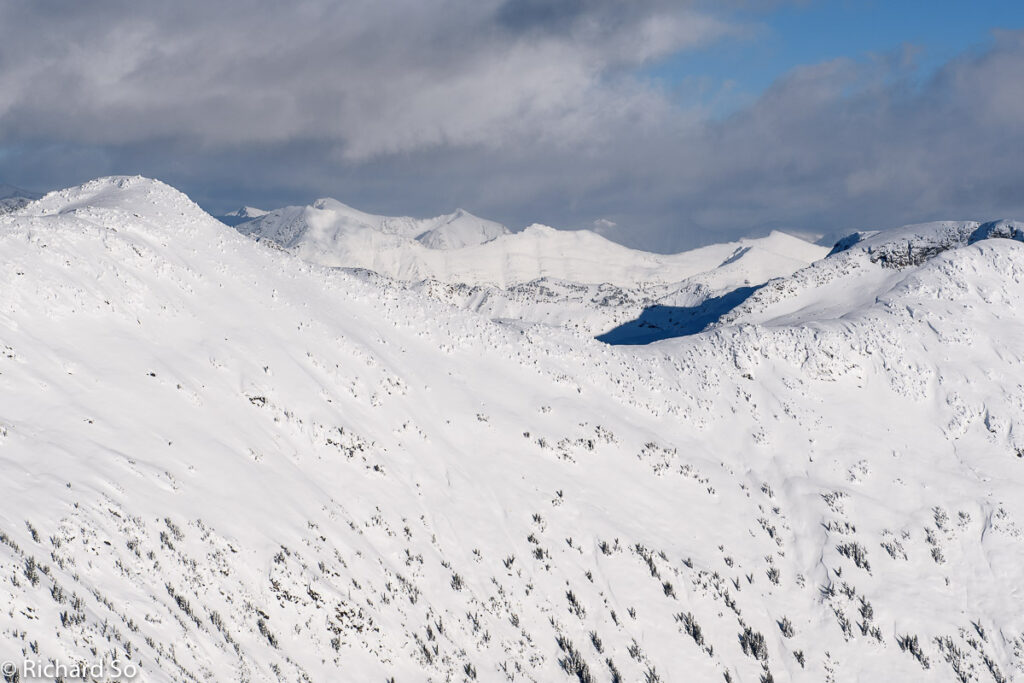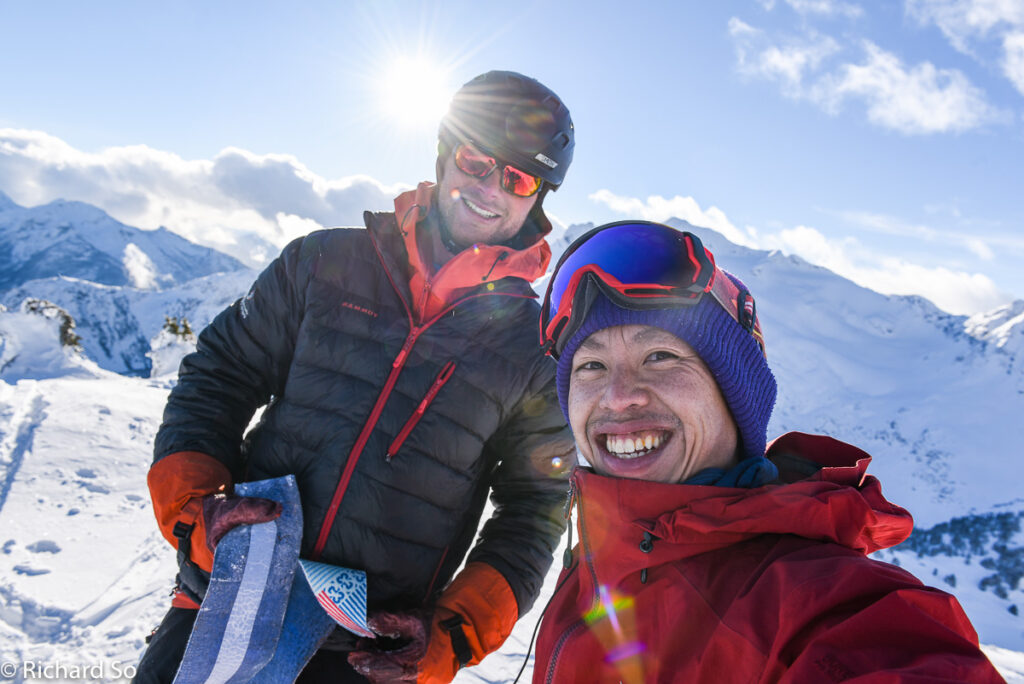 Up on the ridge top, enjoying the sunshine in -11C. This is also the top of Honey Bronzed and Very Desirable, a ski run commonly skied from the Wendy Thompson Hut. You can make a nice circuit by skiing down the North Glacier of Cayoosh, and then climbing up to here and dropping into Marriott Basin and heading out.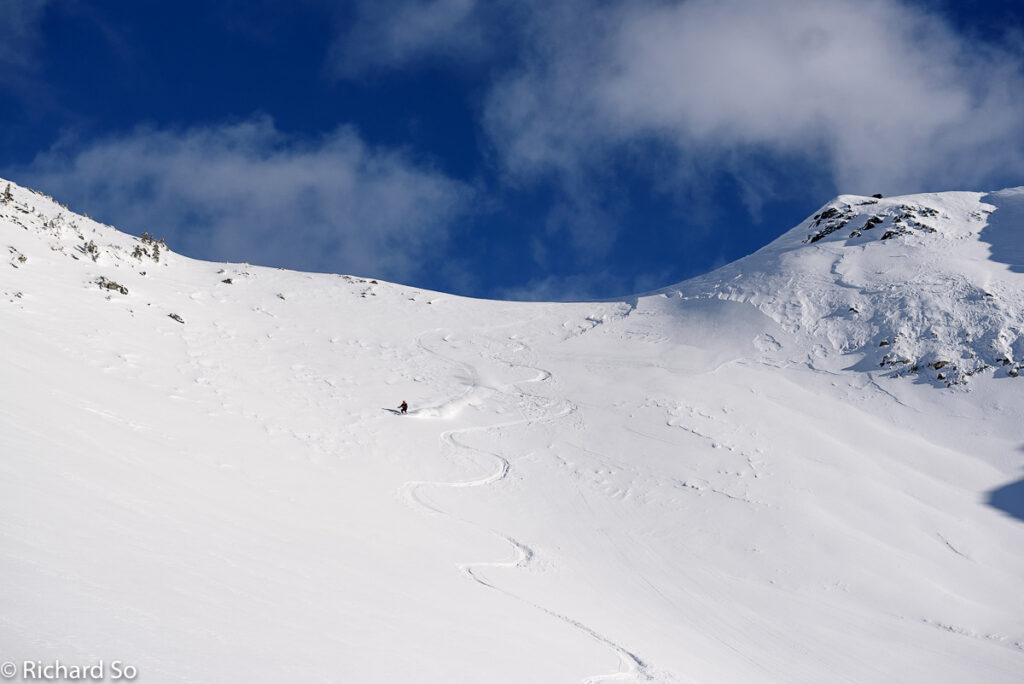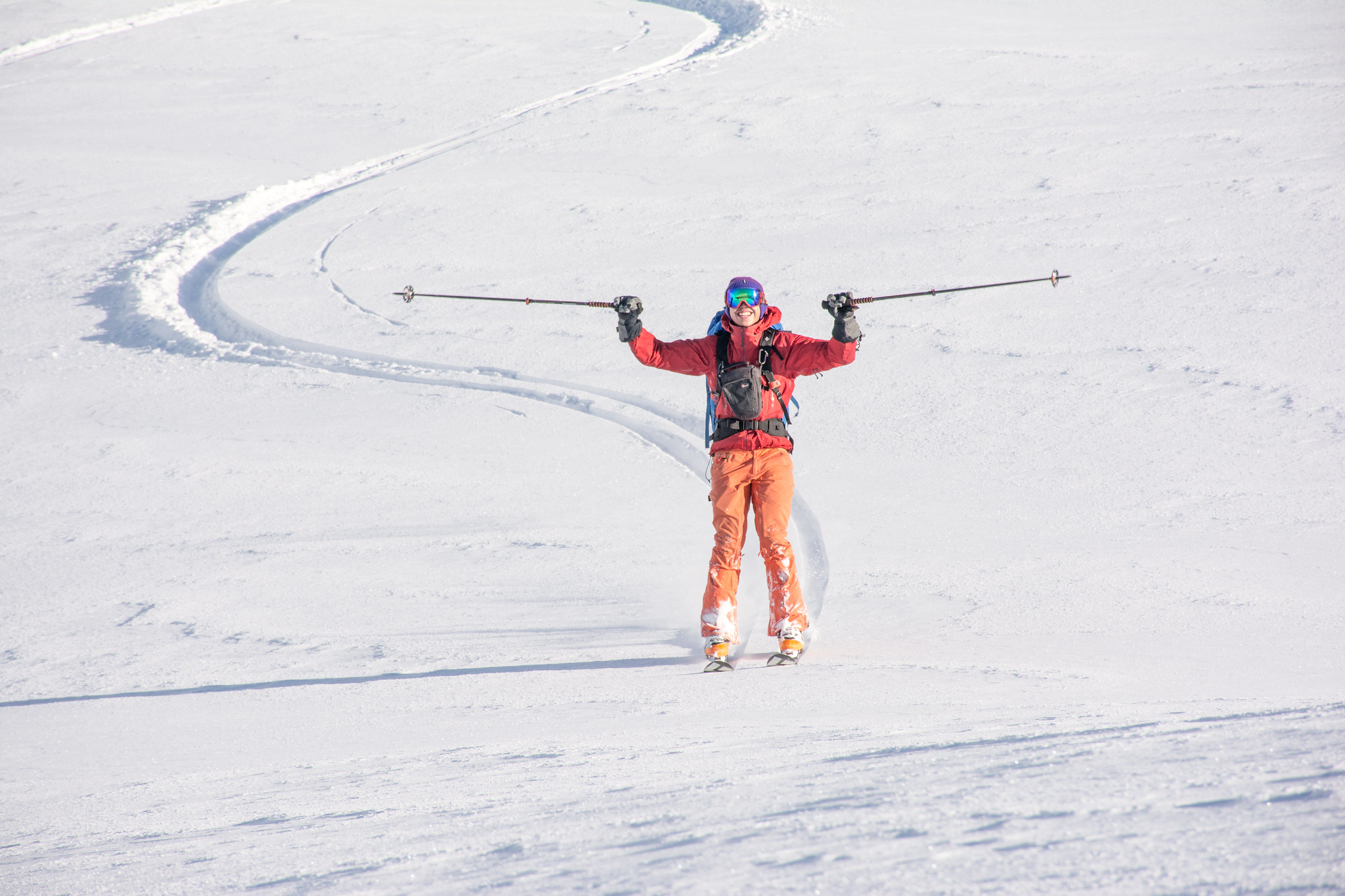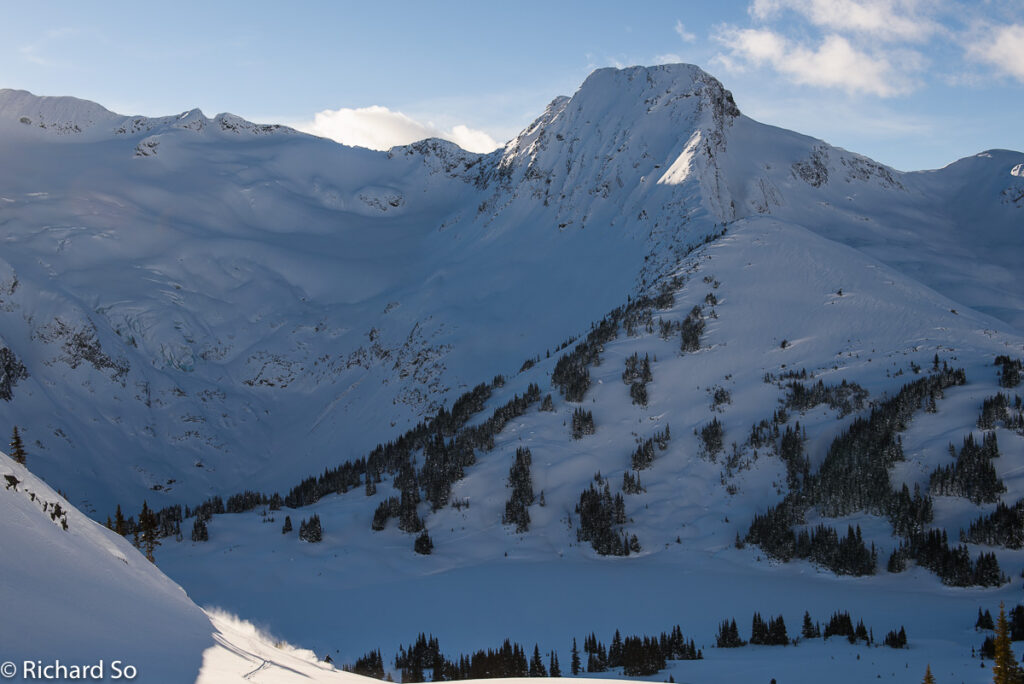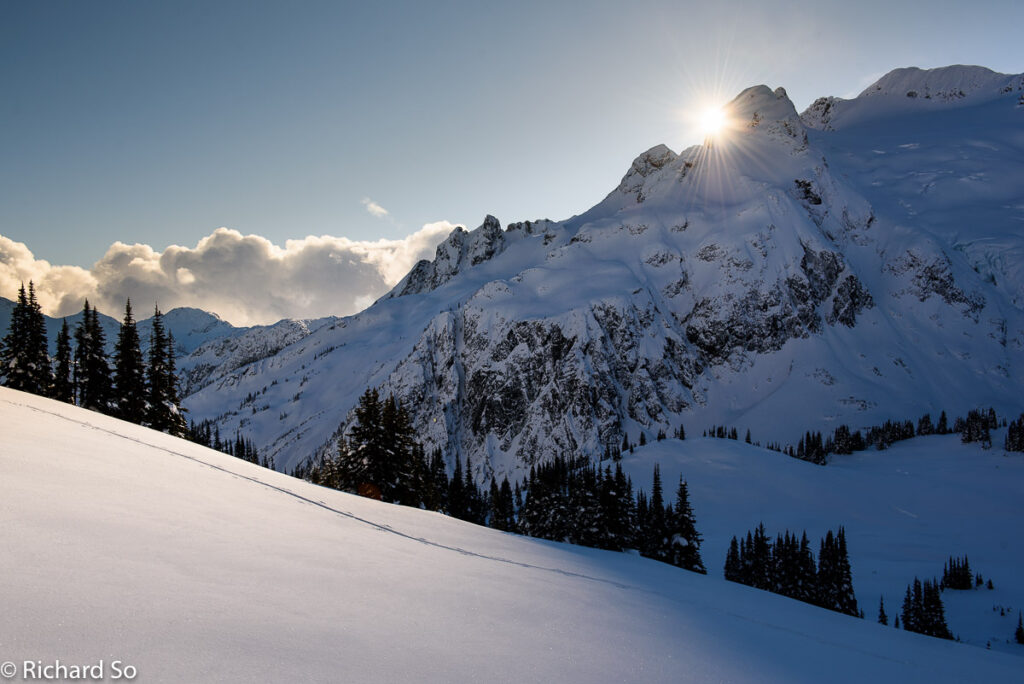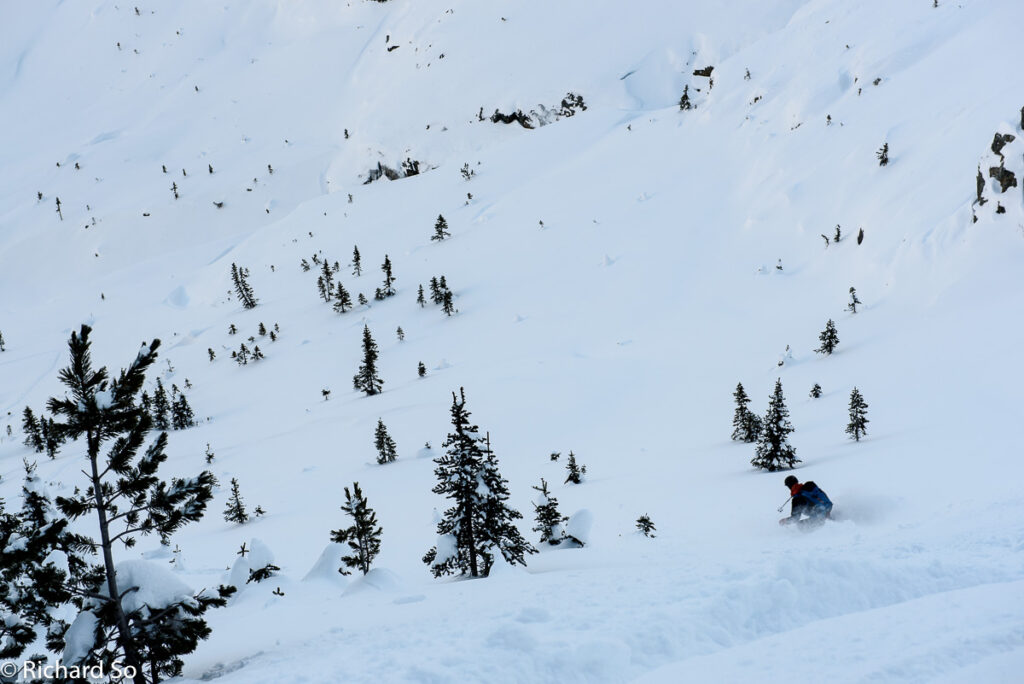 Dropping back down into Cayoosh Creek. It was at this point that I noticed a new skin track. Sam was pretty surprised that another ski party was in the area. I noticed the dog tracks and realized it was Alex and Maddy. They ended up following most of our day. We were always ahead by about 3 hours, and never bumped into each other.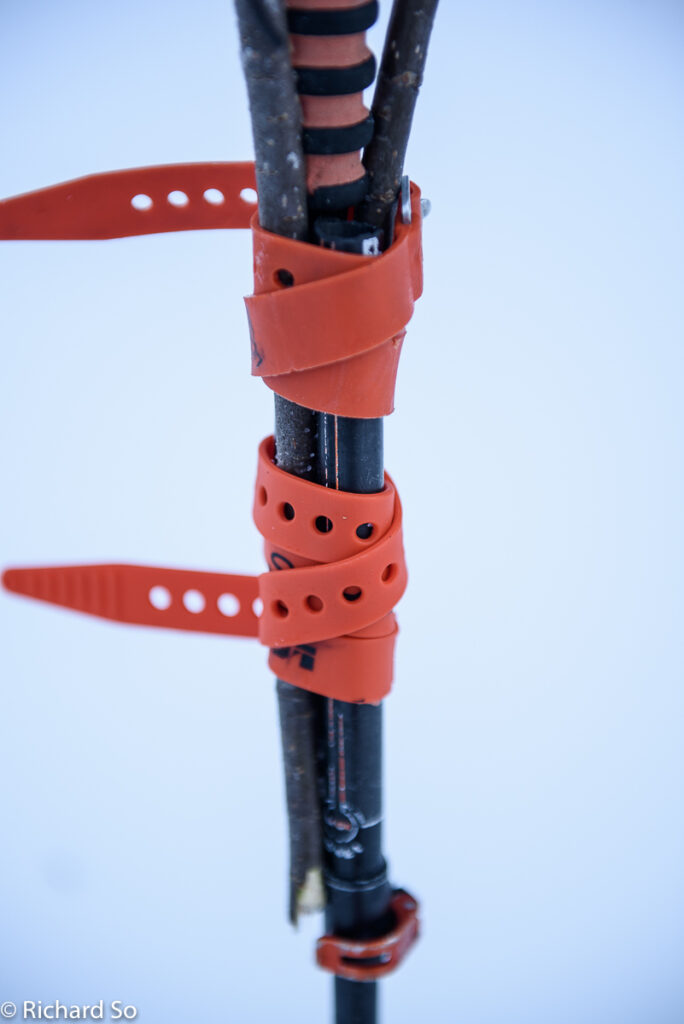 The only casualty of the day. A broken Komperdell carbon ski pole. I stopped in the flat valley to extend my pole to 140cm. It just snapped in the cold as I was doing that. Update: Komperdell has a great direct repair policy. On their website, they state that they have a 3-year no questions asked, no receipt required, no cost repair. Just pay to ship the broken pole to the nearest service centre, which was in Washington. It was roughly $30 for shipping of the one pole. I wasn't sure if I would actually get a pole back, but in just two and a half weeks, I now have a new pole! Thanks Komperdell!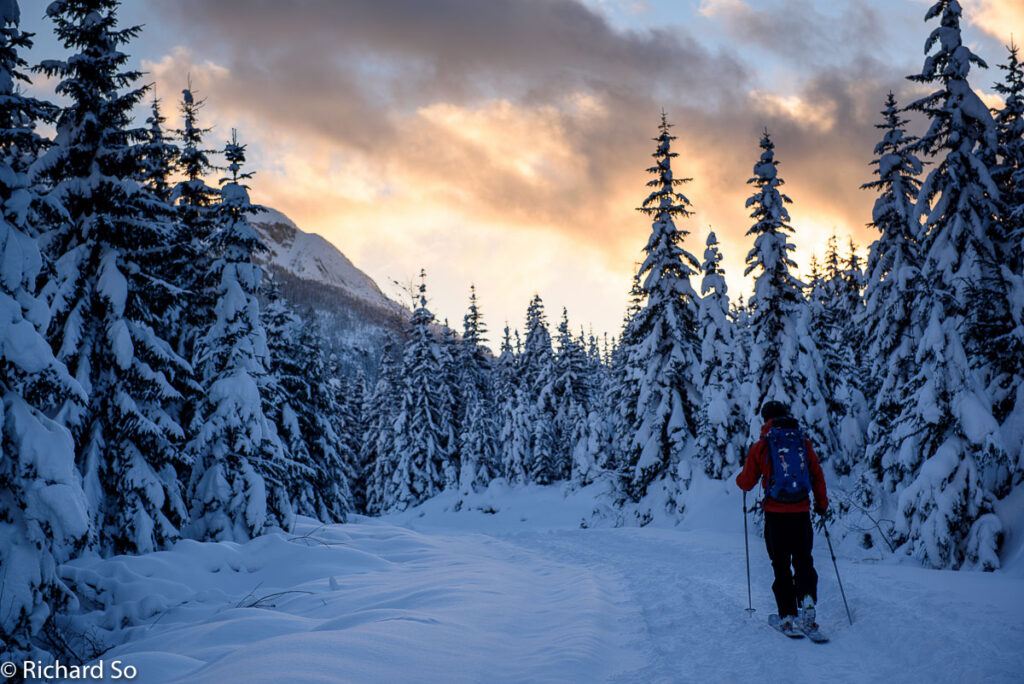 More of Rich's photo on Flickr