I've been lucky enough to get out on some pretty awesome New Year's Trip in the last couple of years, – Taylor Meadows, Eldorado Basin, Lizzie Hut, Rogers Pass. I've noticed a little lifestyle inflation happening though. I spent a week at Lizzie in a snow cave in -20C temps, then moved on to a rental cabin in Revelstoke and now this year, a deluxe fly-in ski lodge. Who knows, maybe next year I'll be heli-skiing! I hope not though, I like going uphill too much and I'm cheap.
Back in October, Madeleine invited me to spend a week at the McGillivray Pass Lodge with some fun skiers who liked to eat. Our self-guided, self-catered group was Stefan, Mark, Colleen, Colin, Andy, Madeleine, Kir and myself. Colleen is a co-owner of the Zepyhr Cafe in Squamish, and Stefan is part of Good Time Farming, a small-scale organic farm based out of Squamish. Needless to say, we were in for a treat, with fresh produce at every meal.
On December 26th, we drove to the Pemberton airport, where we loaded the helicopter up with boxes after boxes of food. Each pair of skiers in the group were responsible for a breakfast, lunch, appetizer, dinner and dessert. It worked out perfectly, all the meals were excellent while keeping the costs low. These helicopter and lodge fees add up!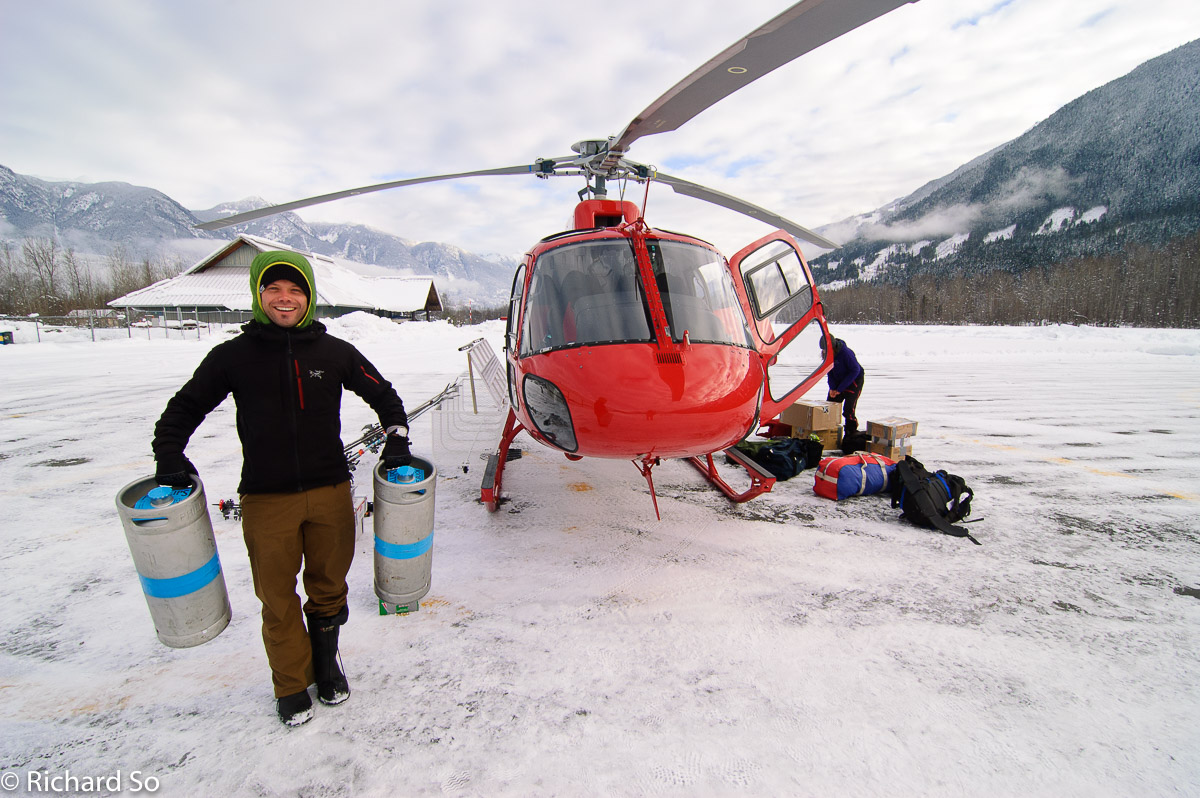 We left Pemberton on Boxing Day. The weather was clear, guaranteeing a good view on the flight in. This is a photo of Mark and Kir loading up the A-Star at the Pemberton airport. There was some unnecessary worrying about cargo space, but don't worry, we didn't leave any food or beer behind. The flight is short, flying up through the Birkenhead River Valley, over Gates Lake, over the southern end of Anderson Lake and up into the McGillivary Creek valley. I've spent a fair bit of time skiing at Phelix Creek, which is just to the west, separated by Mount Taillefer, Weinhold, Prospector Peak, and Standard Ridge.
The red lines on this map shows where we skied. The touring area is bounded by Mount Weinhold and Standard Ridge to the west, Mount Royal, Mount Piebiter and Mount McGillivray to the north, Prospector Peak to the south and Star Mountain to the east. The namesake, Whitecap Mountain, is actually quite far from the lodge, six kilometres to the northeast.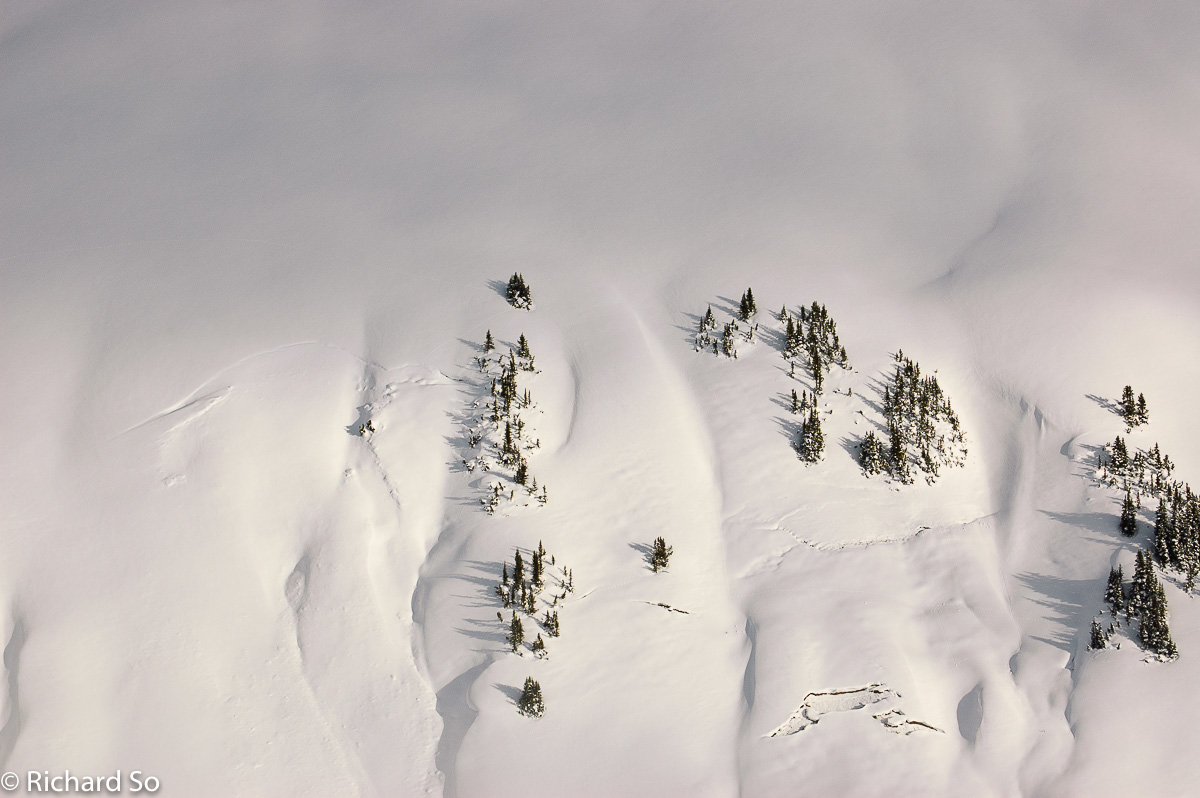 The climate is drier on this eastern side of the range, which usually means better snow but lower snow coverage. As we flew into McGillivary Pass, drooling over all the untracked terrain, it was hard to miss the obvious glide cracks on both sides of the valley, but especially on the southwest aspects. We watched as these cracks grew larger through our week of winter sunshine.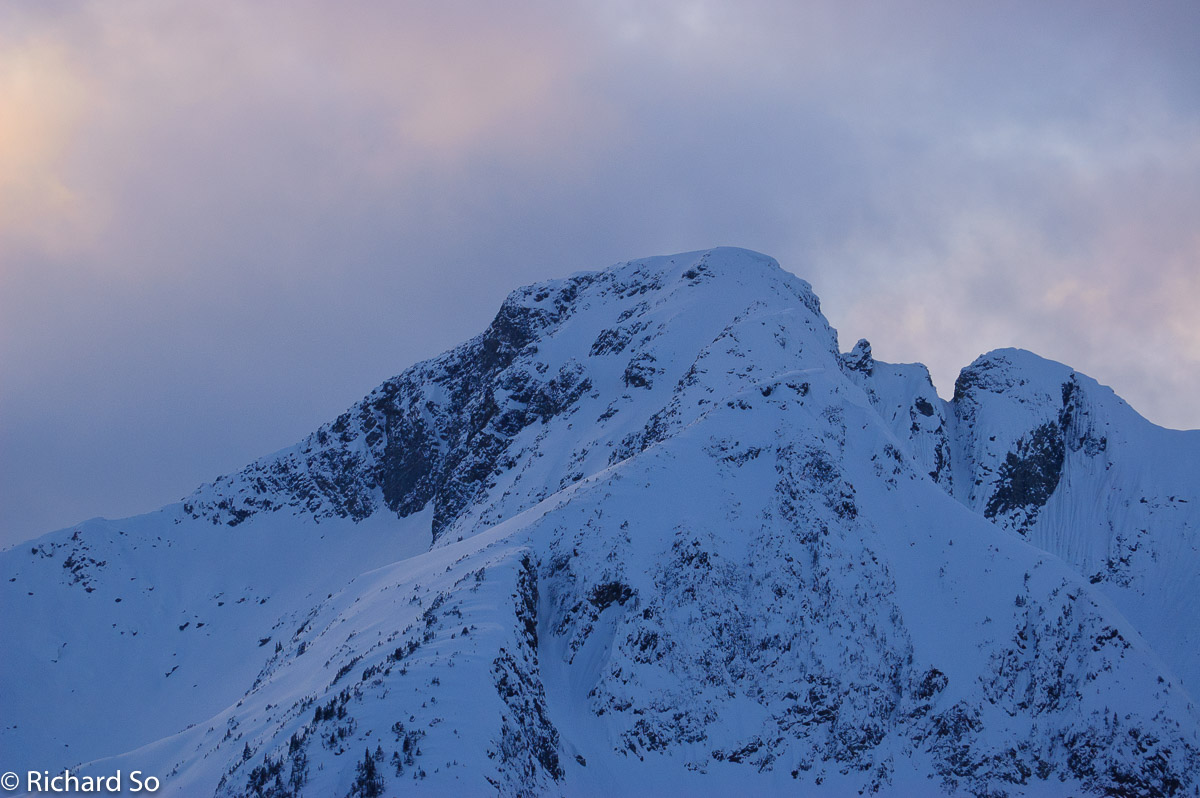 There's a great amount of varied skiing in the area. Most of the higher open slopes were scoured, but we found great powder and stability mostly everywhere. We toured towards Mount Weinhold on our first day looking for turns on its open eastern slopes, but the short days and unfamiliarity with the terrain had us turning around well below the top. This turned out to be one of our longer and more adventurous days.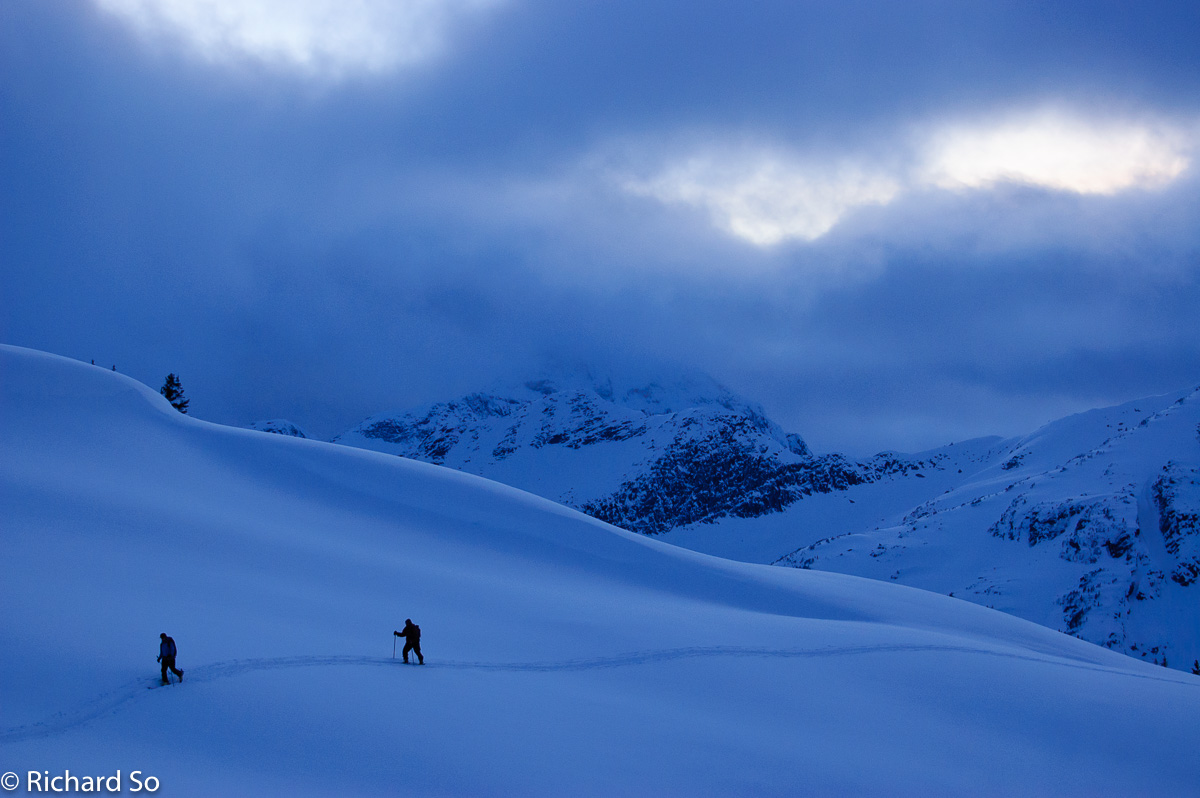 Skiing back along Standard Ridge at dusk. Standard Ridge is a mellow 4-km long ridge, with perfect ski touring terrain in meadows off it's northwest side. It was a getting a little late in the day, there was still a lot of eating to be done back at the lodge!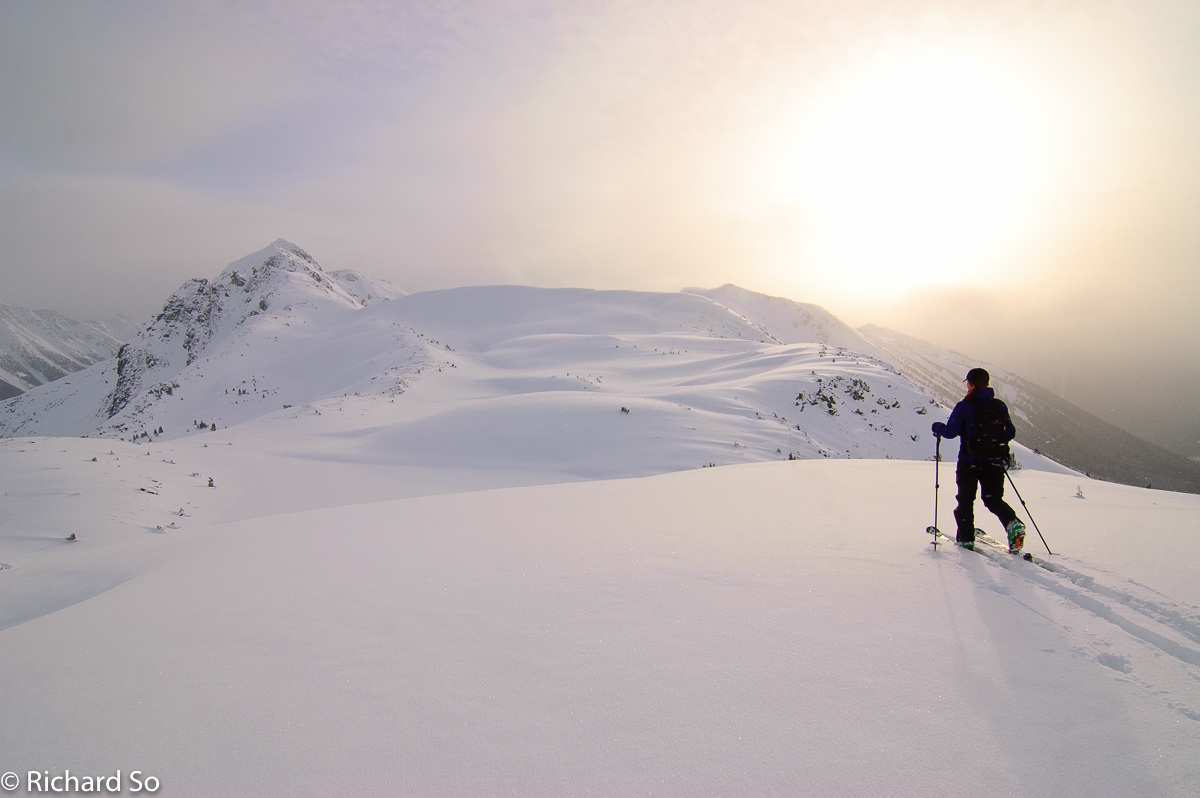 It was a straightforward routine for the next week – wake up, eat breakfast, go skiing, return to the cabin, eat dinner and sleep. On alternating evenings, add in some time spent in sauna.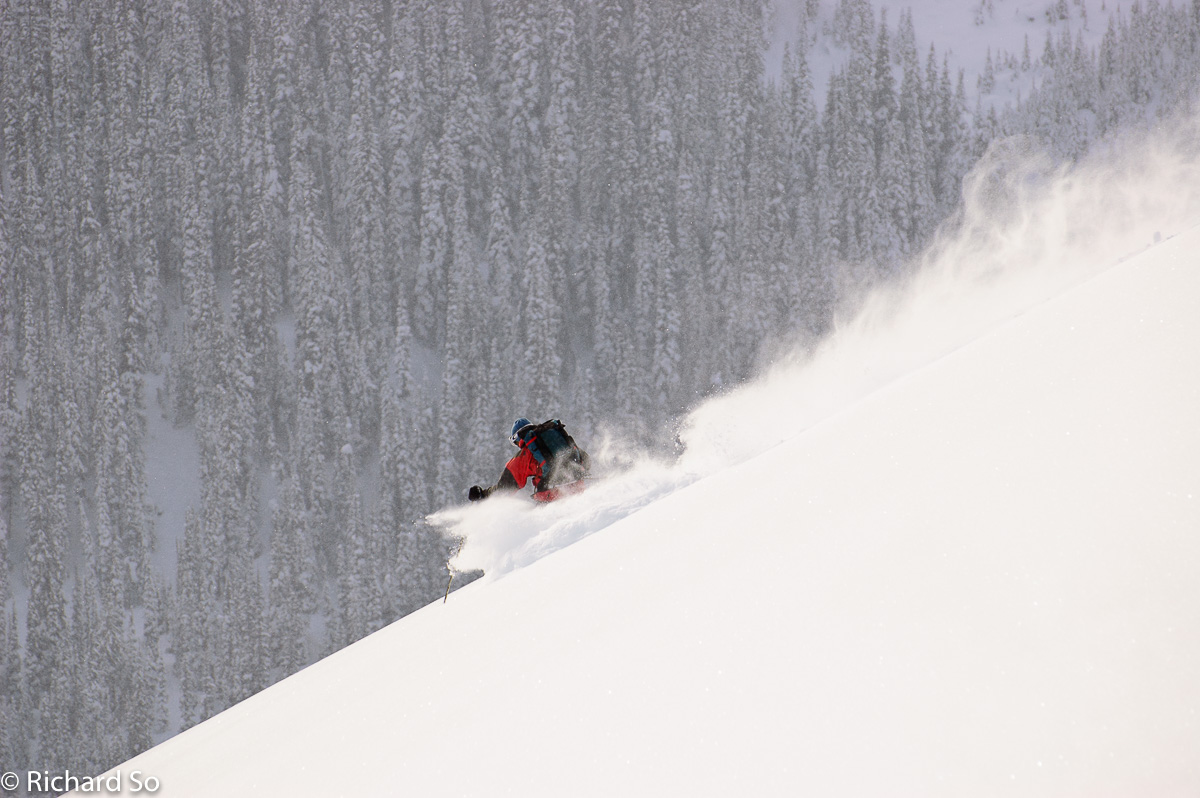 Snow quality was generally excellent, except on south facing slopes where a crust started to form after a few days of sunshine.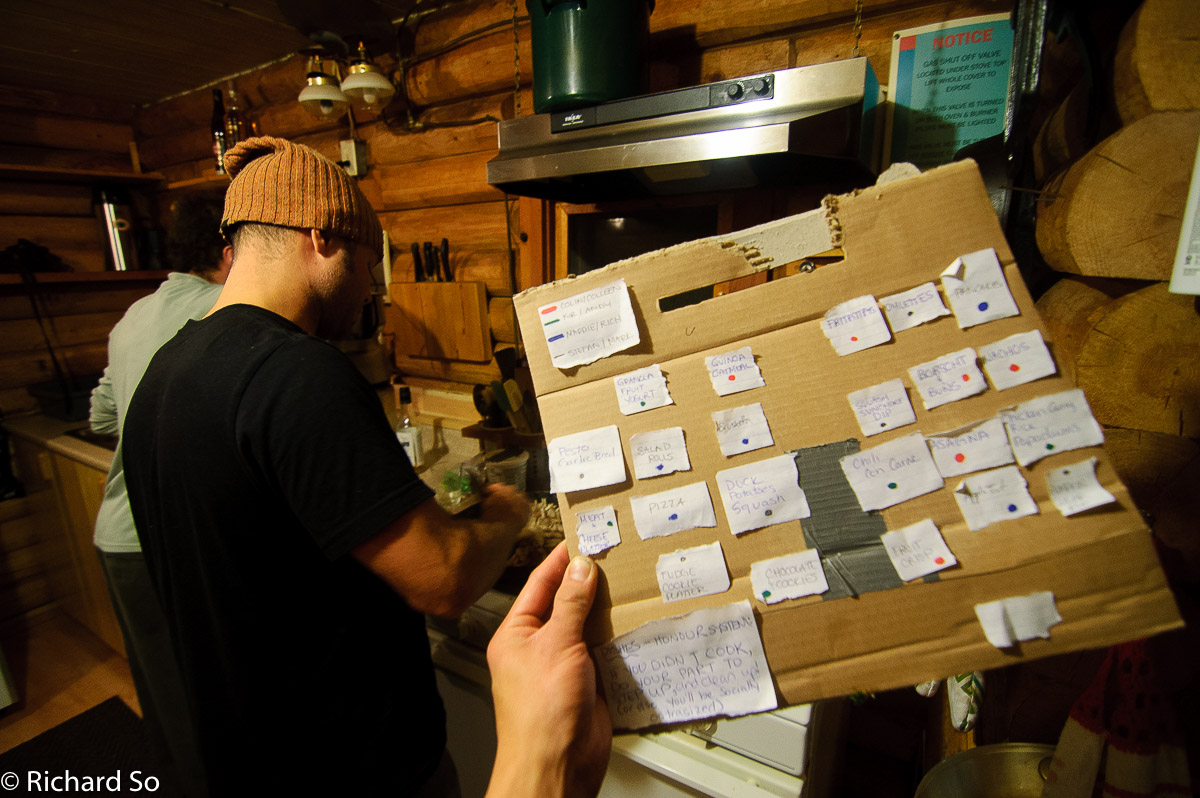 This was our food menu. I'll list it out here for future planning reference, as it's a little hard to read here. Lunch wasn't listed here, as we simply ate alpine sandwiches everyday.
Day 1: Charcuterie Plate, Garlic bread and Pesto Pasta
Day 2: Chocolate Granola and Yogurt, Vietnamese Salad Rolls, Pizza, Fudge and Cookie Platter
Day 3: Quinoa Oatmeal, Bruschetta, Duck Potato Squash, Chocolate and cookies
Day 4: Frittatas, Squash-Sunchoke Dip, Chile Con Carne, Fruit Crisp
Day 5: Omelettes, Borscht and Kale Chips, Lasagna, Apple Tart
Day 6: Pancakes, Nachos, Chicken Curry and Papadums, Pie
day 7: Leftovers (there was a lot!)
Not bad eh? It was an awesome team effort involved with eating everything, including the two trays of lasagna and enough oatmeal to feed a small army.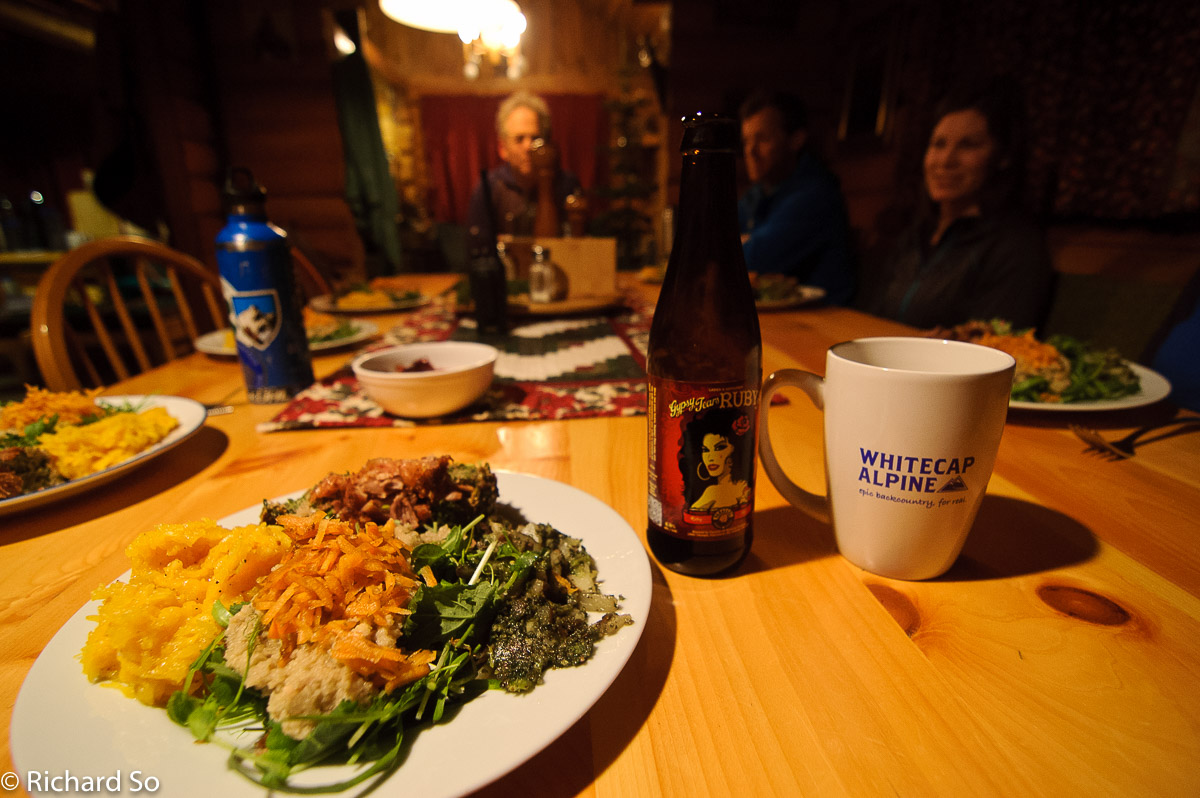 Duck confit, moose loaf, spagetti squash, greens with sunchoke dressing. All the produce came from Stefan's farm in Squamish. Thanks for this dinner Stefan and Mark! And of course, the tasty Gypsy Tears, from Parallel 49 Brewing.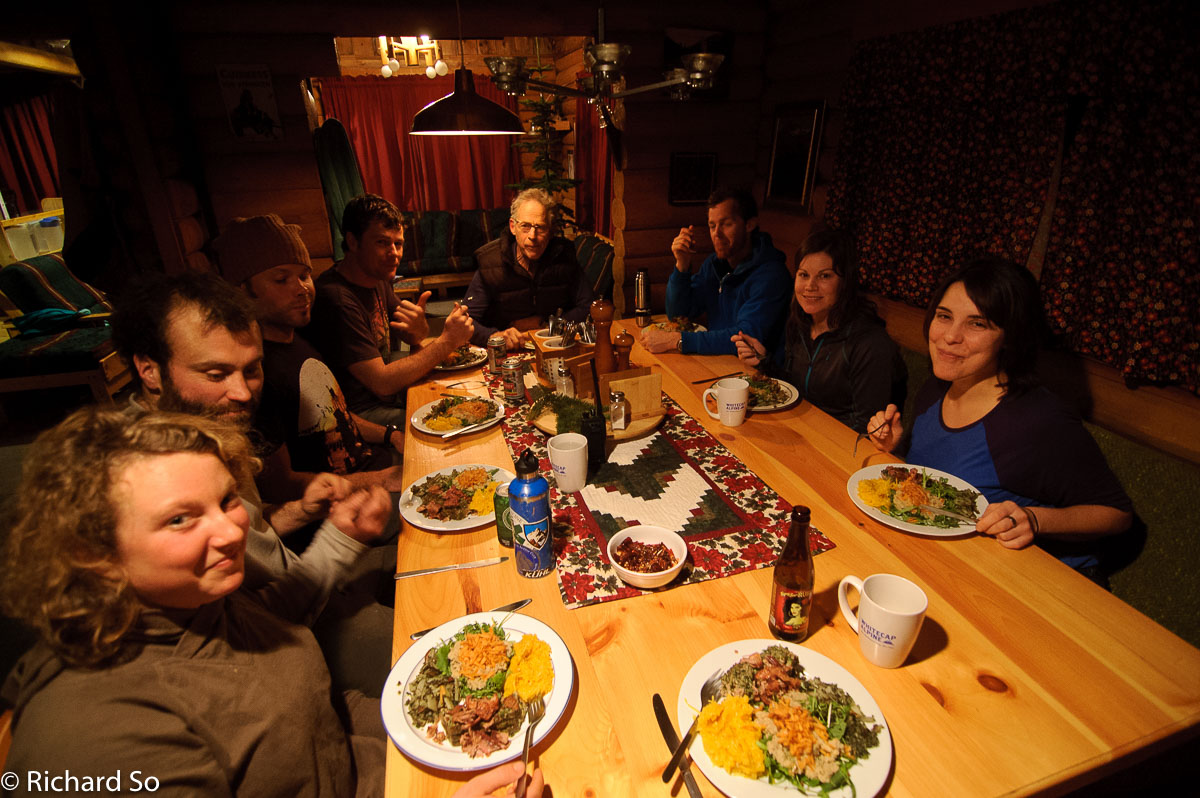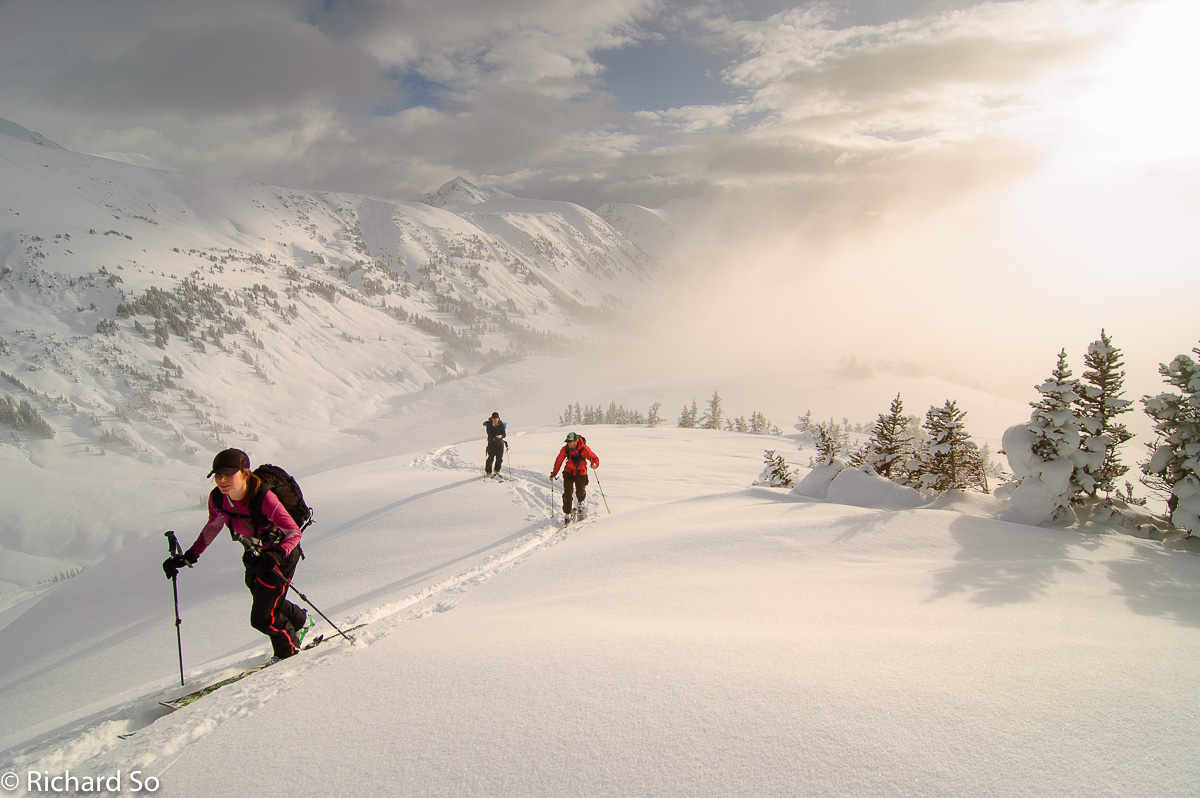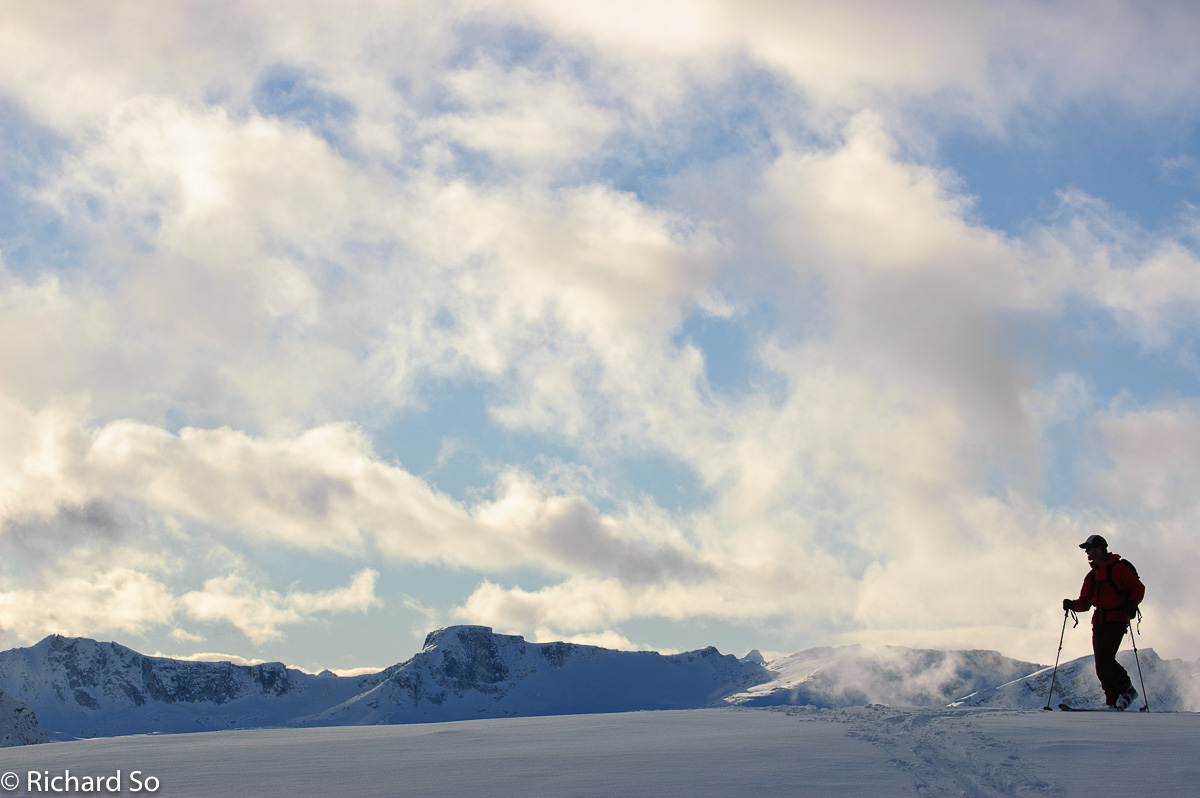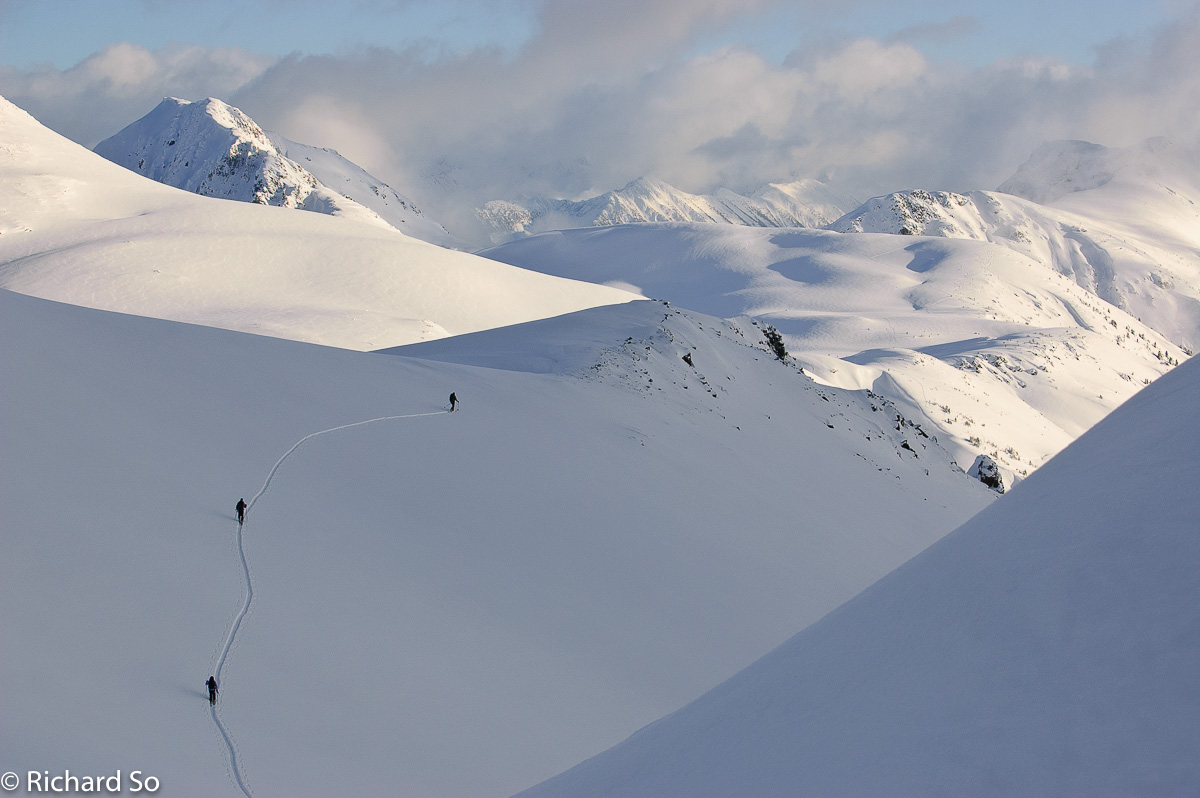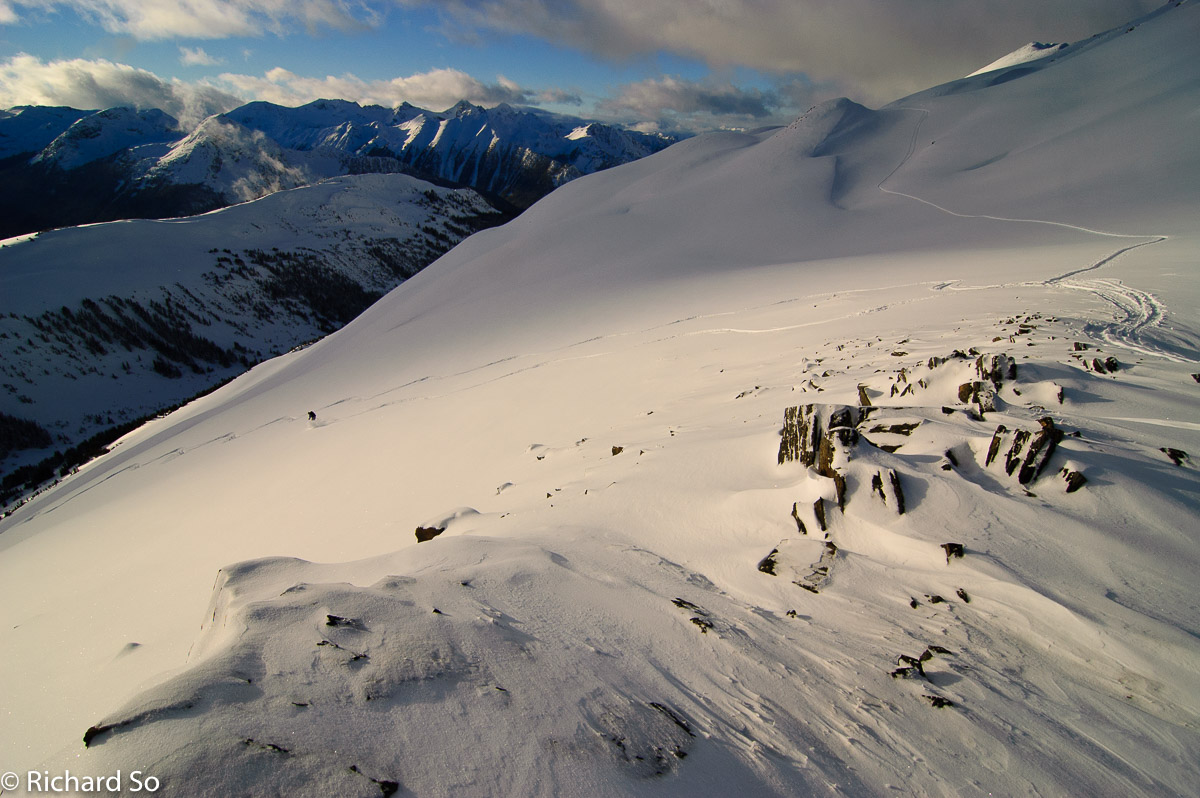 Madeleine skiing down Little McGillivray, a 400m run down into McGillivray Pass. We also skied the open shots on the left side of the photo – known as the Telephone Gullies, which run off the northwest side of Standard Ridge.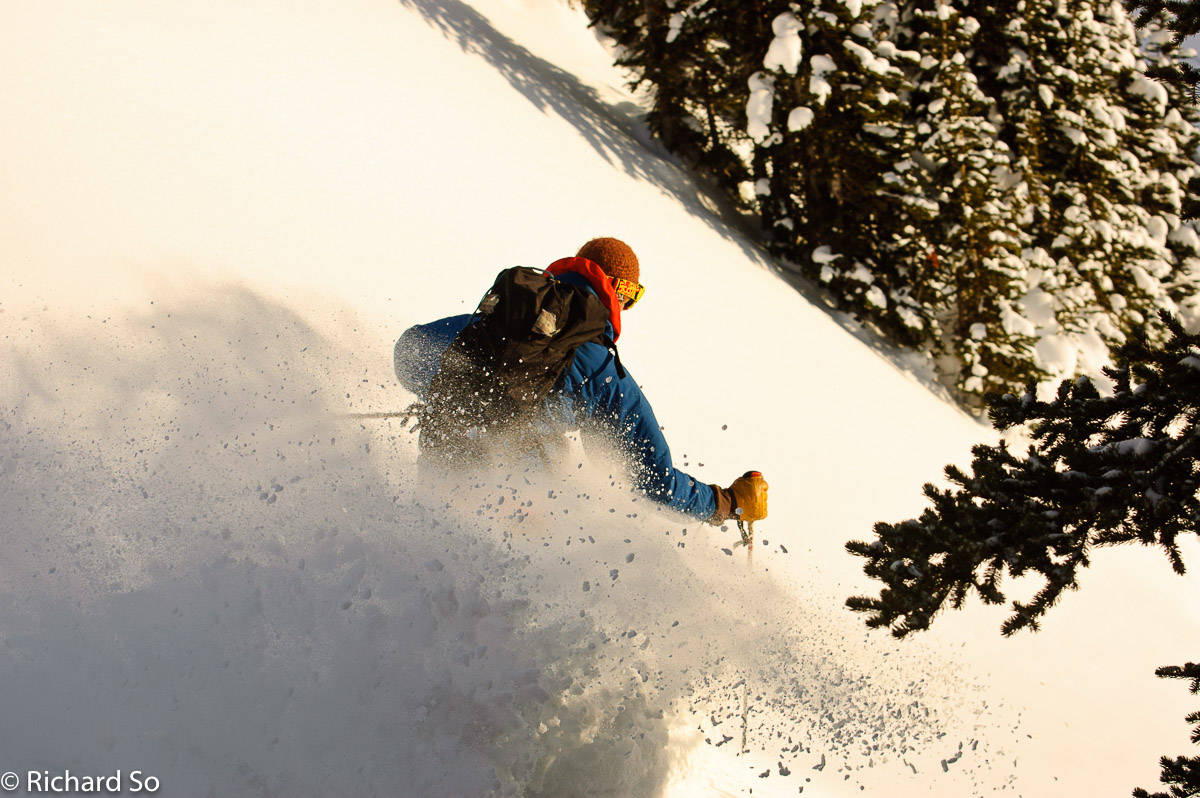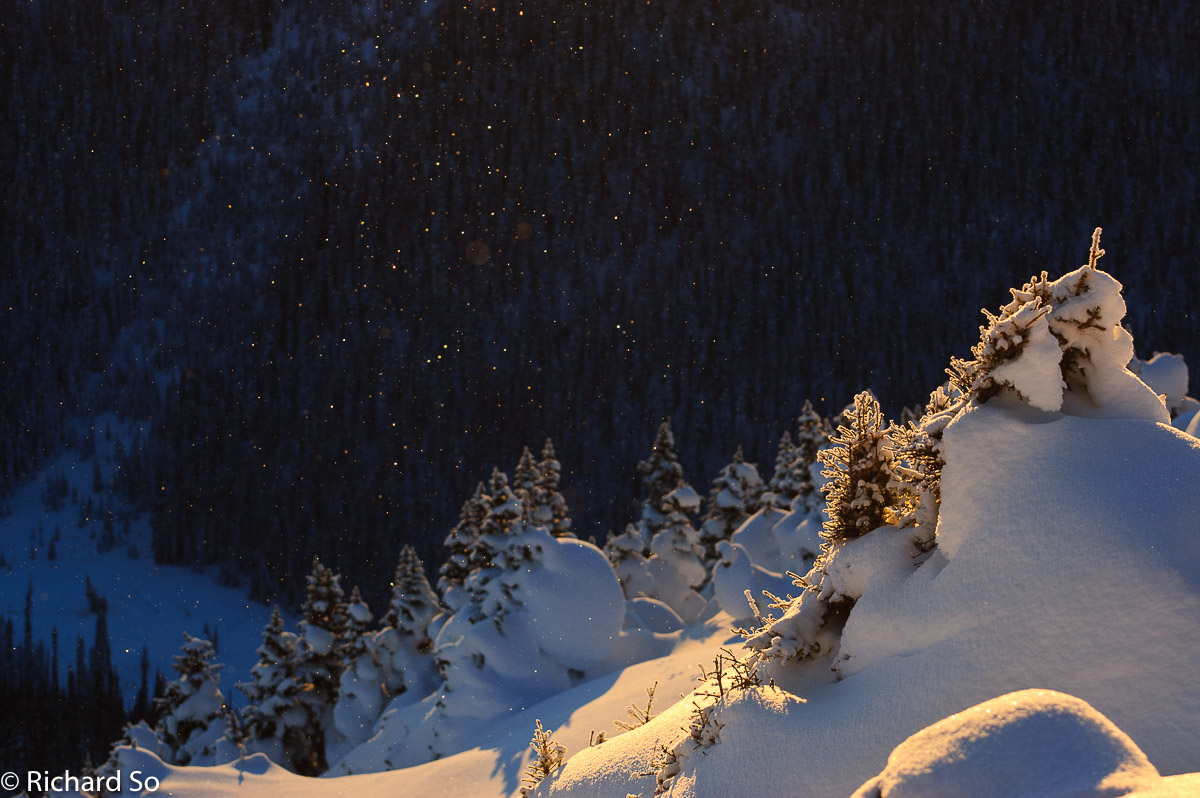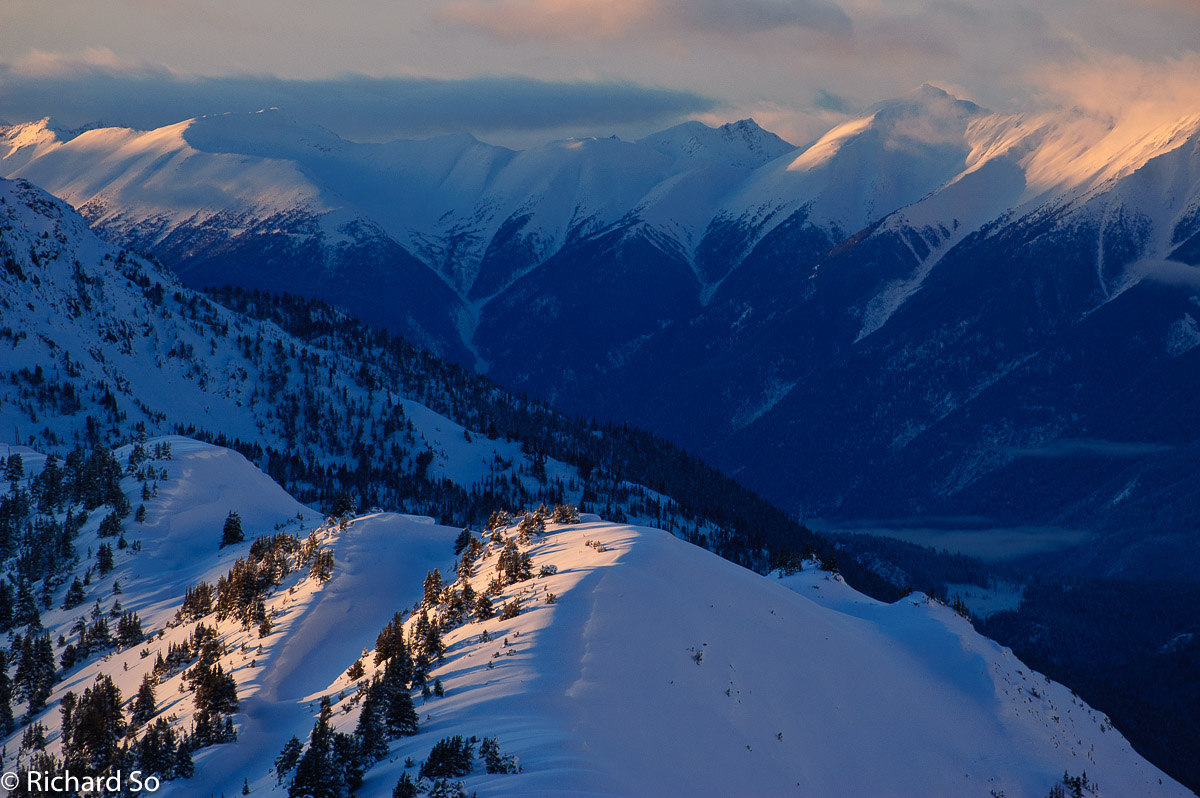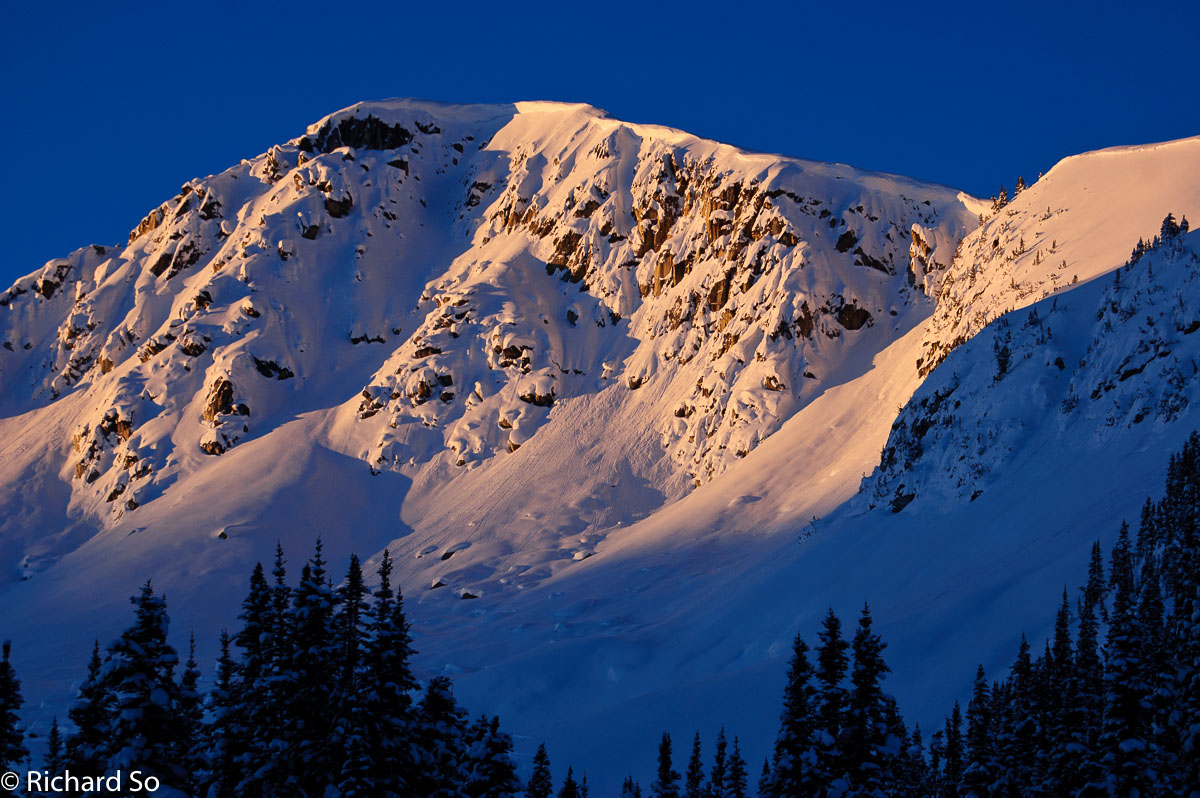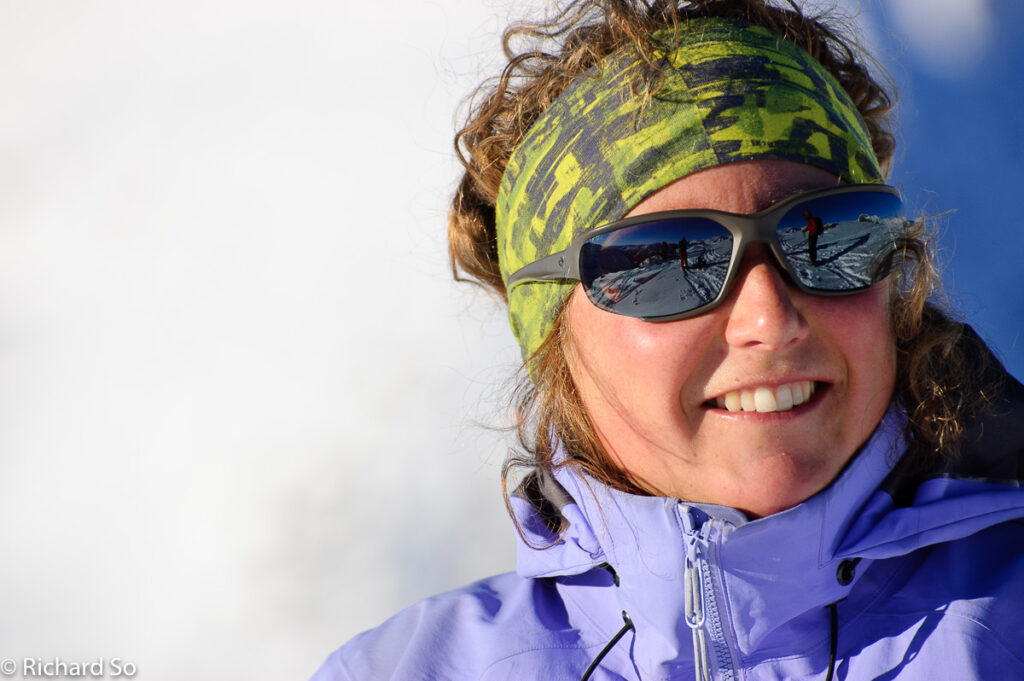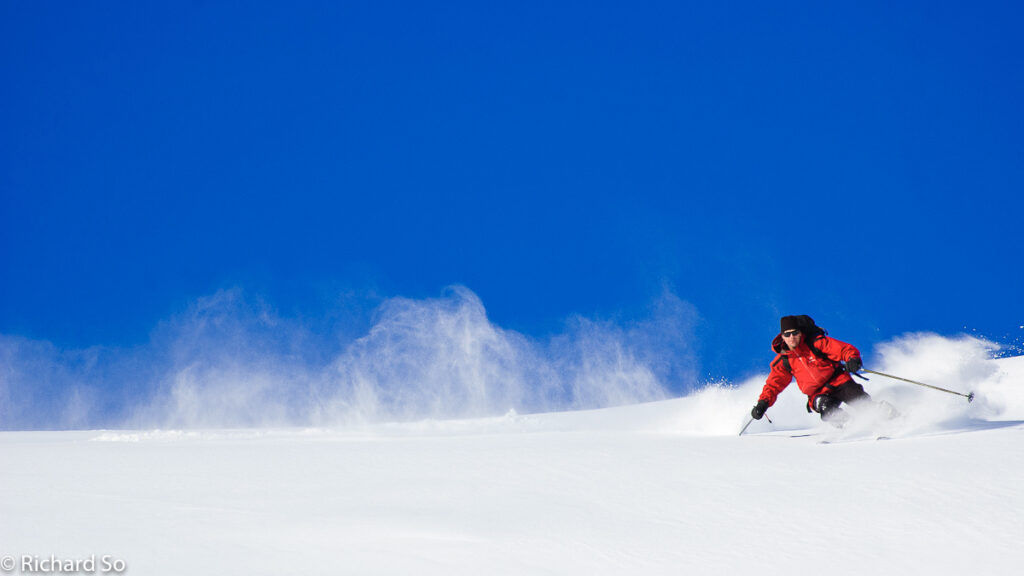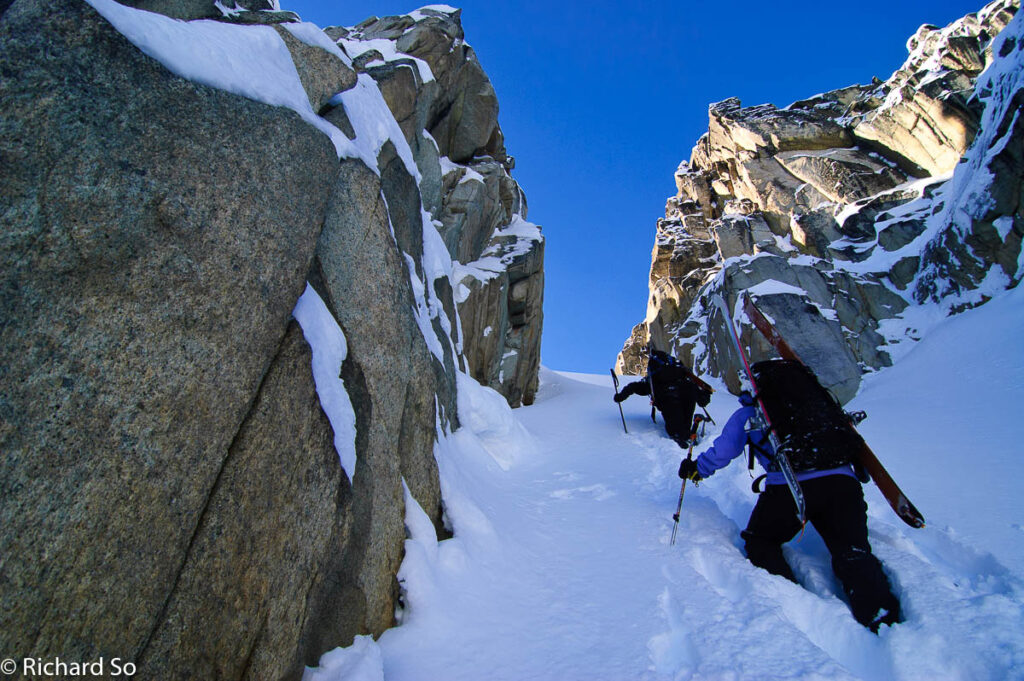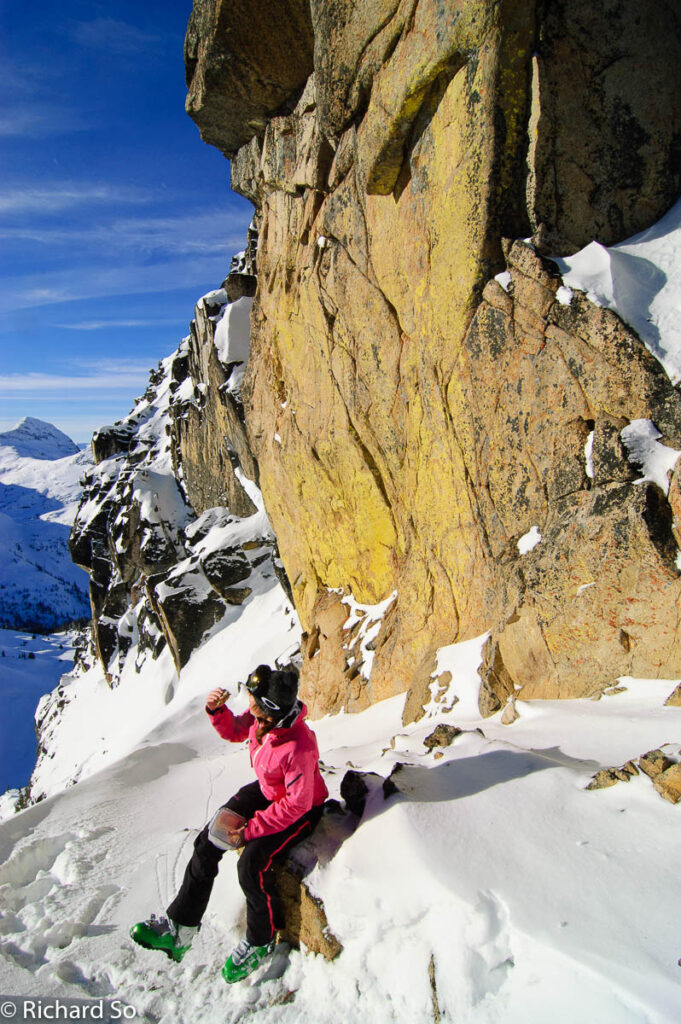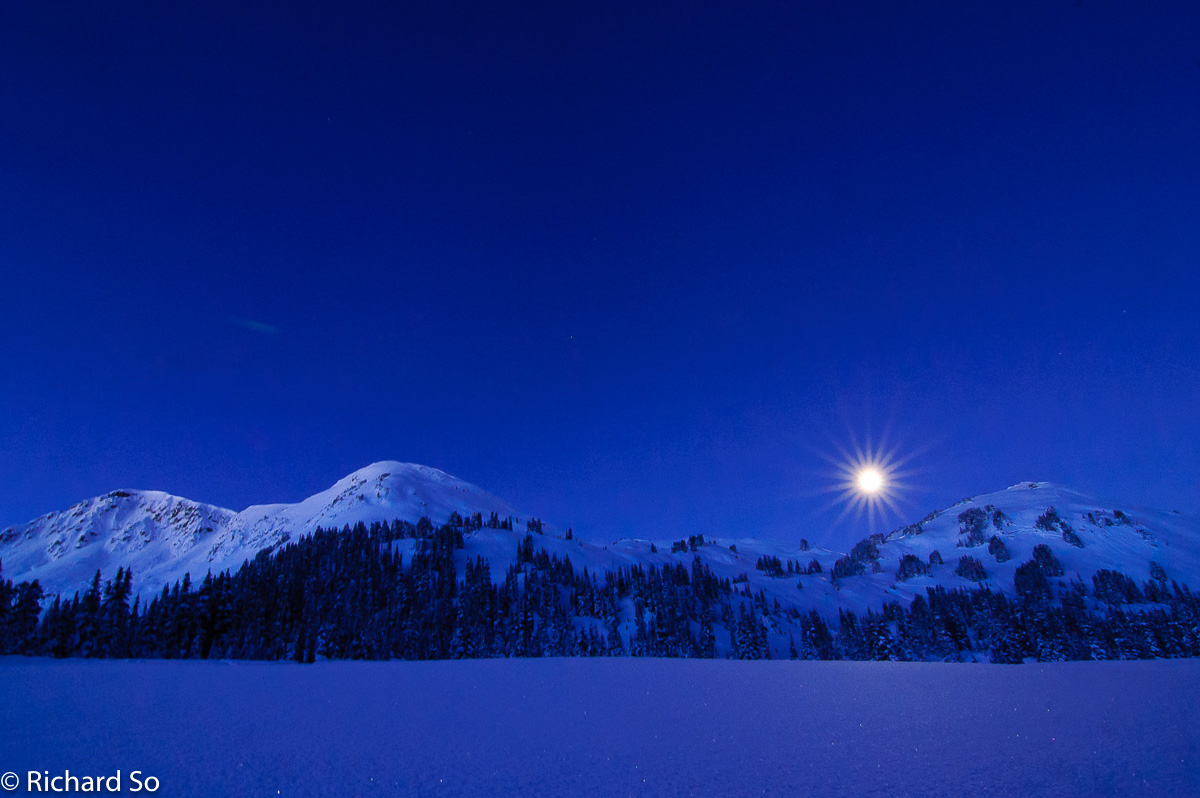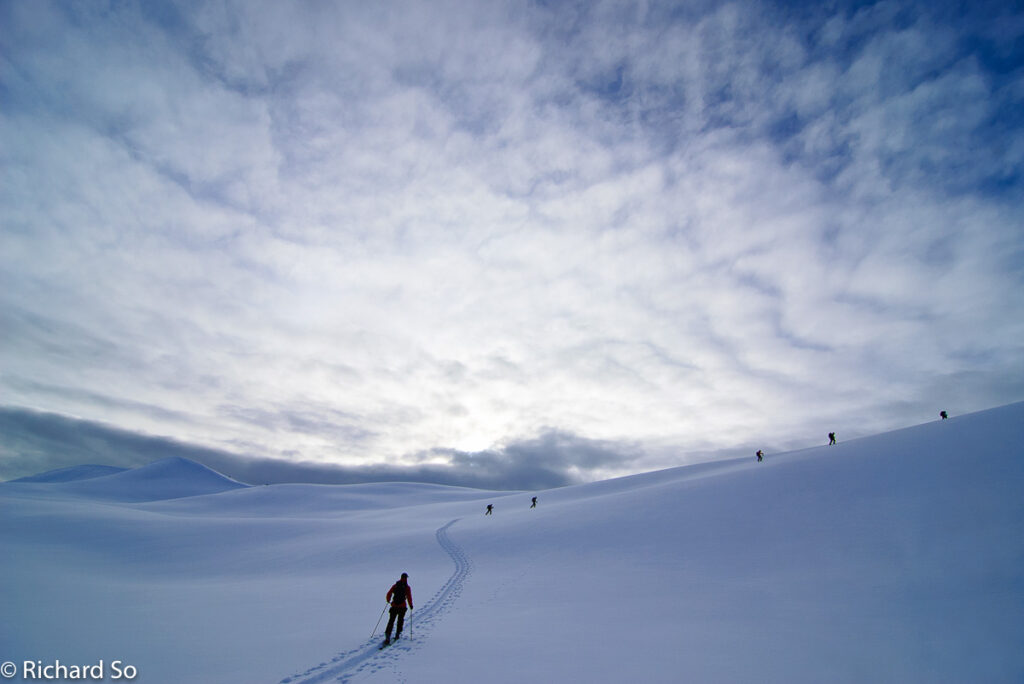 For New Year's Eve, Madeleine and I headed off to the northern end of the tenure area, and skied off the south slopes of Royal Peak. The last summit for 2012! The descent wasn't the best, as one of my contact lens fell off on the way up. Combined with the unavoidable clouds that always roll in for my descent, it was a blurry descent down sun-baked slopes.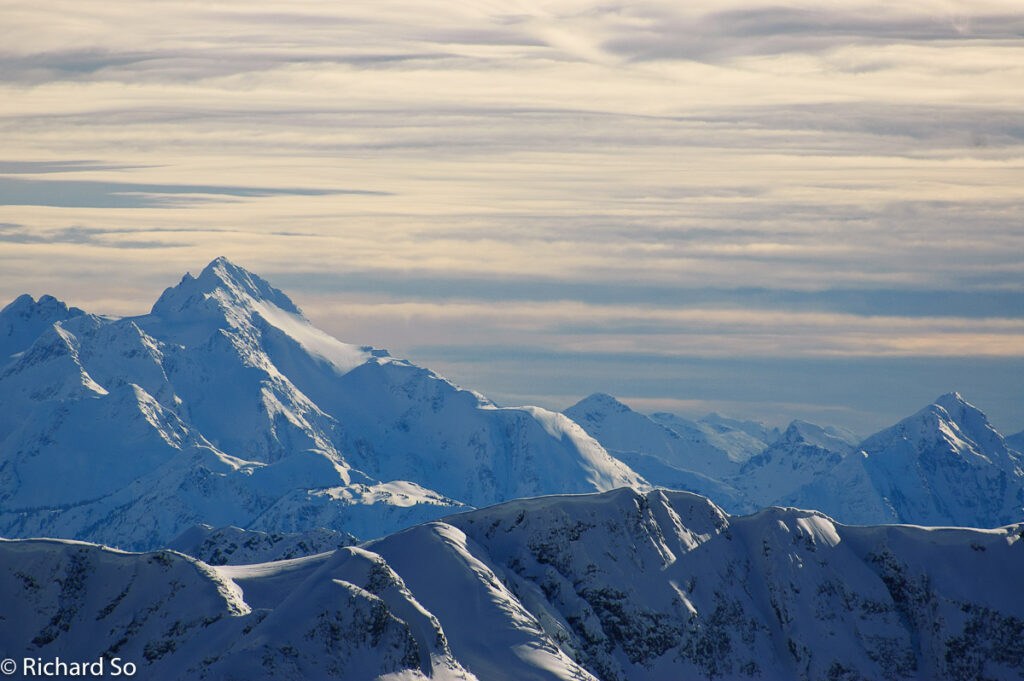 A view of the Cayoosh Peak to the south. Our views to the north were obscured by snow storms.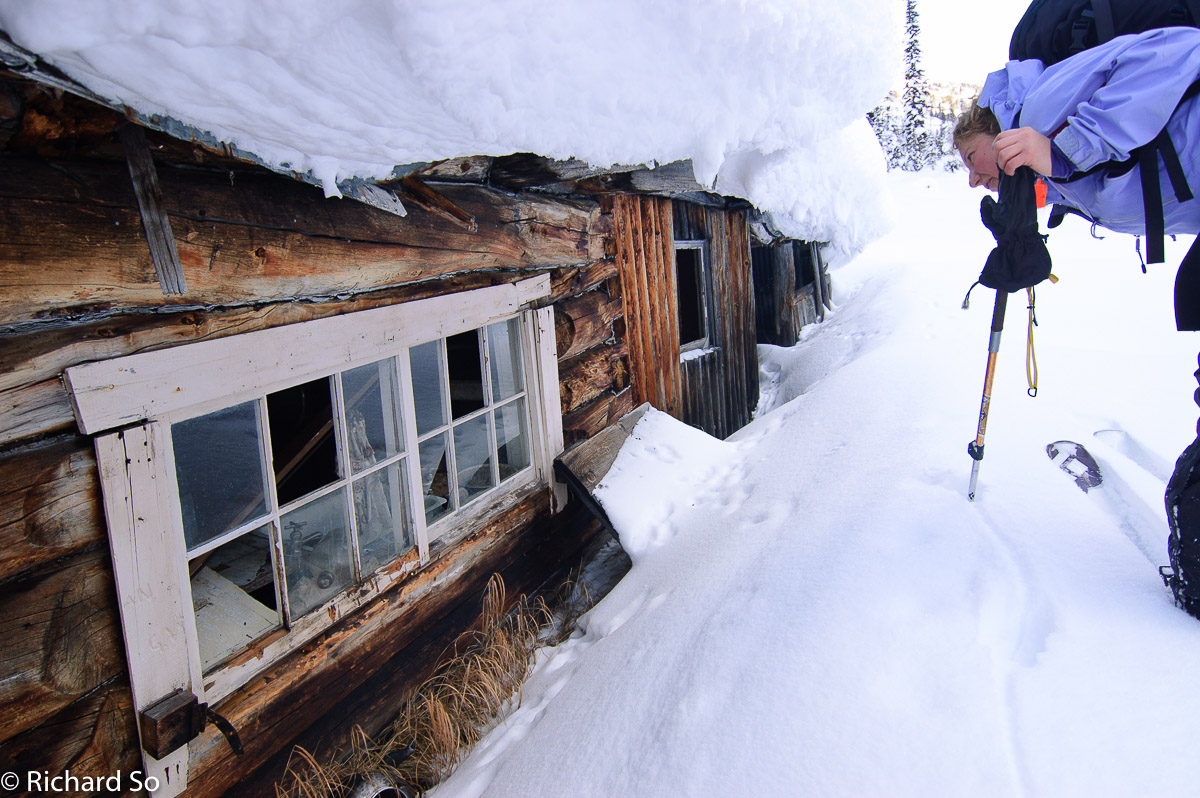 On the way down from Royal Peak, we found this old cabin, once maintained by the Varsity Outdoors Club in the 70's and 80's. It was in rough shape, the roof and frame collapsing under the weight of snow and mouse poo.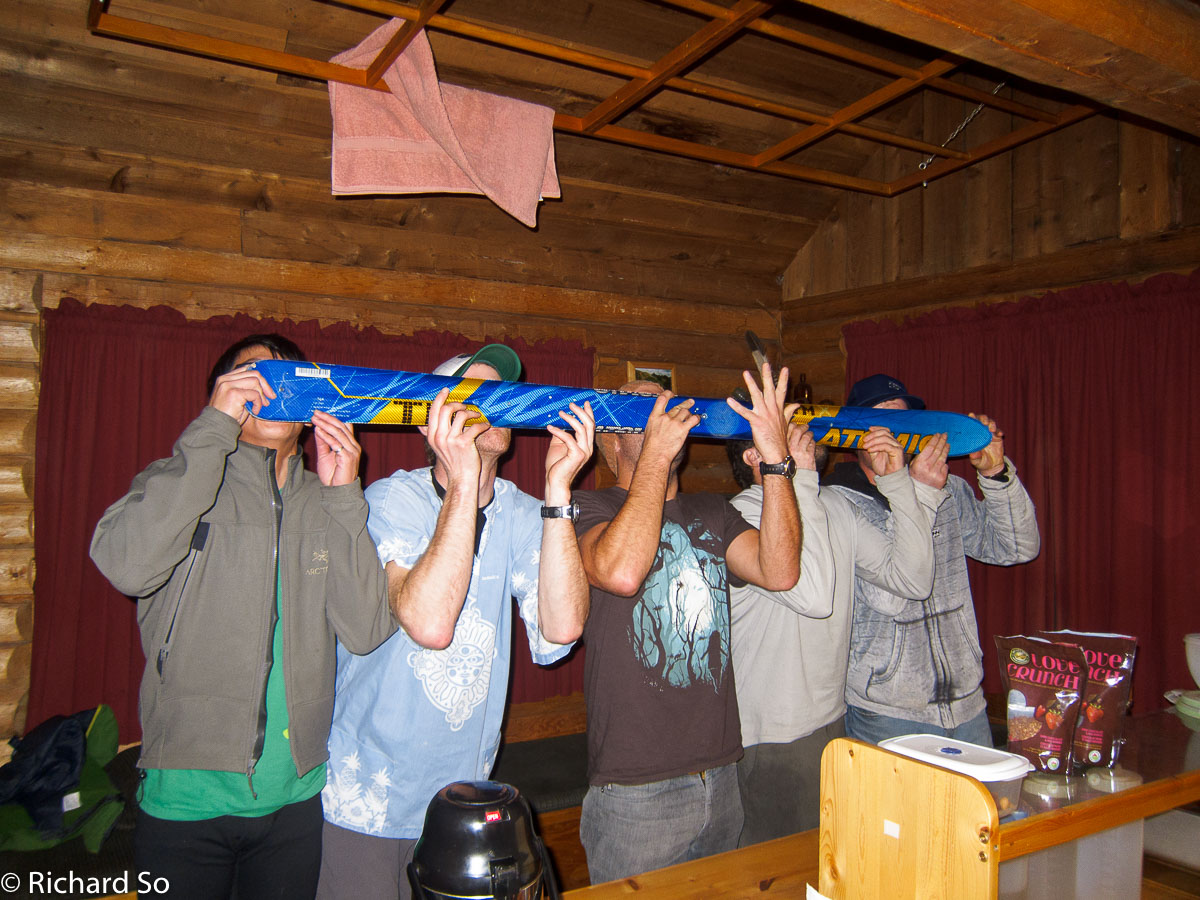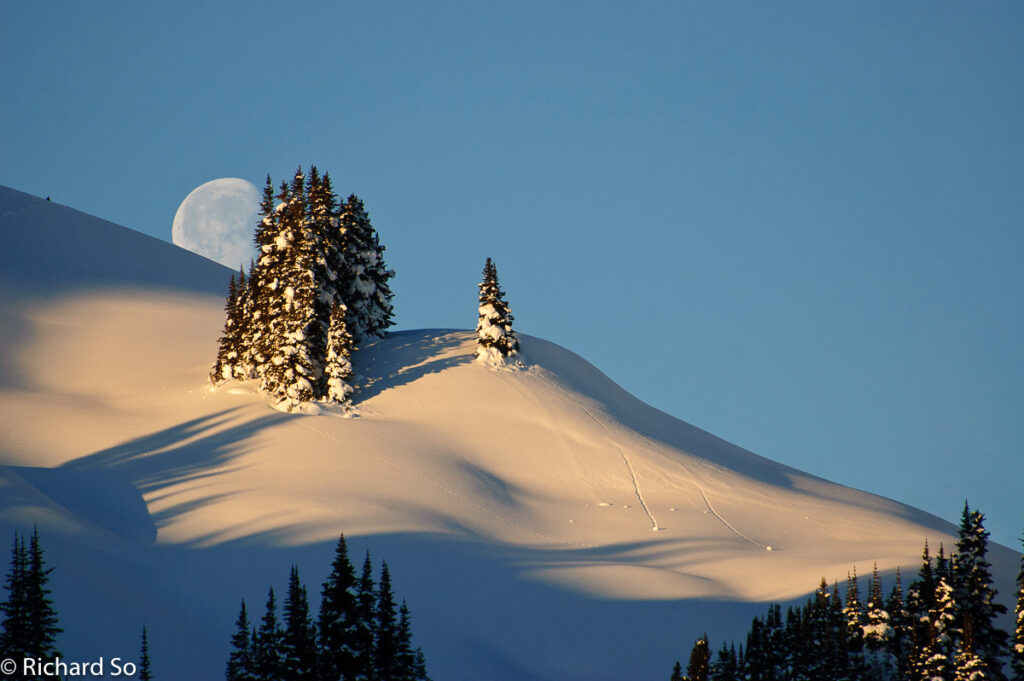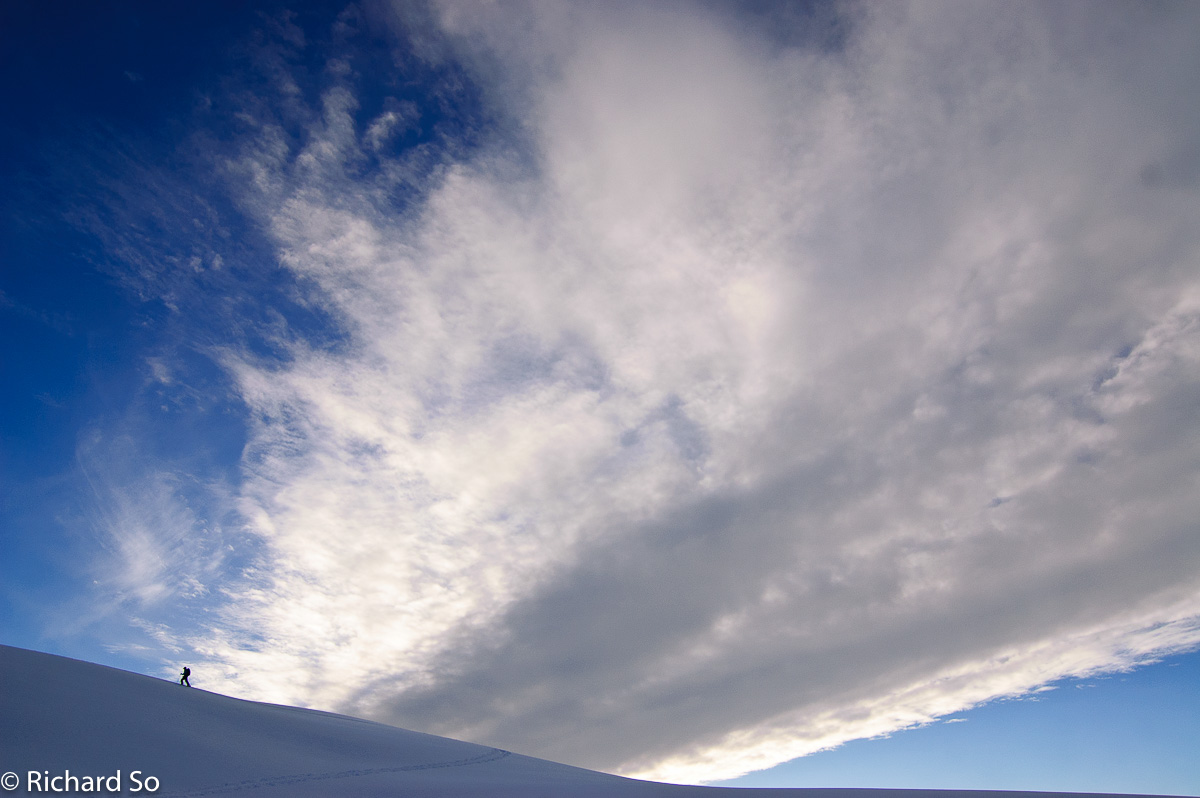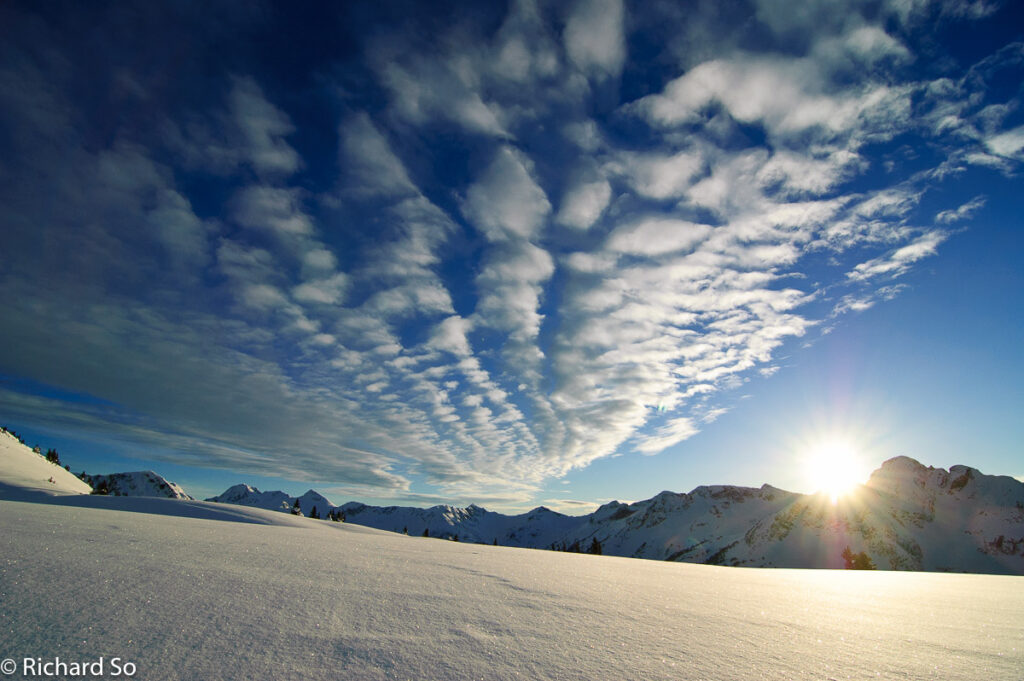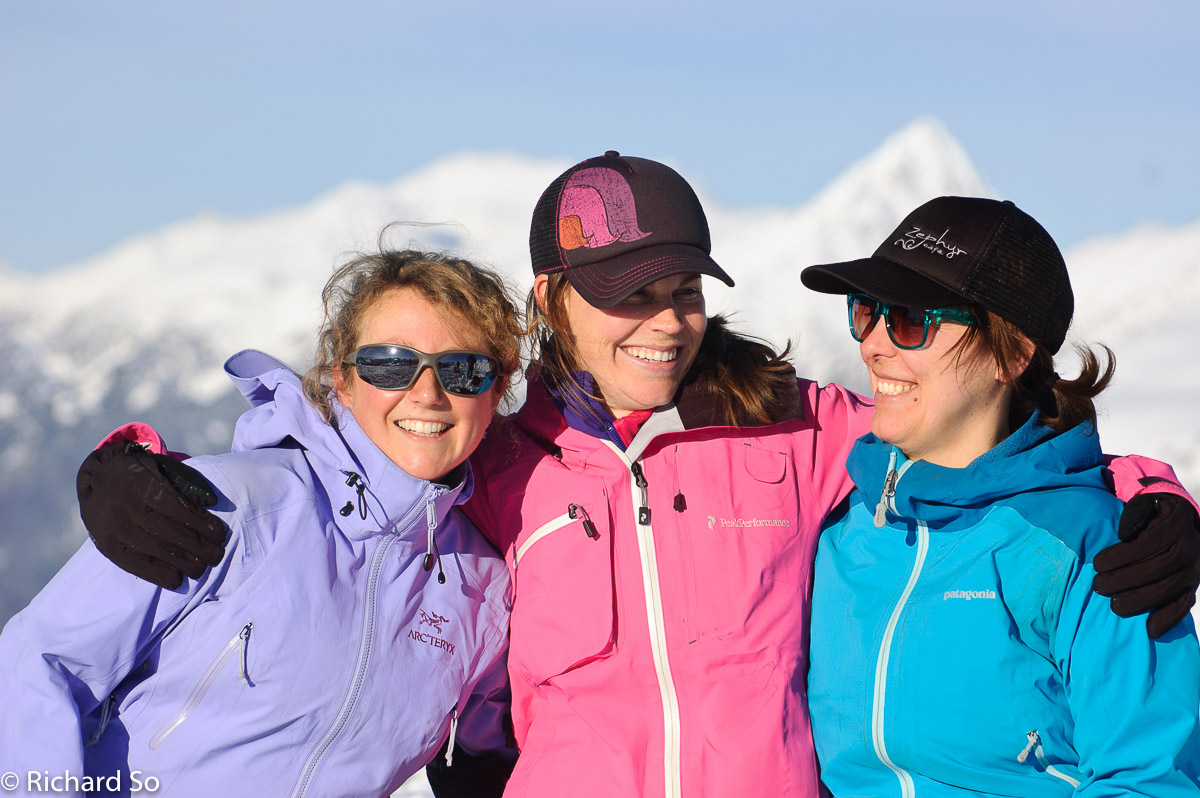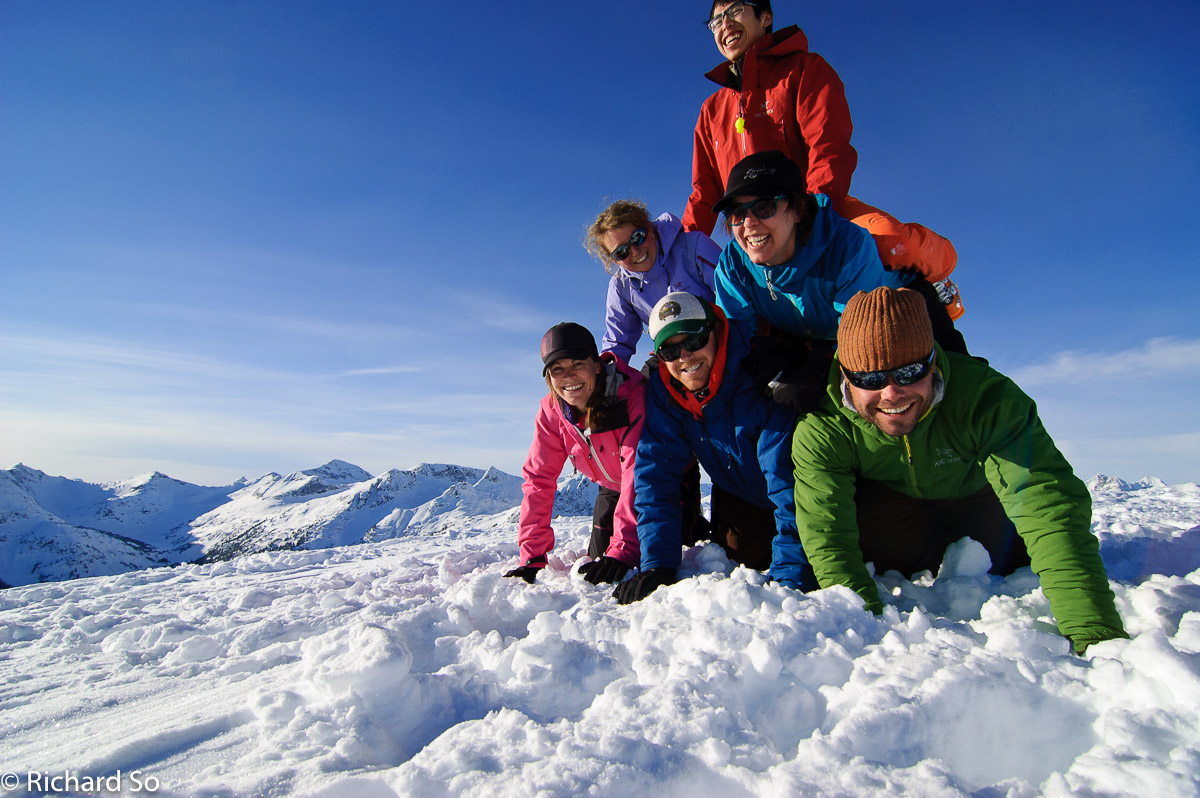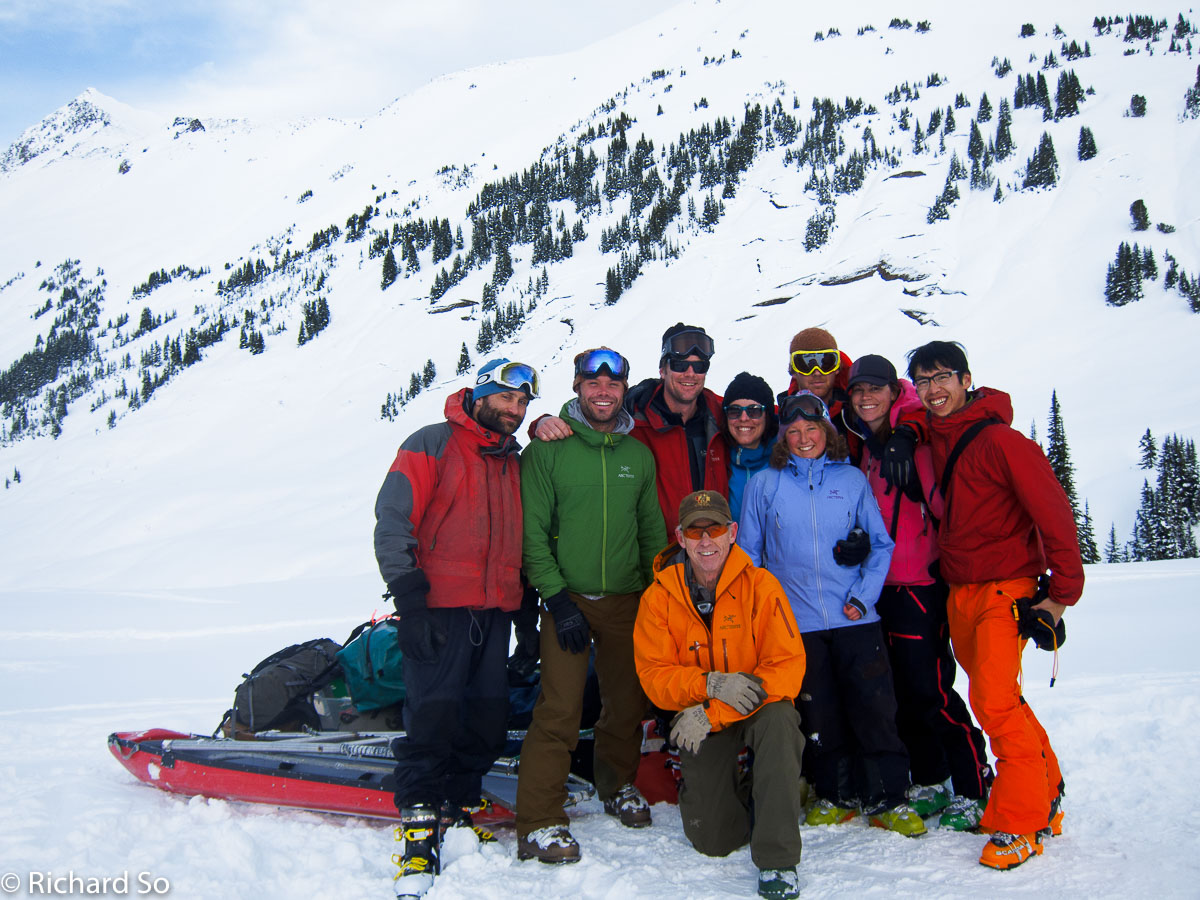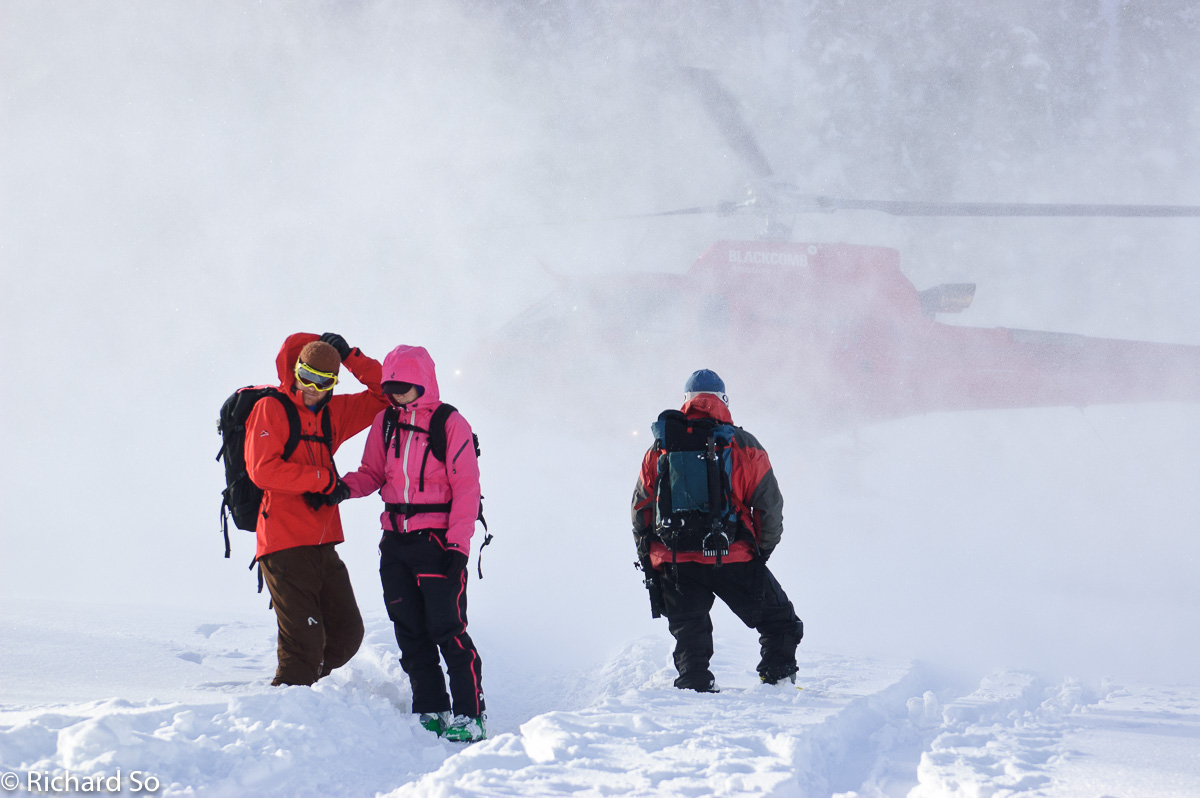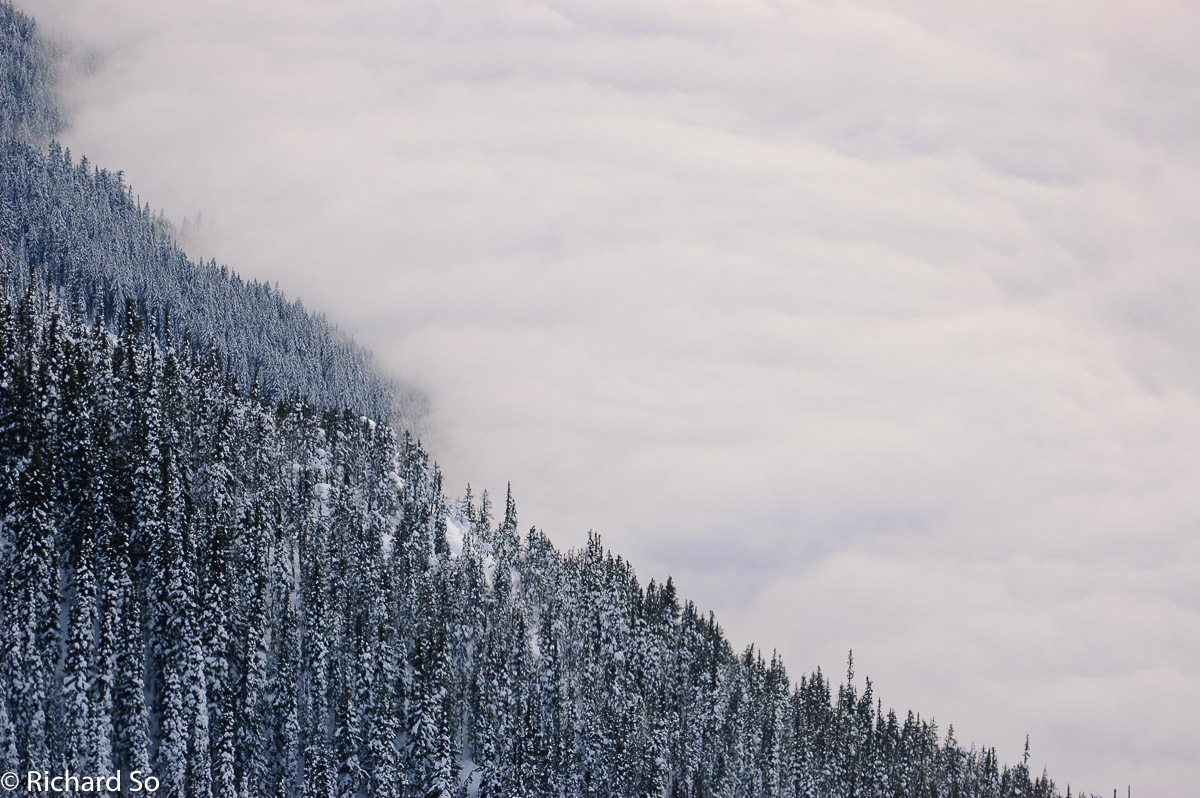 Fog down in the Birkenhead Valley. It was fine for our last flight out to the Pemberton airport, but it was a trickier descent for the first groups going down into the fog in Darcy. It wouldn't be so bad to be stuck here for another night. Great trip!
For more photos, check them out at Flickr